Dairy Free Pumpkin Mac & Cheese
This dairy-free pumpkin mac and "cheese" is a fun fall twist on a classic! It's gluten-free, dairy-free and can be modified to be AIP.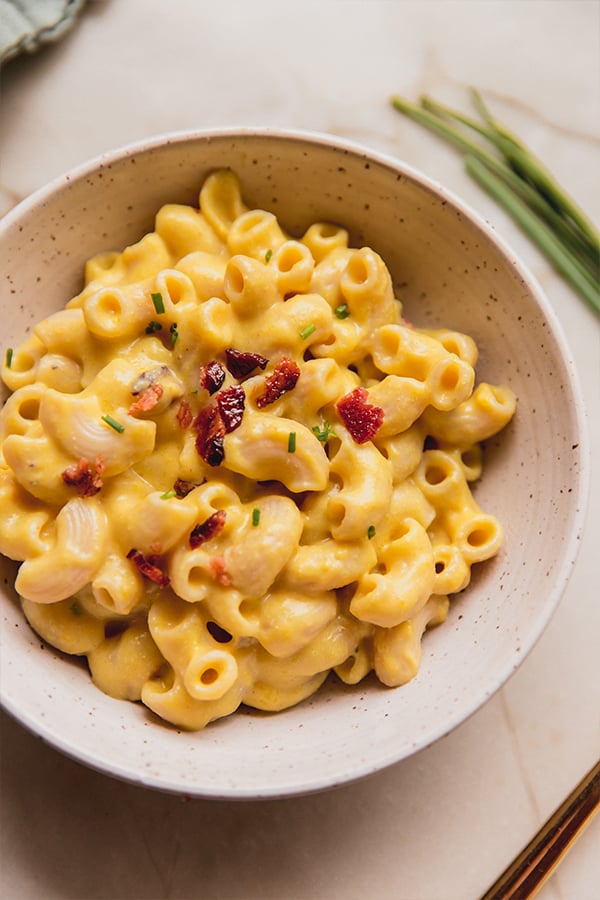 It's not the holidays without mac and cheese! I love adding mac and cheese to my Thanksgiving menu every year, but most of the time I'm not feeling brave enough to test my chances with how well I can tolerate all of the actual dairy. I've made a few variations on dairy free mac and cheese over the years, and this is a new favorite!
Why you'll love this pumpkin mac and cheese
It's easy to make! This sauce comes together so quickly. The biggest step of the whole recipe is roasting the pumpkin, which is easy to do.
It can easily be made nut-free. Most dairy-free mac and cheese recipes are cashew-based as one of the main ingredients, but not this one. It does contain almonds, but I've included swaps to make it nut-free.
The ingredients for pumpkin mac and cheese
Sugar Pumpkin. I highly recommend going with roasting an actual sugar pumpkin. The roasted flavor is what brings the flavor depth and richness to the recipe to make it savory.
Avocado Oil and Lemon Juice.
Garlic Powder, Onion Powder, Salt and Pepper.
Almond Milk. You can sub coconut milk for a nut-free option.
Arrowroot Starch.
Dairy-Free Cream Cheese.  I use Kite Hill, but see notes below for a nut-free option.
Nutritional Yeast. You can adjust the amount of nutritional yeast to taste.
Gluten-Free Pasta. I use Jovial Foods elbows.
Chives and Bacon. Optional, but delicious for topping.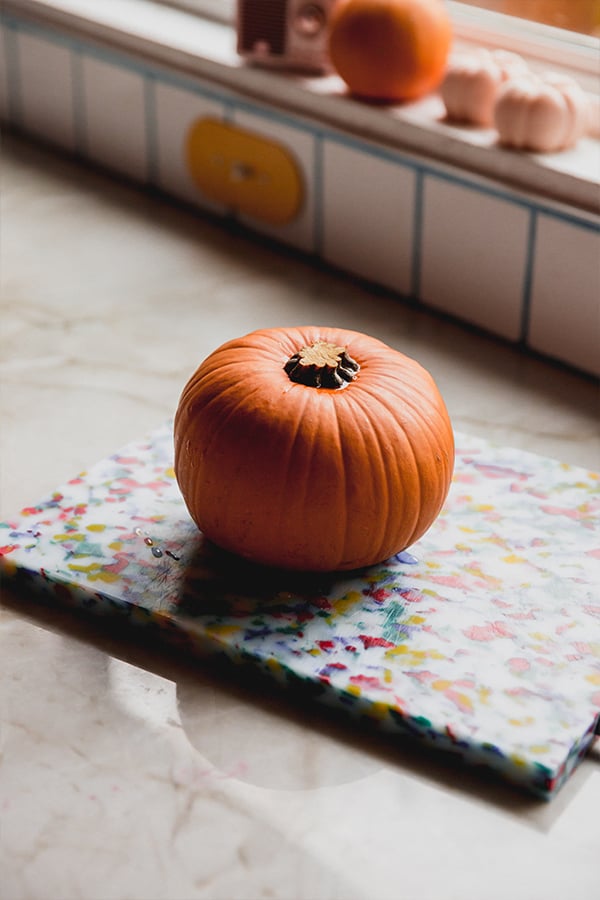 How to make pumpkin mac and cheese
Step One. Prep and roast the pumpkin. Then scoop out the flesh.
Step Two. Cook the pasta.
Step Three. Make the sauce.
Step Four. Add the pasta to the sauce and top with chives and bacon. Enjoy!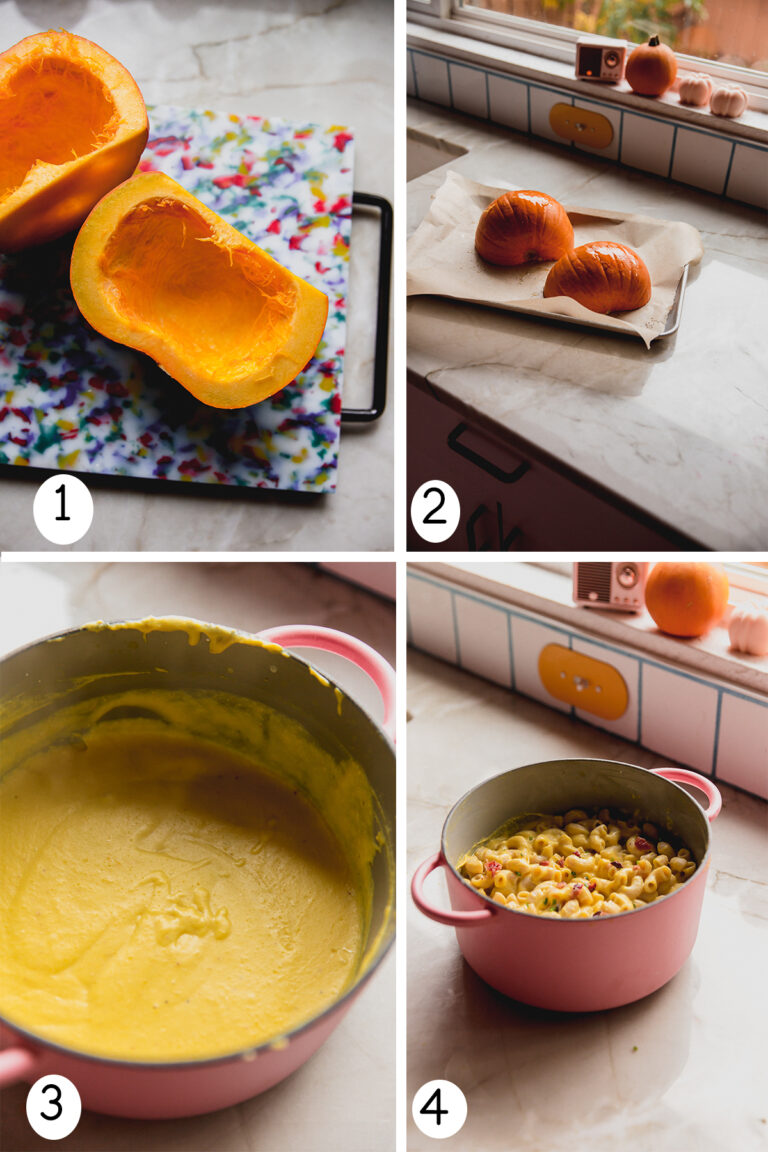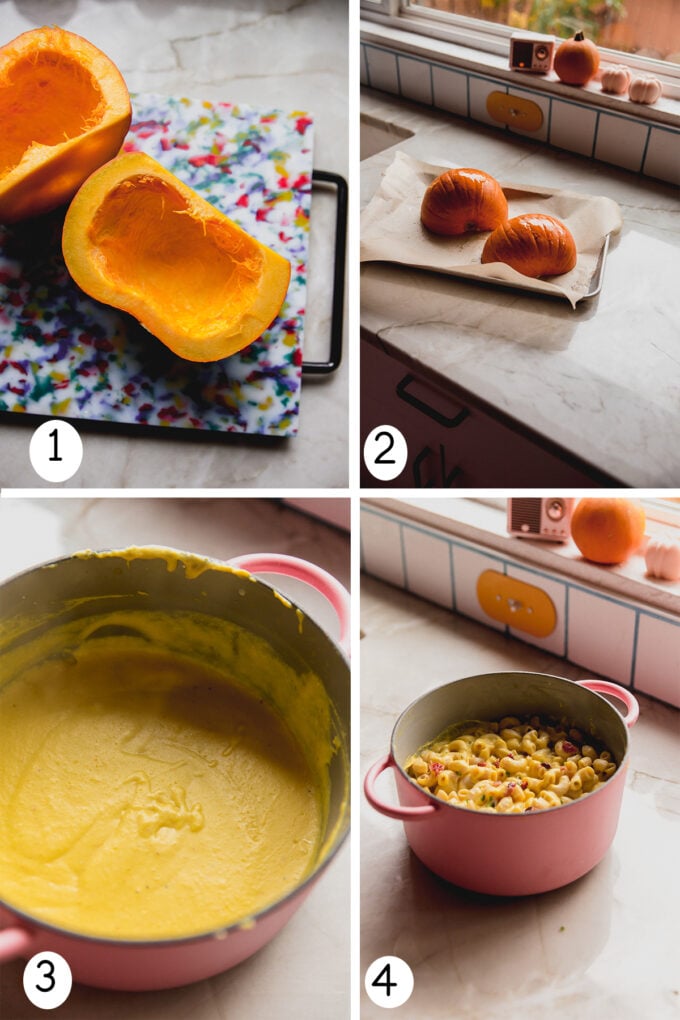 Tips & Tricks
Season the sauce to taste. I tend to go lighter on the nutritional yeast, but you can add more to taste as you go, as well as make the sauce taste as garlicky as you like.
Add toppings! Mac and cheese isn't the same without toppings. I like to add bacon and chives, but a bread crumb alternative like pork panko would also be great in this recipe.
Can you make this recipe ahead of time?
I feel like mac and cheese is always best fresh, but you can make it 1-2 days before to save time. I would reheat it in a pot to serve!
Can you use pumpkin puree from a can instead?
I highly recommend going with roasting an actual sugar pumpkin. The roasted flavor is what brings the flavor depth and richness to the recipe to make it savory. Pumpkin puree from a can just doesn't cut it.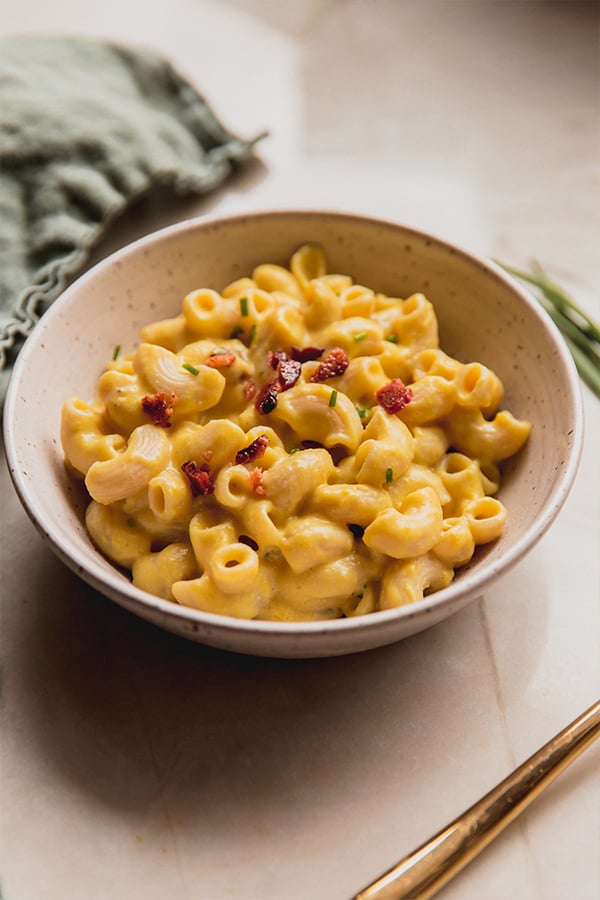 You'll also like…
Print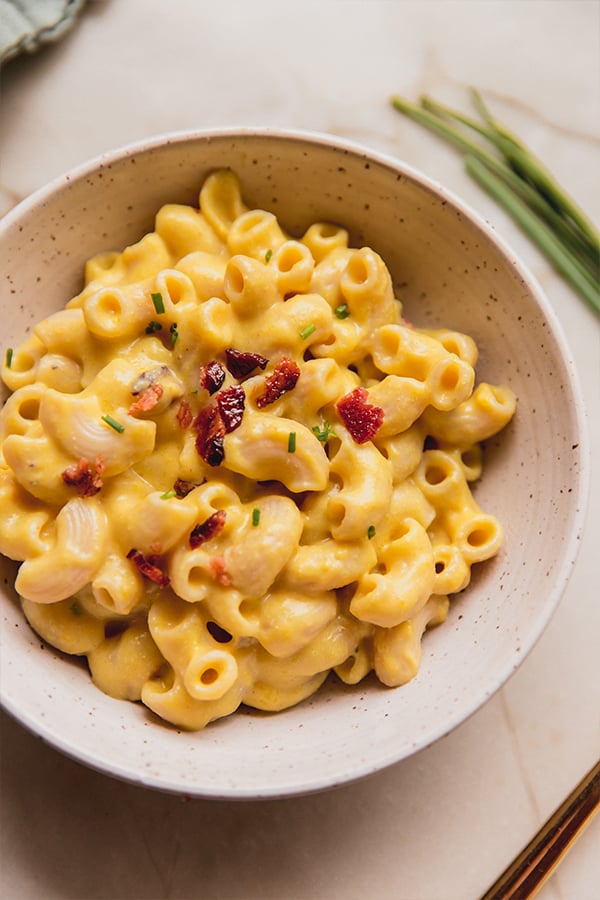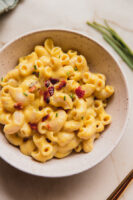 Dairy Free Pumpkin Mac & Cheese
---
Author:
Yield: 4 servings 1x
Diet: Gluten Free
1 small sugar pumpkin (about 2 lbs)
1 tbsp avocado oil
Salt and pepper, divided
1 1/4 cup almond milk (sub coconut milk)
2 tsp lemon juice
1 1/2 tbsp arrowroot starch
2 tsp garlic powder
1 tsp onion powder
1/4 cup dairy-free cream cheese (I use kitehill. See notes for nut-free)
3–4 tbsp nutritional yeast
12 oz gluten-free pasta (I use Jovial Foods elbows)
For topping
Fresh chives
Cooked and chopped bacon
---
Instructions
Preheat the oven to 400 F and line a small baking sheet with parchment paper.
Wash the pumpkin and slice off the stem. Slice the pumpkin in half and scoop out the seeds. Drizzle with 1 tbsp of avocado oil and season with salt and pepper. Place the pumpkin flesh side down, and the skin side up on the baking sheet. Bake in the preheated oven for 30-40 minutes or until soft. Remove from the oven and allow to cool for 10 minutes before scooping out the flesh. Set aside.
Bring a large pot of well-salted water to a boil. Cook the pasta as directed until aldente, reserving 1/4 cup of pasta water. Strain the pasta and lightly toss with olive oil to prevent sticking.
Combine the almond milk, lemon juice, and arrowroot starch in a bowl and whisk well to combine. Place a pot on the stove and add the milk mixture along with salt, pepper, onion powder, garlic powder, cooked pumpkin, cream cheese, and nutritional yeast. Use an immersion blender to fully blend the sauce until smooth.
Set the stove to medium-low heat and allow the sauce to simmer for 10 minutes. The sauce should be thick. Add the pasta water and stir well before turning off the stove and adding the cooked pasta. Stir to combine and coat the pasta in the sauce.
Season further to taste and serve the mac and cheese topped with chives and bacon.
Notes
To keep this recipe AIP and nut-free, use cassava pasta, omit the black pepper, use coconut milk instead of almond milk, and use 3 tbsp of coconut cream instead of the DF cream cheese.
All nutritional information are estimations and will vary. Estimations do not include optional ingredients.
Nutrition
Serving Size: 1 serving
Calories: 262
Fat: 7.8g
Carbohydrates: 47.7g
Fiber: 3.6g
Protein: 7.3g