Homemade Chicken Bouillon Cubes
This post contains affiliate links.
These homemade chicken bouillon cubes will make you wonder why you ever used anything else! They're simple to make with fresh ingredients and pack a huge flavor punch for adding to soups, rice, sauces, and more.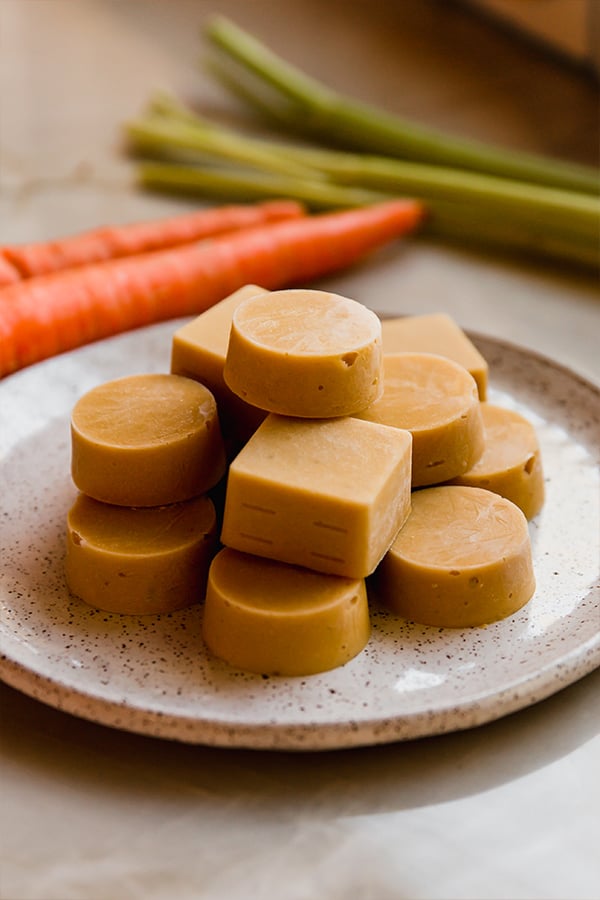 We're all familiar with classic chicken bouillon cubes. They're a concentrated seasoning that comes in cubes, powder, or paste that is made to add to hot water to make soup or other dishes like rice, sauces, gravies, etc. Chicken bouillon cubes that you buy from the store may be flavorful, but the ingredients aren't always the best. They can be made with soy protein, corn syrup, and mystery flavoring. 
The good news is that there's a better way to do it that's much more flavorful and wholesome! The best part is that it's simple to do, and will last in your freezer for months for the perfect flavorful enhancer for dishes.
Why you'll love these Homemade Chicken Bouillon Cubes
They add so much flavor! These little cubes amp up the flavor to soups, rice, sauces, and more.
They are so convenient! Having these homemade chicken bouillon cubes in the freezer is so convenient. They last months in the freezer and are so easy to add to whatever you are making.
The Ingredients for Homemade Chicken Bouillon Cubes
Chicken Thighs and Chicken Drumstick. 
Salt and Black Pepper. 
Parsnip, Carrots, Leek, Yellow Onion, and Garlic. If you have extra vegetables on hand that you want to use, you can add them or switch it up! Bell peppers, celery root, and fresh herbs would all be a good.
Parsley. 
Lemon Juice and Avocado Oil.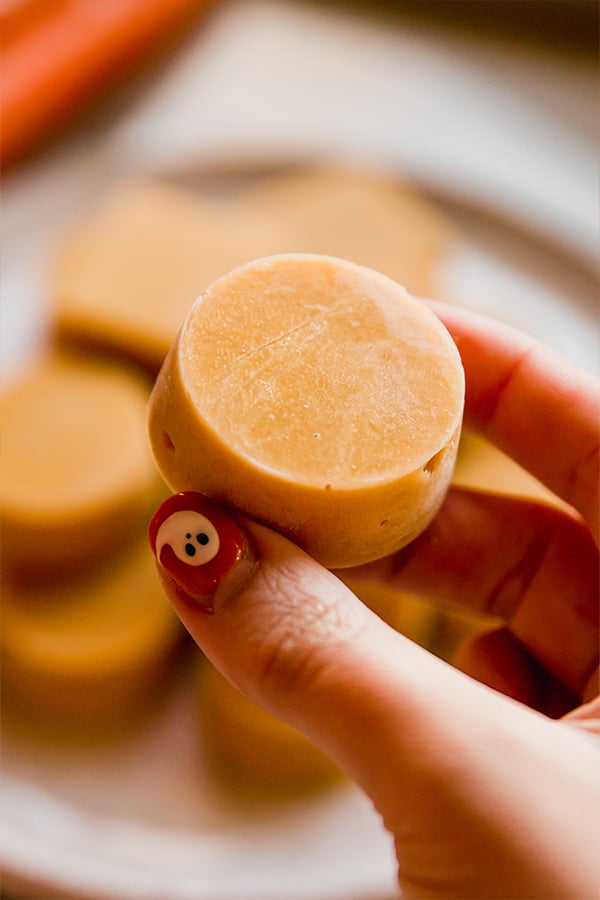 How to make Homemade Chicken Bouillon Cubes
Step One. Sear the chicken and then add water and simmer.
Step Two. Separate the chicken meat from the bone and set the water aside.
Step Three. Saute the vegetables until fork tender.
Step Four. Add the chicken, water, salt, pepper, and lemon juice to the pot and simmer.
Step Five. Allow to cool and blend.
Step Six. Spoon the mixture into molds and freeze.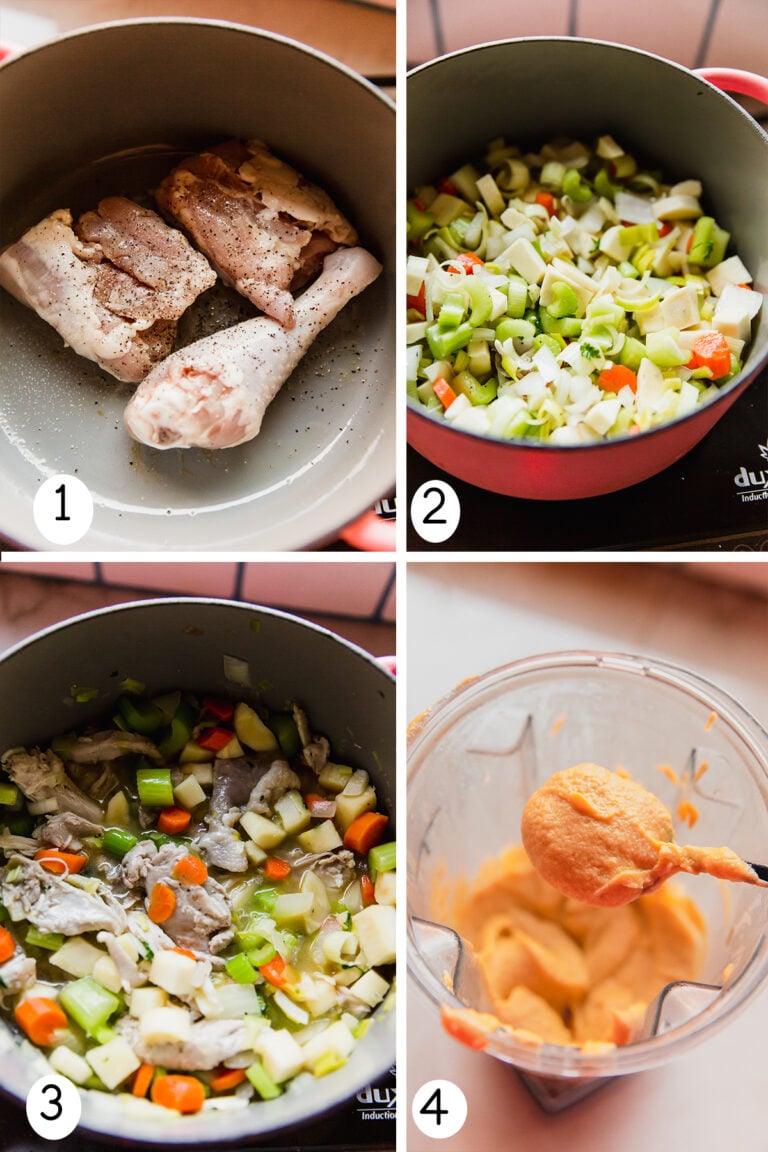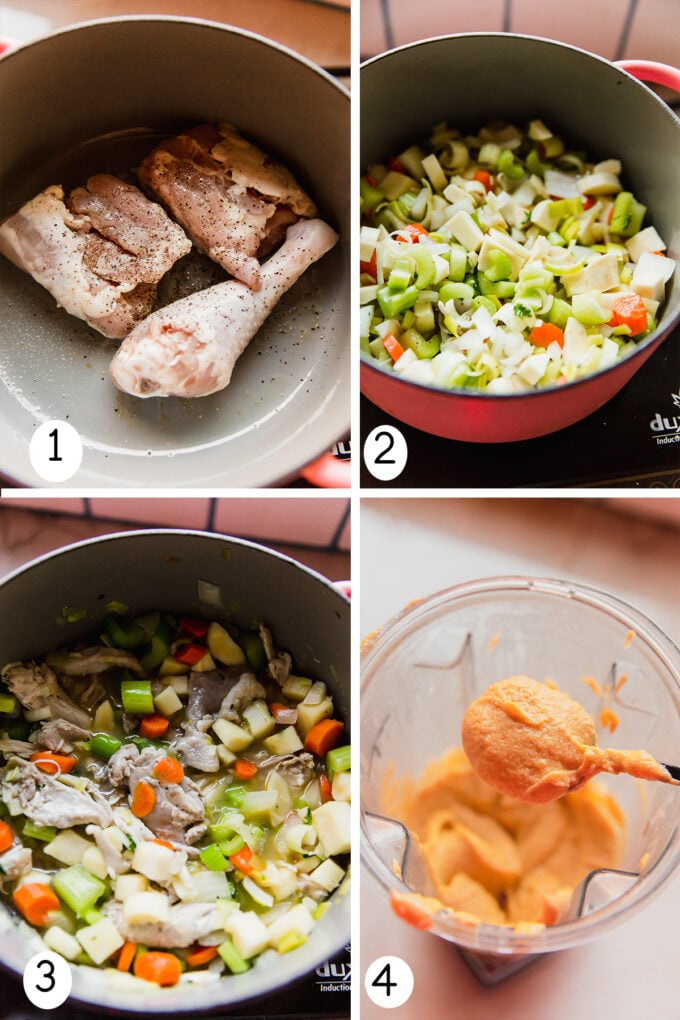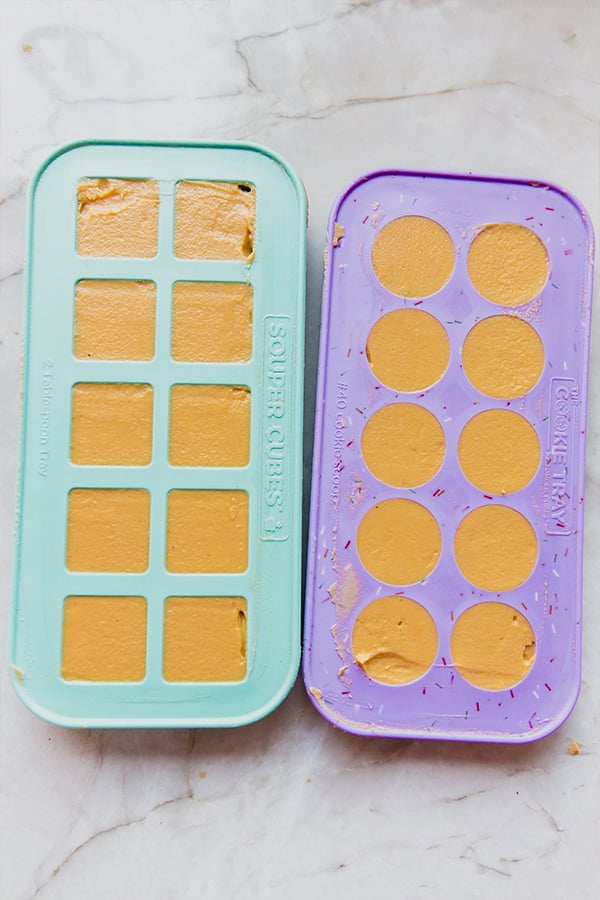 Tips & Tricks
Adjust the salt to taste. My husband loves really salty broth, but I tend to keep my salt content lighter if I'm cooking just for me. This recipe has a good amount of salt, but use what you'd usually use, and keep in mind it's concentrated!
Mix up the vegetables. If you have extra vegetables on hand that you want to use, go for it! Bell peppers, celery root, and fresh herbs would all be a good addition.
Make sure to keep the water to a minimum. I know you may feel tempted to add more water, but soup is not the goal here. We're looking for a highly concentrated flavor, and adding more water will dilute the flavor. We use a low amount of water and allow the vegetables to sweat out more of their liquids as that's far more flavorful than water!
Can you dehydrate these to make a powder?
I haven't tried this, but I assume you can!
How long do they last in the freezer?
These will last a minimum 3 months in the freezer.
How do you use them?
Add 1-2 (or more) cube to hot water to make a quick chicken stock.
Add a cube to the water when you're making rice for a flavorful rice.
Use 1-2 cubes in sauces.
Add it to virtually any savory recipe that uses water for a more flavorful liquid base!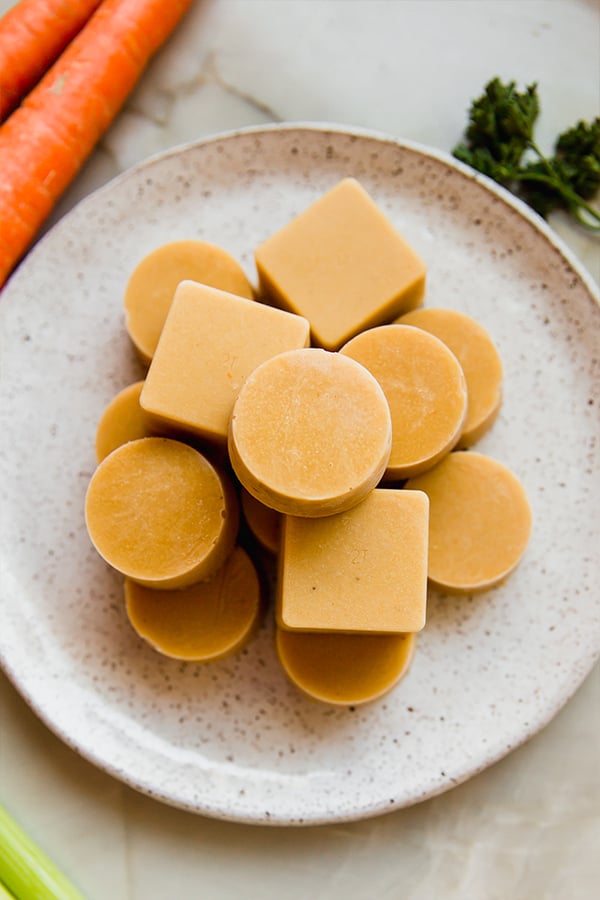 You'll also like…
Print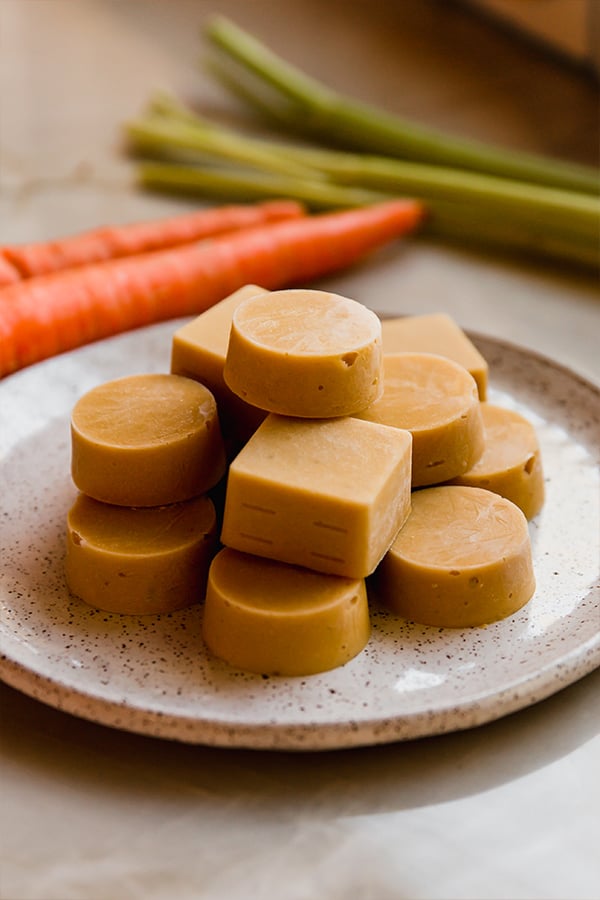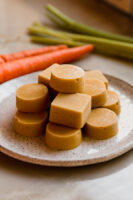 Homemade Chicken Bouillon Cubes
---
Author:
Total Time: 50 minutes
Yield: 20 servings 1x
Description
These easy homemade chicken bouillon cubes are made with no mystery flavorings of fillers, just fresh ingredients.
---
2 tbsp avocado oil (divided)
2 chicken thighs (bone in preferred, boneless is fine)
1 chicken drumstick
1 tsp salt, divided
1/4 tsp black pepper (omit for AIP)
1 cup water
1 large parsnip, peeled and chopped
2 medium carrots, peeled and chopped
1 leek, white part chopped
1/2 yellow onion, diced
3 cloves garlic, minced
2 tbsp parsley, chopped
Juice of half a lemon
---
Instructions
Using a pot or dutch oven, heat 1 tbsp of oil over medium heat. Lightly season the chicken with a bit of salt and pepper and add it to the pot. Cook for about 3 minutes on each side or until lightly seared. Turn the heat down to low. Once the temperature has reduced, add the water and cover the pot. Simmer for 10 minutes.
Remove the chicken from the pot, and carefully pour the water in a bowl and set aside for later. Remove the meat from the bone and set the cooked chicken aside.
Return the heat to medium-low and add another tablespoon of oil. Add the vegetables and season with half a teaspoon of salt. Saute for 8-10 minutes or until the vegetables begin to release their natural juices into the pot for extra liquid, and are lightly fork tender.
Reduce the heat to low. Add the chicken and water back to the pot along with the remaining salt and pepper and lemon juice. Cover for 20 minutes, stirring occasionally. The vegetables should be totally fork-tender.
Allow to cool before blending with an immersion blender or high-speed blender until no large chunks remain.
Spoon the mixture into a mold that holds about 2 tbsp per space. I use my Souper Cubes, but an ice cub mold will also work. Allow to freeze solid overnight before transferring to a freezer-safe container. Keep frozen for 3+ months and use it as you would regular chicken bouillon!
Notes
All nutritional information are estimations and will vary. Estimations do not include optional ingredients.
Prep Time: 10 min
Cook Time: 40
Nutrition
Calories: 72
Fat: 2.4g
Carbohydrates: 7.5g
Fiber: .8g
Protein: 5.1g