Pumpkin Ricotta Pierogies (gluten and dairy free)
These homemade pumpkin ricotta pierogies are about to up level your entire holiday season! This version is gluten and dairy-free, but tastes like the real thing.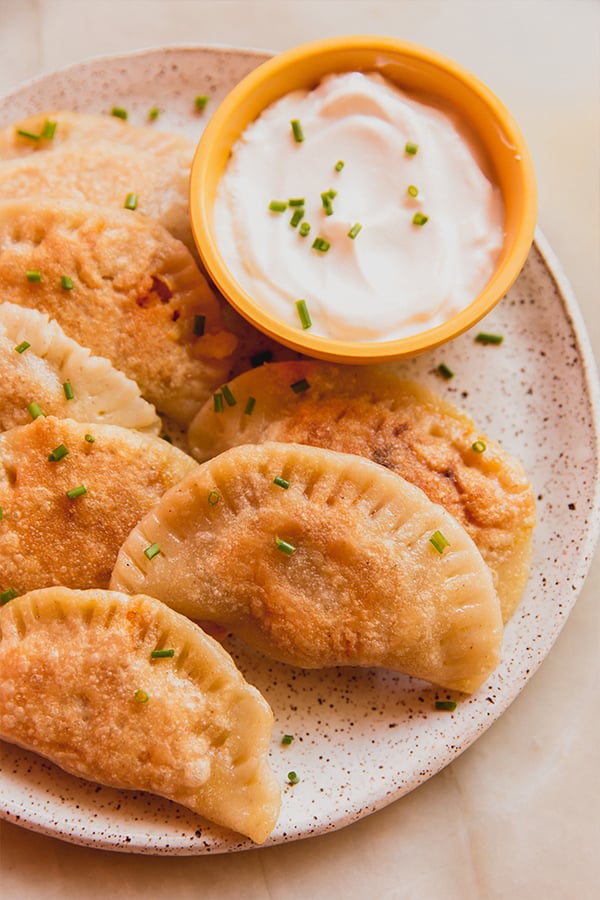 My paternal grandma was Polish and was known for her pierogies! Everyone in my family raved about how nobody could make them like her. If you've never had Pierogies, it's a Polish potato dumpling. The dumpling dough is made with flour, egg, and sour cream, and the filling is usually some kind of potato, onion, and cheese (though it can vary). They're delicious and perfect for the holidays!
I've been trying for years to get my own recipe down, and we've finally done it! This version is gluten-free, dairy-free, and has a bit of a non-traditional filling for Thanksgiving and fall, but still yummy!
The Ingredients for Pumpkin Ricotta Pierogies
Rice Flour and Chickpea Flour. I haven't found any other flour combinations or substitutions.
Arrowroot Starch. This is key to the recipe and also key to coat your surface with plenty of arrowroot starch to work with the dough.
Psyllium Husk.
Coconut Yogurt. I like the brand Culina.
Egg. Using egg is the best way to make this recipe, but if you can't tolerate egg I have the best substitutions written out further down.
Avocado Oil and Salt.
Yellow Onion, Salt, Pumpkin Puree, Dairy-Free Ricotta, and Dried Sage. This makes this non-traditional filling that is so delicious! You could also use a more traditional potato or sweet potato filling.
Chives and Dairy-Free Sour Cream. These are for serving. I like to use coconut yogurt as a dairy-free sour cream option.
How to make Pumpkin Ricotta Pierogies
Step One. Make the dough and allow to set in the fridge.
Step Two. Saute the onions and then combine with pumpkin puree, ricotta, and sage to make the filling.
Step Three. Roll out the dough and cut out circles.
Step Four. Take each piece of dough and add filling and seal the pierogies.
Step Five. Boil the pierogies.
Step Six. Pan fry the pierogies.
Step Seven. Serve and enjoy!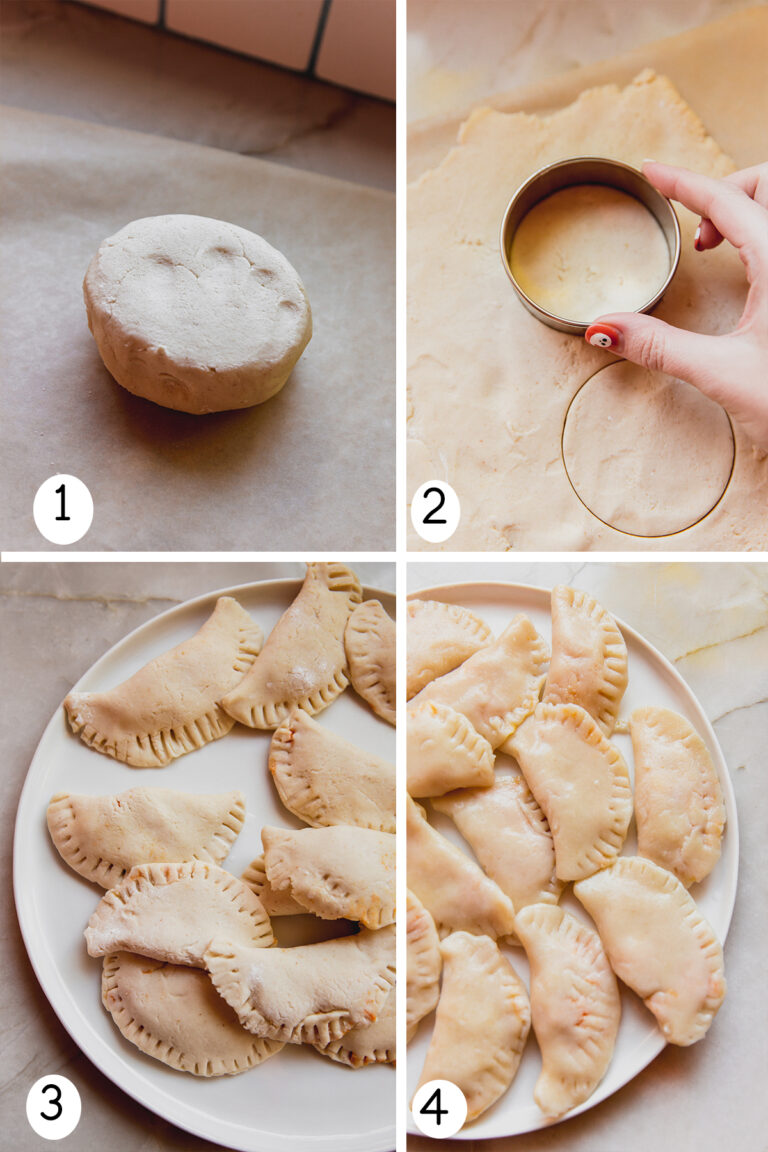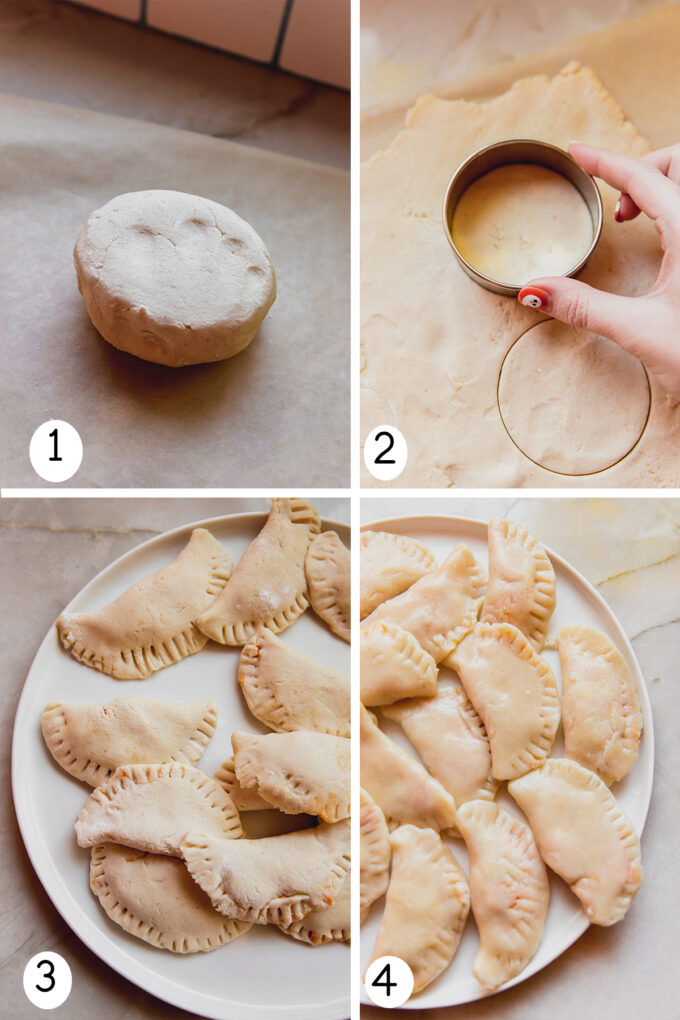 Tips & Tricks
Use lots of arrowroot starch to flour your surface when rolling out the dough. The dough can get a little sticky, so be sure to flour the surface, and your rolling pin to prevent sticking.
Mix up the filling. This version is made specifically for Thanksgiving and fall, but feel free to stick with a traditional filling like mashed potato or sweet potato.
What do you serve pierogies with?
Sour cream. But I use coconut yogurt to keep it dairy-free! I know it sounds a little weird, but in context with the fully prepared Pierogies, it tastes right! You can also go for any other sour cream alternative of your choice.
Chives. I love adding fresh chives on top.
Caramelized onions. They always go well with pierogies if you'd like to add them to this recipe!
How to make the pierogies egg-free
I highly recommend the egg version just because it yields the best texture, but if you're egg-free, here's what I suggest! Add an extra tsp of psyllium husk and an extra 1/4 cup of water. Again, it's not exactly the same, but it's the best swap for this particular recipe. You can also try other egg replacers if desired.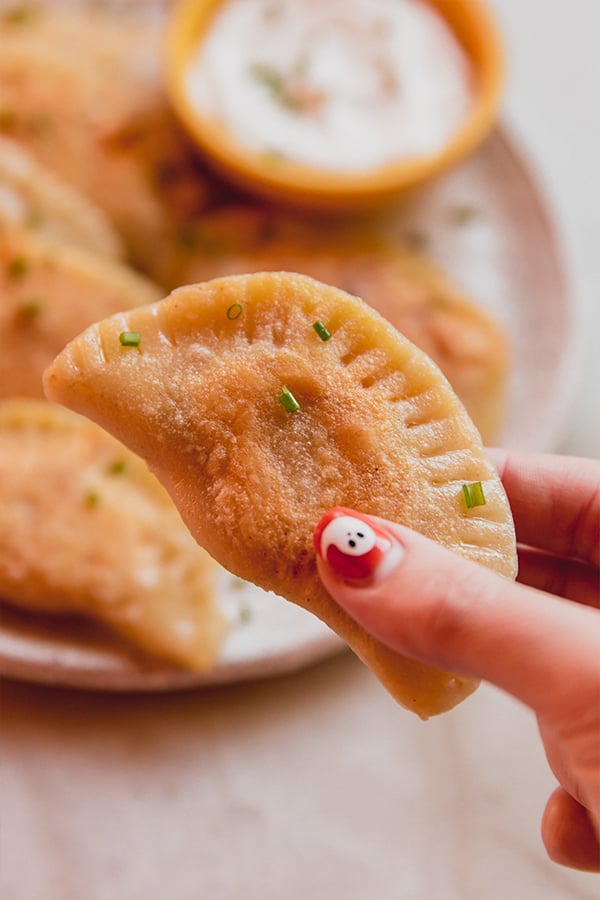 You'll also like…
Print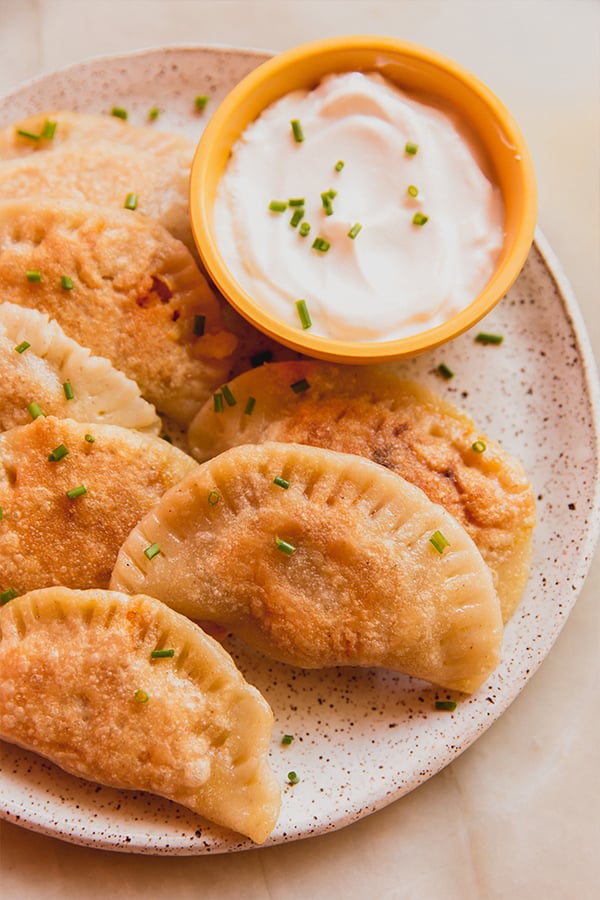 Pumpkin Ricotta Pierogies (gluten and dairy free)
---
Author:
Yield: 16 pierogies 1x
For the pierogi dough
1 1/4 cup rice flour
3/4 cup arrowroot starch
2 tbsp chickpea flour
1 tsp psyllium husk
1/2 tsp salt
1/2 cup warm water cup
1/3 cup coconut yogurt
1 egg
1 tbsp avocado oil
For the filling
2 tsp avocado oil
1/2 yellow onion, diced
Salt to taste
1/2 cup pumpkin puree
1/3 cup dairy-free ricotta (I use kite hill)
1 1/2 tsp dried sage
To serve
1 tbsp chives, chopped
1/2 cup dairy-free sour cream (I use coconut yogurt)
---
Instructions
To make the dough, combine the dry ingredients in a large bowl and whisk well. Add the yogurt, egg, water, and oil and stir until a dough forms. Use your hands to knead the dough for about a minute to fully combine. Set the dough in the fridge for 30 minutes to set.
Using a pan, heat the oil over medium heat. Saute the onion and lightly salt. The onion should be soft and translucent. Add to a bowl and combine with the pumpkin puree, ricotta, sage, and extra salt to taste. Set aside.
Dust a clean surface with arrowroot starch, and dust a rolling pin as well. Roll out the dough into a thin layer, about 1/4″ thick. Use a biscuit cutter (or a cup) to cut out the pierogi circles. You should have about 16 larger pierogies, or 20 smaller.
Working with one piece of dough at a time, spoon about 2-3 tsp worth of the filling into the center of the dough. Fold over into a half moon, sealing the dough with your finger. Crimp the dough with a fork on both sides. Set aside on a clean plate and repeat for all of the dough and filling.
Bring a pot of well-salted water to a boil and boil the pierogies in two batches, stirring to prevent sticking. Remove from the pot once they float.
Using a large pan, add some oil to the base of the pan over medium heat. Fry the pierogies in two batches for a few minutes on each side or until crisp. Set aside.
Serve the pierogies topped with chives and with a side of dairy-free sour cream of choice.
Notes
All nutritional information are estimations and will vary. Estimations do not include optional ingredients.
Nutrition
Serving Size: 1 pierogi
Calories: 108
Fat: 3.2g
Carbohydrates: 17.4g
Fiber: 1g
Protein: 2g