Everything Bagel Salmon Salad
This post contains affiliate links. 
This everything bagel salmon salad is the perfect brunch salad with all of the everything bagel flavors that you love! This recipe is dairy-free and gluten-free.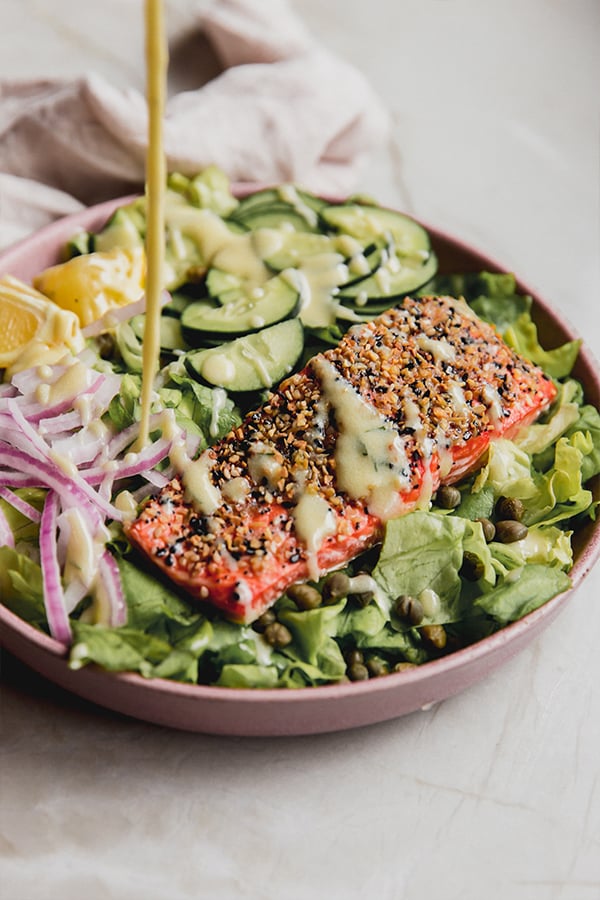 Everything bagel seasoning is popular for good reason… it's delicious! Obviously, it tastes good on bagels, but so many other foods, like salmon! This everything bagel salmon salad has all of the everything bagel flavors but is totally gluten and dairy-free.
Why you'll love this everything bagel salmon salad
It's filling! Some salads can be a little bit light, but this one is super filling with the salmon, dressing, and veggies!
The everything bagel seasoning flavor! It's delicious and compliments the flavors of the salmon and veggies!
The ingredients for everything bagel salmon salad
Romaine Lettuce. Arugula would also be a great base for this salad or even a spring mix.
Salmon Filets. You can definitely use frozen preportioned salmon for ease!
Everything Bagel Seasoning. You can make this at home with sesame seeds, poppy seeds, garlic, and onion, or you can buy a premade mix like this. To make it AIP, you can also use this seasoning in this recipe.
Red Onion and Cucumber. 
Capers. 
Dairy-free Cream Cheese, Almond Milk, Avocado Oil, Lemon, and Dried Dill. These are the main ingredients for the creamy cream cheese dressing!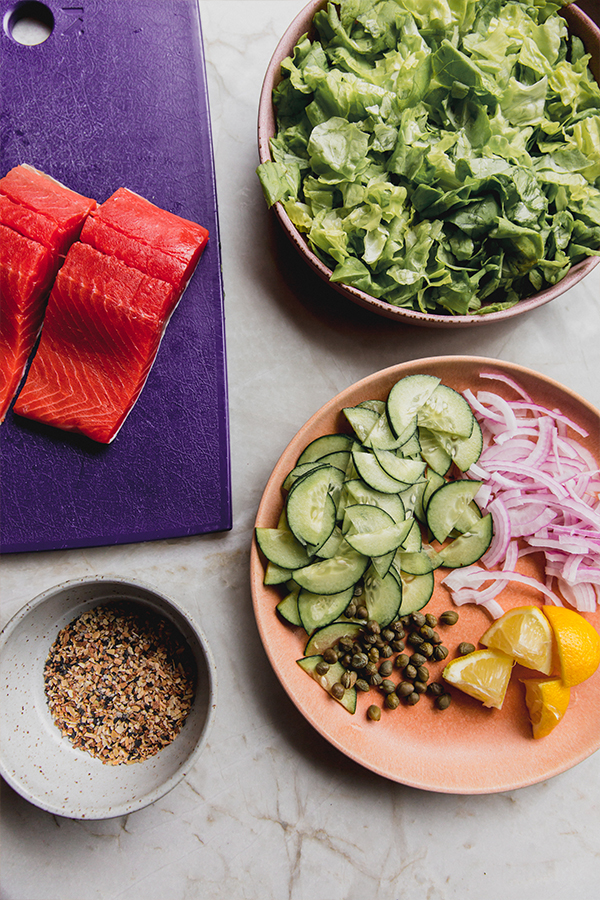 How to make everything bagel salmon salad
Step One. Season the salmon with everything bagel and add to baking dish.
Step Two. Bake the salmon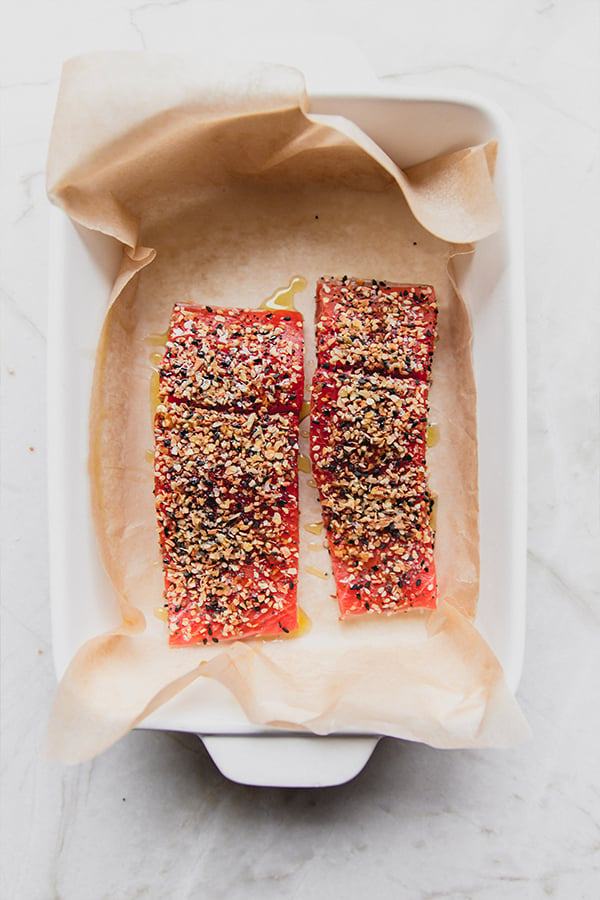 Step Three. Make the salad dressing by combining ingredients and blending.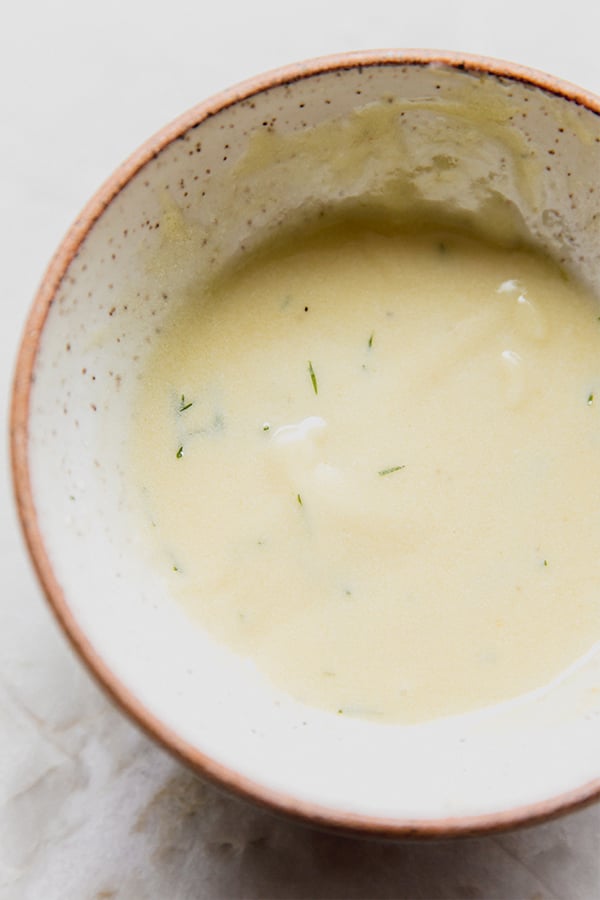 Step Four. Assemble the salads and enjoy!
Tips & Tricks
Use preportioned, frozen salmon to make it easier. No need to run to the store to get fresh salmon, you can totally just use preportioned defrosted salmon to make this easier.
Add extra veggies and toppings. Tomato, avocado, and even some kind of crouton would all be great on this salad.
Can you use a different dressing?
The salad will still taste delicious without the cream cheese dressing. You can do a simple oil and vinegar dressing with olive oil and lemon juice, and it will still taste wonderful.
Is this salmon salad healthy?
Healthy is always subjective and means something different to everyone, but since this recipe is packed with healthy fats, and tons of veggies, we'd call this a healthy salad!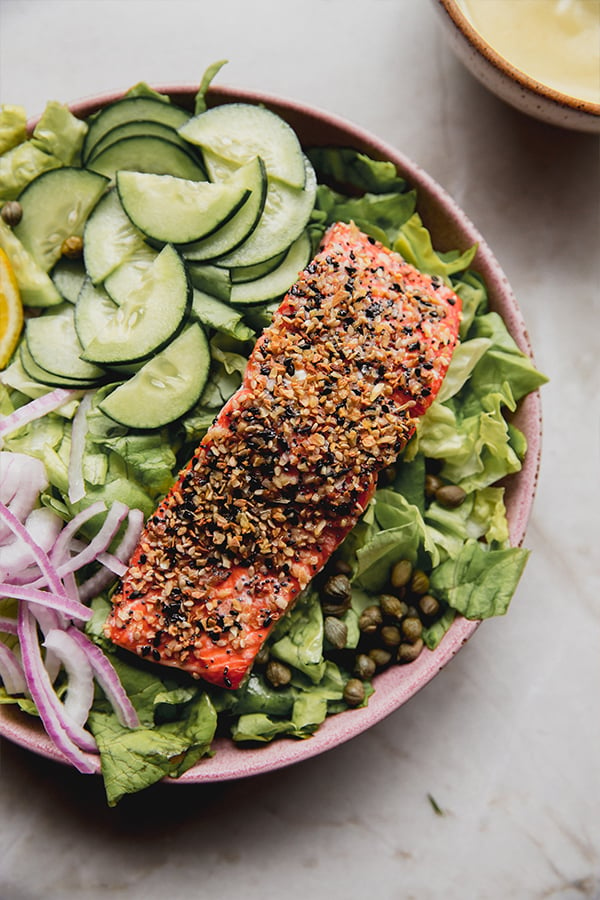 You'll also love…
Print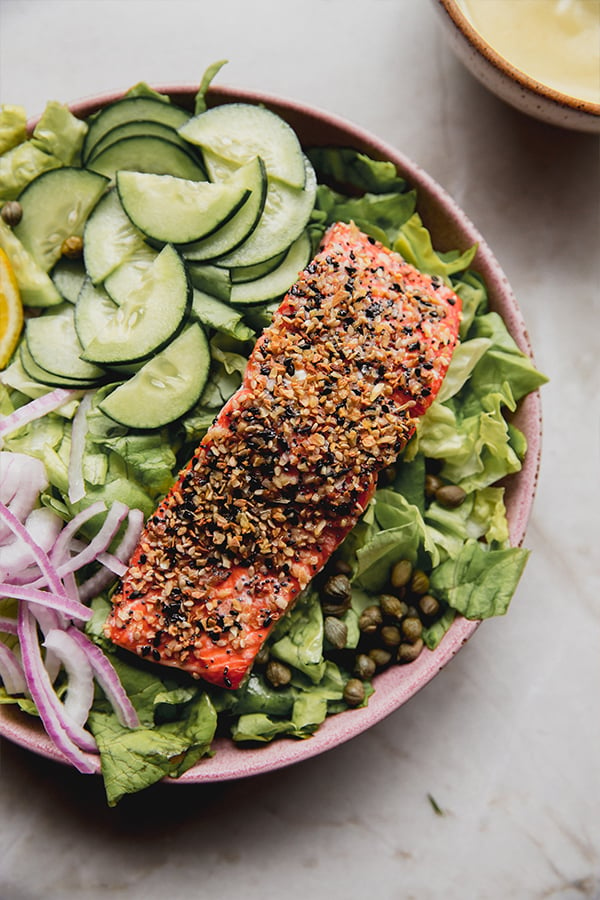 Everything Bagel Salmon Salad
---
Author:
Yield: 2 servings 1x
2 4oz salmon filets
2 1/2 tbsp everything bagel seasoning (sub this for AIP)
1 1/2 tbsp avocado oil
4 cups romaine lettuce, chopped
1 cucumber, sliced thin
1/2 red onion, sliced thin
2 tbsp capers
Lemon wedges to serve
For the dressing
2 tbsp dairy-free milk
1 1/2 tbsp dairy-free cream cheese (I use this, sub coconut cream for AIP)
1 tbsp lemon juice
1 tsp dried dill
Salt and pepper (omit pepper for AIP)
3 tablespoons avocado oil
---
Instructions
For the salad
Preheat the oven to 400 F and line a baking sheet or small casserole dish with parchment paper.
Pat the salmon filets dry and generously season with bagel seasoning. Add the salmon to the baking dish and drizzle with avocado oil.
Transfer to the oven and bake for 10-12 minutes, or until the salmon easily flakes and is cooked through. Set aside.
To assemble the salads, divide the lettuce between two bowls. Top with cucumber, red onion, capers, and one salmon filet for each salad. Serve with the dressing (instructions below).
For the dressing
Using an immersion blender (or food processor) blend the almond milk, cream cheese, lemon juice and and seasonings. Slowly drizzle in the oil while blending, until the dressing is emulsified. Serve over the salad.
Notes
All nutrition facts are estimated and will vary.
Nutrition
Calories: 554
Fat: 44.4g
Carbohydrates: 14g
Fiber: 4.8g
Protein: 29.6g