Best Infused Water Recipe
This anti-inflammatory fruit and ginger-infused water is the perfect homemade refresher. It's made with ginger, watermelon, and tons of other fruits and veggies that feature added health benefits.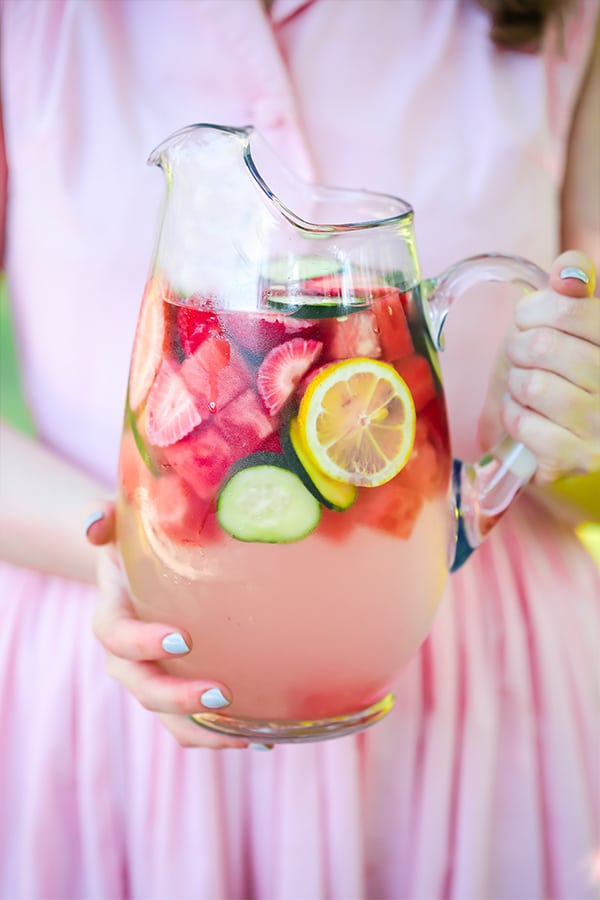 Let's face it, sitting at an outdoor gathering with just a cup of water can feel a little bland! And who just wants lemon in their water at a BBQ or summertime party? That's why I'm sharing this yummy infused water recipe! It's a beautiful and flavorful alternative to a cold soda that features a myriad of health benefits.
Serve this infused water at a summertime party, or just pop it in your fridge for the perfect refreshing and nutrient-packed beverage!
The Health Benefits Of This Ginger & Fruit Infused Water
So, what's the big deal? Why is this water that much better than a sugary lemonade? Here are just a few reasons why this anti-inflammatory water is a great choice for summer.
Hydration from water is key to health. Nothing hydrates us like water does, and drinks like beer, soda, and coffee can actually dehydrate us. Our body needs to stay hydrated to lubricate our joints, and to carry nutrients throughout the body. Dehydration is a serious issue, and we need to stay hydrated to stay healthy and ward off inflammation.
The ginger in this water is a powerhouse ingredient. What makes this water especially unique is the grated ginger. Not only does it give it a little spicy kick, but ginger is known to naturally support good digestion and be anti-inflammatory!
It's naturally sweetened with whole fruit slices. Unlike other drinks you'd find in the chest cooler at a picnic, this water has zero added sugar. The only sweetness comes from the whole fruit slices! Not only  do these fruits taste amazing, but some of the fruits like the strawberries contain powerful antioxidants that fight inflammation.
The Ingredients You'll Need
Fresh Water.
Watermelon and strawberries. These add a nice sweetness to the water. You can also use other fruits like peach or mango.
Lemon. The lemon adds a light flavor to the water.
Cucumber.
Ginger. Ginger is the star anti-inflammatory ingredient here. Since it's a bit spicy, you may have to scale the amount up or down depending on your tastes. I think 1″ of ginger works great, but you can easily double it.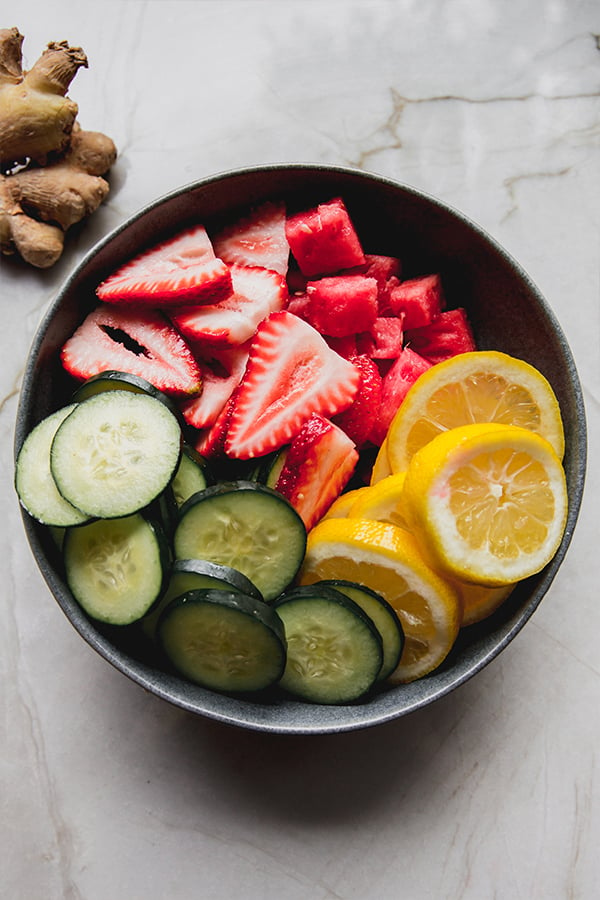 How to make Ginger Infused Water
Step One. Add all of the ingredients and pour the water over.
Step Two. Chill!
Step Three. Mix well and serve with a large ladle or spoon to scoop out the fruit and ginger into glasses. Add ice if needed.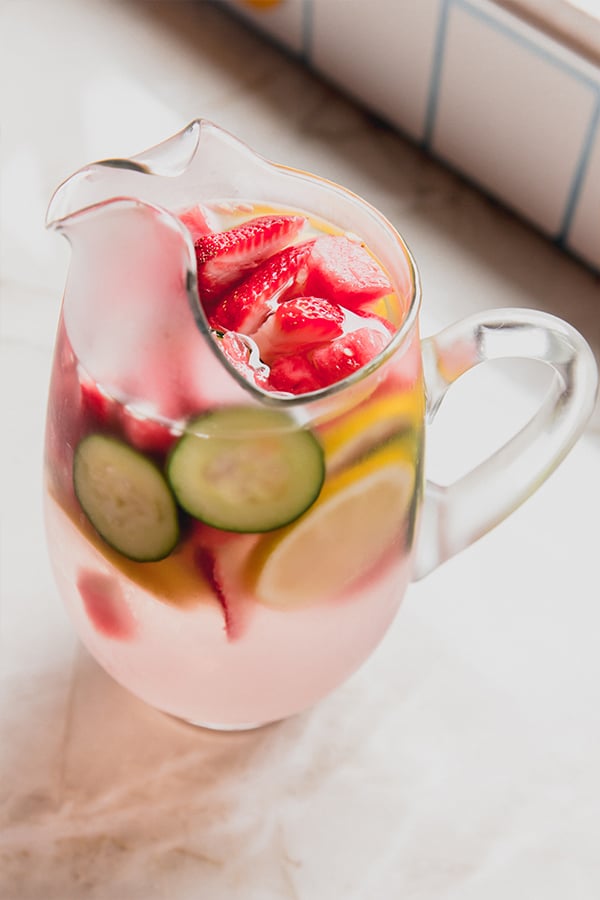 Tips & Tricks for Making Infused Water
Mix up the ingredients. If you prefer different fruits, you can swap that in instead. Some other great options would be limes, oranges, and even fresh mint and basil.
Chill, chill, chill! This water is actually better the longer it chills! I recommend minimum 2 hours, but you can even do it the night before! If it sits for a few hours in the fridge, the flavors are infused longer and you get an even more flavorful water.
Can you use sparkling water instead of fresh water for infused water?
The issue with using sparkling water is that it will go flat while sitting in the fridge. I recommend using fresh water, and maybe adding a bit of sparkling water when ready to serve fresh if you really want some bubbles.
Should you add ice?
You can for sure add ice if you like it extra chilled!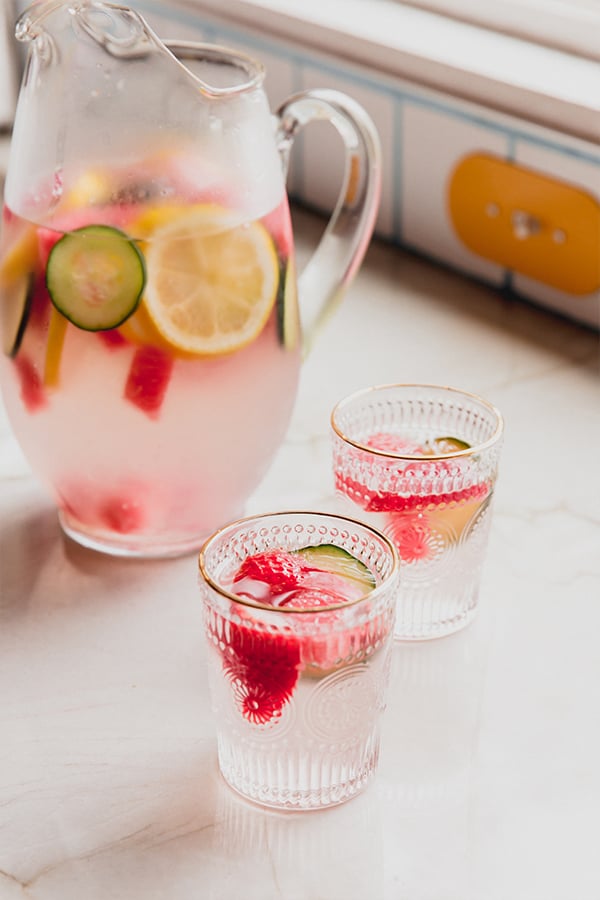 You'll also like…
Print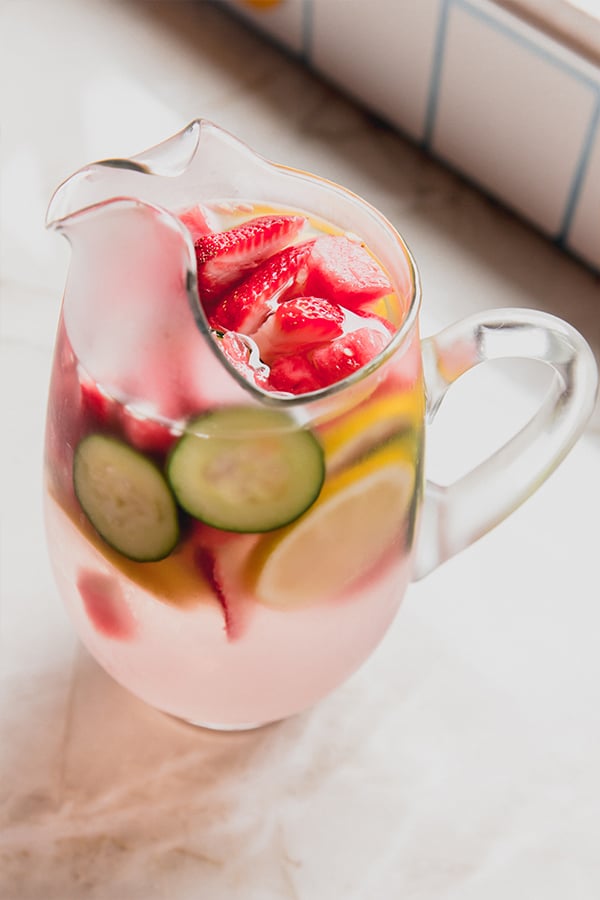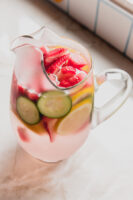 Fruit & Ginger Anti-inflammatory Infused Water
---
Author:
Total Time: 15 minutes
Yield: 8 servings 1x
32 oz fresh, filtered water
1 1/2 cups watermelon, cubed
1/2 cucumber, sliced
1 cup strawberries, halved
2 lemons, sliced
1 small knob of ginger, grated
---
Instructions
Add in all of the fruits, cucumber, and ginger to a large pitcher. Pour the water over the fruit and mix well.
Transfer to the fridge and chill for 2-4 hours before serving to allow the flavors to infuse.
Mix well and serve with a large ladle or spoon to scoop out the fruit and ginger into glasses. Add ice if needed.
Notes
All nutritional information are estimations and will vary. Estimations do not include optional ingredients.
Prep Time: 15
Category: Drinks
Cuisine: American
Nutrition
Serving Size: 1 serving
Calories: 24
Fat: 0.2g
Carbohydrates: 6.2g
Fiber: 0.7g
Protein: 0.6g
This recipe was published in 2018 and updated in 2023.