Healing Holiday Stocking Stuffer Gift Guide
This post contains affiliate links. Learn what that means, here.
Can you believe that the holiday's are so close? I'm fully immersed in my own little marshmallow (corn free of course) world over here and have all of gift shopping done! Except for one thing… stocking stuffers!
Stocking stuffers are always my last thing to tackle, but probably my favorite thing to buy. I just love getting little treats and snacks, and thoughtful knick knacks! I used to love getting tons and tons of candy in my own stocking, but not so much anymore.
However, just because you can't enjoy tons of sugar in your stocking, doesn't mean that you still can't ask Santa to deliver something a bit more healing friendly! I've put together a list of healing holiday stocking stuffers that are AIP and Paleo friendly to gift to your favorite healing family and friends, or ask for you own stocking!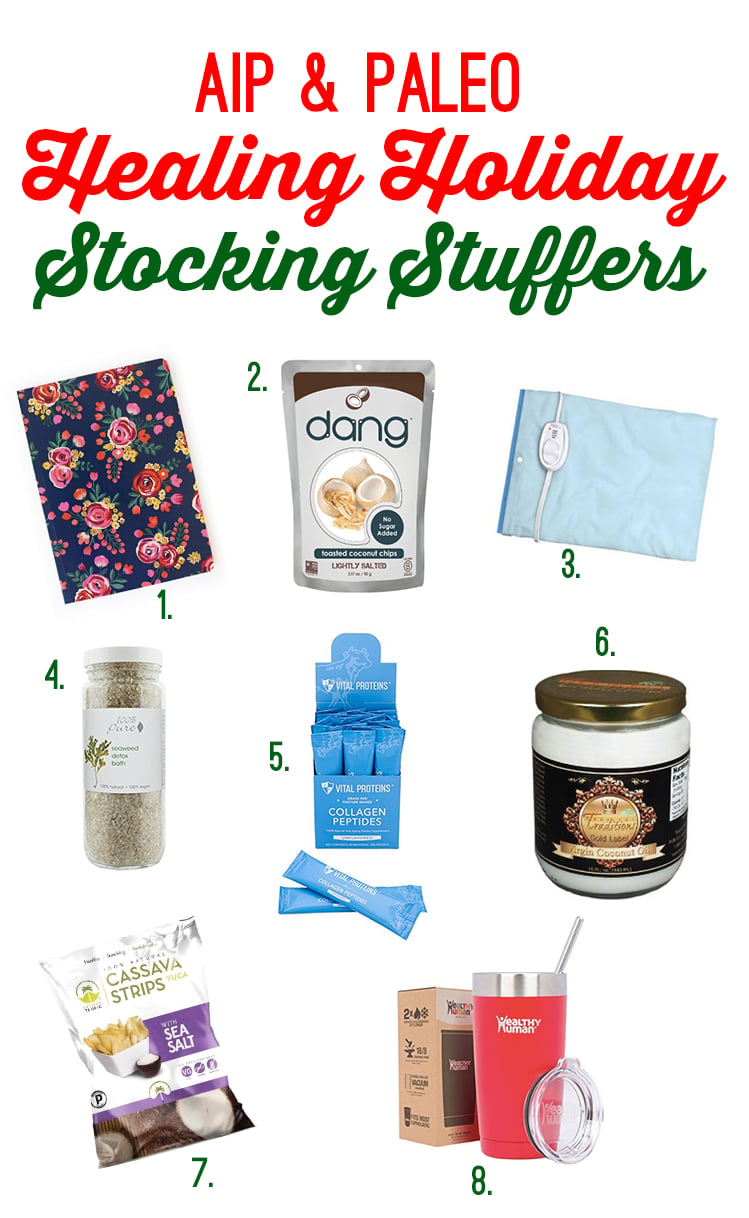 Whether it's tracking symptoms, food, or just letting out your feelings, journals are always a great little gift!
These coconut chips are an easy, safe snack that even non-compliant folks can appreciate! Sprinkle them on some hot chocolate or compliant pancakes on Christmas morning, and you're good to go.
A lot of people ask me what I use for acute pain like an ache if I don't use NSAID's on a gut healing diet. Say hello to my secret weapon… a heating pad! Not only are heating pads great for acute pain, but they're an important part for doing a castor oil pack, which I recommend to almost all of my clients.
4. Vital Proteins Collagen Peptides Sticks
Vital proteins collagen is one of my favorite gut healing secret weapons and pops up in my day to day cooking and recipes like my gut healing chocolate collagen bites. Collagen supports the gut lining as well as skin, hair, and nails all while adding in some extra protein and amino acids. These sticks saved my butt on my recent trip to Indonesia, and they're the perfect healing stocking stuffer!
5. 100 Percent Pure Detox Seaweed Bath
I'm a big fan of 100% Pure and their safe, high quality cosmetics. This detox seaweed bath smells amazing and is the perfect addition to your self love routine, and weekly detox support regime.
From cooking, to using it topically, to oil pulling, you can use coconut oil for a myriad of things. Though it may not be a conventional stocking stuffer, coconut oil will never going to waste on a healing diet!
This is on my own wish list this year after I just couldn't stop seeing them on Instagram. These mugs are non-toxic, easy to clean, and great for everything from water, to bone broth, to lattes!
8. Artisan Tropics Cassava Chips.
If you haven't had these yet, you're missing out! They taste just like potato chips and are the perfect snack to make anyone feel like they're indulging while staying compliant.
I hope you enjoy these fun stocking stuffers! Happy holidays, friends!