Homemade Chicken Lunch Meat
This homemade chicken lunch meat tastes like the real deal with real food ingredients! It's surprisingly simple to make at home with minimal ingredients.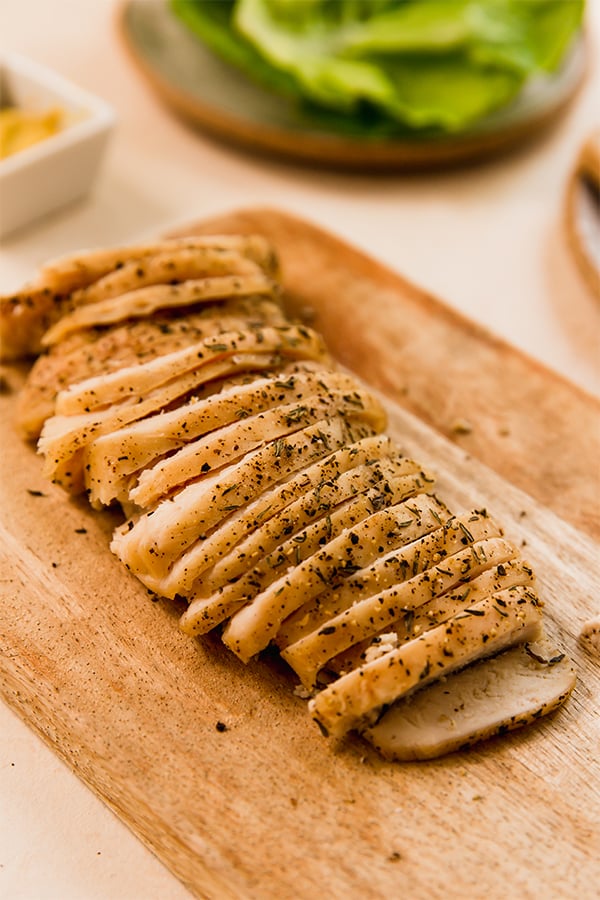 Did you know that you can make your own lunch meat at home?! I was shocked to learn this recently. I love the convenience of turkey or chicken lunch meat, but I dislike the added ingredients and the quality usually makes me feel iffy.
Making it at home is relatively simple and you can control exactly what ingredients go in it! Less sodium, no refined sugar, no caramel coloring, just good food and lots of flavor.
The Ingredients for Homemade Chicken Lunch Meat
Chicken Breast. You can use frozen chicken as long as it's defrosted.
Maple Syrup. You can also use honey.
Onion Powder and Garlic Powder. This is used in the marinade.
Apple Cider Vinegar. I add apple cider vinegar to make the flavors pop more!
Black Pepper and Dried Thyme. You can omit the black pepper for AIP.
Salt and Pepper. 
How to make Homemade Chicken Lunch Meat
Step 1. Marinate the chicken.
Step 2. Reverse brine the chicken in water for an hour.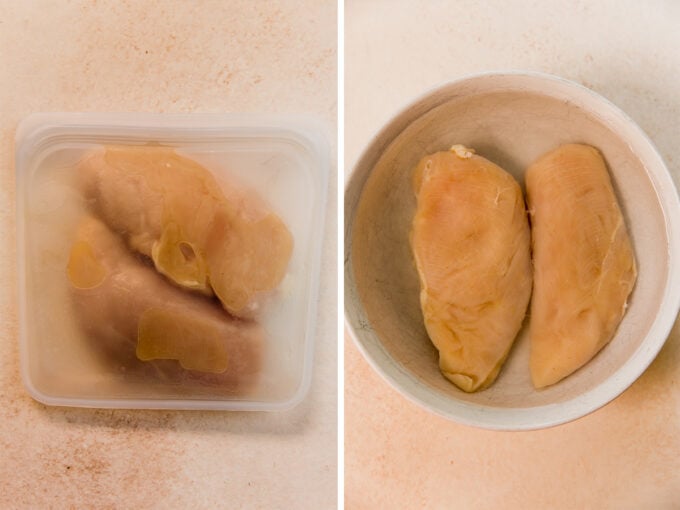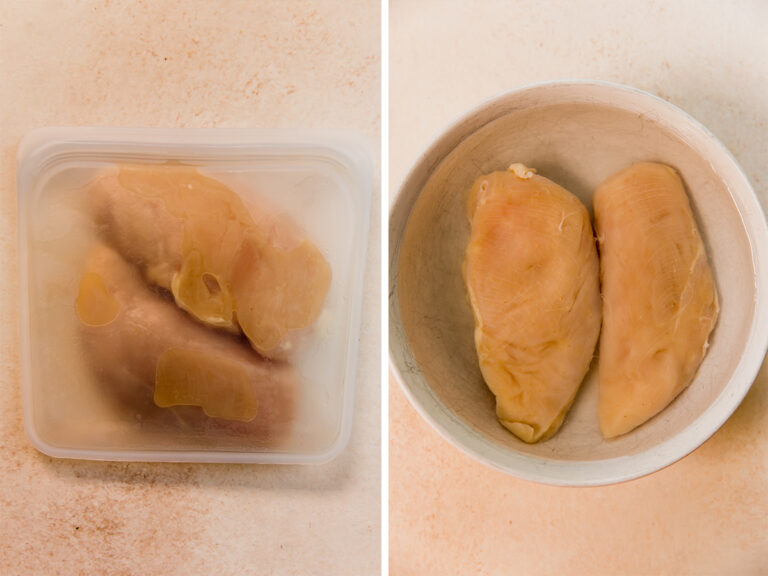 Step 3. Rub the chicken with apple cider vinegar and seasonings on all sides and bake.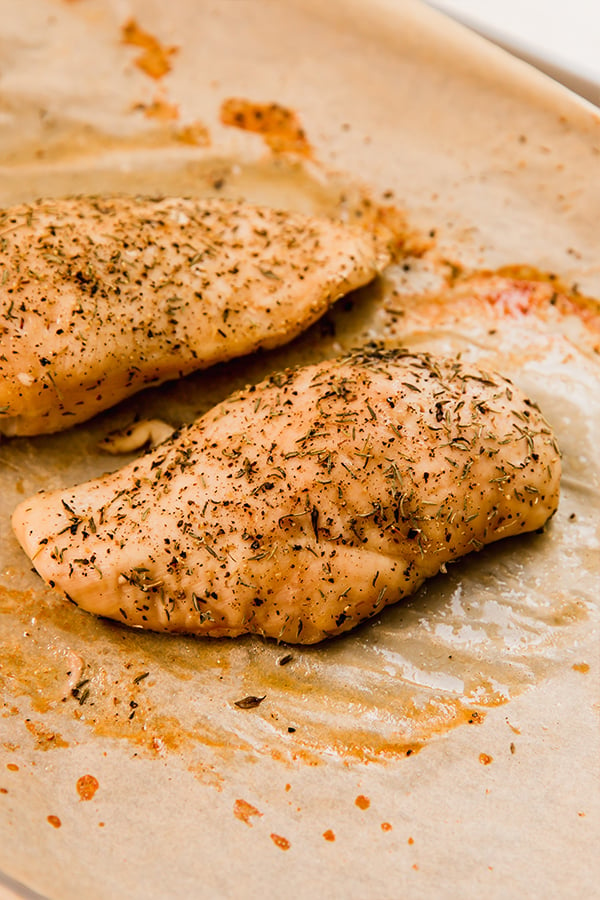 Step 4. Cool, slice and serve!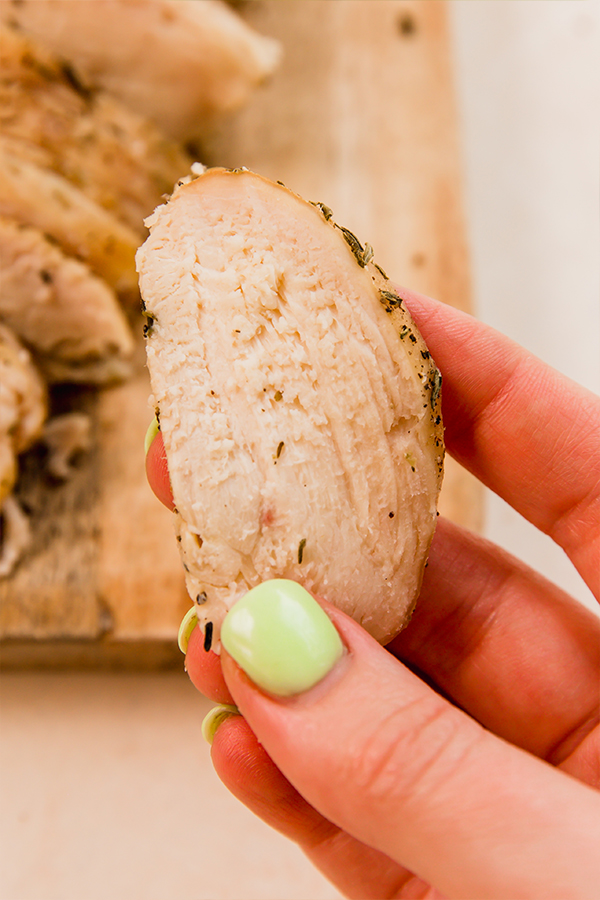 Can you do this with other proteins like turkey?
You should be able to use this same method for turkey breast as well! However, keep in mind that turkey breast is much bigger, so you'll need to adjust the amount of ingredients, as well as the cooking time.
How long does this chicken lunch meat stay fresh?
I keep it in the fridge for 3-4 days. Theoretically, you can also freeze this to keep it longer.
Can you use other flavorings?
You definitely can add a variety of seasonings before you put this in the oven! Here are some ideas…
Blackened seasoning
Italian seasoning
More herbs (like sage, rosemary etc.)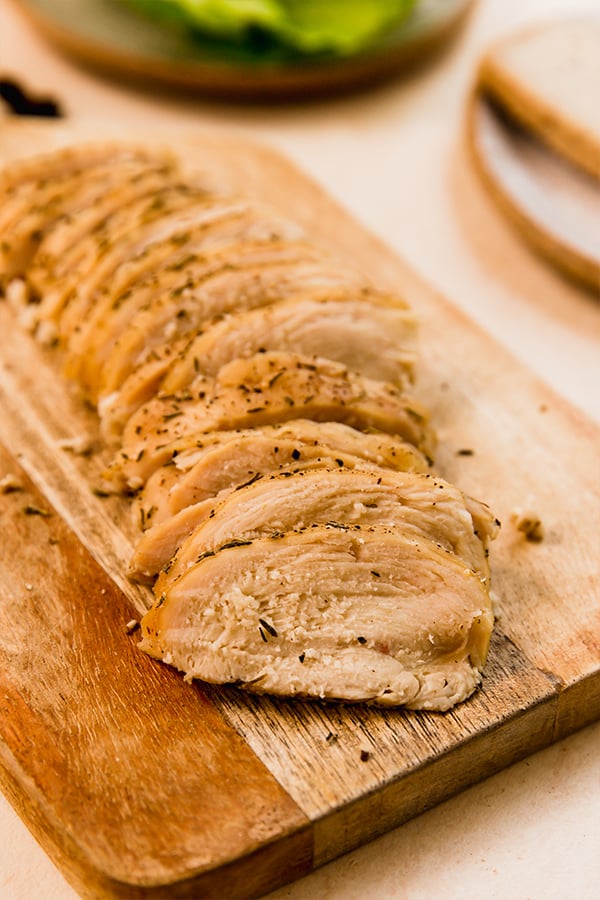 You'll also like…
Print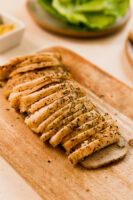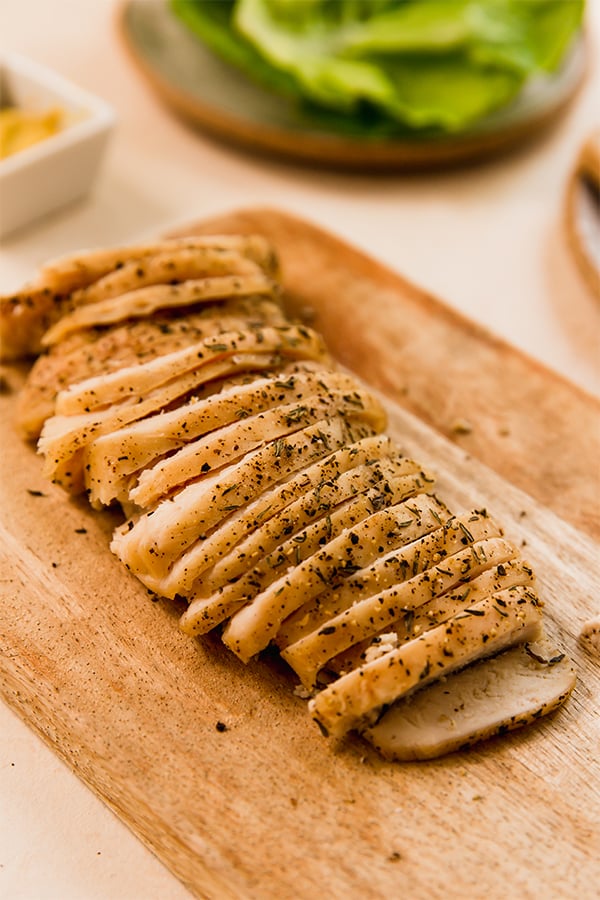 Homemade Chicken Lunch Meat
---
Author:
Yield: 4 servings 1x
1 lb chicken breast
1 tbsp maple syrup
1 tbsp garlic powder
2 tsp onion powder
1–2 tsp salt (see notes)
2 tsp apple cider vinegar
1–2 tsp black pepper
1–2 tsp dried thyme
---
Instructions
Pat your chicken breast dry and set it on a clean surface.
Combine the maple syrup, garlic powder, onion powder, and salt in a bowl until well mixed. Rub the mixture onto all sides of your chicken. Place the chicken in a reusable bag (like a stasher bag) or a covered bowl. Allow to marinate in the fridge for 36-48 hours.
Prepare a bowl filled with chilled water and add your chicken. Cover and allow to sit at room temperature for an hour. This helps to draw out some salt and keep the chicken moist.
Preheat the oven to 250 F and line a baking sheet with parchment paper.
Pat the chicken dry and add to the parchment paper. Rub the chicken with apple cider vinegar on all sides and season with your desired amount of pepper and thyme on all sides.
Bake in the preheated oven for an hour or more depending on the thickness of your chicken breast, until the internal temperature is 165 F.
Remove from the oven and allow to rest for 30 minutes before thinly slicing.
Serve like you would any other lunch meat on sandwiches, wraps, etc!
Notes
You can lower the salt to avoid excess sodium, however, keep in mind that soaking the chicken in water does help draw out some of the salt. I add 2 tsp and find the salt level in the finished product is perfect!
All nutritional information are estimations and will vary. Estimations do not include optional ingredients.
Inspired by torts and tarts and day in the kitchen.
Nutrition
Serving Size: 1 serving
Calories: 163
Fat: 3g
Carbohydrates: 6.4g
Fiber: .6g
Protein: 26.1g