Mint Chip Banana Ice Cream Cups (Paleo, AIP, Vegan)
Early June is Dallas, TX means it's already in the 90's and pretty unbearable to go outside between the hours of 10 AM – 10 PM. The sun is killer here, and even just a short time outside can leave you completely heat exhausted. I grew up on Long Island, NY, and even though I've been in Texas since middle school, I'm still in denial that these Texas summers even exist. I feel bad for wishing 3 months of my life away each and every year, but I always find myself in the trap of hating the heat. So you can imagine how popular frozen treats are in our house this time of year. There are always fruit and veggie popsicles on hand in the Hoover household, and this year, I wanted to make something even more fun… Mint Chocolate Chip Banana Ice Cream Cups!
Mint chocolate chip was always one of my favorite ice cream flavors… that and cookie dough. But, we'll save that for another day 😉 It's so fresh, flavorful, and reminiscent of summer. When I started seeing mint leaves popping up in the late spring, I knew that I had to make some ice cream with them!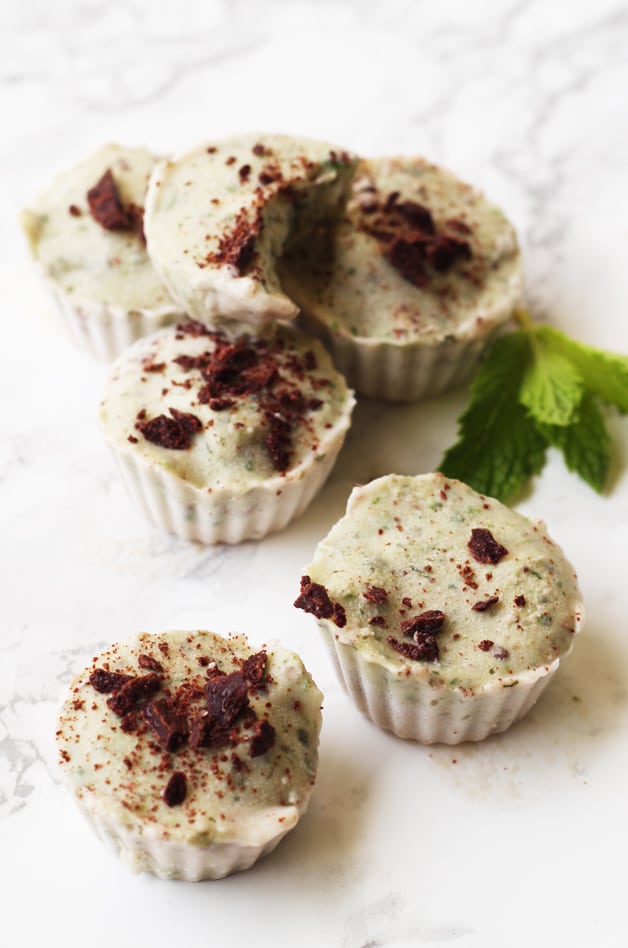 Now, the decision to make ice cream cups rather than a soft serve or a popsicle was pretty intentional and specific. I made a soft serve ice cream last year (my turmeric mango ice cream) and really wanted to switch it up with these. Something I really love about these ice cream cups is that they're perfect little bite sized servings which makes them perfect for those who are watching how much sugar they're getting, or even for just serving at a party to insure that everyone gets a bite.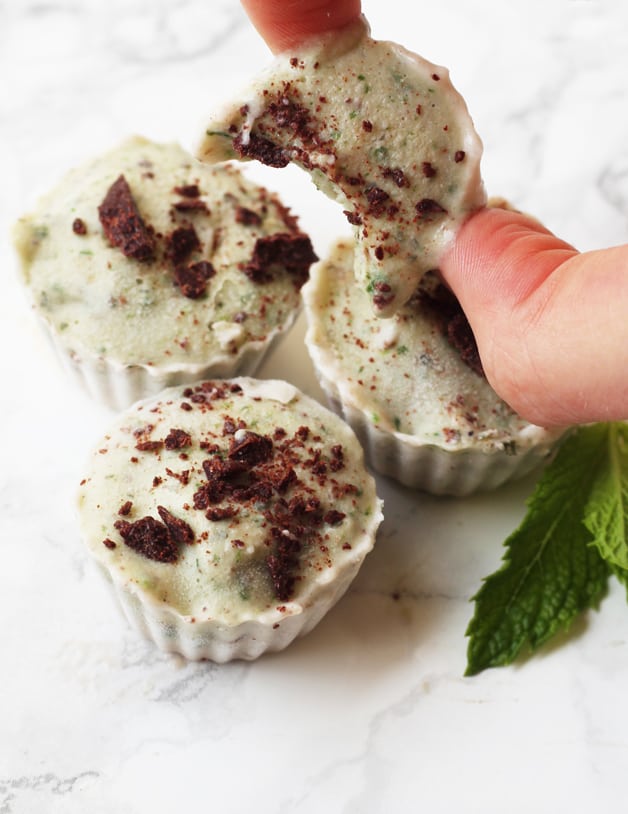 Plus, seeing as they're frozen in bite sized molds, they're super easy to make and just keep in the freezer for treats to have on hand. And when it's disgustingly hot in the summer, the last thing I want is a complicated recipe.
Not only are they easy to make and share, but they're made from totally AIP, paleo, and vegan ingredients which makes them the perfect dessert to share at a summer gathering. And they even have a hidden veggie in them! No junky syrups, no thickeners, fresh herbs, and veggies? Total crowd pleaser all around.
Print
Mint Chip Banana Ice Cream Cups (Paleo, AIP, Vegan)
---
3 frozen bananas, chopped
1 cup full fat coconut milk
2 tbsp coconut oil
10 fresh mint leaves
1/3 cup spinach, chopped (for coloring)
1 tbsp maple syrup (optional)
1/4 cup cocoa nibs, chopped soy-free chocolate bar of choice or homemade carob chips for AIP (not store bought as they contain soy)
---
Instructions
Add the frozen bananas and coconut milk to a high speed blender (like a vitamix) and blend until fully combined and creamy
Add in the coconut oil, mint leaves, spinach, maple syrup, and cocoa nibs (reserving about 1 tbsp for garnish) and blend
Spoon the mixture into silicone mini-muffin cups (you'll have about 16-18)
Garnish the tops with extra cocoa nibs
Place in the freezer for 3-4 hours or until hardened
To serve, remove from the freezer for 5-10 minutes or until they begin to soften enough to remove from the silicone cups
Enjoy!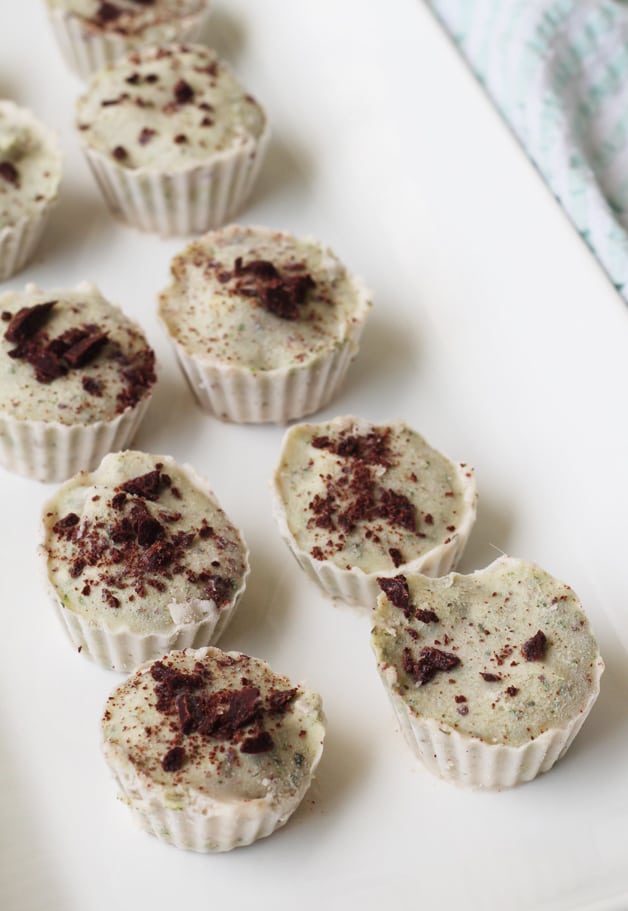 That's all there is to it! No ice cream makers, no complicated ingredients and no actual "cooking". Whether you're bringing these to a party to share, making them to stash in your fridge for later, or just to enjoy yourself, I hope you enjoy these yummy little ice cream cups!