No-Bake Cookie Dough Bites (AIP, Paleo, Nut Free)
I'm going to tell you a story that you may or may not judge me for. When I was about 20 years old, I was a hardcore crossfit junkie. I loved the rush, the movement, and feeling strong. My diet was extremely meh at the time, so when they had a Paleo Diet and Zone challenge, I hopped right on board. I was so not ready for paleo at the time, so I opted for the zone, which is basically a modification of IIFYM or a macro counting diet. I was super strict for weeks and cut my carbs and sugar way down. Though it was good to really realize how much junk I was eating before, I didn't really last beyond the 8 weeks or so. Meaning that after last WOD of the challenge, I found myself at Walmart getting Ben and Jerry's cookie dough ice cream. Now here's the judge-y part… I didn't really eat it like normal ice-cream. I took it home, let it melt and then ate the soupy mixture while just picking out the cookie dough. Seriously.
I've come a long way, and am not proud of who I was, but my heart still loves cookie dough… especially raw! So, I decided to make a fun new treat… no-bake cookie dough bites that are Paleo, nut free, and can be easily modified to be AIP!
Can you even? Because I certainly can't.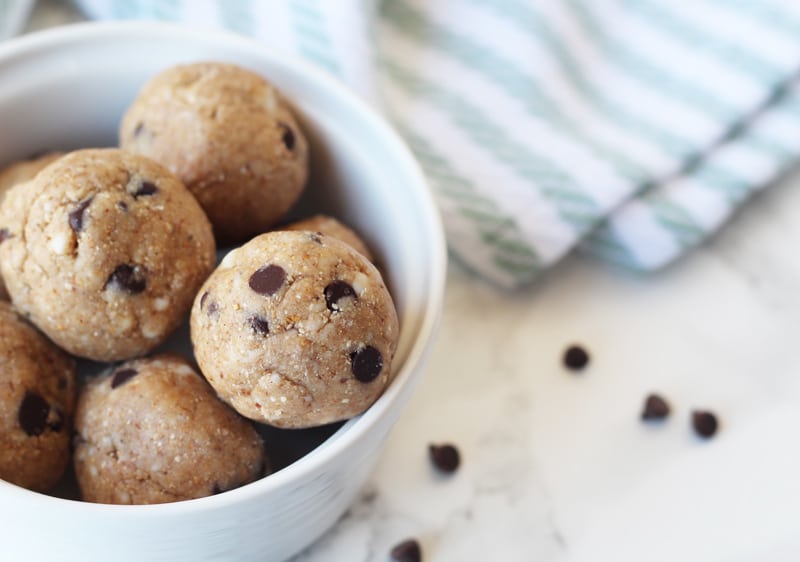 There's just something about raw cookie dough that's always had a tight grip on me. Maybe it's the addictive artificial sugar, insulin rush, or forbidden gluten… but who's counting, right? 😉
But seriously, even with holistically managing my Hashimoto's and gut healing still being a huge priority to me, I want a treat sometimes. Constantly sugar is not a friend to healing as it spikes our blood sugar, cortisol, throws off our hormones and harms our gut. So that's why I just sweetened these with honey! Yes, honey is still sugar of course, but it's a real food version of sugar that is more easily metabolized. They also have chocolate chips (or homemade carob chips if AIP) so it's no denying these are a treat to be eaten in moderation!
For the flour, I decided to try tigernut flour for the first time! Tigernut is not a nut, but a tuber vegetable that's AIP friendly. The flour has a similar consistency to almond flour and gives these bites a cookie color!
Finally, I used lots of healthy fats in coconut oil and coconut butter/coconut cream concentrate in these! The healthy fats help hold these together, and helps make these satiating rather than just a big sugar bomb. I always recommend the brand, Tropical Traditions for coconut products, but other brands will work as well.
Now let's get onto the recipe!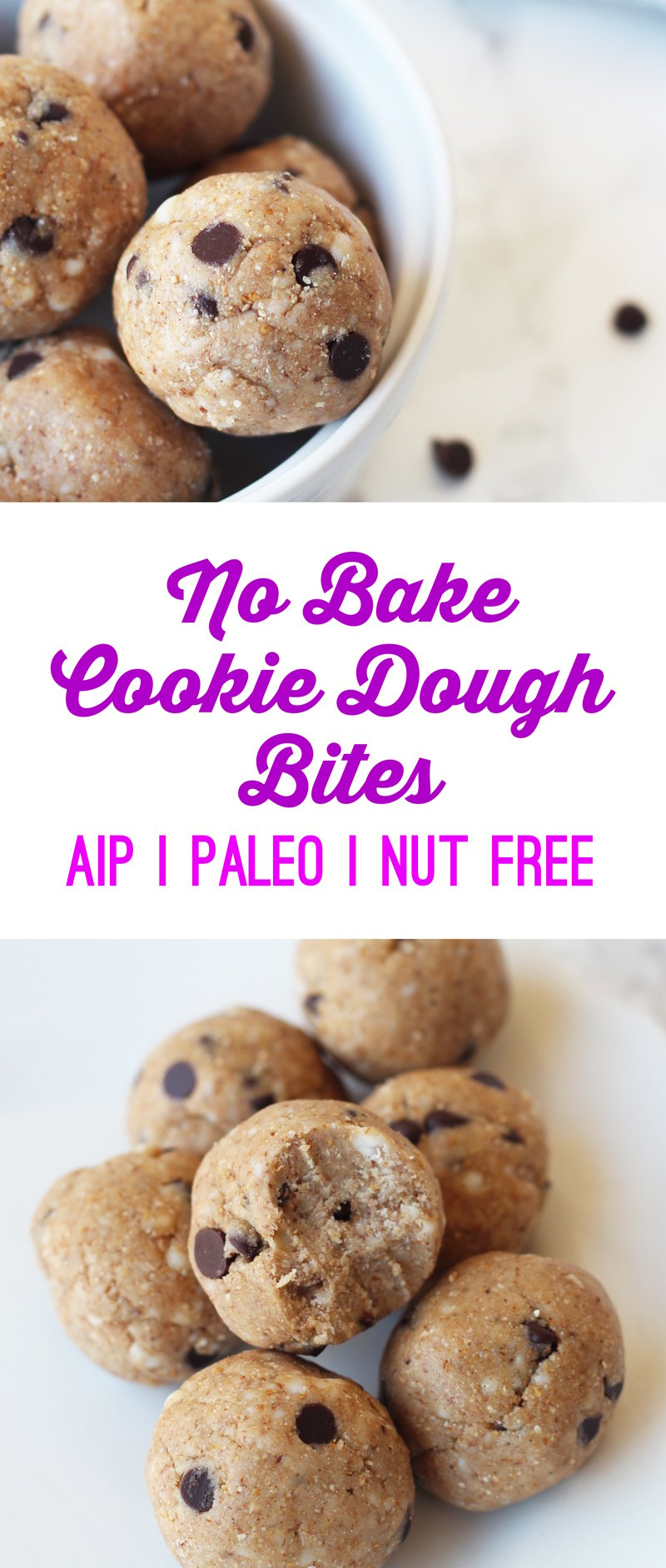 Print
No-Bake Cookie Dough Bites (AIP, Paleo, Nut Free, Gluten Free)
---
3/4 cup tigernut flour
1/3 cup + 1 tbsp coconut butter (also known as coconut mana and coconut cream concentrate)
1/4 cup coconut oil
2 tbsp raw honey
1–2 tbsp enjoy life chocolate chips or homemade carob chips for AIP (preferably use alcohol free vanilla or vanilla powder)
1/2 tsp ground cinnamon
Pinch of sea salt
---
Instructions
Add the tigernut flour, coconut oil, and coconut butter to a bowl and stir vigorously until combined. You want the coconut products to soften when stirred, but you don't want them to be melted or the dough won't hold.
Add the raw honey, cinnamon, salt and chocolate/carob chips and stir until combined
Roll the dough into small balls (you'll have about 8-9) and place them on a piece of parchment paper
Chill in the fridge for 30 minutes to an hour and enjoy!
(These are best out of the fridge)
And that's all there is to it! No baking, no craziness, just an easy dessert to make on the fly or to keep on hand in the fridge if the craving strikes. I shared these with non-AIP friends and family and got its of thumbs up!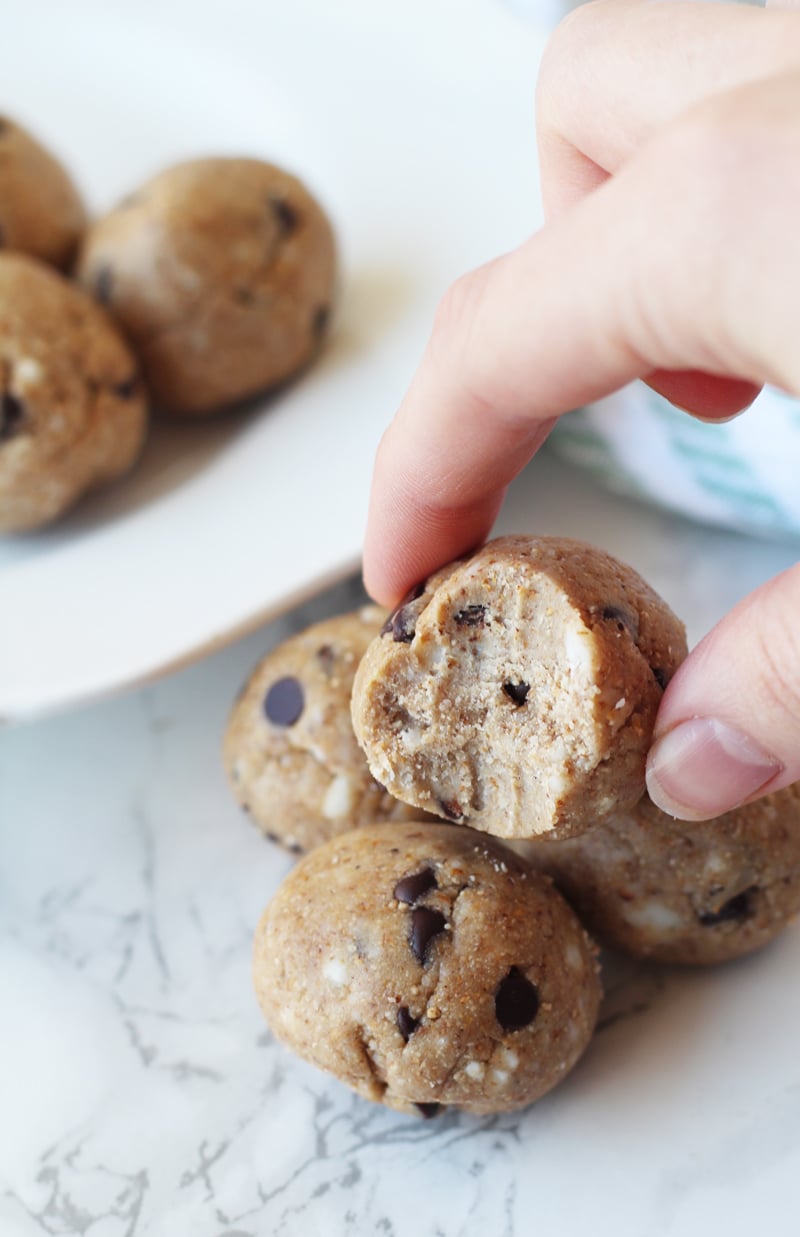 They have great bite to them while still being soft… just like cookie dough!
I hope you enjoy!!