Chocolate Strawberry Collagen Protein Bars (Paleo, AIP, Gluten Free)
Protein bars… what would we do with you? I used to love protein bars, but quickly turned away from them when I realized that they were basically dairy filled candy bars! Low quality protein plus sugar plus grains? No thank you. But let's be real, I'm just as busy as the next person and I need purse convenience food too, y'all! It can't all just be bone broth and kale over here. Though I usually reach for EPIC bars or homemade beef jerky, sometimes I really want to mix it up. So, I created these homemade Chocolate Strawberry Collagen Protein Bars!
These bars were much more of a hit than I expected! Usually my husband and I just nibble on my creations by our lonesome and we agree if they're good enough to grace the internet or not. These bars actually made it to my father-in-laws birthday celebration this weekend and were a total hit! I thought I was leaving with leftovers, but when I tried to pack them up, they were snatched back away and gobbled up! I got a "sorry, we really want them", and I was honestly a happy camper with that reaction!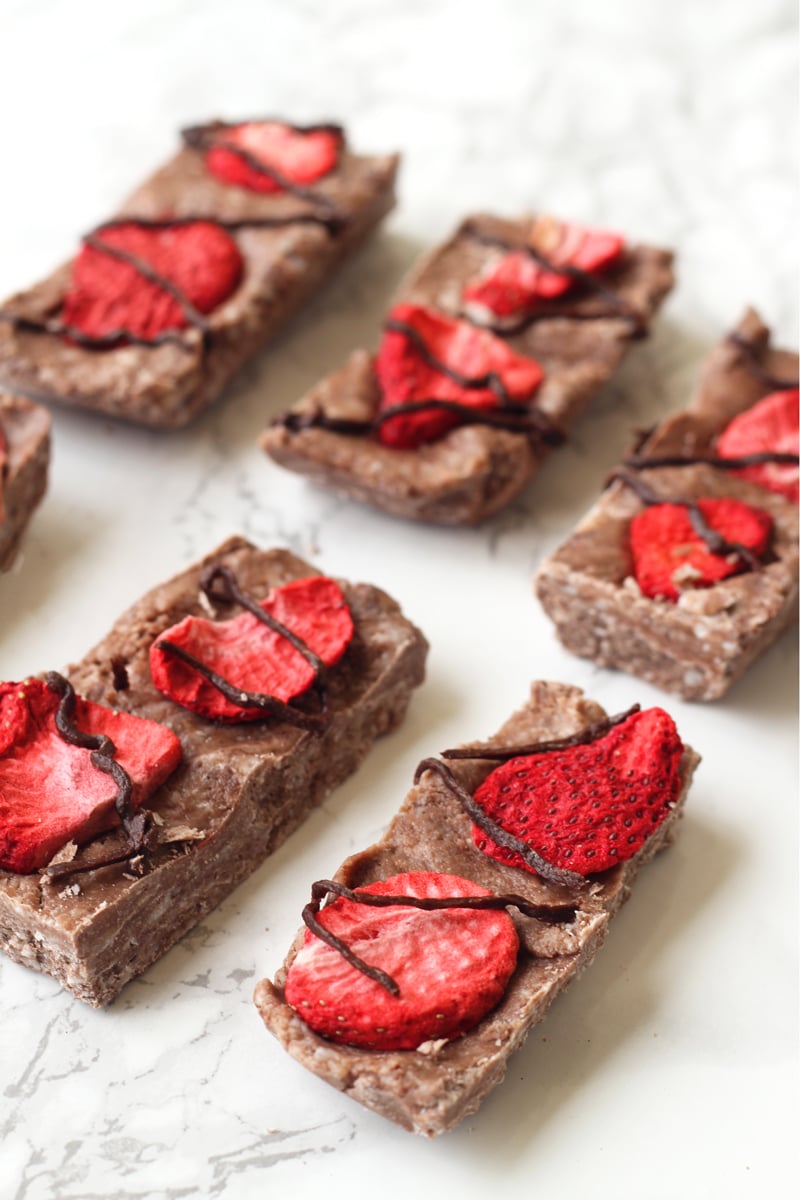 Why I Love These Collagen Protein Bars
1.Collagen Protein is a powerhouse ingredient.
We love collagen in this paleo/ AIP world, and for good reasons!
Collagen is a real food protein rather than a weird powder with tons of other ingredients. It helps heal the gut, it improves our hair, skin and nail health, our joint health, and it's a great way to get in some extra protein! Collagen is the only protein powder I recommend.
2. They're a good fat snack which helps keep you fuller for longer.
Fat is fuel, you guys! Fat is more calorie dense and digests more slowly than protein or carbs, thus it keeps us fuller longer!
Good quality fat like that found in the coconut butter and coconut oil in this recipe are the building blocks for our hormones which regulate so many processes in the body. The healthy saturated fat also fuels our brain and helps normalize our mood.
Fat is your friend!
3. They're lightly sweetened with natural sweetener.
Most protein bars can easily have more sugar than protein and are usually grain based. However, these bars only have about 1 tbsp of honey and the equivalent of just a couple of strawberries.
Being lower in sugar keeps these bars from spiking your blood sugar. That means they won't have you crashing later and reaching for a more sugar-y treat.
Regulating your blood sugar is crucial for thyroid health, hormone balance, and healing your gut and autoimmunity! Always opt for good blood sugar snacks like these!
4. They require zero baking!
It may only be March, but in Texas, I almost never want to turn on my oven. If I can avoid it, I'm always opting for no-bake recipes. It's easier, faster, and has a way lower fail rate!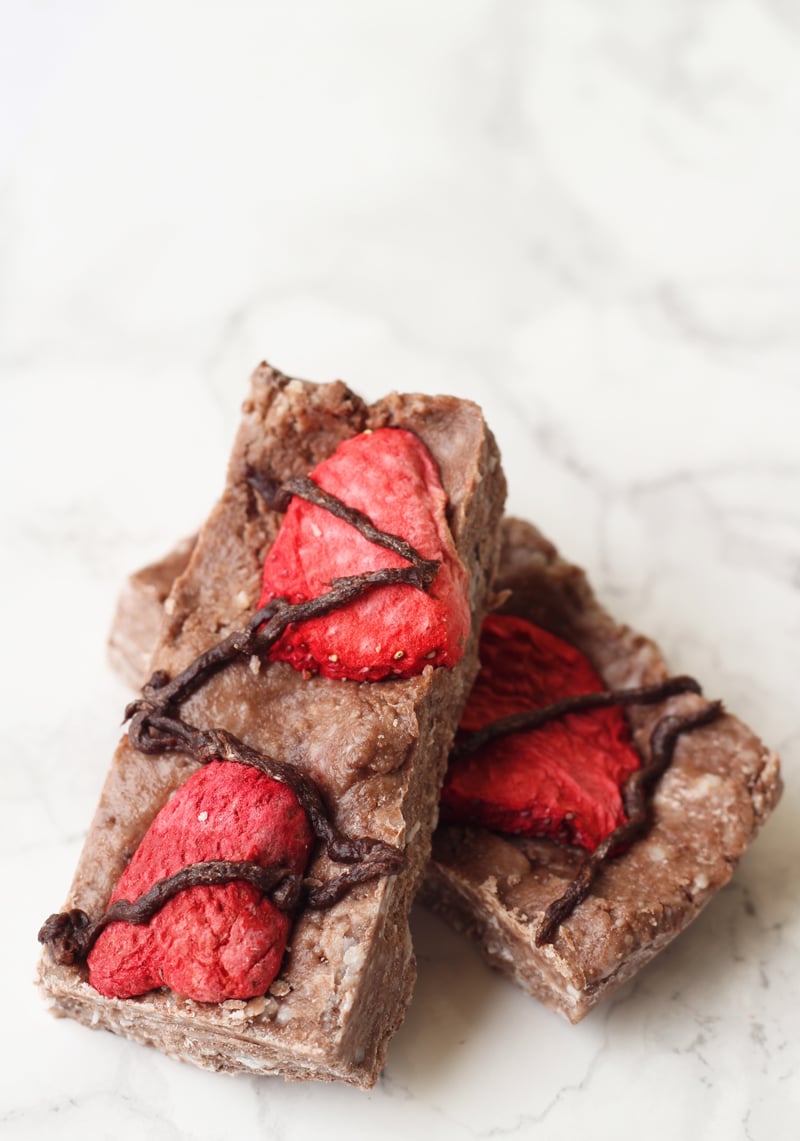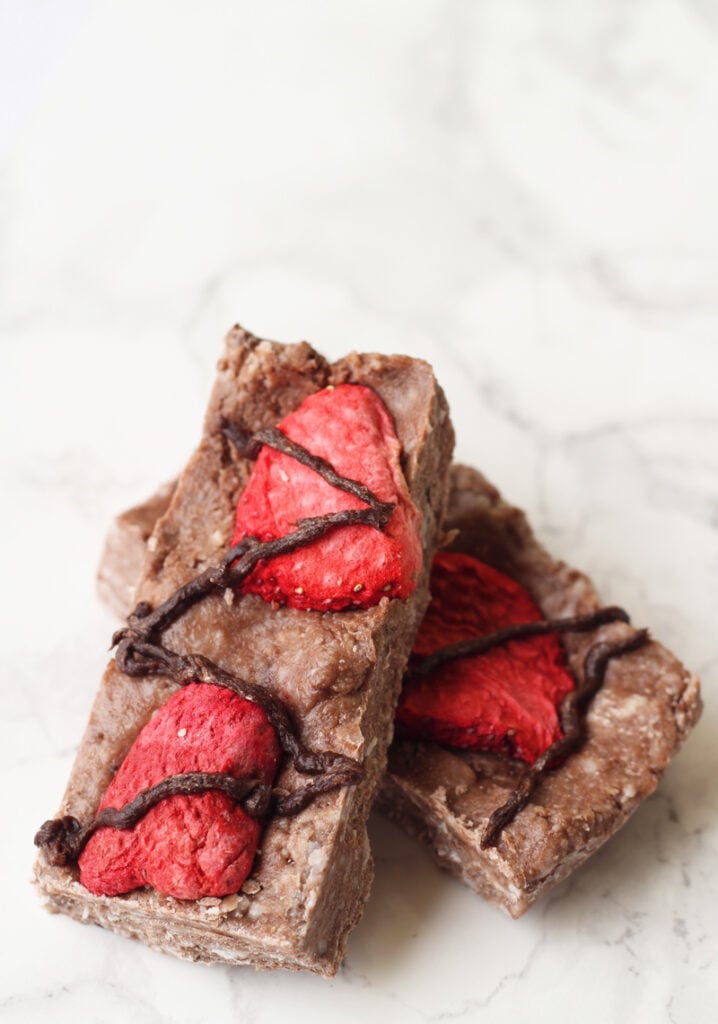 These bars are inspired by my own collagen protein bites which have many of the same ingredients, and are similar to two other collagen protein bar recipes… Cake Batter Collagen Protein Bars from Empowered Sustenance and Collagen Protein Bars from Cook it Up Paleo! Check those out too!! Now onto these bad boys…

Print
Chocolate Strawberry Collagen Protein Bars (Paleo, AIP, Gluten Free)
---
3/4 cups coconut butter (also referred to as coconut mana and coconut cream concentrate)
1/4 cup finely shredded coconut
1/3 cup collagen peptides or hydrosolate
15–18 slices of freeze dried strawberries
2 tbsp coconut oil + 1 tsp to grease a glass pyrex dish
1 tbsp carob powder for AIP or cocoa if tolerated
1 tbsp raw honey
FOR THE OPTIONAL CHOCOLATE DRIZZLE
2 tbsp coconut oil (softened by not melted)
1 tbsp carob powder
1/2 tsp honey
---
Instructions
Grease a glass pyrex dish (like this one ) with coconut oil and line it with parchment paper.
Add the coconut butter, shredded coconut and coconut oil to a bowl and stir to combine. You want the mixture to be soft, but not melted!
Add the collagen, honey and carob/cocoa powder to the mixture and stir until thoroughly combined.
Spread the mixture in the glass pyrex dish and flatten evenly.
Top with freeze dried strawberries (or other fruit as desired)
Chill in the refrigerator for at least an hour
After the bars are chilled, remove them from the fridge and allow to soften for about 5-10 minutes until attempting to slice them into 9 separate bars.
Prepare the frosting (optional) by adding the ingredients to a bowl and mixing vigorously. Heat for just a few seconds to soften if needed, but don't allow it to melt.
Pour the frosting mixture into a piping bag or just a plastic bag with the tip cut off and drizzle over the bars. NOTE that the frosting needs to dry on the surface area on the bars or it may easily flake off.
Serve chilled and enjoy!
Notes
These bars are best cold and will eventually melt if left if heat. Try and keep them cool!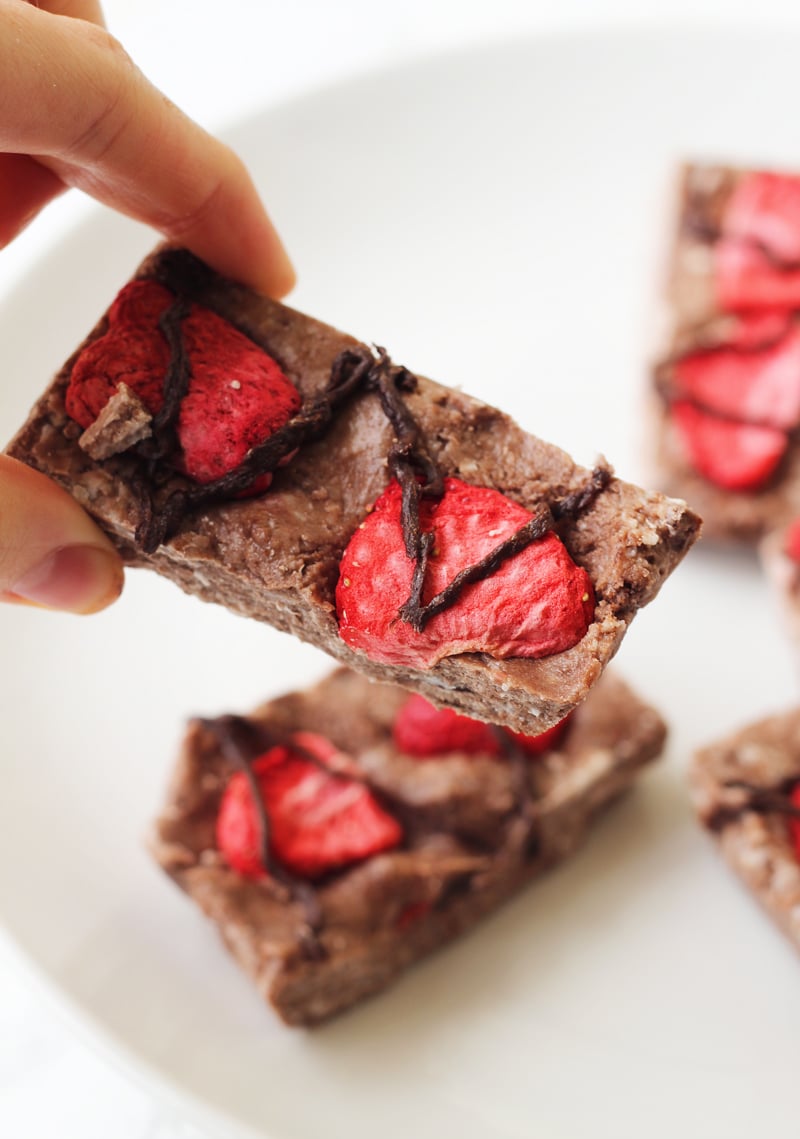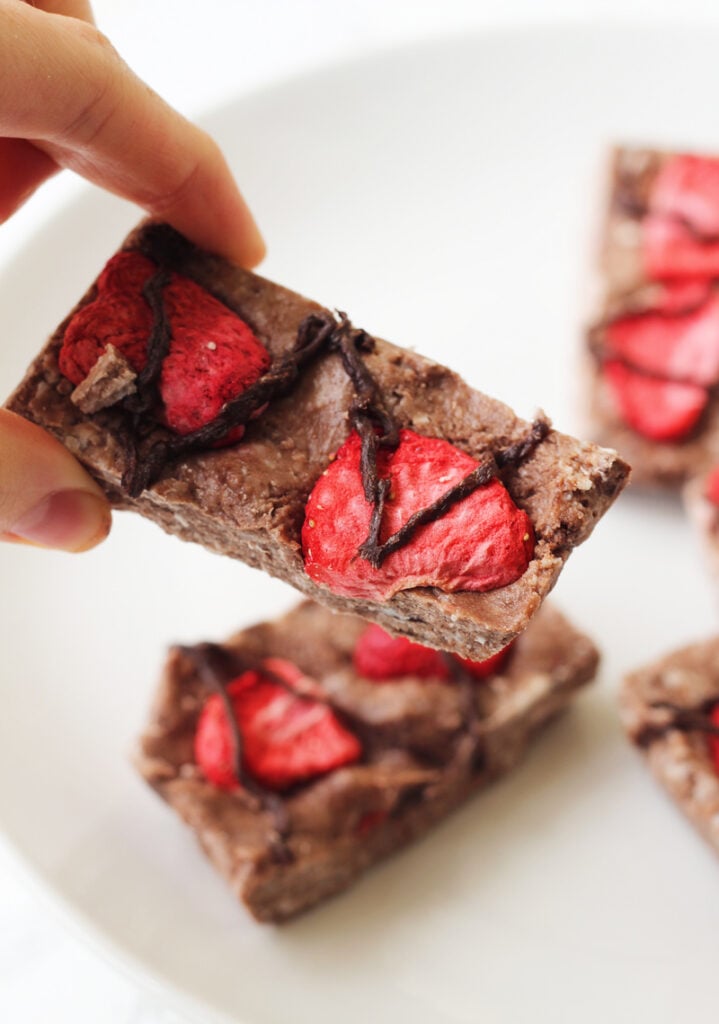 And it's as easy as that! Keep them in the freezer at work if you need a pick me up, throw them in your purse to run some quick errands, toss them in your kiddos lunch box, or just chow down on them as a treat.
So yummy, so packed with good ingredients, so easy! Enjoy, snackers!
This post contains affiliate links. Learn what that means here.
This post was shared on the Phoenix Helix AIP recipe roundtable.