Paleo Brownie Skillet (AIP & Gluten Free)
This post contains affiliate links.
This paleo brownie skillet is the perfect decadent and chocolatey dessert! It's gluten and dairy-free and can be made AIP-friendly.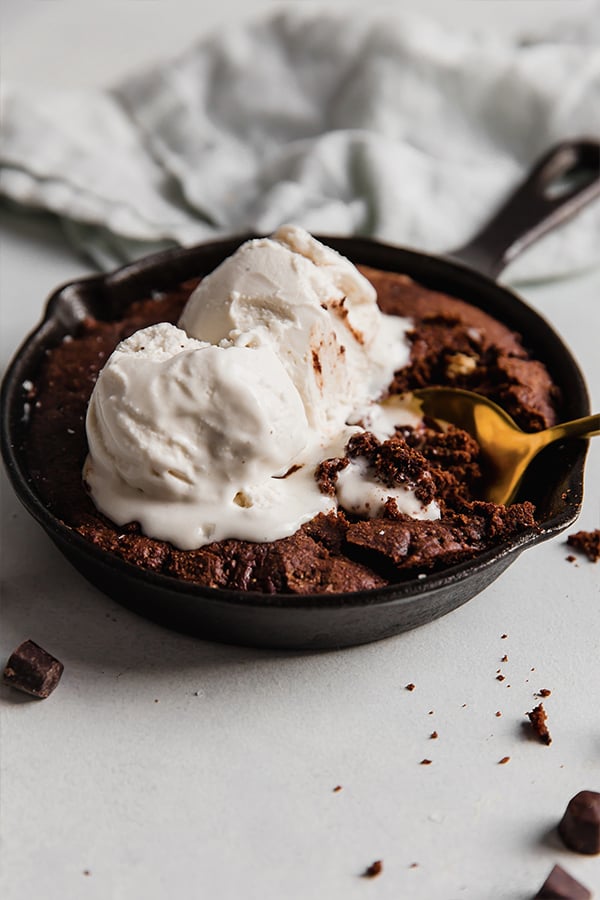 Dessert skillets are peak decadence! Whether you're sharing it, or keeping it all to yourself, they're just so delicious and fun to eat straight out of the skillet. If you love cookie skillets, you're going to love this brownie skillet!
This brownie skillet is an allergen-friendly dream! It's grain-free, dairy-free, nut-free and paleo and AIP-friendly.
The Ingredients You'll Need For the Paleo Brownie Skillet
Tigernut Flour. Tigernut is the base flour in this recipe. Tigernut is an AIP and paleo flour and it's actually made from a tuber rather than a nut. If you tolerate nuts, you can try and swap almond flour. However, there are no other AIP flours that swap for tigernut.
Tapioca Starch. You can also sub arrowroot starch.
Pumpkin puree.  This helps to make the brownies more moist!
Cocoa powder and chocolate chips (sub carob for AIP). Chocolate is a main ingredient here for sure, but if you're AIP, just use carob powder and homemade carob chips (not store-bought carob chips).
Maple Syrup. This acts as both a sweetener and a binder in the recipe. You can sub honey, but not something like coconut sugar as it would change the texture.
1 Egg (or a gelatin egg for AIP).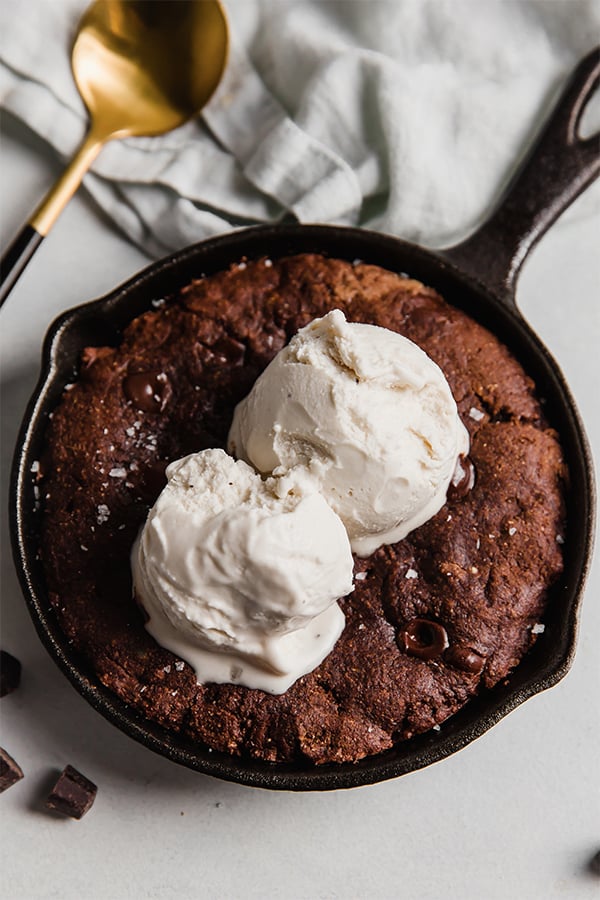 Can you use different flours for this recipe?
Tigernut flour is the only main flour I've tried in this recipe. You can try almond flour, but I can't confirm it will yeild the same results. You can however swap the tapioca starch for arrowroot.
Can you use something other than pumpkin puree? What do you do with the leftover pumpkin puree?
You can also use sweet potato puree! I haven't tried banana or apple sauce as it may be too liquid and not as solid, but it may work.
I like to freeze leftover pumpkin puree into an ice cube mold to have it on hand for recipes year-round!
What can you top this brownie skillet with?
Dairy-free ice cream
Chocolate chips
Fresh berries
Coconut whipped cream
etc!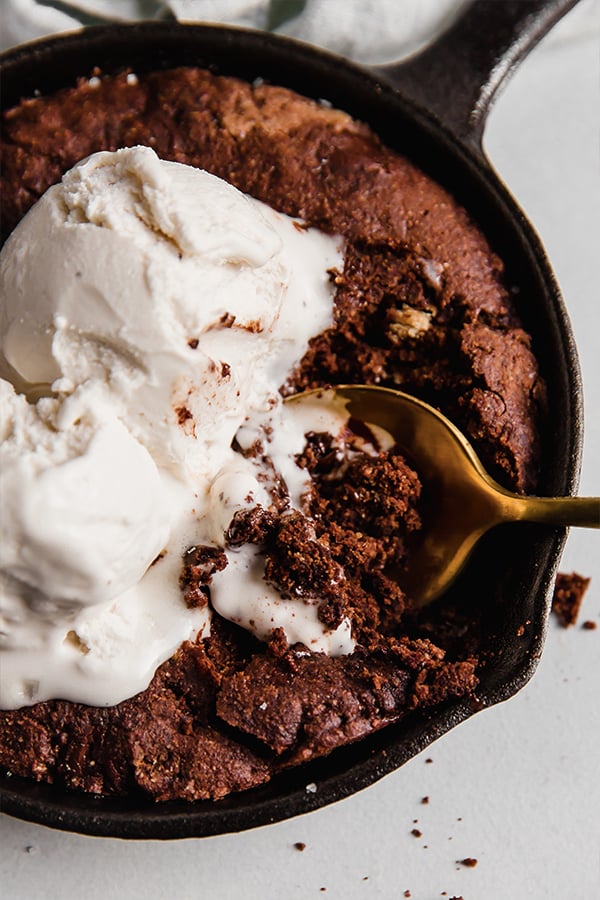 You'll also like…
Print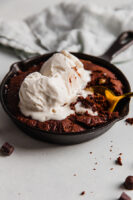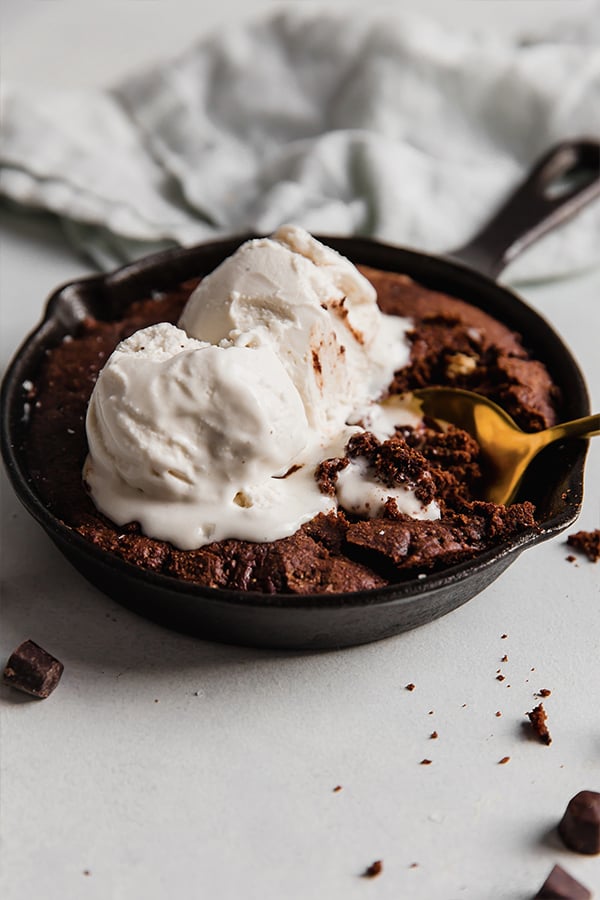 Paleo Brownie Skillet (AIP & Gluten Free)
---
2/3 cup tigernut flour (see above for substitutions)
1/3 cup tapioca flour
2 tbsp cocoa powder (sub carob for AIP)
1/4 tsp baking soda
1/4 cup maple syrup
2 tbsp pumpkin puree
2 tbsp coconut oil, melted and cooled
2 tbsp dairy-free chocolate chips (sub homemade carob chips for AIP)
For the gelatin egg (sub 1 regular egg if tolerated)
1/4 cup water
1 tbsp gelatin (do not sub collagen)
Optional toppings
---
Instructions
Preheat the oven to 375 F and grease a 6″ cast iron skillet (like this ) or a 6″ baking pan with coconut oil.
Sift the tigernut flour, tapioca starch, cocoa powder, and baking soda together.
Fold in the pumpkin puree, maple syrup, and coconut oil. Set aside.
Prepare the gelatin egg by pouring the water in a small saucepan and sprinkling the gelatin over. Allow it to sit and harden. Transfer to the stove and heat on low for 1-2 minutes or until the mixture is liquid. Remove from the heat and vigorously whisk until frothy. Add to the batter immediately and stir to combine. The brownie batter will be thick.
Fold the chocolate chips into the brownie batter until well incorporated.
Spoon the batter into the greased skillet and flatten with a rubber spatula until even.
Bake for 12-14 minutes or until baked through. Top with optional toppings, or serve by itself. Remember to be careful with the hot skillet!
Notes
All nutritional information are estimations and will vary. Estimations do not include optional ingredients.
Nutrition
Serving Size: 1
Calories: 522
Fat: 31g
Carbohydrates: 66.6g
Fiber: 16.4g
Protein: 8g
This recipe was first published in 2018 and was updated in February 2022.