Paleo Brownie Skillet (AIP & Gluten Free)
I've expressed my deep love for skillet desserts here on the blog when I shared my pumpkin chocolate chip cookie skillet. How could you not love them? They're warm, gooey, delicious, and perfect for sharing. There's no better time than Valentines to have a chocolatey dessert to share, and though I love cookie skillets, I wanted to up the chocolate factor. This Paleo Brownie Skillet is the ultimate dessert for date night, and it's AIP and nut free to boot!
So, let me tell you something about my relationship with brownies over the years… my mom was always the brownie lady. She had this killer recipe for brownies that was impossibly chocolatey, gooey, and delicious. She made it for everyone for all occasions, and almost always made an extra batch for the family when she did. Needless to say, I became very well acquainted with these brownies. When I went gluten free, and then eventually AIP, I dreamed of recreating this recipe but had little faith that I could. However, I can confidently say that this recipe is a 100% dupe for my moms classic gooey, death by chocolate brownies that I grew up with. I mean…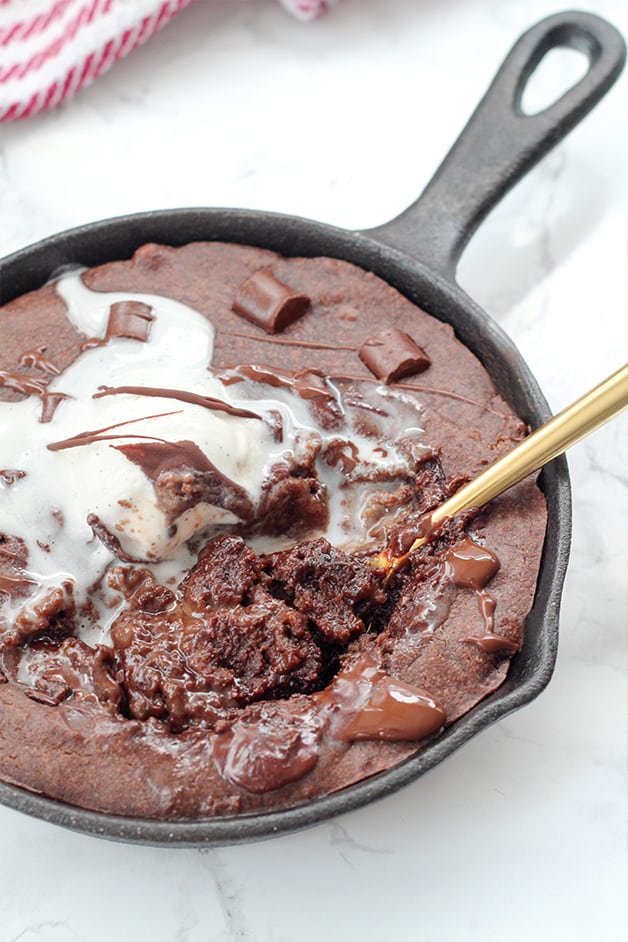 Let's make one thing clear though… this recipe is not nutritious. It's a dessert recipe through and through and there is a fair bit of sugar here. It's meant to be shared, and for special occasions.
If you want to cut back on the sugar in the recipe, leave off the optional toppings. They're totally optional and the recipe is just as good without it!
Remember… this is meant to be shared and not eaten daily. But, I'm also still supportive of splurges, and this is one helluva splurge.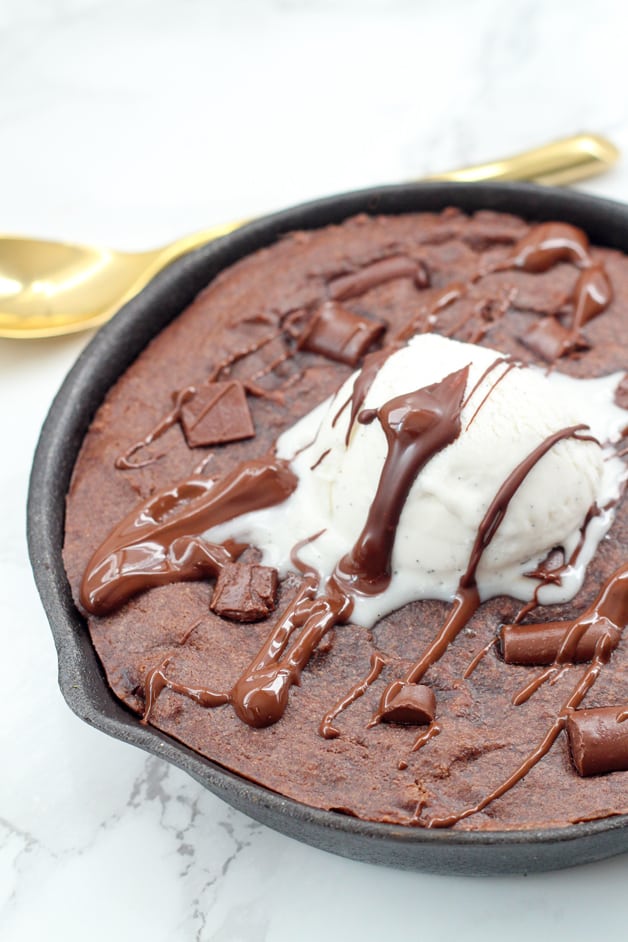 The Ingredients You'll Need For the Paleo Brownie Skillet
Tigernut Flour
Tigernut is the base flour in this recipe. Tigernut is an AIP and paleo flour and it's actually made from a tuber rather than a nut. If you tolerate nuts, you can try and swap almond flour. However, there are no other AIP flours that swap for tigernut.
Tapioca Starch
You can also sub arrowroot starch.
Pumpkin
The pumpkin in this recipe is to help make the brownies fluffier, and moist. You cannot taste the pumpkin. The chocolate really overpowers it, and it's undetectable.
Cocoa powder and chocolate chips (sub carob for AIP)
Chocolate is a main ingredient here for sure, but if you're AIP, just use carob powder and homemade carob chips (not store-bought carob chips).
Maple Syrup
This acts as both a sweetener and a binder in the recipe. You can sub honey, but not something like coconut sugar as it would change the texture.
1 Egg (or a gelatin egg for AIP)
See the instructions for a gelatin egg below if you don't tolerate eggs, like me!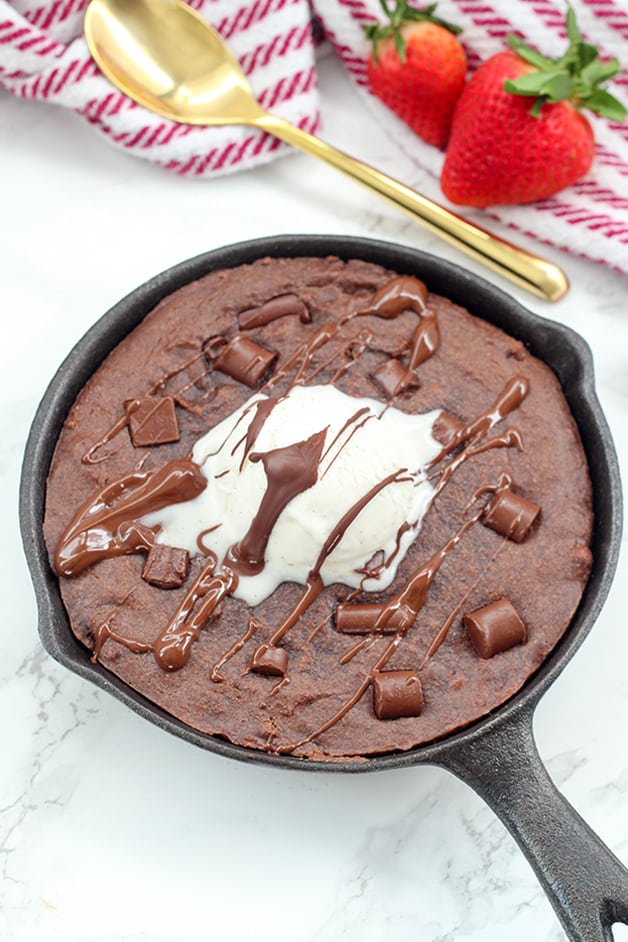 Print
Paleo Brownie Skillet (AIP & Gluten Free)
---
2/3 cup tigernut flour (see above for substitutions)
1/3 cup tapioca flour
2 tbsp cocoa powder (sub carob for AIP)
2 tbsp pumpkin puree
2 tbsp maple syrup
2 tbsp coconut oil (plus extra for greasing the pan)
1 tbsp dairy free chocolate chips (plus extra for topping… sub this recipe for AIP )
1/4 tsp baking soda
FOR THE GELATIN EGG (sub 1 regular egg)
1/4 cup water
1 tbsp gelatin (do not sub collagen)
OPTIONAL TOPPINGS
Dairy free ice cream of AIP ice cream
Melted chocolate or carob chips
---
Instructions
Preheat the oven to 400 F and grease a 6″ skillet (like this ) or a baking pan with coconut oil
Sift the two flours together until well combined. Mix in the remainder of the ingredients (reserving the egg/gelatin egg) and combine
For the gelatin egg (sub 1 regular egg if tolerated) place a small pot on the stove with 1/4 cup of water and lightly sprinkle in the 1 tbsp of gelatin. You don't want any clumps. Allow the gelatin to bloom for 2-3 minutes.
Turn the stove on low heat to let the gelatin melt. This will take 1-2 minutes. Don't let it burn!
Remove the mixture from the stove and use a whisk or immersion blender to vigorously whisk the mixture until it's frothy.
Add the gelatin egg (or regular egg) to the batter and stir together immediately.
Pour the brownie into a well greased 6″ skillet/pan and smooth it out with the top of a spoon. Top for a few extra chocolate chips.
Bake for 15-18 minutes or until baked through. The brownie will be soft and gooey.
Top with optional toppings, or serve by itself. Remember to be careful with the hot skillet!
Notes
All nutritional information are estimations and will vary. Estimations do not include optional ingredients.
Nutrition
Serving Size: 1 serving
Calories: 128
Fat: 5.9g
Carbohydrates: 11.4g
Fiber: 1g
Protein: 1.7g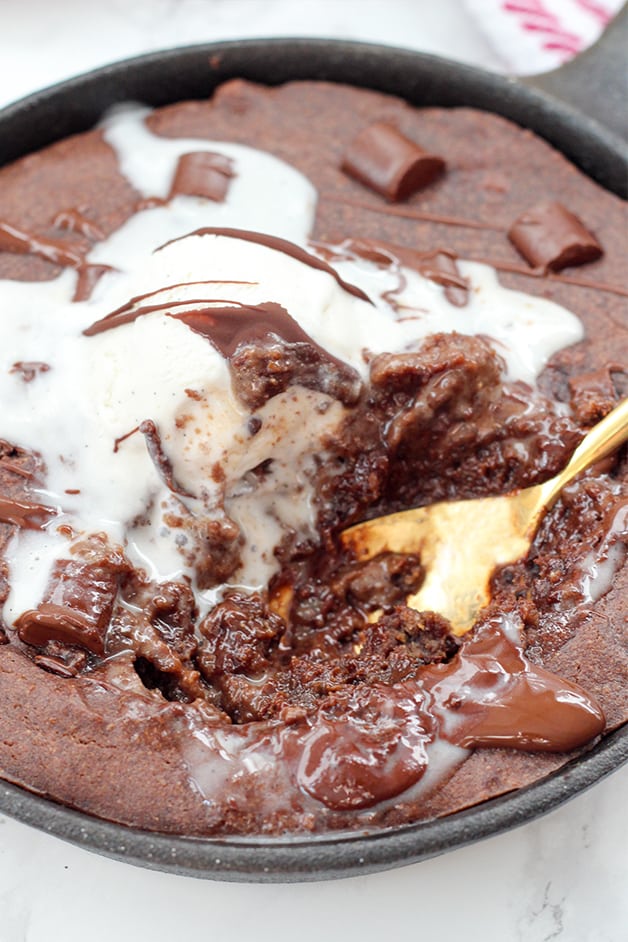 So. Insanely. Delicious.
When I first made this, I didn't realize just how gooey it was going to be. I took it out of the oven, marveled at the finished product and let it cool a bit. Then, when I finally dipped into it, I was blown away by how much it resembled my moms famous gooey brownies!
Make it for Valentines day to share with your significant other or share it with friends or family and watch as they won't believe that this thing is actually grain free.