Paleo Gingerbread Donut Holes (AIP)
Few things say "holidays" like the flavor of gingerbread. The kick of the ginger, the warming, familiar flavor of the cinnamon, and that sweet, sweet sweetness, that just gets you feeling all of the holiday feels! Gingerbread men, and gingerbread houses are an amazing and fun holiday tradition that we all love. However, here's the thing… they also take quite a bit of work. Especially if you're paleo and AIP. You just can't grab a mix or a pre-made gingerbread house off the shelf. Sometimes you're up for the extra steps, sometimes you're not. So, I wanted to create an alternative for those who still want all of the gingerbread flavor with an easy shortcut, and unique twist. Gingerbread Donut Holes that are both paleo, and AIP!
When I first made my Pumpkin Donut Holes earlier this season, my first thought was "uh oh… these are way too good! I have to share them immediately!" Luckily, my husband was more than happy to take on the task of my donut hole eating partner, and we were both super happy campers. We were seriously even happier when we tried out these Gingerbread donut holes!
These paleo gingerbread donut holes are perfect for….
Leaving out for santa
A little holiday treat for two or three to share (the recipe makes 6-8 donut holes)
Doubling or tripling the recipe (as you'll see in the photo below) to bring to a holiday party to share
Placing on a holiday cookie tray as something a little fun and different
Making with kiddos for a super simple holiday treat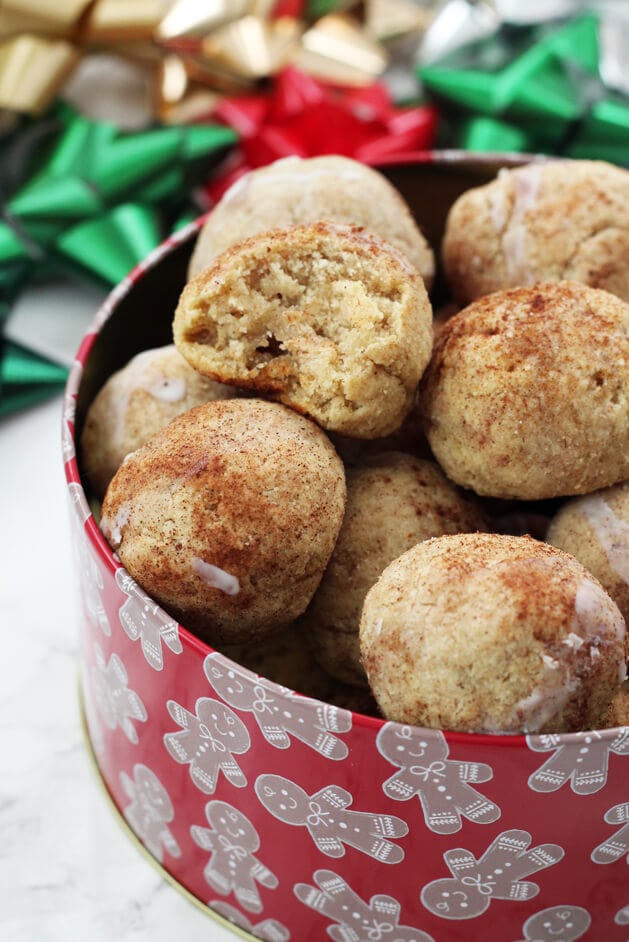 The Ingredients You'll Need (and a word on substitutions) for these Gingerbread Donut Holes
Tigernut flour, Coconut flour & Tapioca starch
These three flours are all grain and nut free, making them paleo and AIP friendly. I've tested this recipe a lot of different ways and have always had the best results with these three flours together. I would not recommended subbing any of them out to get the same results. 
Palm Shortening
Palm shortening helps give these donuts a really cake-y texture. I have not tried it without palm shortening.
Maple Syrup
You can easily sub honey in place of maple syrup.
Vanilla
Vanilla gives these even more of a cookie flavor!
Gelatin
Gelatin basically acts as a binder in this recipe. There's not need to bloom it (it's dry in this recipe) and you can use varieties such as Vital Proteins, Great Lakes, or other. However, you cannot sub collagen. 
Ginger, cinnamon, clove, and nutmeg
Ahh, there's that gingerbread flavor! I just love that kick from the ginger. If you're AIP, sub the nutmeg for mace.
Optional – melted coconut butter and coconut sugar for topping
The topping is optional, but you'll find that it really makes these donut holes look a lot prettier! On their own, they look a little plain, so a quick extra topping really dresses it up and adds more of that traditional donut hole look to them.
Please note…
The recipe makes 6-8 donut holes. You can scale up or down from there!
The donut holes are best eaten warm. You can totally store them in the fridge, but I think they're best warmed up a bit.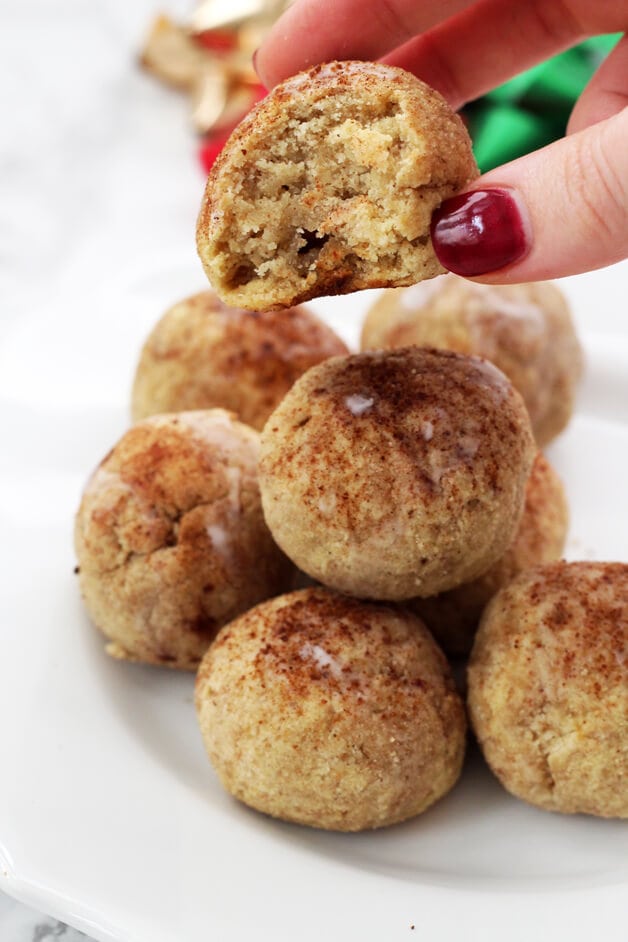 Print
Paleo Gingerbread Donut Holes (AIP)
---
Yield: 6-8 donut holes 1x
1/3 cup tigernut flour
1/4 cup tapioca starch
1/4 cup coconut flour
1/4 cup palm shortening
1/4 cup maple syrup
1 tbsp gelatin (can use vital proteins, great lakes, etc… do not sub collagen)
1 tsp vanilla extract
2 tsp cinnamon powder
1 tsp ginger powder
1/2 tsp clove
1/2 tsp nutmeg (sub mace for AIP)
1/2 tsp baking soda
FOR TOPPING-
2–3 tbsp melted coconut butter
1 tsp cinnamon
1–2 tsp coconut sugar
---
Instructions
Preheat the oven to 350 F and prepare a baking sheet lined with parchment paper
Sift together the three flours in a medium sized bowl until evenly combined
Pour in the maple syrup and vanilla and lightly mix
Next, fold in the palm shortening and stir until the mixture is creamy
Add the baking soda, spices, and gelatin and stir well
Form the dough into 6-8 donut holes and place on the parchment lined baking sheet
Bake for 12-14 minutes or until the donut holes are hardened on the outside
Remove from the oven top with melted coconut butter, cinnamon, and a sprinkle of coconut sugar if desired.. it's optional, but it really makes it pretty!
Serve warm and enjoy!
Notes
All nutritional information are estimations and will vary. Estimations do not include optional ingredients.
Nutrition
Serving Size: 1 donut hole
Calories: 146
Fat: 11.4g
Carbohydrates: 13.8g
Fiber: 1.8g
Protein: 2.2g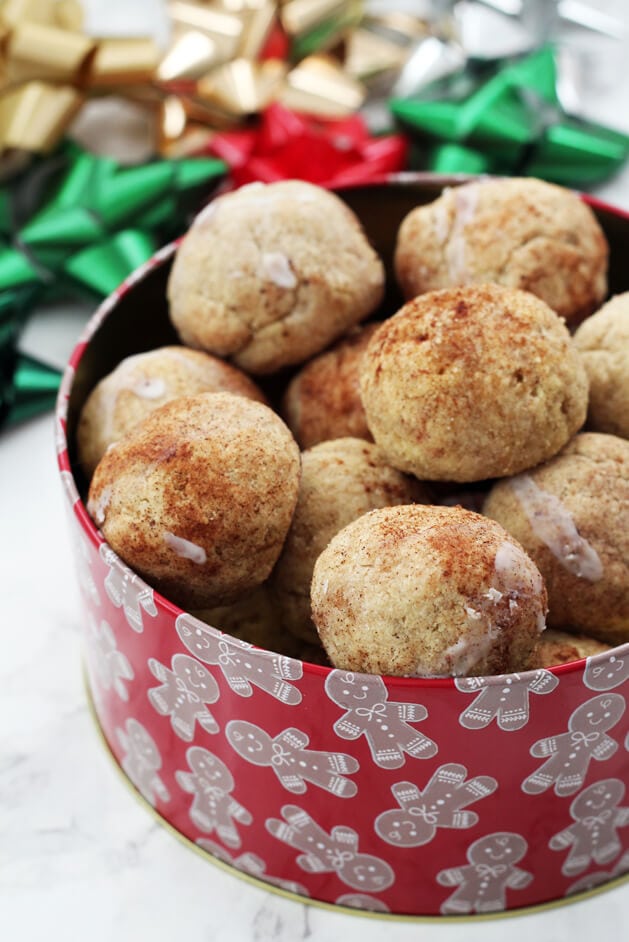 I mean, can you even?
These donut holes are such great spin on traditional gingerbread cookies, and are sure to make your family smile. But seriously… you'll want to share these. They're good enough to eat a bunch of for sure!
Have a happy holiday, and enjoy these yummy treats!