Paleo Cocktail Meatballs with Grape Jelly (AIP option)
The holiday season is here, and so are holiday parties! Nothing quite says holiday parties to me like tasty little cocktail meatballs. A yummy and satiating little appetizer that's easy to make, and one that everyone loves. It's exactly what I was trying to tap into when I created the sweet potato chicken popper last super bowl season, and when I started craving them myself this year, I knew that I had to recreate a Paleo AIP Cocktail Meatball with grape jelly, and BBQ sauce!
This time of year, and any party setting in general can be filled with food anxiety for those of us with food intolerances and restrictions. I've often sat hungry at many parties and have had to awkwardly explained why I'm not eating any of the food. That is, until I started recreating party favorites with healthy ingredients and bringing them along to share. Ever since then, I never go hungry, and I get way more compliments of the food I bring!
One of the best things about this appetizer is that it's easy to prep and can be made with just a few ingredients that you likely already have on hand, and that's exactly what I was trying to recreate with this version. The list of ingredients is super minimal, and easy to source!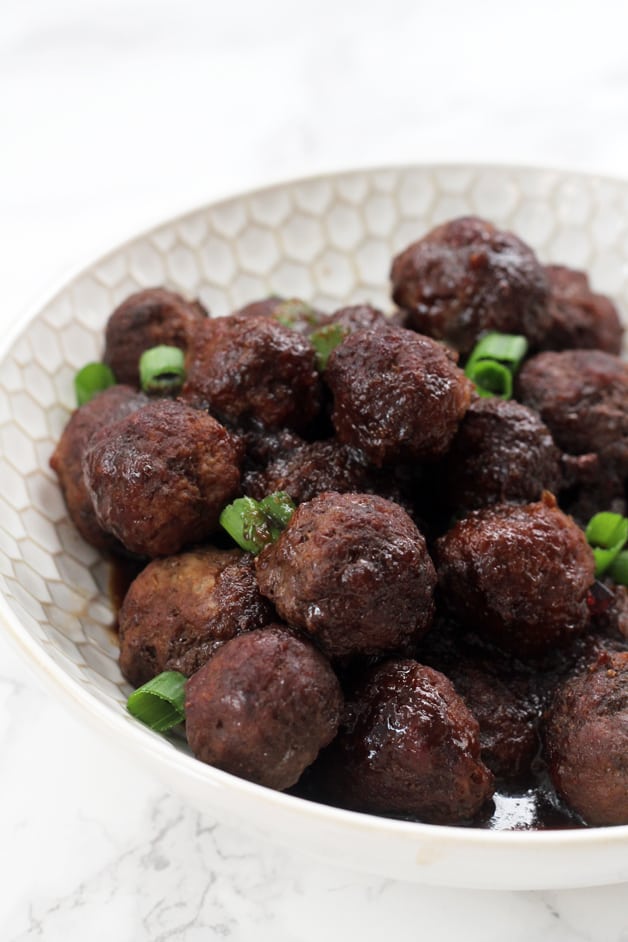 The Ingredients You'll Need for the Paleo AIP Cocktail Meatballs
Ground beef
If you can get a high quality grass-fed ground beef, even better. I would go with a higher fat ground beef as opposed to leaner to keep in the flavor!
Compliant BBQ Sauce
This will vary depending on what your tolerances are. You can go for a paleo BBQ sauce, a homemade one, or my favorite option, an AIP bbq sauce like the KC Natural Cherry BBQ Sauce. It's nightshade free, delicious, and incredibly convenient!
Grape Jelly
Jelly makes these meatballs super yummy! Be careful when you're buying grape jelly to make sure that there aren't any weird ingredients like citric acid, or too much sugar. This is the brand I used, but you can also make your own if you want to control the sugar more.
Onion & garlic powder
Along with salt and pepper (omit pepper for AIP) these flavor the meatballs. You can take them out if you'd rather go without, but it really adds some more depth of flavor to the dish.
Green onion
Green onion is the finishing touch to add in some freshness and more flavor to the dish.
Print
Paleo Cocktail Meatballs with Grape Jelly (AIP)
---
1 lb ground beef
1 cup compliant BBQ Sauce (I used this for AIP
1 cup grape jelly (I used this or you can use this for a sugar free AIP version)
2 tsp garlic powder
2 tsp onion powder
1 tsp sea salt
1/2 tsp black pepper (omit for AIP)
---
Instructions
Preheat the oven to 375 F and line a baking sheet with parchment paper
Season the ground beef with onion and garlic powder, salt and pepper. Roll the beef into small meatballs (you should have 30-35) and place on the parchment paper.
Bake for 20-25 minutes or until cooked through. You want the meatballs to be finished, but not overcooked or burnt.
Cool overnight, or cool for 20-30 minutes and place in a crockpot. Add BBQ sauce and grape jelly to the crockpot and stir well.
Set the crockpot to low heat for 1-2 hours.
Remove the meatballs and spoon the sauce over them.
Top with green onion and serve with tooth picks as an appetizer, or eat with a main dish.
Notes
All nutritional information are estimations and will vary. Estimations do not include optional ingredients.
Nutrition
Serving Size: 1 serving
Calories: 418
Fat: 3.7g
Carbohydrates: 69.8g
Fiber: 1.9g
Protein: 26.1g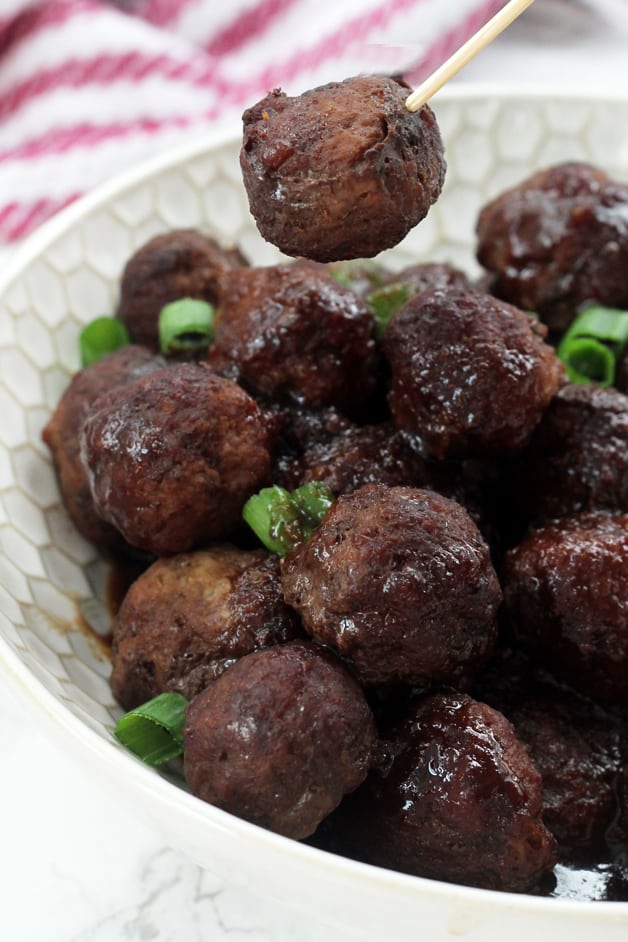 Real talk… I am so happy these tasty little cocktail meatballs are back in my life.
I've been loving them so much that I've just been eating them with dinner, but I can't wait to serve them at Christmas and bring them along to holiday parties!
Happy partying and enjoy these yummy cocktail meatballs!