Paleo Peppermint Bark (AIP & Dairy Free)
The holidays are officially here! Like, for real here. Here to the point that I'm no longer getting shamed for having my tree up and listening to Christmas music. I'm one of those people, yes.
Warm soups, twinkly lights, and tons of holiday treats! I just love it all. This December I'll be spending two weekends traveling to Asia (because that's normal) so I've really been doing it up with all of the winter things these final weeks before I take my trip… and I'm seriously loving it.
Though I'm clearly an advocate for a real food lifestyle and just don't believe that full on junk food is necessary to enjoy the holidays, I firmly believe in making healthy swaps.
I love coming up with recipes like this for the holidays that are healthy, paleo, AIP, easy to prep, and no bake. Hallelujah! I can't tell you how many tears I've cried over failed roll out sugar cookies in my day… too many to count. Can we just all agree to ditch the oven for treats when possible? Okay? GOOD.  This paleo peppermint bark is perfect then!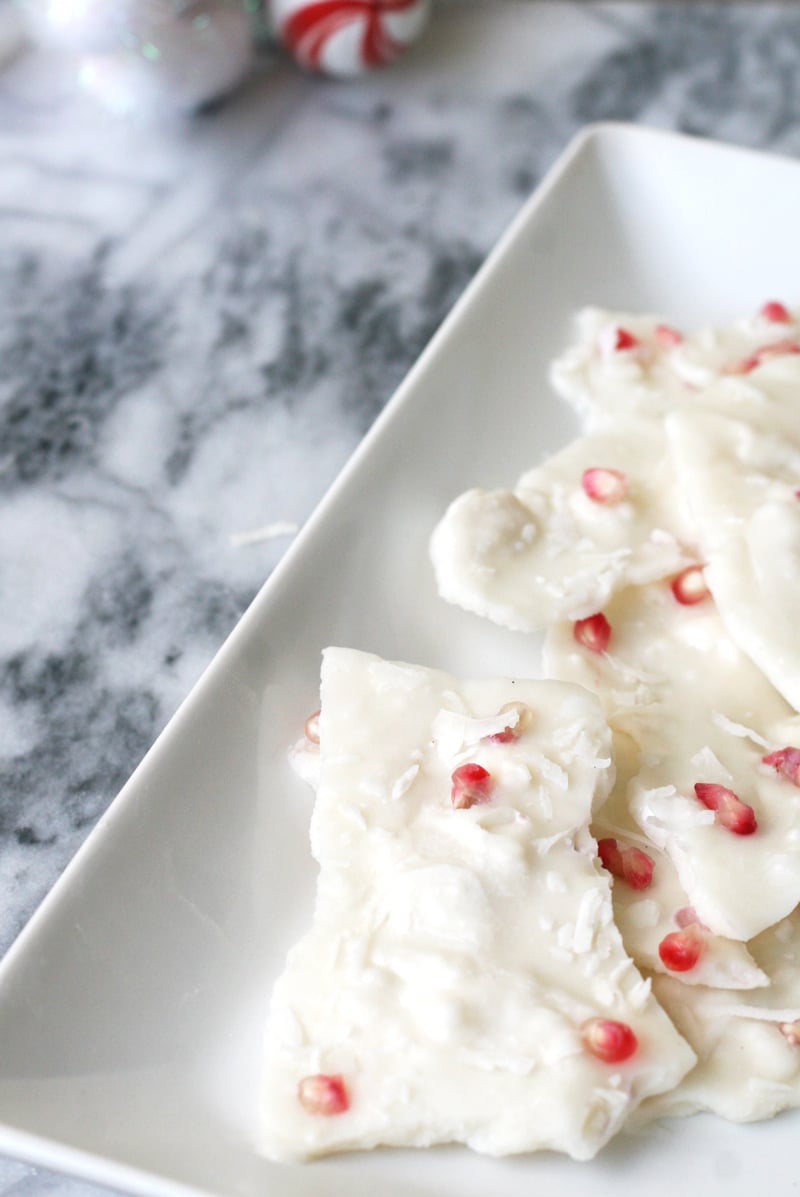 Peppermint bark is so easy to prepare which is incredibly necessary during the holidays where we al spend tons of extra time in the kitchen. All it takes is some time to set in the fridge and you're good to go for a treat to bring a long to a party that your friends won't even realize is totally allergen free, and refined sugar free!
Print
Paleo Peppermint Bark (AIP & Dairy Free)
---
1 cup coconut butter, meted
1/2 cup coconut oil, melted
2 tbsp honey (or maple syrup)
2 tsp peppermint extract
1/4 cup pomegranate seeds (for topping )
---
Instructions
Line a large baking sheet with parchment paper
Combine the coconut oil, butter, honey, and peppermint extract in a large mixing bowl
Spread the mixture evenly onto the parchment paper
Top with pomegranate seeds and place the fridge for 2-3 hours to harden
Once hardened, remove from the fridge and break up into pieces of desired size
This peppermint bark is perfect as a snack on its own, dipped in hot chocolate for some added creaminess, or gifted to a friend as an edible gift. My husband seriously loved it when I made it, and I can't wait to share with others this holiday season!
Happy holidays, and enjoy!