Paleo Strawberry Shortcake (AIP)
This post contains affiliate links.
These paleo strawberry shortcakes are a decadent and delicious summertime treat! They're gluten free, dairy free, and AIP compliant.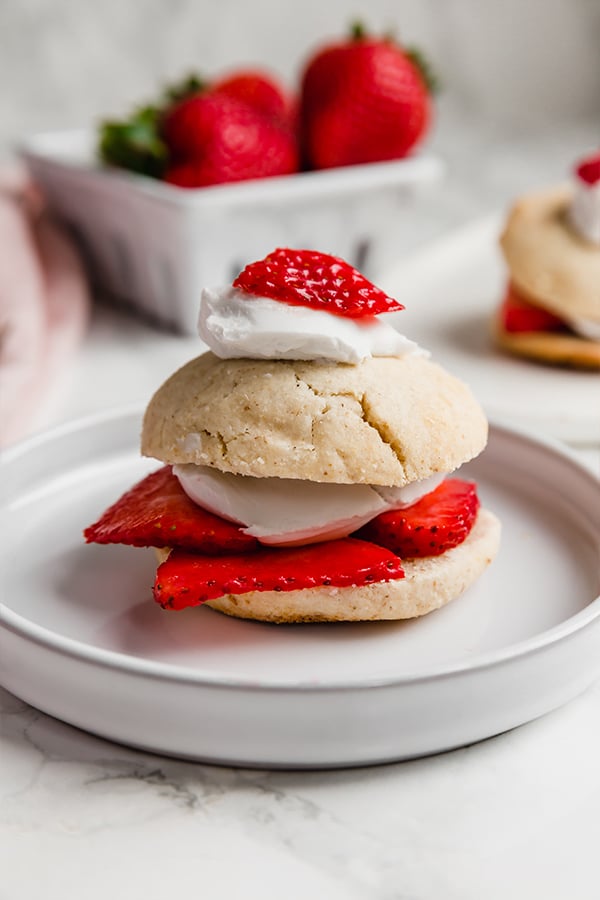 Who doesn't love strawberry shortcake? It's light and fluffy, creamy, sweet…. basically, all of the things we all love in a summertime baked good. It's a nostalgic homemade treat that isn't too complicated to make but is pretty and delicious enough that it feels perfect for a special occasion like parties or summer holidays. It can be made as a large layer cake that you can take a slice out of, or my favorite, like a mini individual cake for everyone to have their own!
This spring and summer, I wanted to make a paleo, gluten free, egg free, dairy free, and AIP version of this beloved dessert for those of us with food intolerances. It's yummy enough to share with everyone regardless of whether or not they have food intolerances and isn't too fussy to make.
How To Make Paleo Strawberry Shortcake
Slice the strawberries and mix with coconut sugar. Set in the fridge for 30 minutes while the shortcake cooks.
Prepare the shortcake by mixing together the dry ingredients and then folding in the wet ingredients.
Form the dough into 4-5 small, round biscuit shapes and bake in the oven.
Remove the shortcakes and allow to cool completely before slicing and adding the strawberries and coconut cream.
Tips & Tricks for Making Paleo Strawberry Shortcake
For easy coconut cream, set coconut milk in the fridge overnight and use the cream on top.
This is an easy way to get coconut cream without too much fuss, but I also like coconut cream from Thrive Market and Arroy-D.
When baking the shortcake, don't flatten the dough too much.
It will spread a bit in the oven so make sure you make them pretty round.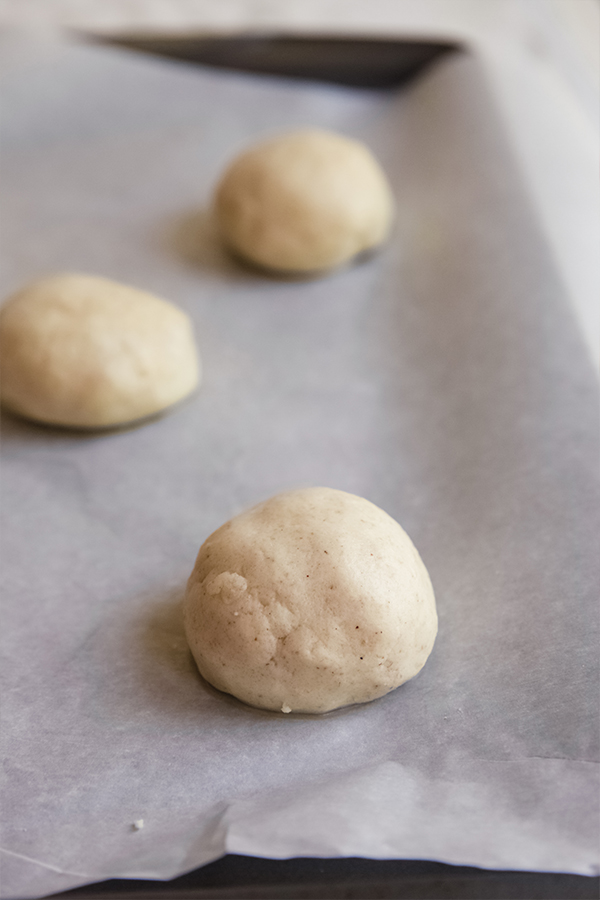 How long will the shortcakes last in the fridge?
These are definitely best fresh! Coconut cream tends to harden, and the shortcake can get a little dense if it sits in the fridge for too long. I would for sure make these the day of and share with family and friends.
The Ingredients for the Strawberry Shortcake
Tapioca starch
This is the base of the shortbread. You can likely also use arrowroot starch
Coconut flour
This helps to offset some of the moisture of the coconut milk and bind the shortbread together. I have not tried to use anything other than coconut flour in this recipe.
Palm shortening
This gives the shortcake that cakey texture. Be sure to use a sustainable palm shortening! I have not tried coconut oil in this recipe.
Honey
This is used for added sweetener. I have not tried other sweeteners but maple syrup will likely work.
Coconut milk
I haven't tried to use other milk like almond milk, but I assume this would work.
Strawberries & coconut sugar
Letting the strawberries sit in coconut sugar allows them to soften and sweeten up a bit.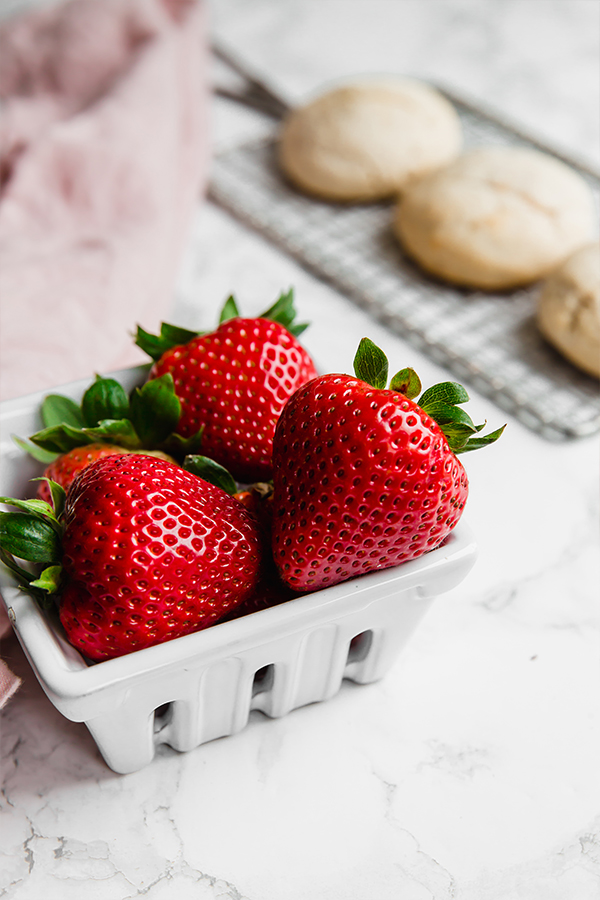 You'll also love these recipes…
Print
Paleo Strawberry Shortcake (AIP)
---
Author:
Total Time: 35 minutes
Yield: 5 servings 1x
Description
These paleo strawberry shortcakes are a decadent and delicious summertime treat! They're gluten free, dairy free, and AIP compliant.
---
For the strawberries
2 cups strawberries, sliced
1 tbsp coconut sugar
For the shortcakes
For topping
1 cup coconut cream, divided
1 tsp honey
---
Instructions
Preheat the oven to 375 F and line a baking sheet with parchment paper lightly coated with coconut oil.
Combine the strawberries and coconut sugar and mix to coat. Set aside in the refrigerator.
Mix the coconut milk with the apple cider vinegar in a bowl and set aside for 5-10 minutes.
Combine the tapioca starch, coconut flour, tigernut flour, gelatin, salt, and baking soda and mix well to combine.
Cut in the palm shortening, and mix in the honey and coconut milk mixture. Stir well until a dough forms.
Form the dough into 5 small, round shortcakes and place on the baking sheet.
Bake in the preheated oven for 12-14 minutes. Carefully transfer to a cooling rack and allow to cool completely.
Prepare the whipped topping by combining the coconut cream and honey. Set aside.
Once cooled, slice the shortcakes in half and add sliced strawberries, a spoonful of coconut cream to the base of the sliced shortcake. Add the top of the shortcake and top off with more coconut cream and a strawberry slice. Serve immediately.
Notes
All nutrition facts are estimations.
The photos of this recipe and all written content on my website are copyright protected and cannot be copied or shared. Please do not copy this recipe or photos and share it on your own website, Instagram, or other written materials. If you'd like to tell people about this recipe on social media, your own website, or elsewhere please link back to the recipe here rather than copy and pasting.  Thank you so much!!
Prep Time: 20
Cook Time: 15
Category: Dessert
Method: Baked
Cuisine: American
Nutrition
Serving Size: 1 serving
Calories: 476
Fat: 34.5g
Carbohydrates: 41.6g
Fiber: 5.7g
Protein: 6.4g