Spring Roll in a Bowl (Gluten-free)
Thank you to my friends at Seed for sponsoring this post! All opinions are my own.
These spring roll bowls are everything you love about a spring roll, but without the wrapper! They're gluten-free, and easy to adapt for AIP.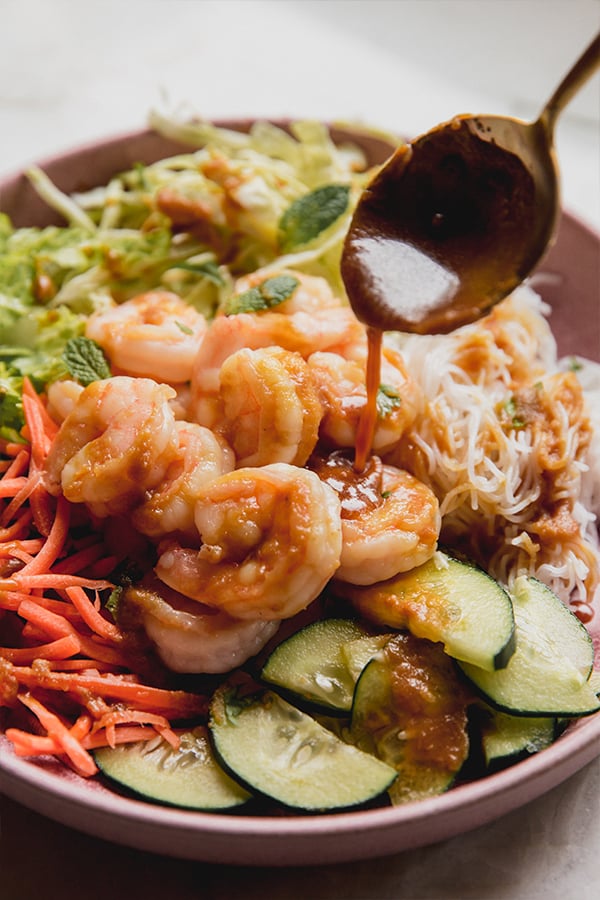 Spring rolls are one of my favorite warmer-weather foods! They have a fresh filling, light protein like shrimp, a yummy rice paper wrapper, and a delicious sauce. Somewhat similar to a spring roll in a bowl, egg roll in a bowl is one of my favorite recipes, so I decided to recreate the idea for a spring roll.
This recipe is essentially a fresh and delicious salad with all of the things you love about a spring roll, but without the wrapper.
Why you'll love this recipe
It has all of the flavors from a spring roll! Rice noodles, cabbage, shrimp, and a yummy sauce… what's not to love?
It's also fiber-rich and nutrient-rich to help support your gut & overall wellness! Fiber and seasonal vegetables are a great way to support the health of your gut and overall health. May is Digestive Health Month, and my friends at Seed challenged me to zero in on a recipe that supports your gut, and one with fiber-rich veggies came to mind.
At the end of the day, what goes into your body directly impacts your digestive health and outputs (like going potty 😉), and that's why I focus on getting lots of fiber, and I added Seed's DS-01® Daily Synbiotic to my routine in the past year! Seed's DS-01® has been so supportive for my digestive health, and is by far the best prebiotic/probiotic I've ever taken. It helps my body feel amazing and it has helped promote digestive regularity for me amongst many other health benefits!
If you're wanting to skip straight to the good stuff, you can use my partner code UNBOUND to get 40% off your first order of Seed's DS-01® to support your digestive and whole-body health! This code won't last forever, so I highly recommend trying it out now! 
TRY SEED FOR 40% OFF LIMITED TIME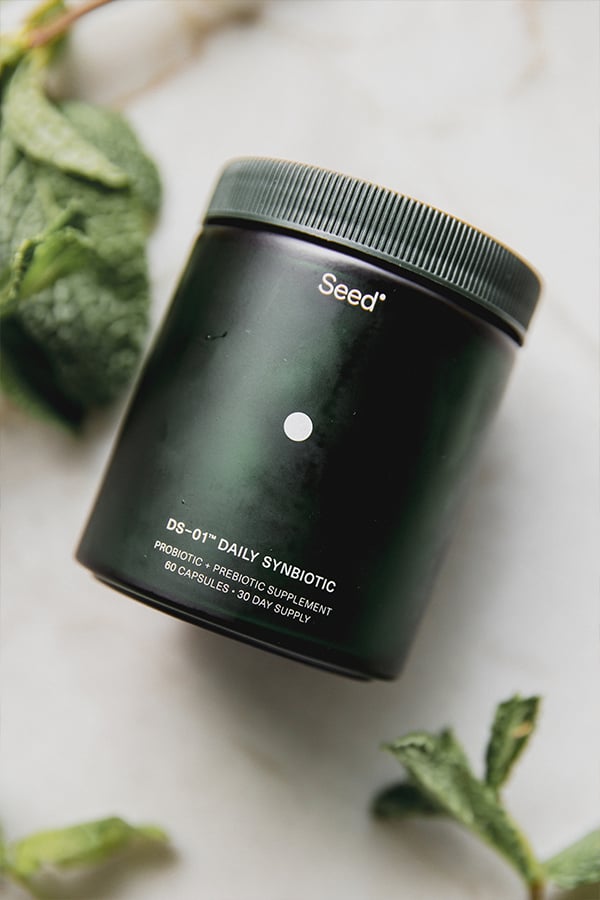 The Ingredients for this recipe
Shrimp. I love using shrimp for this recipe, but you can also use a different protein like chicken.
Rice noodles. Vermicelli noodles are used to spring rolls, and are very easy to cook. If you'd like to keep the recipe grain free, you can either omit these altogether or swap sweet potato glass noodles in stead.
Cabbage. Cabbage is rich in Vitamin C and E, which help support immune health. It's one of my favorite vegetables to cook with, or eat raw for a perfect crunch.
Carrots, romaine lettuce and cucumber. These add more fiber and crunch to the bowls.
Mint and cilantro. Mint adds a pop of freshness, as well as extra anti-inflammatory properties to these bowls.
Almond butter, coconut aminos, rice vinegar, and coconut sugar. These ingredients make the delicious sauce! If you want to make it nut free, you can use sunflower butter or tigernut butter. To make it grain free, use apple cider vinegar instead of rice vinegar.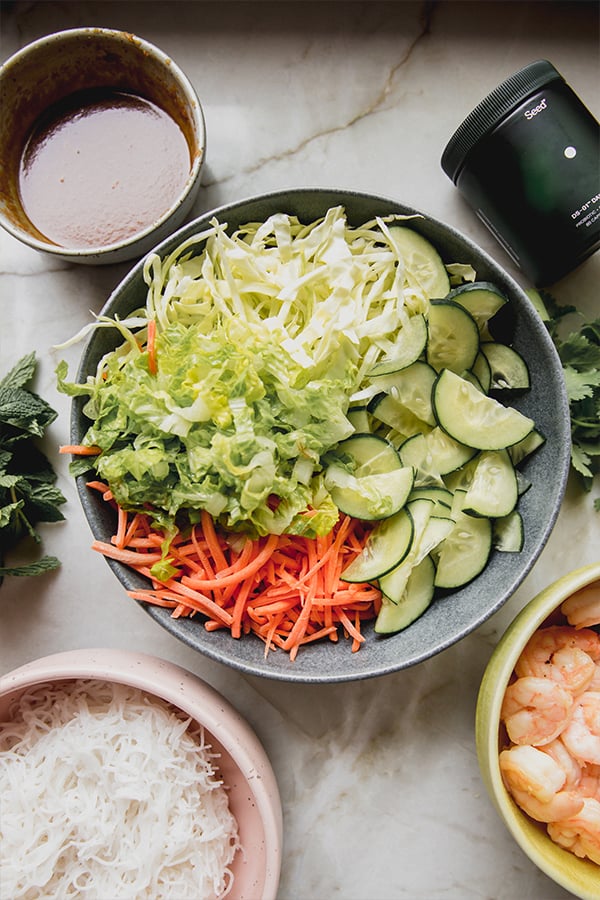 How to make Spring Roll Bowls
Step one- Prep the sauce. Combine all of the ingredients in a bowl and whisk well until a creamy sauce forms. Set aside.
Step two- cook the noodles. Strain and rinse with cold water, and set aside.
Step three- Cook the shrimp. Cook, season, and set aside to cool.
Step four- assemble the bowls.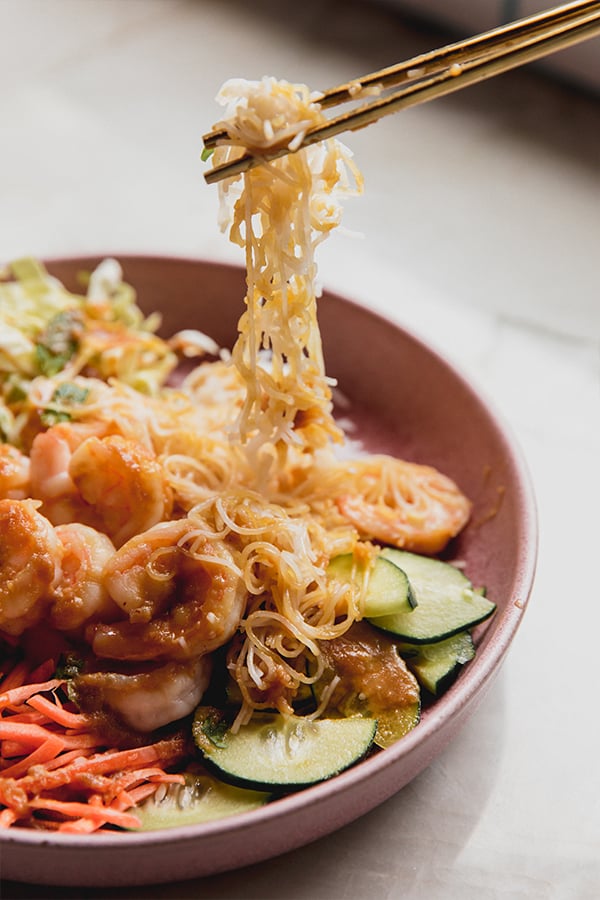 Tips & Tricks
Add more veggies and even fruit. Red cabbage and mango would both be a great addition to these bowls!
Watch the cooking time on the noodles. The rice noodles cook fast, so keep an eye on them to avoid overcooking.
Can you make this recipe ahead of time?
You can definitely make this 1-2 days ahead of time, however, I recommend storing all of the ingredients separately and assembling the day of to keep everything fresh and crisp.
How to make it AIP-friendly
Swap rice noodles for sweet potato glass noodles, or omit the noodles altogether.
Swap the almond butter for tigernut butter.
Swap the rice vinegar for apple cider vinegar.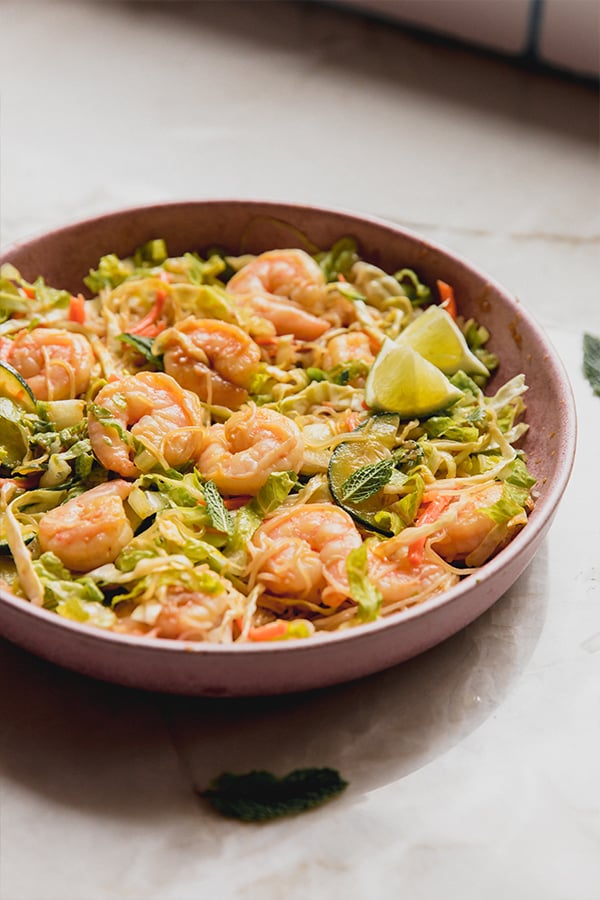 Print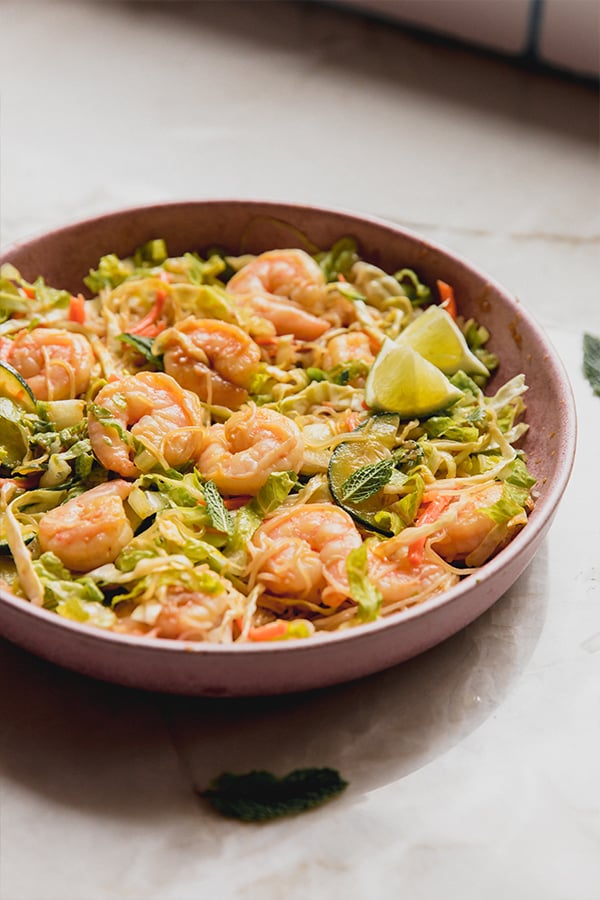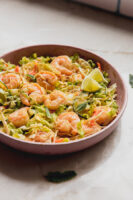 Spring Roll Bowls
---
Author:
Total Time: 30 minutes
Yield: 2 servings 1x
Diet: Gluten Free
For the sauce
2 tbsp almond butter
3 tbsp coconut aminos
1 tbsp coconut sugar
2 tsp rice vinegar
1 tsp garlic powder
1 tsp ginger powder
Pinch of salt
For the bowls 
4 oz rice vermicelli rice noodles
1 tbsp avocado oil
1/2 lb shrimp, peeled and deveined
1/2 tsp salt
1/4 tsp black pepper
1 lime, halved
1 tbsp coconut aminos
2 cup green cabbage, shredded
1 head of romaine lettuce, chopped
1/2 cup carrots, shredded
1 cucumber, sliced thin
2 tbsp cilantro, chopped
4–8 mint leaves
---
Instructions
For the sauce
Combine all of the ingredients in a bowl and whisk well until a creamy sauce forms. Set aside.
For the bowls
Cook the noodles according to the package instructions. Strain and rinse with cold water, and set aside.
Using a large pan, heat the avocado oil over medium heat. Add the shrimp and season with salt and pepper. Saute for 3-4 minutes, or until the shrimp is pink and cooked through. Top with half of the lime juice, and coconut aminos. Stir to coat and set the shrimp aside, allowing it to cool a bit.
Assemble the bowls by dividing all of cooked noodles and shrimp between two bowls, as well as the vegetables and herbs. Top with sauce and toss to coat all of the ingredients in the sauce. Serve with lime wedges and enjoy!
Prep Time: 20
Cook Time: 10
Category: Main Dishes
Method: Stove Top