Gluten Free Lemon Loaf
This gluten-free lemon loaf gives Starbucks a run for its money! It's light, cakey, and has the perfect lemon glaze.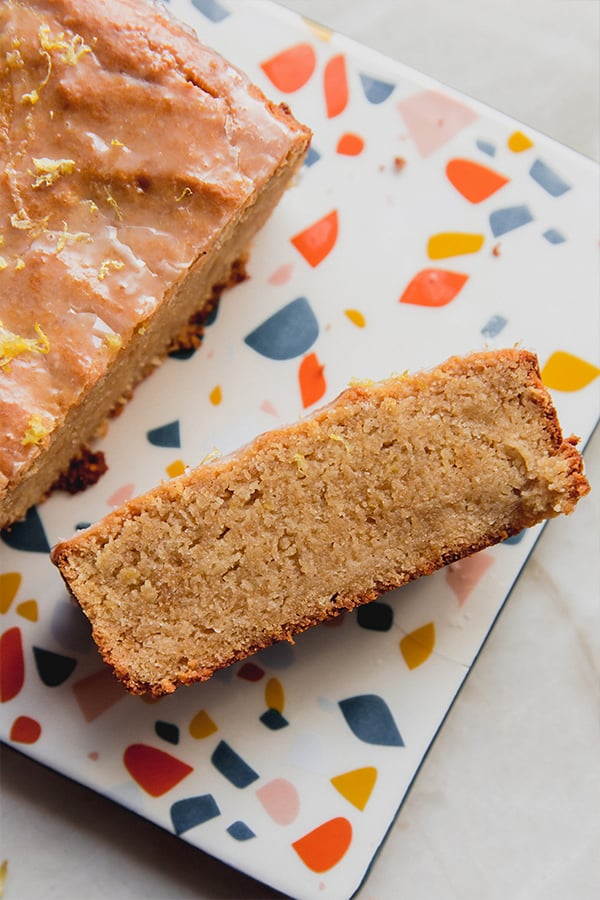 There's a reason that the Starbucks lemon loaf is so popular! Lemon desserts are just perfect in the spring and summer! They're refreshing, tart, and there are so many things you can do with lemon.
This lemon loaf is inspired by the Starbucks lemon loaf but is totally grain-free, dairy-free, and egg free. It's cakey, lightly tart, and has that perfect glaze that we all know and love.
Why you'll love this lemon loaf
It's the perfect spring and summer treat! The refreshing lemon flavor is the perfect compliment to the warm weather.
It's much more allergen friendly than Starbucks! While this loaf is inspired by Starbucks, it is totally grain-free, dairy-free, and egg-free.
The Ingredients for Lemon Loaf
Flaxseed and Water. If you can tolerate real eggs, you can swap one egg for the flax egg.
Apple Sauce. This naturally sweetens the cake!
Coconut Sugar and Maple Syrup. 
Coconut Oil.
Vanilla Extract
Lemon. The fresh lemon gives the best flavor!
Almond Flour and Coconut Flour. I haven't found a swap for either of these flours in this recipe, but I do have some other nut free breads like this banana bread if you are looking for a nut-free option.
Arrowroot Starch. You can likely swap tapioca starch for this.
Baking Powder. I like this baking powder!
Powdered Sugar, Lemon Juice, Dairy-Free Milk, and Lemon Zest. These are the main ingredients for the glaze! I like this organic powdered sugar.
How to make Lemon Loaf
Step One. Make the flax egg.
Step Two. Combine all the wet ingredients.
Step Three. Combine all the dry ingredients and then mix with the wet ingredients.
Step Four. Pour the batter into the loaf pan to bake. After baking, allow the loaf to cool.
Step Five. Make the glaze
Step Six. Pour the glaze on the loaf and enjoy!

Tips & Tricks
Don't skip the glaze! Trust me, it's worth it! If you want to cut down on sugar, you can simply cut the glaze recipe in half for less sugar, but I wouldn't cut the glaze out entirely. It's very much worth it!
Watch the cook time. Ever since I moved and switched from a gas to an electric oven, I find that my cook time varies drastically in my new oven versus what I'm used to in my old oven! Right around the half-time mark, make sure you start watching your loaf to see how it's doing. I like to check in every 10 minutes with the toothpick method to make sure I don't over or underbake my baked goods.
Fully cool the bread. The thing with egg-free desserts is that they need to totally cool and set before slicing. If you slice the bread hot, it will still look under-baked. Allow it to cool to the touch, and it will yield a much better crumb.
Can you use real eggs instead of the flax egg?
If you can tolerate real eggs, simply swap one egg for the flax egg.
Can you make this loaf nut-free?
I found that almond flour yielded the best texture for this particular recipe. I do however have nut-free bread recipes like this banana bread!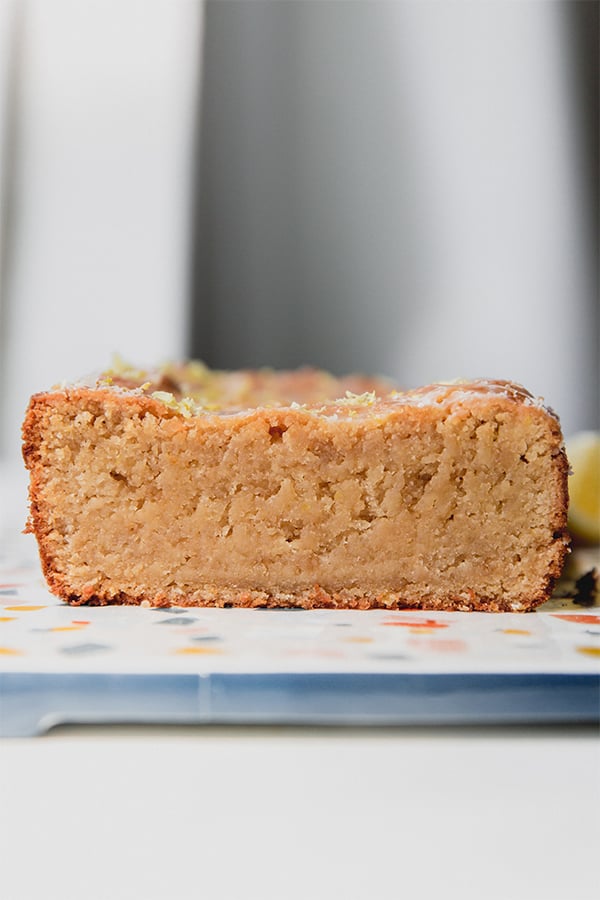 You'll also like..
Print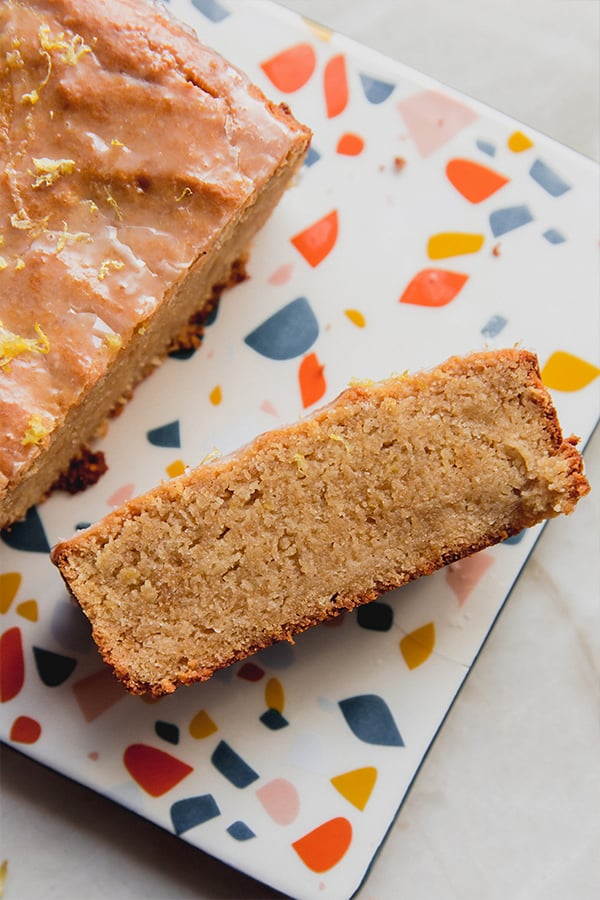 Gluten Free Lemon Loaf
---
Author:
Yield: 8 servings 1x
1 tbsp ground flaxseed
3 tbsp water
1/3 cup apple sauce
1/4 cup coconut sugar
1/4 cup maple syrup
1/4 cup coconut oil, melted
1/2 tsp vanilla extract
Juice and zest of one lemon
2 cups almond flour
1/4 cup arrowroot starch
1/4 cup coconut flour
1 tsp baking powder
For the glaze 
---
Instructions
Preheat the oven to 350 F and line a loaf pan with lightly greased parchment paper.
Using a large mixing bowl, combine the ground flax and water. Allow to sit for 5 minutes to thicken.
Add all of apple sauce, coconut sugar, maple syrup, coconut oil, vanilla, lemon juice, and zest to the bowl and stir to combine.
Combine the dry ingredients in a separate bowl before pouring into the bowl with the wet ingredients. Mix with a rubber spatula to form the batter.
Pour the batter into the lined loaf pan, using the spatula to evenly flatten.
Transfer to the oven and bake for 30 minutes, until baked through. To check for doneness, insert a tooth pick into the bread, and once the toothpick comes out clean, the loaf is done!
Carefully remove from the pan and transfer to a cooling rack for 20-25 minutes.
To make the glaze, combine the powdered sugar with lemon juice and dairy free milk. Stir until a smooth glaze forms.
Pour the glaze over the lemon loaf, topping with extra lemon zest. Allow the glaze to set before slicing and serving!
Notes
All nutrition facts are estimated and will vary.
Nutrition
Serving Size: 1 serving
Calories: 371
Fat: 12.6g
Carbohydrates: 41.7g
Fiber: 2.4g
Protein: 4.8g