Spring Strawberry Arugula Salad with Lemon Vinaigrette (Paleo, AIP, Whole 30)
Nothing makes me smile more than going to the opening weekend of the farmers market and seeing all of the gorgeous spring fruits and vegetables. Fragrant herbs, and beautiful greens have been one of my staples for the last couple of weeks. I've loved adding herbs to bone broth and eating tons of fresh salads. And then there's one of my favorites… strawberries! One of the perfect additions to spring salads, and my inspiration for this arugula and strawberry salad with homemade lemon vinaigrette.
At the end of a long day, sometimes I just don't want to prep a big meal. This salad has been one of my absolute favorites to just throw together and enjoy a flavorful dish while getting in some veggies. I like adding sardines (because I'm weird, I know), but you can certainly add chicken, or another fish to help add some protein and make it a fuller meal!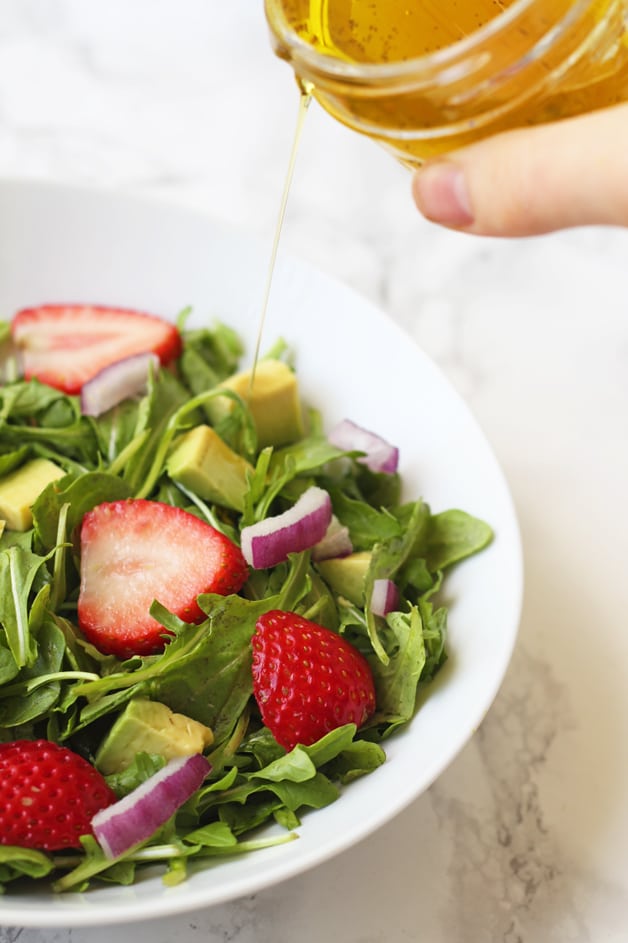 One of the main things that I've always struggled with when it comes to salad was adding flavor. I always thought that salad was just so watery, bland and boring. That's because I was eating it with iceberg lettuce which is all of the above and more when it comes to being a completely blah salad base. I've heard before that veterinarians don't even recommend serving iceberg lettuce to hamster because it's so void of nutrition.
That's why I love arugula for a salad green base! It's pepper-y, full of flavor, and isn't water and bland like iceberg lettuce. At first, it may be a little much to acclimate to if you've never had arugula before, but trust me… it's one of my own favorite ways to help salad actually have amazing flavor without drowning it in creamy dressing and seasoned croutons.
This homemade dressing is another great way to add flavor to any greens. It's easy to make, it stores in the fridge, and it is so much better for you than store-bought dressing. Even when store-bought dressings say they contain olive oil as the base ingredient, olive oil can often be cut with other low quality oils to make it cheaper to produce. I've very rarely had success with store-bought dressing, but I love the flavor of olive oil, so making it at home is the best solution for keeping the cost down and the quality more controlled.
Print
Spring Strawberry Arugula Salad with Lemon Vinagrette (Paleo, AIP, Whole 30)
---
2 cups fresh arugula
1/4 cup fresh red onion, chopped
1/2 avocado, cubed
1/2 cup strawberries, sliced
FOR THE DRESSING
1/2 cup olive oil
1/4 cup fresh lemon juice
1/2 tsp sea salt
1 tsp raw honey (optional.. remove for Whole 30)
OPTIONAL : Grilled chicken or fish to add protein
---
Instructions
Place the bed of arugula in a large mixing bowl
Add the remainder of the ingredients and stir lightly to combine, but not to damage the avocado
For the dressing, add the ingredients to a small bowl and whisk vigorously
Portion out the salad and serve with the dressing on the side, and protein if desired
This salad is a perfect way to add some more fresh veggies to your day, or to serve at a spring gathering like Easter Sunday dinner! I hope you enjoy!