Bone Broth Green "Smoothie" Drink
It's no secret that greens are good for you. They're packed with vitamins and phytonutrients that are essential for you to thrive. That's why green drinks and green smoothies are so popular. I fell in love with the documentary Fat Sick and Nearly Dead years ago, and it's all about a man with autoimmune disease who brings himself back to health with a green juice fast. Though it's inspiring and has a good core message of "eat your greens", I don't recommend long term juice fasting as an NTP. You lose the necessary fiber, and lack certain protein and minerals. However, it's undeniable that getting in lots of greens at once is an effective strategy! That's why I decided to put a spin on a green drink with this bone broth green "smoothie" drink!
It's super easy and quick to make in the instant pot (or modified on the stove) and it's the perfect way to get in tons of veggies and bone broth at once. You can drink it straight either warm or slightly chilled (I like it best warm) or you can even eat it as a soup and add in some extra fat like avocado or protein like shredded chicken!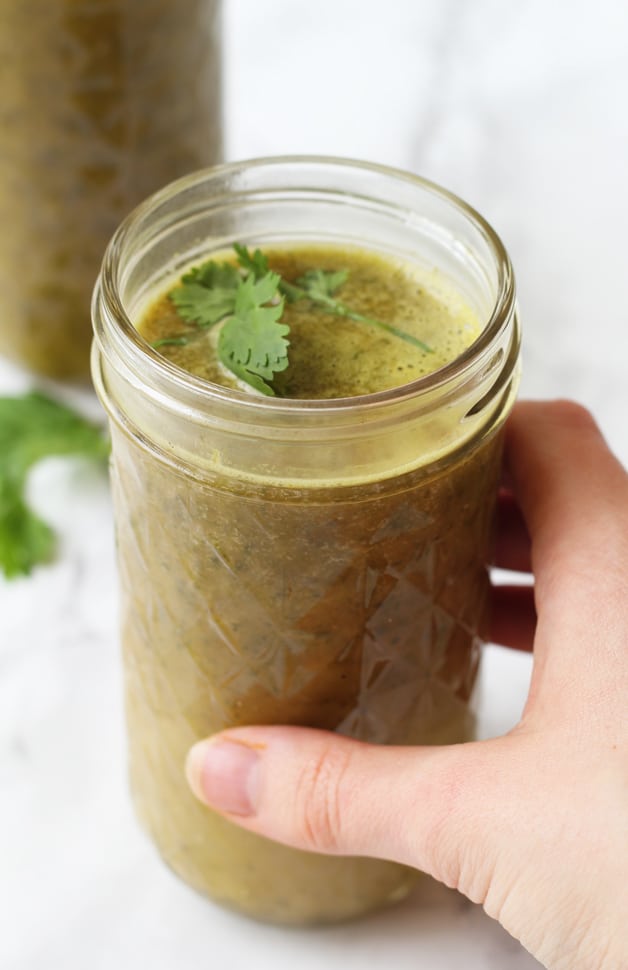 So, why is this drink the bomb?
Why I Love This Bone Broth Green Smoothie Drink
1.It's packed with greens
It's not secret that we want to try and get in more green veggies. They're packed with vitamins, phytonutrients to keep us healthy, and this smoothie is full of them with kale, celery, leeks, and cilantro!
2. It still has the fiber in the veggies
One of the drawbacks of juices is that you lose the fiber in the veggies. It can be fine to have a juice without the fiber every now and then, but by and large, fiber is an important part of the vegetable and still comes with added nutrients. This drink is a smoothie/pureed soup rather than a juice, so the fiber is still intact!
3. The base is gut healing bone broth
Rather than water or a milk, the base to the smoothie/pureed soup is gut healing bone broth!
Bone broth comes with tons of benefits such as…
It's rich in minerals that are easily absorbed,
It's high in collagen and amino acids
Bone broth is full of good quality protein and healthy fatty acids
It's good for the hair, skin, nails, and gut integrity.
Bone broth is often a staple in the gut healing diets like my 30 Day Gut Healing Diet Plan & Guide and the key to adding protein, fats, and minerals to this drink, which juices alone don't pack as much of a punch from.
4. It's an easy way to get in tons of nutrients at once!
Starting your day with this drink is a great way to get in lots of greens, and bone broth all at once!
Food is medicine and when working on healing the gut, or other chronic illness, lots of food is required to add in lots of nutrients. It's not easy to get in bone broth and tons of veggies daily, so this drink is a perfect way to get in some extra nutrients.
5. It's made in the Instant Pot to save time
I love using my instant pot to save time on recipes like this! It cuts the time in half, and always makes such a flavorful meal.
If you don't have an instant pot, you can still make the recipe on a stove top! Simply follow the modifications in the recipe as listed.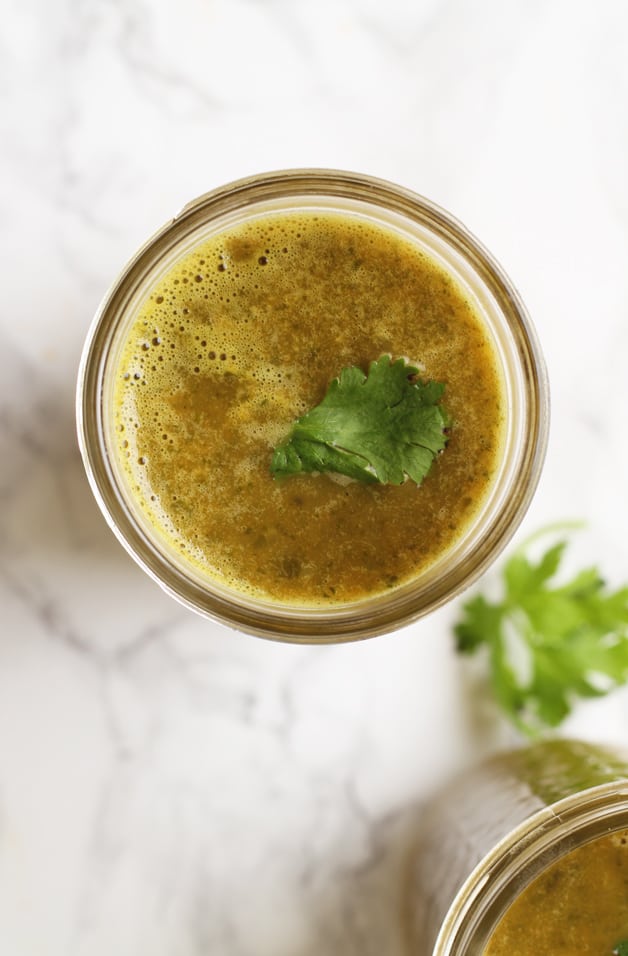 Print
Bone Broth Green "Smoothie" Drink
---
1 cup carrots, chopped
1.5 cups celery, chopped (about 2–3 ribs)
3 cups kale, destemmed and chopped
1 cup leeks, chopped (about 1 large leek)
1/3 cup cilantro
4 cups bone broth
2 tbsp lemon juice (or apple cider vinegar)
1 tbsp coconut oil
1/2 tsp sea salt
---
Instructions
Set the instant pot to sauté and add the coconut oil
Allow the oil to melt
Add the chopped carrots and sauté for 3-5 minutes
Add the remainder of the veggies and the salt lightly sauté for a few minutes to soften
After the veggies are lightly softened, add the bone broth and lemon juice
Turn the instant pot off sauté, and lock on the lid
Press manual, high pressure and set to 12 minutes (for stove top, simply simmer for 25-30 minutes)
After the timer has gone off, carefully quick release the pressure on the instant pot
Remove the lid and allow to cool
Place the mixture in a high speed blender and blend until fully combined
Serve the drink slightly chilled, or warm and enjoy!

That's all there is to it! Like I said, this is great for a breakfast drink or mid-day snack, but I've also had it as a pureed soup at lunch or dinner. Enjoy!!