AIP Airplane Travel Food Tips
This post contains affiliate links. Learn what that means, here.
Though it seems daunting to travel freely and without stress with AIP, especially on an airplane and for an extended stay, it is indeed possible. In the past year, I've traveled both internationally to Italy on my honeymoon and to Disney World with loads of AIP travel food in tow. I think I've got in figured out!
It's no surprise that managing a health condition takes a lot of effort. Just taking a pill for my Hashimoto's and calling it a day would be "easier" but I know for a fact that it's much less effective. Managing my Hashimoto's with diet is a commitment, but one that's worth it. I remember going to Disney world about 5 years ago while I was "gluten free" and gluten free alone. It helped a bit, and Disney was super accommodating as always. However, it just wasn't enough. I remember eating a GF pasta dish with tomato sauce and cheese and feeling beyond terrible for the rest of the day. I didn't deserve to feel like that… you don't deserve to feel like that. Especially when you're traveling or on vacation, you don't want to have to feel terrible.
With these tips on food and mindset, I hope that you have better insight into how to travel AIP!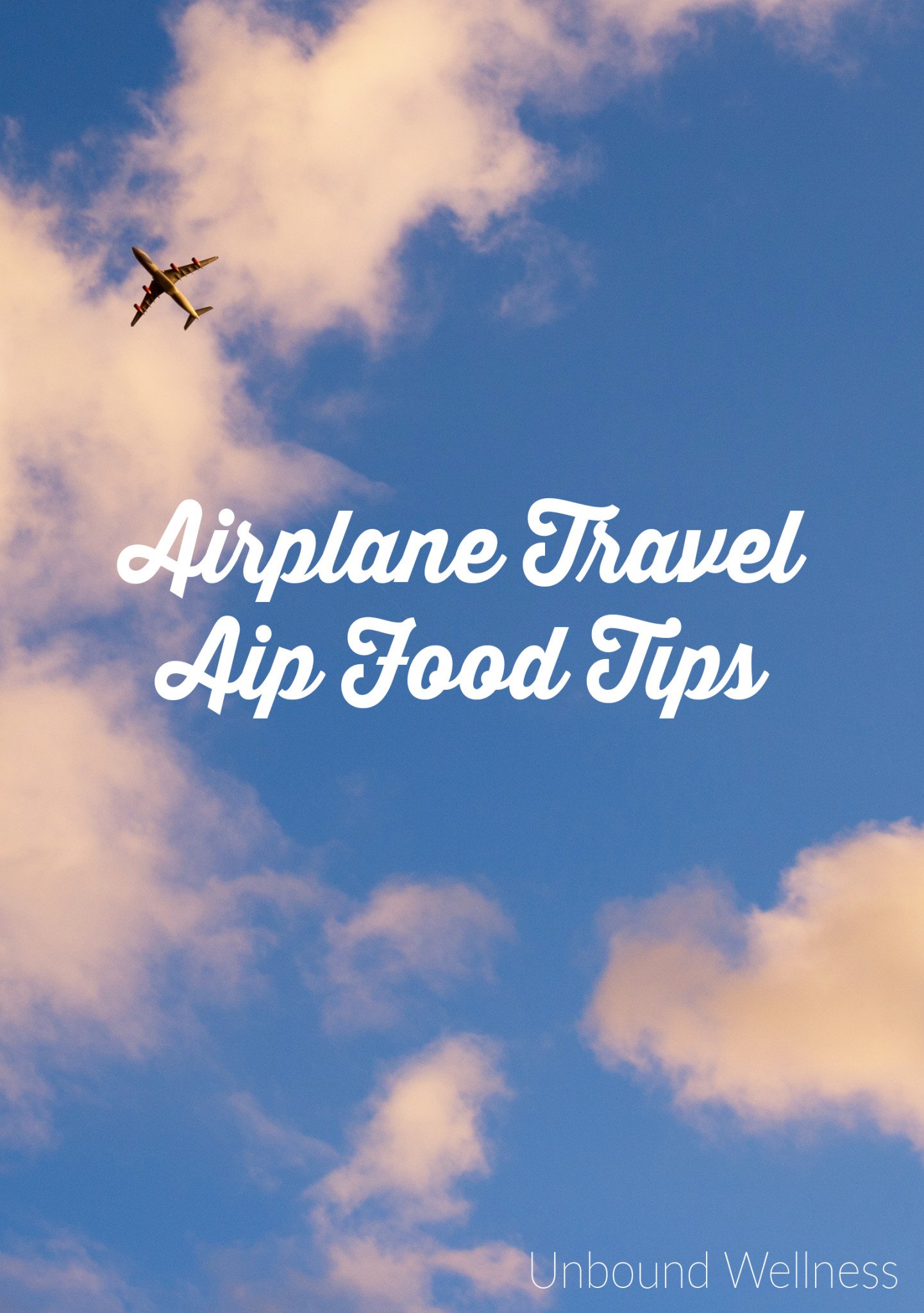 AIP Airplane Travel Tips
1.Meal prep and bring your own food.
When traveling, bringing your own food is always your safest bet. Though you may be able to get away with eating out from time to time restaurant food is most likely going to be cooked in seed oils, and cross contaminate. It's going to take more of your time, yes, but it's worth it to bring your own food.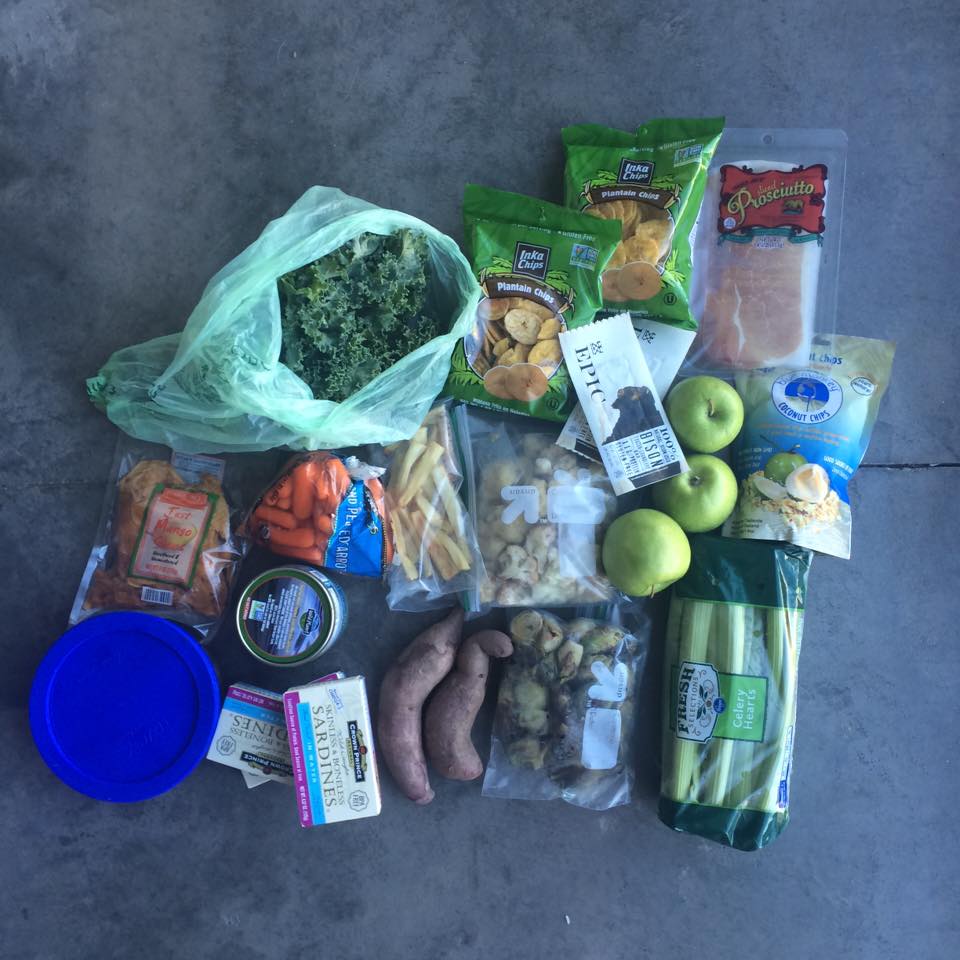 So, what AIP travel food do you bring?
Opt for more veggies than dried fruit. For veggies, I recommend…
Carrots
Kale
Celery
Roasted cauliflower
Brussels
Cabbage
For protein, I recommend…
Homemade jerky
Frozen meatballs
Frozen bone broth
AIP beef stew, frozen
Keep it light on the processed convenience snacks, but I recommend…
2.Bring ice packs and a cooler bag.
I've never had problems getting through with ice packs as long as they're totally frozen. I repeat, you can bring food and icepacks on an airplane as long as they're frozen. That means you can freeze bone broth, or stews to bring with you. I've even chosen to freeze meatballs and breakfast sausage and have had great success traveling with these things. Be prepared for the TSA to take a second look, but other than that you more than likely should be good to go.
I recommend investing in a good quality cooler bag or mini freezer that's insulated and built to last. I went with this one, that was durable, easy to carry around the airport, and kept my food cold for hours.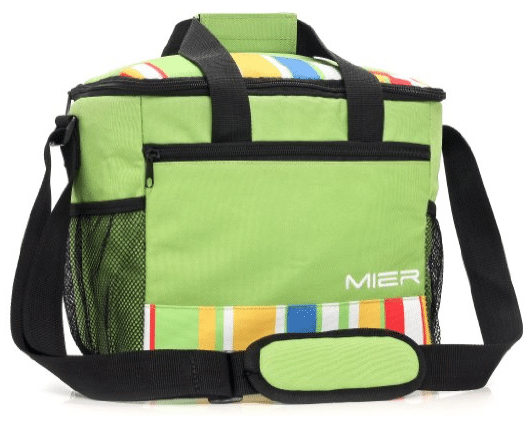 3. Bring appropriate tupperware.
I love my glass tupperware, but I try to just reserve it for the frozen foods and not bring as much when I travel. Not only is it heavier, but it's easier to break. I've broken way too many glass water bottles and have told myself, "This is why we can't have nice things!" way too many times for me to handle that heartbreak. Plastics are not ideal for daily use, but for travel, I'll store some of my foods in plastic baggies.
I also love the Ecolunch box which I actually asked for on my wedding registry! I've been eyeing one of these for so long, and I was so excited to get it. No, you can't pop it in the oven like glass, but it's light, easy, and perfect for travel.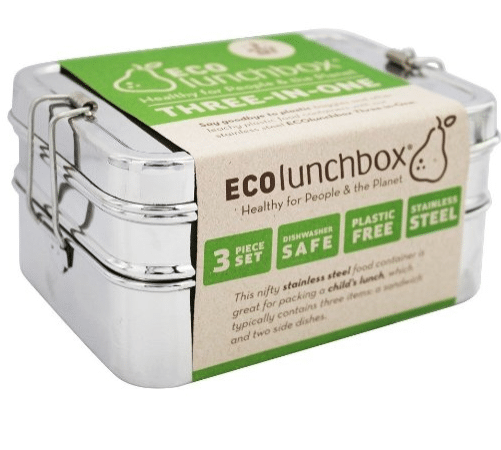 I used this at my recent conference in California as a little plate, and I also used it to eat my dinners on my international flight to Italy for my honeymoon. I just backed it in there ahead of time and was good to go! People in the seats next to me looked pretty jealous that I had a full, home cooked meal 😉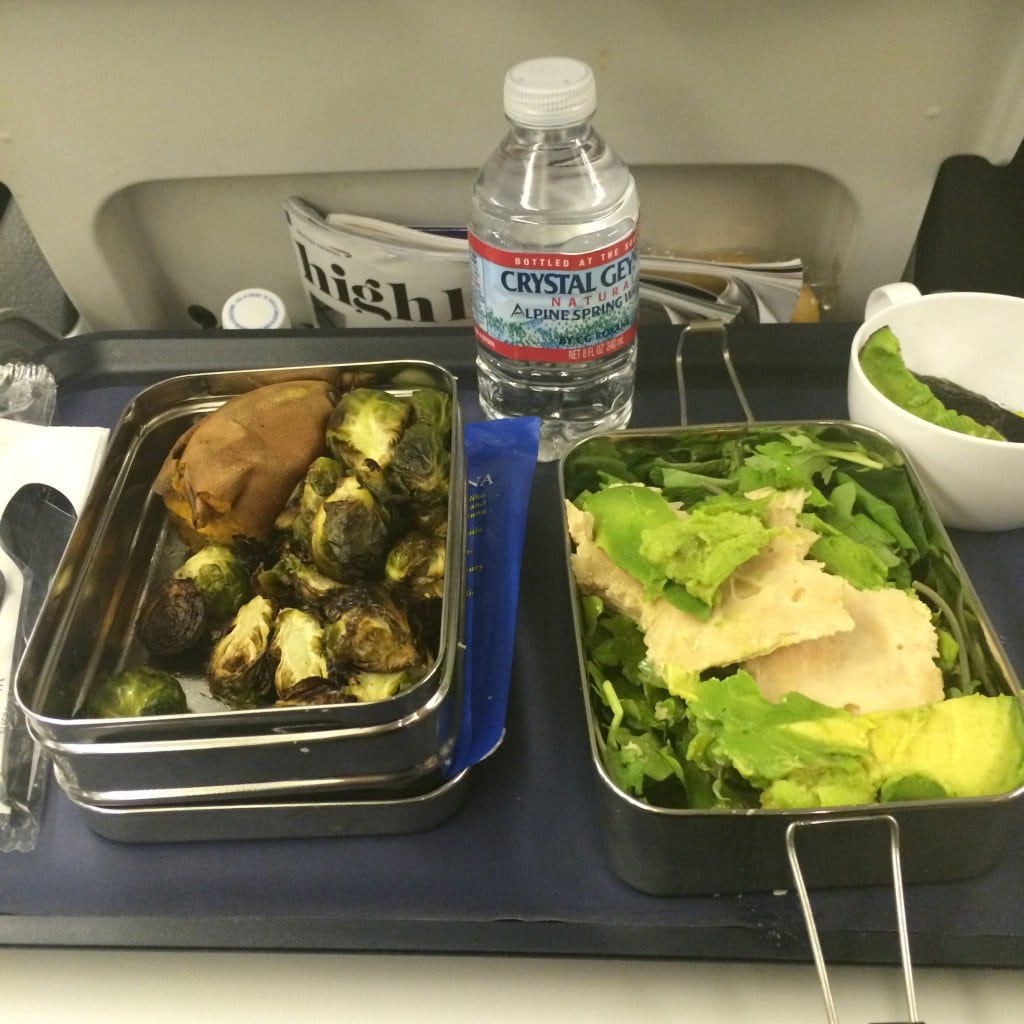 This particular meal was brussels sprouts, tuna, sweet potato and kale.
4. Book an Airbnb if possible.
That way you'll have a kitchen! I typically wind up running to Whole Foods and buying some extra veggies to cook which is a great option. Airbnb's will likely have a bigger fridge than a hotel, and don't have to do expensive. I always tend to find nice ones that are cheaper than a hotel, so do your research.
5. Be thankful and enjoy what you have.
Following an AIP template and avoiding nightshades, grains, soy, etc. has changed my health, and the way I travel. I could spend lots of time complaining and feeling bad for myself that I don't get to chow down on M&M's on the flight, or try new restaurants at my destination. However, I'm thankful that I can enjoy my trip without feeling ill. Quality of life has so much more to do with the food that we eat. I literally love the food that I eat, and I'm thankful that I have it.
Thankfulness is one of the largest missing ingredients in many healing protocols. Stress, anger, and frustration are easy to fall into. However, when deny them and chose to be thankful, we do such a massive favor to our bodies, minds, and our day to day.
Happy travels, friends! <3