One Pot Baked Asian Chicken & Rice
This one-pot baked Asian-inspired chicken & rice is an incredibly easy and delicious weeknight meal, or meal prep option to add to your rotation!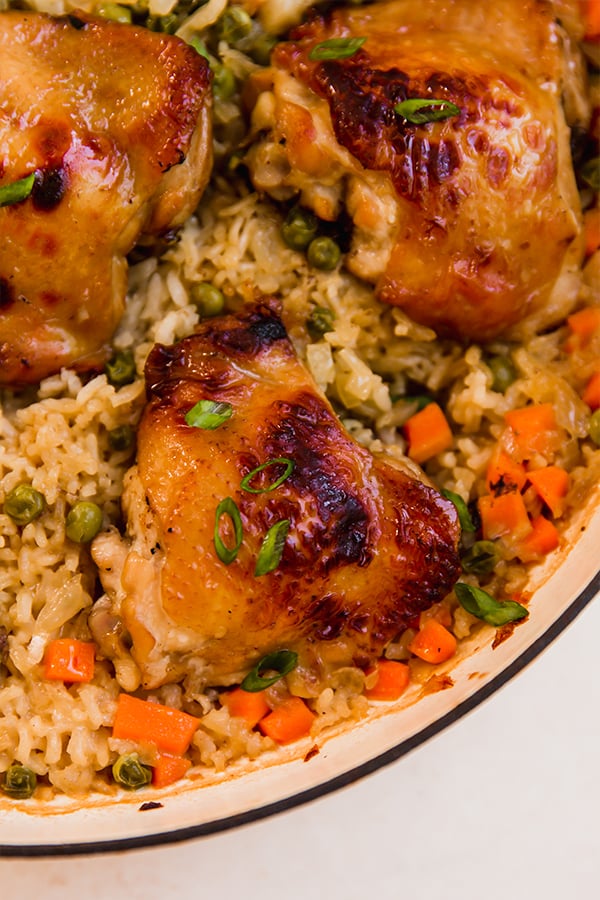 There's nothing quite like a plate of chicken and rice! It feels so comforting and homey. And if you love Asian flavors, this recipe is for you! This is an Asian-inspired version of a classic made with a seriously flavorful marinade to give this dish a pop of flavor. It's so easy to make, and will leave you with a delicious meal for a weeknight, or the perfect one-pot meal prep.
The Ingredients for One-Pot Asian Chicken and Rice
Chicken Thighs. I recommend using bone-in, skin-on chicken thighs as it will yield crispy skin and fall off the bone meat.
Coconut Aminos, Coconut Sugar, Avocado Oil, and Rice Vinegar. These are the main ingredients for the marinade.
Avocado Oil.
Carrots, Onion, Garlic, and Peas. These vegetables bring great flavor and added nutrients to the dish!
Chicken Broth. You can try my recipe for chicken broth.
Jasmine Rice. Unfortunately, this recipe doesn't quite work with cauliflower rice. 
Ginger. I love the flavor this adds to the dish!
Green Onion. For topping!
How to make One Pot Baked Asian Chicken and Rice
Step 1. Marinate the chicken.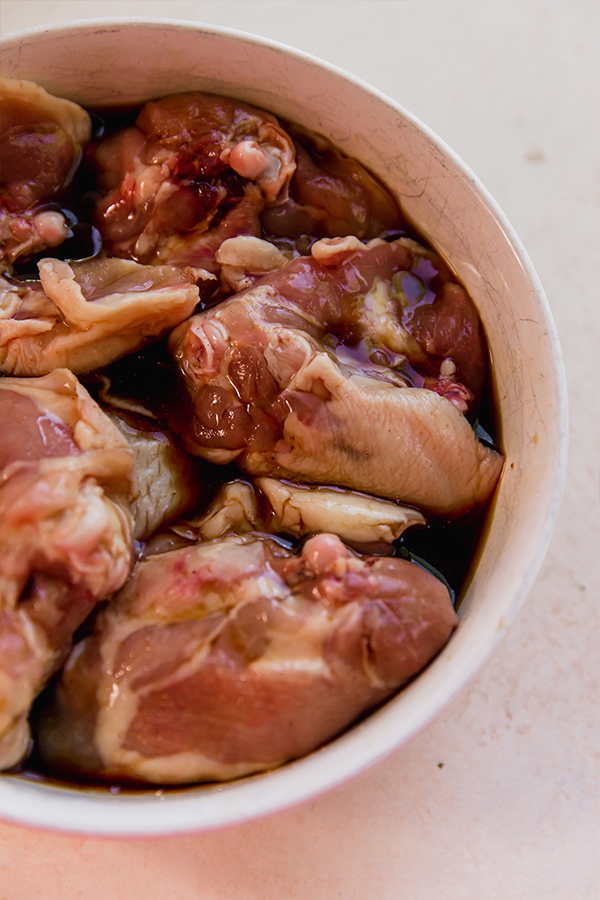 Step 2. Sear the chicken in the skillet to crisp the skin and then remove from skillet.
Step 3. Add the vegetables and saute.
Step 4. Add the broth and excess marinade to boil and then add rice and peas.
Step 5. Add the chicken, skin side up.
Step 6. Put the lid on the skillet and bake.
Step 7. Remove from the oven and allow to rest and then top with green onion to serve.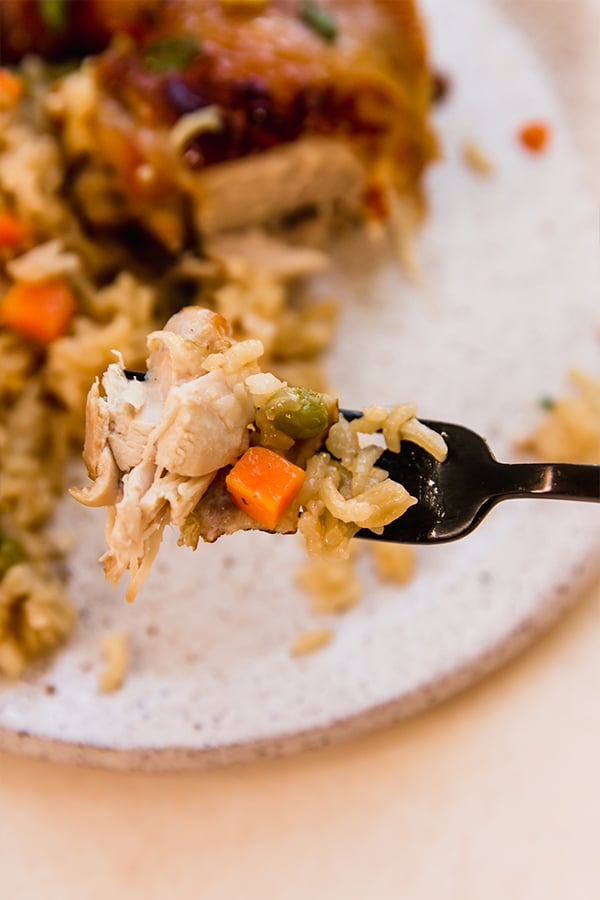 TIPS & TRICKS FOR ONE POT ASIAN CHICKEN & RICE
Use an enamel cast iron skillet. It doesn't have to be the fanciest or most expensive pot, but using an enamel cast iron skillet or even a Dutch oven is key to taking this recipe from stove top to oven, and having it cook evenly. Alternatively, you can also use stainless steel if you have to, but enamel cast iron is my first recommendation.
Make a glaze if desired. This recipe has a ton of flavor on its own, but I've included an optional glaze recipe.
Can you use cauliflower rice instead of rice?
If you can't tolerate grains, this is one of those recipes that I would skip. It wouldn't quite work with cauliflower rice. But luckily, most of the chicken recipes on my website are grain-free, so check those out too!
How long does this stay fresh? How do you reheat it?
This recipe stays fresh for 3-4 days in the fridge. You can reheat it on the stove for a few minutes in a pot on low.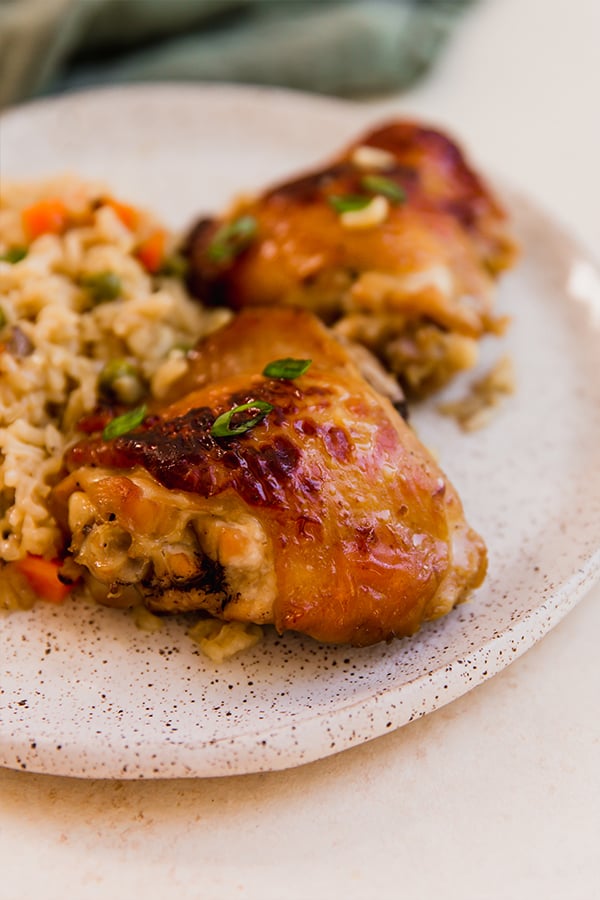 You'll also like…
Print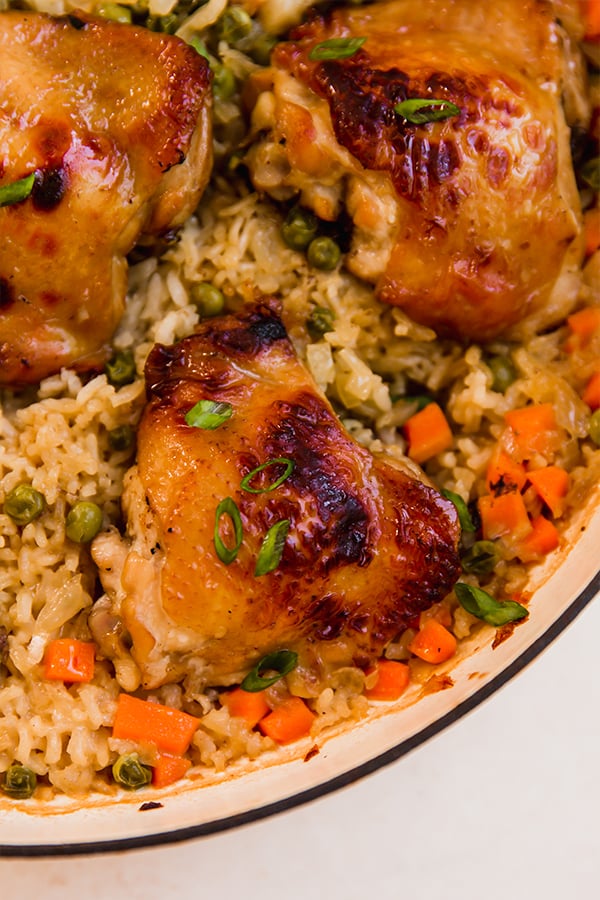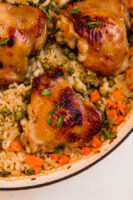 One Pot Baked Asian Chicken & Rice
---
Author:
Total Time: 1 hour
Yield: 6 servings 1x
Diet: Gluten Free
For the marinade
1/2 cup coconut aminos
1 tbsp rice vinegar
1 tbsp avocado oil
1 tbsp coconut sugar
Salt and pepper to taste
For the chicken and rice 
2 lbs chicken thighs, bone-in and skin on
1/2 cup carrots, diced
1 white onion, diced
1 clove of garlic, minced
2 tsp ginger, grated
2 cups chicken broth
1/3 cup peas
1 cup jasmine rice
2 tbsp green onion, chopped
---
Instructions
Using a large bowl, prepare the marinade by combining the ingredients. Add the chicken and toss to coat. Allow marinating in the fridge for an hour.
Preheat the oven to 400 F. Using a large, oven-safe cast iron skillet (or pot), heat the avocado oil over medium heat.
Allow some of the chicken marinade to drip off of the chicken before transferring the skin side down to the skillet. Cook for 4-5 minutes on each side or until the skin is crisp. Set aside and reserve the excess marinade.
Add the carrots, onion, garlic and ginger to the skillet. Saute for a few minutes or until fragrant and the onion is translucent.
Pour in the broth and about 1/3 cup of the excess marinade and bring to a boil for 4-5 minutes. Add the rice and peas to the pot and gently stir to ensure all of the rice is covered by the broth. Place the chicken thighs in the pot, skin side up. See notes about the excess marinade.
Put the lid on the skillet and transfer it to the oven for 35 minutes. The rice and chicken should be cooked through.
Remove from the oven and allow to rest for 10 minutes before removing the lid and topping with green onion to serve.
Notes
If you'd like a glaze on the chicken, add about 2 tbsp more coconut aminos to the excess marinade and boil it for 5 minutes to get it to reach 165 F and kill any bacteria. Add to the chicken at the end of cooking if desired.
All nutritional information are estimations and will vary. Estimations do not include optional ingredients.
Prep Time: 15
Cook Time: 45
Category: Main Dishes
Method: Baked
Cuisine: Asian Inspired
Nutrition
Serving Size: 1 serving
Calories: 305
Fat: 8.9g
Carbohydrates: 22.8g
Fiber: 1.1g
Protein: 31.6g
Keywords: baked rice and rice