Carrot Cake Muffins (GF, Paleo, AIP)
This post contains affiliate links.
These carrot cake muffins are simply the best! They're paleo, AIP, and made without grains, nuts or eggs.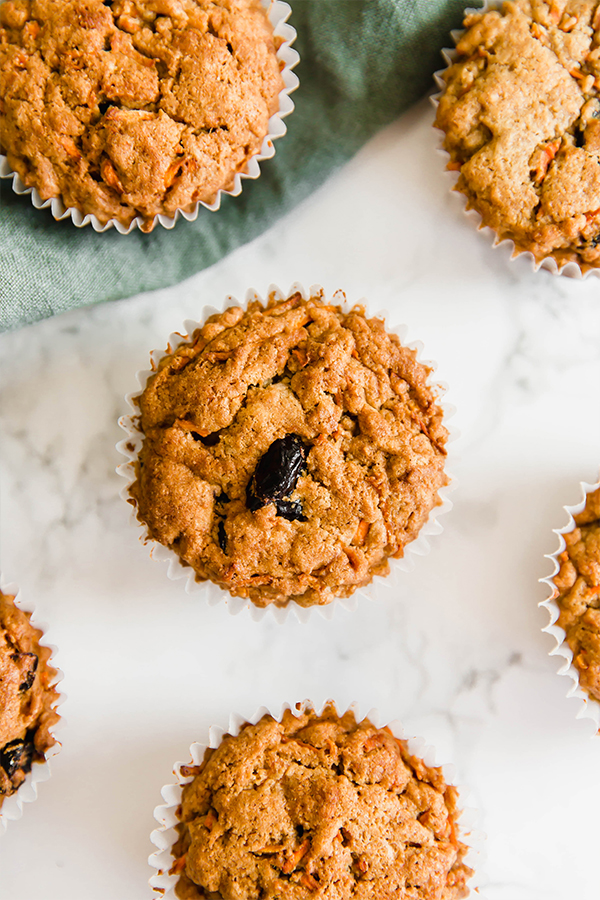 I never really got to enjoy carrot cake as much as I would have liked to because it almost always had nuts in it! Though I haven't been full paleo my whole life, I've spent my whole life with an allergy to all nuts (with the exception of almonds) so carrot cake was off the table. It's always a bummer when something is off limits, so I decided to create a carrot cake muffin that was allergy friendly!
These carrot cake muffins are seriously perfect for sharing! They're made without common allergens like dairy, gluten, and nuts, and they taste amazing. Make them for an Easter brunch, an after dinner treat, or just a simple snack.
Muffins that are made without things like grains and eggs can be pretty hard to pull off, and don't necessarily have the best texture. Not these! The trick is to let them cool completely before trying them to allow them to set and keep them from getting too soft. Leave them on a cooling rack on the counter for about 30 minutes, or even better, throw them in the fridge for a bit as well, and you'll have a great texture!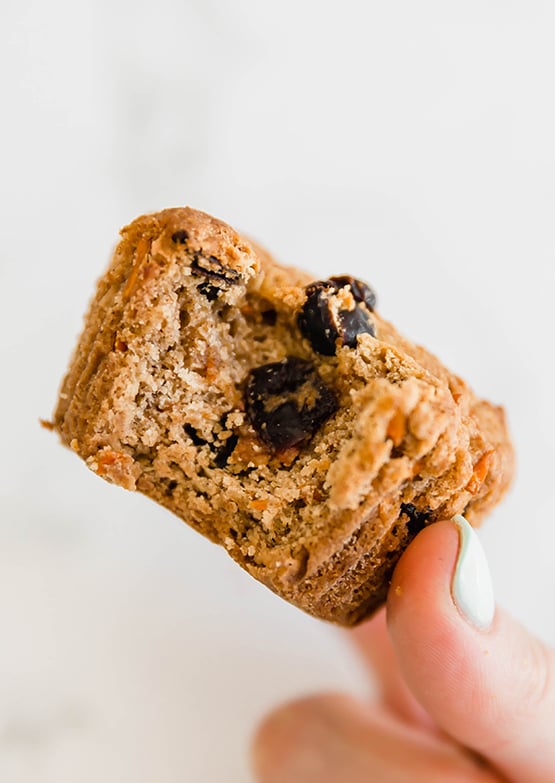 Seriously, a texture like this on a grain free baked good is a serious treat! You don't come across that every day. This is the texture that I missed so much when I first went grain free, and I am stoked to have this option! You may be seeing more muffin recipes from me now…
The Ingredient's You'll Need For The Carrot Cake Muffins
Tigernut flour
Tigernut is not a nut, but a tuber, and it helps to make a great texture for these muffins. If you do tolerate nuts, almond flour may be a good swap, but cassava flour would not be a good substitute in this recipe.
Tapioca flour
You can likely get away with swapping this for arrowroot starch.
Coconut flour & coconut oil
The coconut flour helps to absorb some of the excess moisture from that the carrots may produce. I have not tried this recipe without coconut flour. The coconut oil is the source of fat in the muffins where they would usually be something like butter. I have not tried palm shortening in this recipe, but it may work.
Maple syrup
You can likely swap honey for maple syrup.
Shredded carrots
You can either use a grater or a food processor to have mostly finely shredded carrots.
Raisins (or dried cranberries)
Golden raisins are what you would usually add to carrot cake, but if you're having trouble finding any raisins without weird oils or sugars, I like to use these cranberries.
Eggs (or gelatin)
I use grass-fed gelatin to make two gelatin eggs to make this recipe egg free. However, you can use regular eggs if you tolerate them.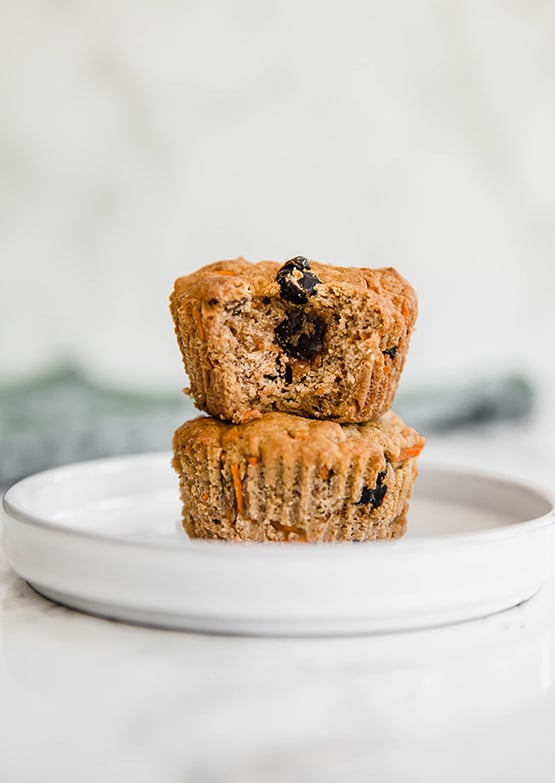 If you like this recipe, you may also like…
Print
Carrot Cake Muffins (GF, Paleo, AIP)
---
Author:
Total Time: 55 minutes
Yield: 8 servings 1x
Description
These carrot cake muffins are simply the best! They're paleo, AIP, and made without grains, nuts or eggs.
---
For gelatin egg substitute
---
Instructions
Preheat the oven to 375 F and line a 12 cup muffin tin with 8-9 muffin liners.
Combine the tigernut flour, tapioca starch, coconut flour, shredded carrots, raisins, baking soda, and cinnamon and mix well.
Stir in the maple syrup and melted coconut oil.
Mix in the eggs (or gelatin eggs) and stir well until a dough forms.
Spoon the muffin dough into the muffin tins (you'll have about 8-9 muffins).
Bake in the preheated oven for 20-25 minutes or until baked through and the tops are golden brown.
Carefully transfer the muffins to a cooling rack and allow to cool completely before enjoying. Cooling in the fridge also helps the muffins set further.
Notes
For the gelatin egg substitute – Add 1/2 cup water to a small sauce pot and slowly sprinkle in 2 tbsp of gelatin. Use a fork to gently mix in any clumps. Set aside and allow the mixture to harden for 2-3 minutes. Place the pot on the stove and turn the heat on low heat. Slowly melt the gelatin over 1-2 minutes. Immediately remove from heat once the gelatin has melted and the mixture has returned to liquid. Vigorously whisk the liquid until it becomes frothy. Pour it into the breadstick mixture immediately to swap for an egg.
All nutrition facts are estimations and will vary. Nutrition facts do not include ingredient swap options.
Prep Time: 30
Cook Time: 25
Category: Dessert
Method: Baked
Cuisine: American
Nutrition
Serving Size: 1 muffin
Calories: 257
Fat: 15.3g
Carbohydrates: 26.4g
Fiber: 8g
Protein: 5.3g