Collagen Veggie Fat Balls (Paleo & AIP)
We all know by now that veggies are important, right? Our mom always told us to eat our vegetables, and if there's one thing that nutrition can agree on, it's that veggies are still a good idea regardless of what diet you follow. Vegetables are packed with fiber, phytonutrients, vitamins, and minerals that are necessary to keep us healthy and thriving! But let's be honest… getting in tons of veggies all of the time can be challenging when it comes to snacks! Unless you're eating raw carrots or celery, veggie snacks on the go are hard to come by. Convenience snacks are usually all protein, all fruit, or grain-y sugar bombs that leave little to be desired when it comes to nutrients. So, that's why I created these collagen veggie fat bombs! They're AIP, paleo, and full of healthy goodness.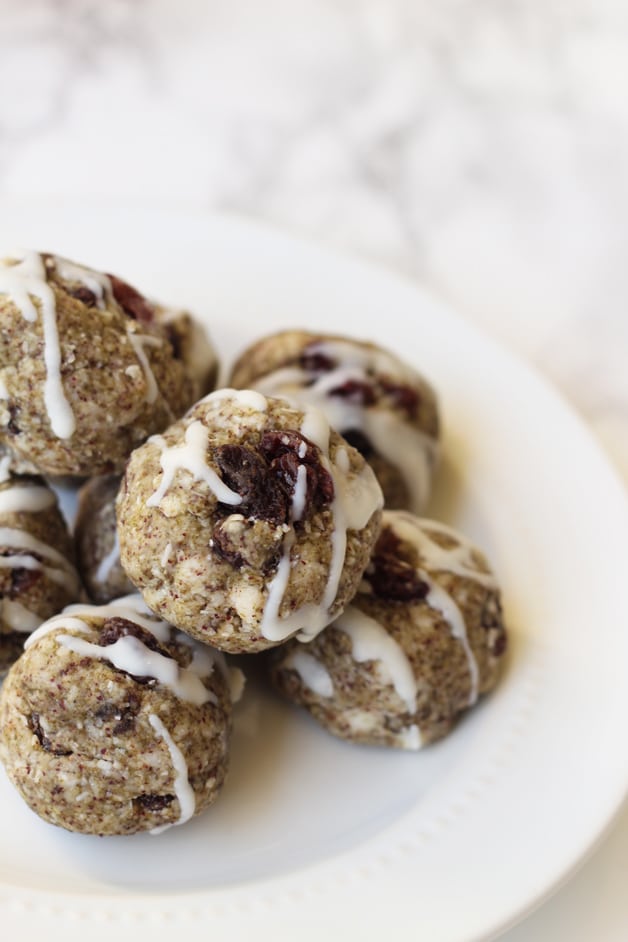 Why These Collagen Veggie Fat Balls Are the Bomb
1.They full of fruits and veggies!
So, how do you get veggies into a little fat bomb like this? Since I'm not going to add raw spinach to a fat ball, I used the Collagen Veggie Blend from Vital Protein's and Dr. Sarah Ballantyne of the Paleo Mom! This veggie blend contains 11 different kinds of organic fruits and veggies including….
Organic Spinach
Organic Kale
Organic Broccoli
Organic Carrot
Organic Lemon
Organic Blueberry
… and more!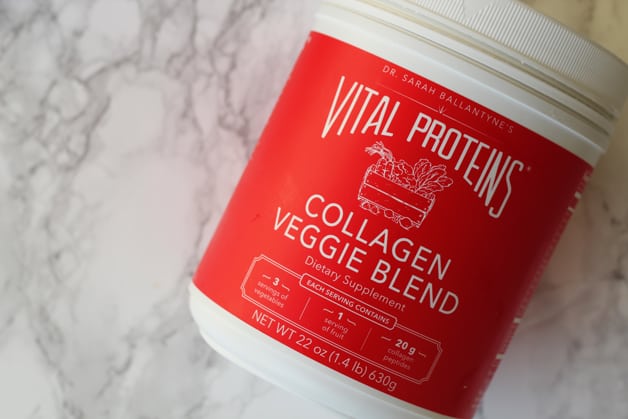 The veggie blend dissolves in water which makes it perfect for smoothies, but I'm using it raw in these fat balls which works fine too!
2. They have gut healing collagen protein.
You guys know I love vital proteins collagen protein. Not only does it add a boost of protein to snacks like these to make it more satiating, but collagen protein also contains gut healing properties that support gut health, hair and nail health, and more.
I recommend collagen as a part of my 30 day gut healing guide, and to most of my clients on gut healing protocols.
3. They're full of healthy fat.
These are largely coconut butter based with some coconut oil as well, which are both healthy, nourishing fats. Healthy fats are vital for the health of our brain, our hormones, our blood sugar, and for keeping us full!
The biggest mistake that I see people make with snacks is reach for something sugar heavy without any fat. While natural sugar here and there is fine, relying on sugar alone to satiate us is not a sustainable idea. Sugar-y snacks spike our blood sugar too high
4. They still have a little something sweet and fun.
Like I said, natural sugar here and there is fine for most folks when you're wanting to have a fun treat! I made these with some dried fruit to add some extra texture and flavor. You can certainly leave that out if you're watching your sugar, but I love the added flavor it gives it!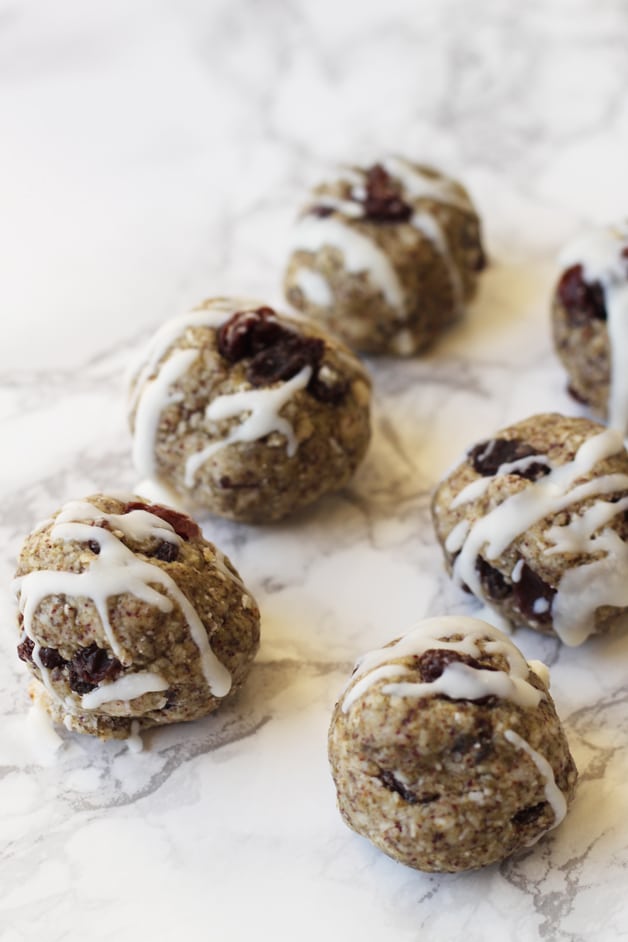 Print
Collagen Veggie Fat Balls (Paleo & AIP)
---
1 cup coconut butter/ mana/ cream concentrate
1/2 cup shredded coconut
2 tbsp coconut oil
1 tbsp water
1 scoop Collagen Veggie Blend
1 tbsp coconut sugar
2 tbsp rasins (or dried blueberries)
1 tbsp of melted coconut butter (for the drizzle)
---
Instructions
Add the coconut butter to a bowl and thoroughly stir to often. You want it soft enough stir, but not melted!
Add in the shredded coconut and stir to combine
Mix in the remainder of the ingredients (reserving the drizzle)
Line a plate with parchment paper and begin to roll out the balls onto the plate.
You should have 8-9 balls
Add a couple of extra rasins or dried blueberries to the top of the balls if desired
Place the plate in the freezer for 15-20 minutes to allow the balls to harden
Remove from the freezer and drizzle the melted coconut butter over the top with a fork or spoon
Place back in the freezer for 10 minutes or store in the fridge for an hour or so to let the drizzle dry
Serve chilled and enjoy!
NOTE: These will melt if left in heat/room temperature for too long. They're best served chilled. Remove from the fridge/ freezer and allow to soften for 5-10 minutes if desired before eating.
That's all there is to it! I hope you enjoy this nutrient dense, convenient little snack!