Paleo Conversation Heart Sugar Cookies (AIP)
This blog post contains affiliate links.
These conversation heart sugar cookies are the perfect Valentine's day treat! They're paleo, AIP, and free of refined sugar.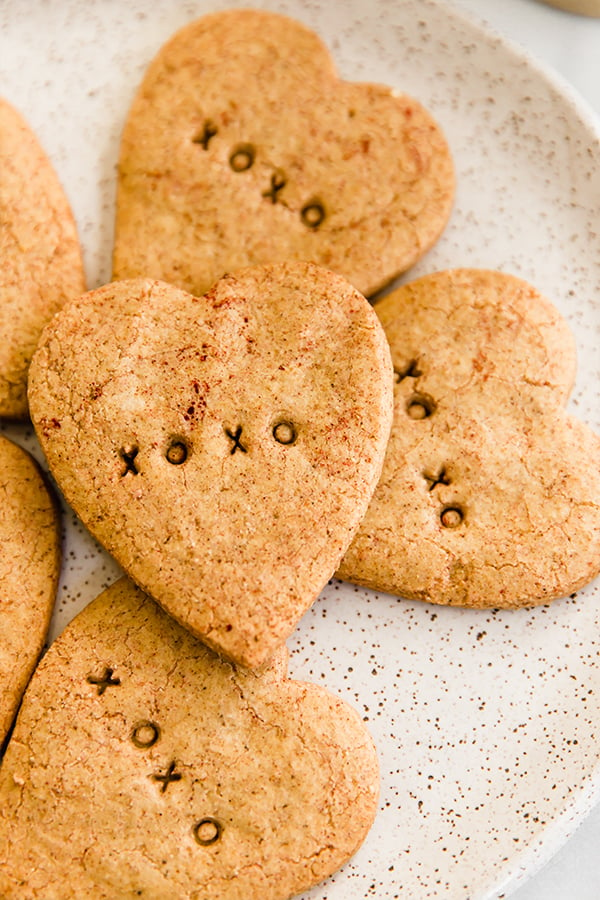 Gluten-free Conversation Heart Sugar Cookies
We all know what conversation hearts! Those sweet little heart candies with writing like "XOXO" "BE MINE, "TXT ME", etc. that come in a tiny box. We would sit around on Valentine's Day, at school, anticipating someone dropping conversation hearts into our Valentine's Day shoebox… or on our kitchen table, as an adult! The sweet gesture of conversation hearts are so full of nostalgia, but they're also full of refined sugar, cornstarch, artificial colors and acids. That's where these conversation heart sugar cookies come in to save the day!
These conversation heart sugar cookies are a delicious and healthy take on the romantic messages on conversation hearts! These cookies can be easily inscribed with any sweet message of your choosing, and are perfect for sharing with your loved ones. They are made free of gluten, refined sugar, corn, and artificial colors, all while being paleo and AIP-friendly!
The Ingredients for the Conversation Heart Cookies
The Tools for the Conversation Heart Cookies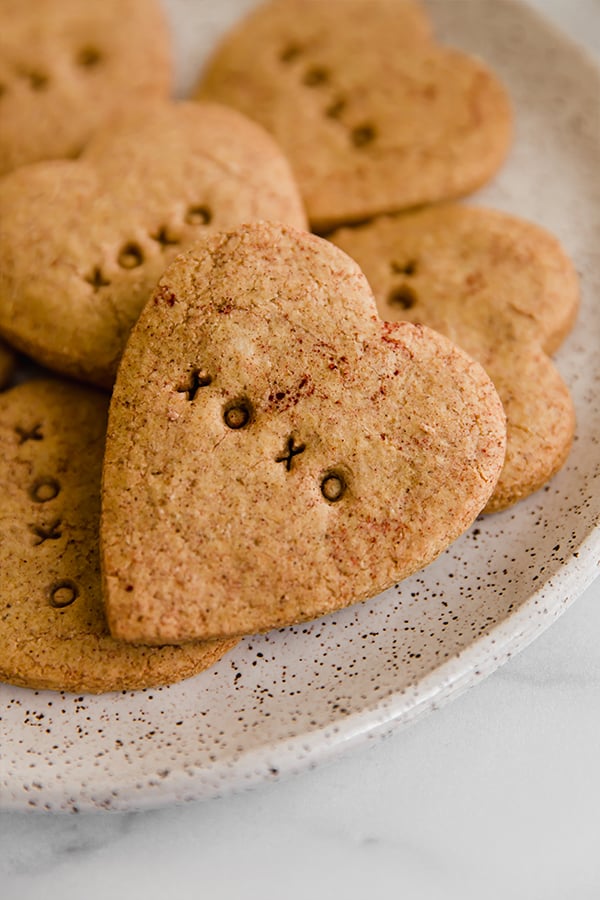 How to make these Conversation Heart Sugar Cookies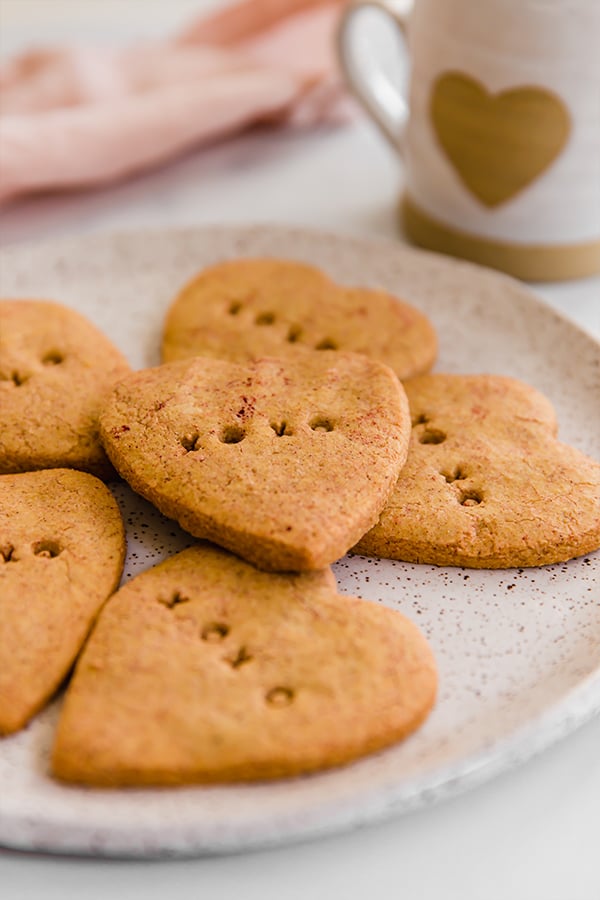 Yes, absolutely! The legit bread cookie mix is a perfect shortcut to use to make these cookies! All you have to do is follow the cookie mix instructions to make the cookie dough, follow the cutting and inscription instructions on this blog post, and bake as directed!
Can you use other flours?
I haven't tested this with other flours and can't guarantee that other flours will yield the same results.
Can you frost these instead of adding a stamp?
Yes! You can use simple mills frosting if tolerated, or use homemade AIP frosting.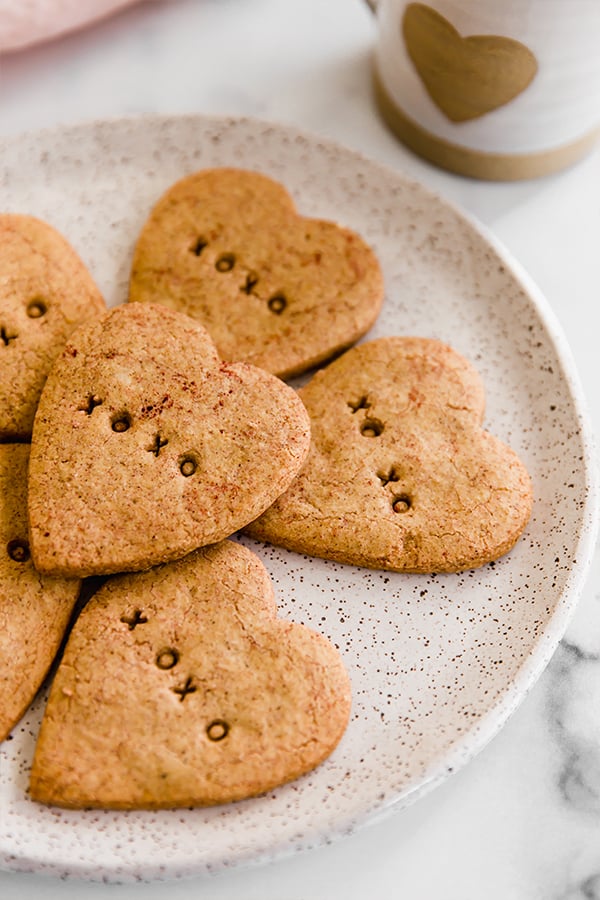 You'll also love…
Print
Conversation Heart Sugar Cookies
---
Author:
Yield: 6-7 cookies 1x
Description
These conversation heart sugar cookies are the perfect Valentine's day treat! They're paleo, AIP, and free of refined sugar.
---
3/4 cup tapioca starch
1/2 cup tigernut flour
1 tbsp vital proteins gelatin
1/2 tsp baking soda
1/4 cup maple syrup
1/3 cup palm shortening
1/2 tsp vanilla extract
1–2 tsp beetroot powder (optional)
---
Instructions
Preheat the oven to 350 F and line a baking sheet with parchment paper. Very grease with coconut oil or other. Set aside.
Using a large mixing bowl, combine the dry ingredients.
In a separate bowl, cream together the palm shortening and maple syrup. Add the mixture into the flour mixture and stir in the vanilla extract until the ingredients are combined and a dough is formed. Add the beetroot powder if desired for extra color.
Transfer the dough to a pastry board or parchment paper. Use a rolling pin to flatten the dough to about 1/4″ thick (you just don't want them to be super thin!). Use a heart-shaped cookie cutter to cut the dough. Transfer the formed cookie dough onto the baking sheet. Repeat the process with the remainder of the dough. You should have about 6-7 cookies.
Using a cookie stamp (like this) form your desired writing to add to the cookies (XOXO, I Love You, Be Mine, etc.). Stamp the cookie stamp to the center of the cookie.
Evenly space the cookies on the baking sheet and bake in the oven for 12-15 minutes or until the cookies are lightly golden brown.
Transfer to a cooling rack and allow to cool completely before enjoying.
Notes
All nutritional information are estimations and will vary. Estimations do not include optional ingredients.
Nutrition
Serving Size: 1 cookie
Calories: 161
Fat: 12.4g
Carbohydrates: 13.9g
Fiber: 2.9g
Protein: 1.4g