Detox Pink Beet Latte (Paleo, Whole30, AIP)
This post contains affiliate links.
This detox pink vanilla beet latte is an amazingly cute and tasty liver loving latte! It's dairy free, easy to make, and nutrient dense.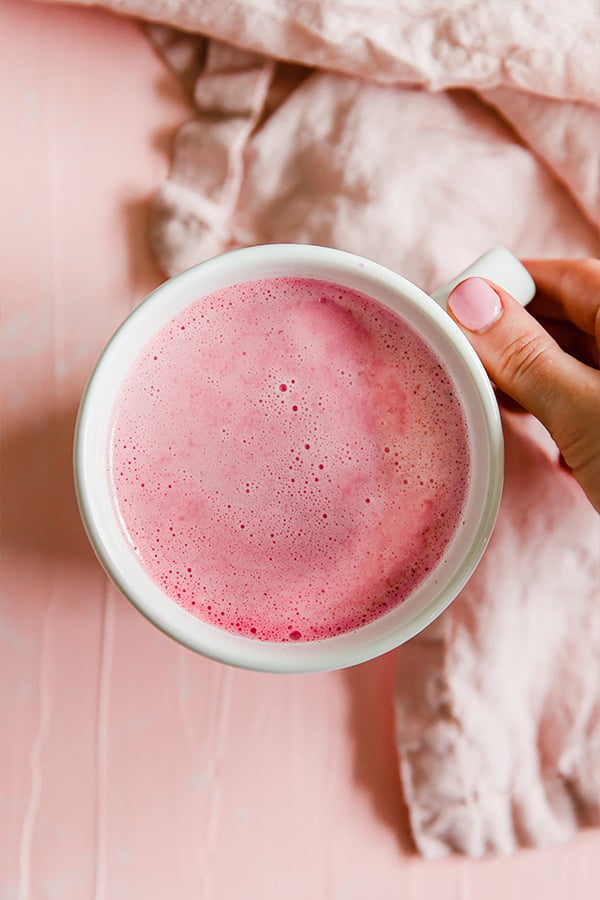 Beautiful lattes are the best! We eat with our eyes first and a gorgeous latte with a beautiful color and some swirly milk is always a fun treat. And with Instagram making lattes like golden milk and matcha lattes more and more popular, I think we're all into the idea of yummy and healthy drinks.
This beautiful pink beet latte isn't just yummy and pretty, but it's nutrient dense and supports a healthy liver! Now that's a good latte!
So, why beets?
Beets are a superfood! Beets contain betaine which supports the healthy flow of bile which helps to support our liver working the way it was intended! They're also rich in vitamin C which makes them a powerful antioxidant.
And let's be honest… the average person doesn't really have a beet heavy diet. They're one of those vegetables that we tend to neglect, so this is an amazing way to sneak some in.
Wait… aren't "detox" recipes spammy?
Yes, and no. Yes if it's a detox tea that promises miracle weight and fat loss. No, if it's just real food that naturally supports liver health!
The word detox is almost a dirty word in our society because it's made out to be so spammy. People often say "why would I do anything to support detox if my liver already does that naturally?!". Yes, our liver naturally does this, but our liver is also overburdened and can use some support. It's like saying "Why are you wearing glasses?! Aren't your eyes just naturally supposed to see well?!" See what I mean? It's silly to think that the liver is for some reason the only organ in the body that's immune from the world and doesn't need any support. It's quite the opposite.
I've gotten a myriad of tests done by medical doctors in the past that have indicated that I have elevated liver enzymes and need extra liver support. It's not delusional to accept that your liver can be overburdened and needs support.
Our body can use some extra love and support if it's overburdened, and as long as we're either doing it with doctors guidance and/or with just with the healthy foods that we eat, it's not spammy!
How does our liver get overburdened?
The liver is responsible for over 500 functions in the body, and it can easily be overburdened by the following…
Blood sugar imbalance
Over-consumption of sugar and refined carbohydrates
Environmental toxins
Heavy metals
Overconsumption of alcohol
Chronic inflammation and autoimmunity
Epstein Barr Virus
etc.
What are some signs that your liver could use some love and support?
You suffer from estrogen dominance and hormone imbalance. 
Estrogen dominance is so prevalent in our society. Women that experience PMS, breast tenderness, mood swings, skin issues, and more can all potentially be dealing with estrogen dominance or hormone imbalance.
The way that healthy hormone cycles should work is that our body should be making new hormones and detoxing old hormones all of the time. Just like we grow new hair, skin, etc., and lose it, we make new hormones. However, if our detox pathways are blocked from excess
You deal with fat malabsorption.
Feel like you can't digest fats? Like you eat a meal with fat in it and find yourself running to the bathroom? So many people say that fat just doesn't work for them, but really, it's an issue of digestion. You should be able to tolerate fats, as long as your liver is working properly.
You have elevated liver enzymes.
This is a test that any doctor can run via some routine bloodwork. If you've never had your liver enzymes tested, you can easily request your doctor to run it on a blood test!
What can you do to support your liver?
Work one on one with a doctor.
This is always stepping one! You can't drink enough beet lattes to replace support from a doctor.
Balance your sugar intake.
Removing excess sugars and adding more healthy fat and protein can help balance your blood sugar.
Eliminate your exposure to toxins.
Clean up your cosmetics
Use safer cleaning supplies
Invest in a water filter
etc.
Eat liver supportive foods
Beets
Leafy greens
Cruciferous vegetables
Liver (yes, liver!)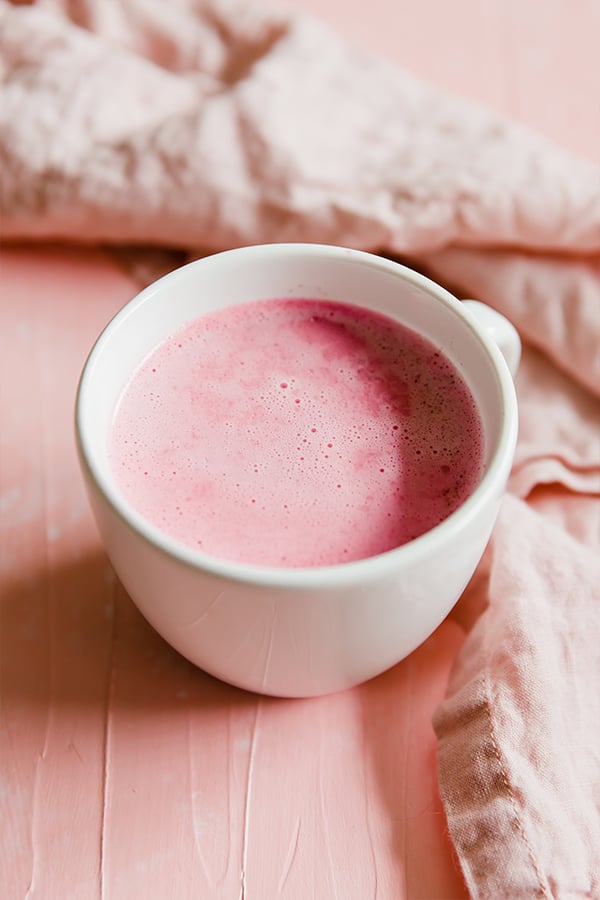 If you like this recipe, you may also like…
Print
Detox Pink Vanilla Beet Latte
---
Author:
Prep Time: 10
Cook Time: 40
Total Time: 50 minutes
Yield: 1 serving 1x
1 small beet, peeled (see notes)
1/2 cup water
1 cup coconut milk (or almond milk for non-AIP)
2 tsp coconut oil, melted
1/4 tsp vanilla extract (sub vanilla bean powder for AIP)
1 tsp cinnamon
1 tsp ginger
2 tbsp collagen peptides
2 tsp honey (omit for whole30)
---
Instructions
Add the beet to a small saucepan and cover with water. Bring to a low boil and simmer for 30 minutes or until fork tender. Drain and allow to cool.
Using a high-speed blender like a Vitamix, blend the beet with 1/2 cup of water until smooth.
Place a fine mesh strainer over a large mug and pour the beet mixture through the strainer and into the mug. Use a spoon to push down the pulp to draw out any excess liquid. Save the pulp to add to soups, sauces, or mix it into the drink if desired.
Heat the milk and coconut oil in a medium saucepan until warm. Stir in the vanilla, cinnamon, ginger, collagen, and honey. Whisk until fully incorporated and the collagen is fully dissolved. Use a milk frother if desired.
Pour the milk into the mug with the beet mixture and serve warm topped with additional cinnamon if desired.
Notes
Save time by buying precooked beets, like the Love Beet brand!
All nutrition facts are estimations and will vary.
Category: drink
Cuisine: American
Nutrition
Serving Size: 1 serving
Calories: 812
Fat: 66.3g
Carbohydrates: 35.5g
Fiber: 9g
Protein: 29g