Easy Poké Bowl (Paleo, Whole 30, AIP)
I don't know what happened and when, but Poké is super hot all of sudden. Remember when frozen yogurt was widely popular? Poke is basically following in it's footsteps right now in the US. Tons of chains are popping up with custom bowls, options to customize, and fun options like sushi burritos. And you know what? I dig it. I totally, and completely dig it. Sushi and sashimi has always been my go to when I eat out because it's easier to avoid cooking oils like canola oil, and seasonings like sneaky nightshades. However, both sushi and poke can still come with cross contamination risks for things like sesame oil, and soy. Since I'm loving poke so much, I decided to make my own Easy Poké Bowl at home that's paleo, whole 30 and AIP friendly.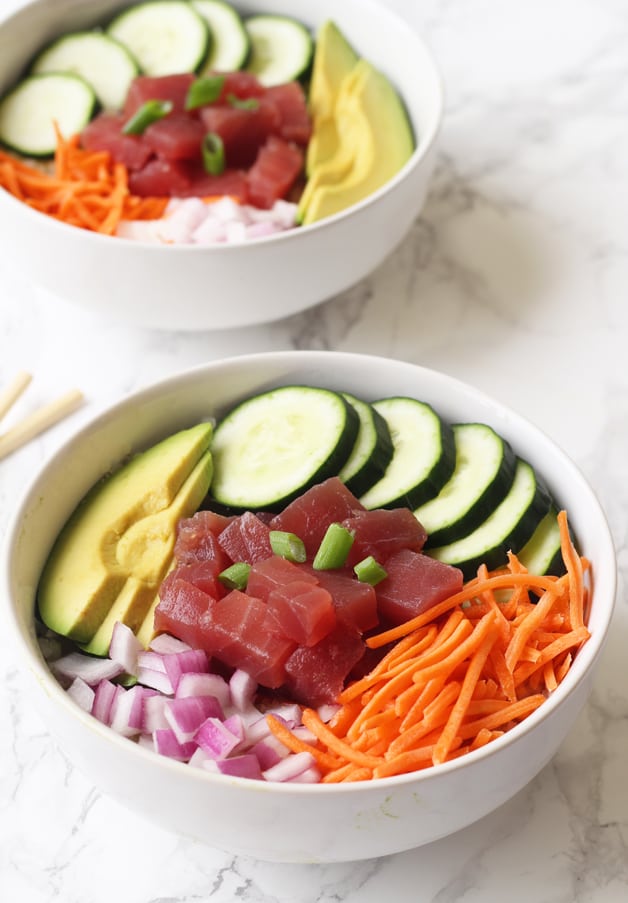 Why I Love This Easy Poke Bowl…
1.It's grain-free, gluten-free, and soy-free
The most prohibitive part of sushi and poke bowls from a restaurant are the rice, what the rice is coated in (most likely sesame oil, and sometimes a vinegar with wheat) and cross-contamination with the wheat and soy from soy sauce. Often, I get away with eating at sushi restaurants unscathed but I've definitely been burned a few times.
Making this at home ensures that it's grain-free, gluten-free, and soy free which makes it free of the major allergens and compliant with paleo, whole 30, and AIP protocols.
2. It's packed with veggies, protein, and healthy fat
Like I tell all of my clients, the best way to balance your meals, your blood sugar and to ensure that you're meals are going to be satiating is to include vegetables, protein, and healthy fat at every meal! This bowl has all of that, helping make it a complete, nutrient-dense, and filling meal.
So, what are the key ingredients and the macronutrients that they make up?
Veggies/ healthy carbs – Cauliflower rice, cucumbers, carrots, and red onions
Protein – Tuna sashimi (or other fish like salmon sashimi or smoked salmon)
Healthy fat- Avocado, and coconut oil in the cauliflower rice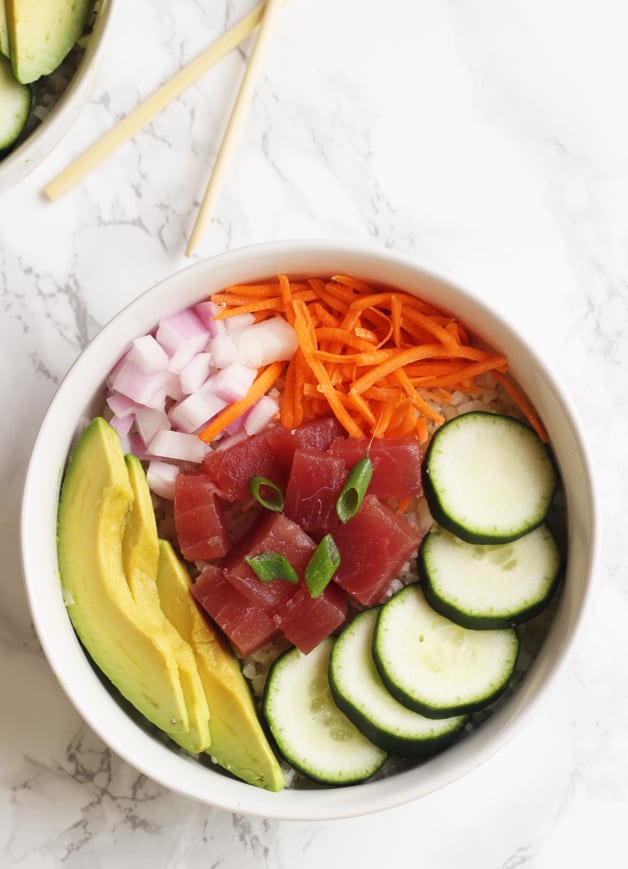 3. It's customizable.
My favorite thing about poke bowls is that the exact ingredients are pretty open to interpretation. Just like a taco bowl, or a smoothie bowl, there are a ton of ways you can customize your bowl to fit your tastes. This particular bowl is just one way to do it, and is filled with easy to prepare ingredients.
Here are just some swaps you can make to customize your bowl…
Swap tuna sashimi for salmon sashimi, or even smoked salmon for more accessibility and cost-effectiveness
Swap cauliflower rice for real rice if you've reintroduced it
Swap garnish like green onion for cilantro
Print
Easy Poké Bowl (Paleo, Whole 30, AIP)
---
7–8 oz Sashimi grade tuna, diced
3 cups cauliflower rice
1/2 red onion, diced
1/2 cup shredded carrots
1 medium cucumber, sliced
1/2 avocado, sliced
2 sprigs green onion, chopped
1 tbsp coconut oil
1 tsp sea salt
1–2 tbsp coconut aminos
---
Instructions
Place the coconut oil in a pan and heat over medium/low heat
Add the cauliflower rice and top with sea salt and 1-2 tsp of coconut aminos
Cook for 4-5 minutes or until the cauliflower softens
Allow the cauliflower cool and divide between two bowls
Begin to top the bowls with the remainder of the ingredients, dived up evenly between the two bowls
Add the coconut aminos on top and serve with chop sticks
These poke bowls are perfect for date night for two, scaling up for a fun dinner party, or scaling back for a dinner for one! They're a great fresh dish for summer, and super on trend 😉
Enjoy!