Gluten Free Pancakes with Orange Syrup
This post contains affiliate links.
These gluten-free pancakes with orange syrup are brunch perfection! They're made with gluten-free flour and homemade orange syrup that you'll want to put on everything!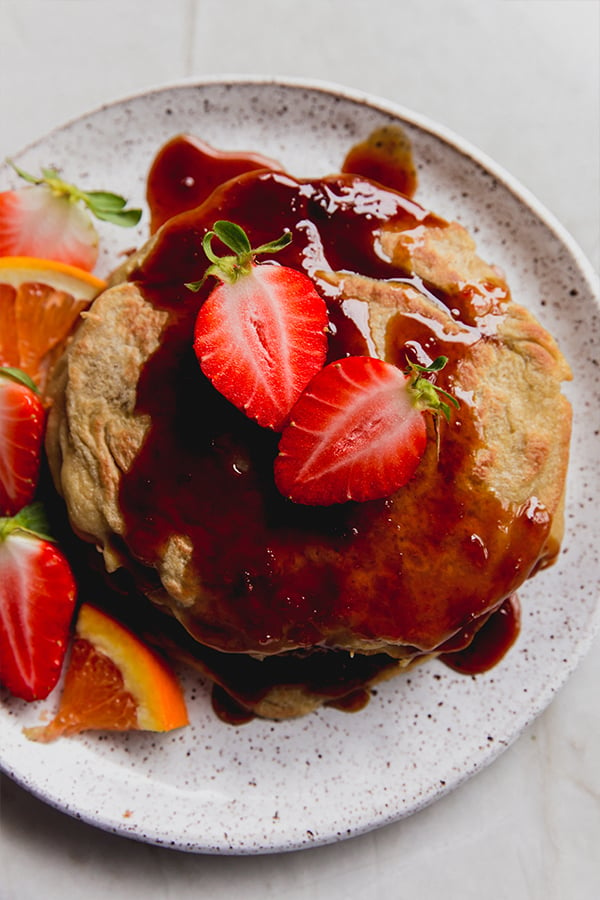 Whether it's for Mother's Day brunch or just a special Sunday breakfast, pancakes always do the trick! I definitely grew up with boxed pancake mix, and there are some good gluten free mixes out there too, but I assure you that making them from scratch is worth it! It's even more worth it to make the orange syrup from scratch! The end result is gluten & dairy free pancake perfection!
Why you'll love these gluten-free pancakes
The pancakes are fluffy and perfect! Just like the pancakes I grew up on these are fluffy and delicious!
The orange syrup puts it over the top. I love the flavor of this syrup paired with the pancakes! And, definitely suggest using it beyond the pancakes…
The Ingredients for the gluten-free pancakes
Gluten-Free Flour. I like using this particular flour! All flour blends are a little different, so I can't guarantee another blend will yield the exact same results.
Dairy-Free Milk. I use almond milk.
Eggs. Typically, all of my recipes are egg-free, but I went with a classic gluten-free recipe with eggs for this particular recipe. If you were to swap out the eggs, I would recommend a flax egg (1 tbsp flax + 3 tbsp water= 1 egg). Keep in mind that it will make the pancakes a lot more delicate, so be careful flipping them!
Ghee. Sub coconut oil for dairy-free.
Orange Juice, Water, Coconut Sugar, and Orange Zest. These simple ingredients make the orange syrup that really elevates the recipe!
How to make the gluten-free pancakes & orange syrup
Step One. Combine the ingredients for the pancake batter.
Step Two. Allow the batter to chill in the fridge for 30 minutes.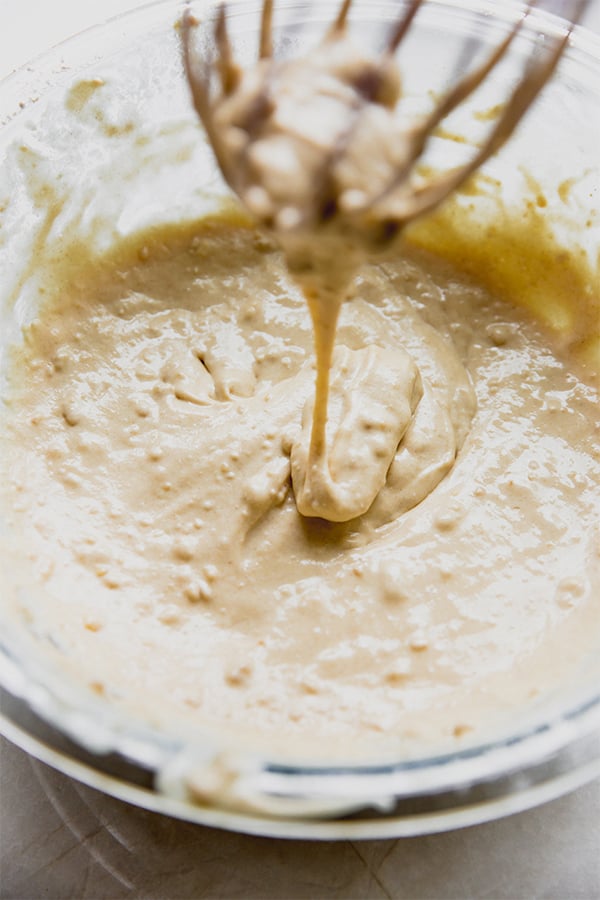 Step Three. Cook in a skillet on the stove.
Step Four. Make the syrup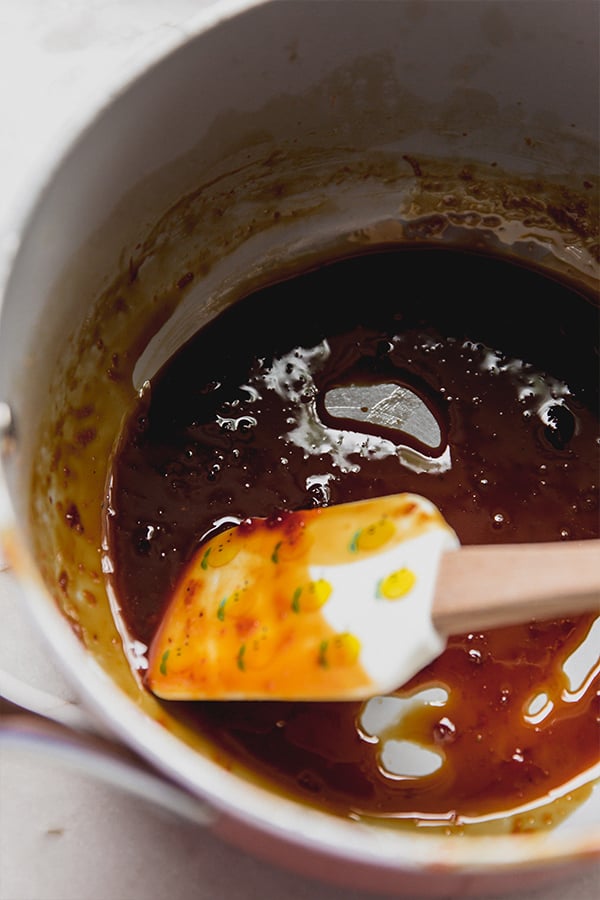 Step Five. Top pancakes with syrup and berries and enjoy!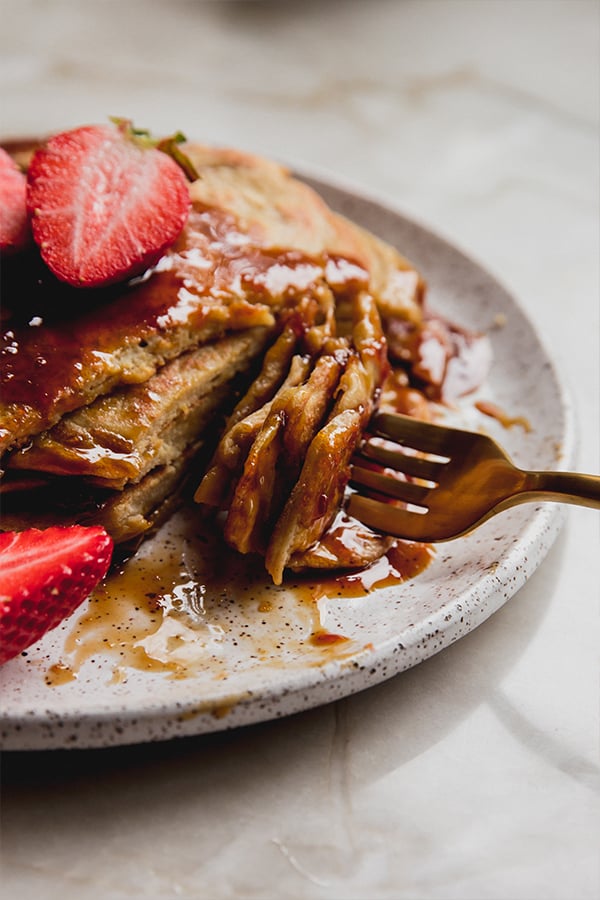 Tips & Tricks
Chill the batter. This step is worth is to help the batter set!
Go slow making the pancakes. Getting pancakes right always takes a bit of a rhythm, and the first one usually isn't pretty. Go slow to find your rhythm with the batter!
Can you turn the batter into waffles?
I haven't tried to add these pancakes to a waffle iron, but let me know if you do try!
Can you add mix-ins?
You can totally add blueberries, chocolate chips, etc. to these pancakes.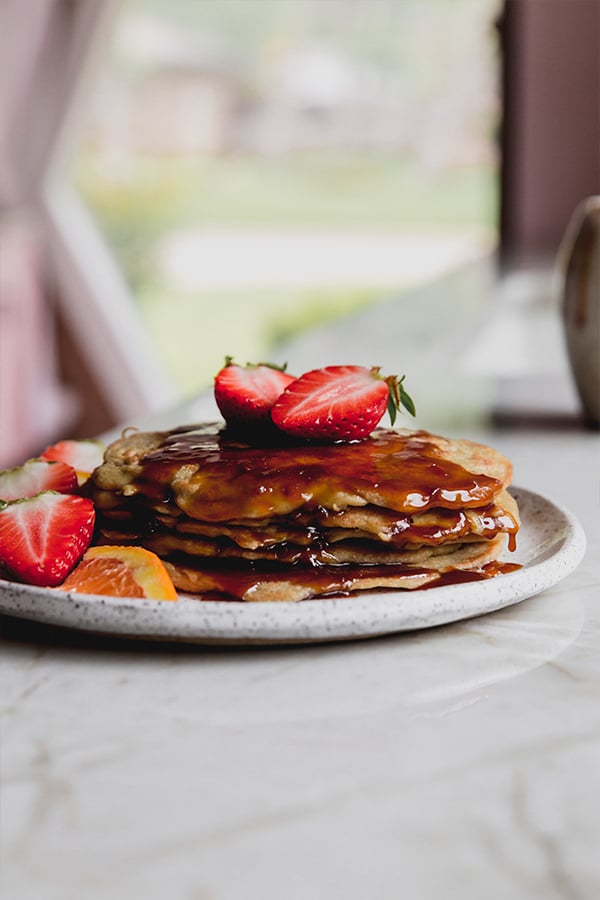 You'll also love…
Print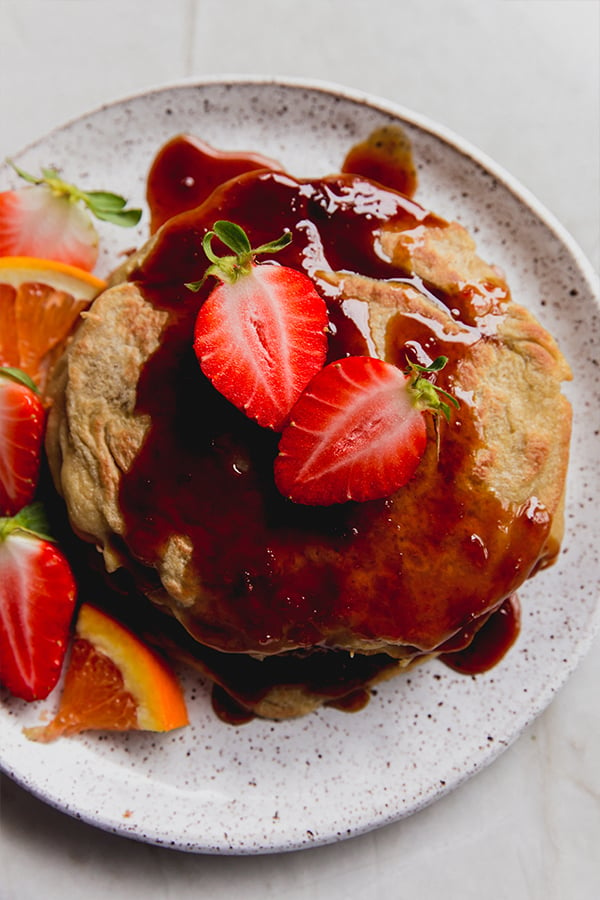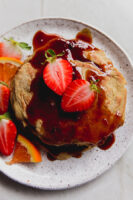 Gluten Free Pancakes with Orange Syrup
---
Author:
Yield: 4 servings 1x
For the pancakes
1 cup gluten-free flour
1 tbsp coconut sugar
1 cup + 2 tbsp dairy free milk
2 tbsp orange juice
2 tbsp ghee, melted (sub coconut oil for dairy free)
2 eggs
For the orange syrup
3/4 cup orange juice
1/4 cup water
1/2 cup coconut sugar
Zest of half an orange
---
Instructions
Using a large bowl, combine the ingredients for the pancake batter until smooth. The batter should be fairly thick, but thin enough to drip off of a spoon. Transfer the batter to chill in the fridge for 30 minutes.
Using a large skillet, preheat over medium-low heat on the stove before greasing with oil. Add a ladle full of the pancake batter to the skillet and cook for about 2 minutes, or until bubbles form on the edge and the edges cook through. Very carefully flip the pancake and cook on the other side for another few minutes, until cooked through. Repeat with all of the batter.
For the syrup
Add all of the ingredients to a small saucepan and whisk together. Bring to a simmer and stir often for 20 minutes until reduced and thick like a syrup.
Serve the syrup over the pancakes and top with berries and more orange zest if desired.
Notes
All nutrition facts are estimated and will vary.
Nutrition
Serving Size: 1 serving
Calories: 360
Fat: 9g
Carbohydrates: 63.4g
Fiber: 1.2g
Protein: 6g