How To Become A Nutritional Therapy Practitoner : A Review & Job Opportunities
This June marks the one year anniversary of me becoming a nutritional therapy practitioner! It's a title that's enabled me to help hundreds of thousands of people through my blog, work one on one with dozens of women and see real change in their life, and leave my full time corporate job to pursue my own business. Though I received a bachelors degree in college in Emerging Media and Communication that helped me immensely, nothing has propelled me forward quite as quickly as the final push of becoming a nutritional therapy practitioner. It's an amazing program, and I am so grateful to have gone through it and share with you how to become an NTP!
So, how did I become a nutritional therapy practitioner? What does an NTP do? What jobs can you pursue with your certification?
First, What Is An NTP? What Do They Do?
A nutritional therapy practitioner (NTP) is certified by the nutritional therapy association to help people support their health holistically with individualized nutrition, and support of foundational health. We're trained to address and assess issues like blood sugar regulation, digestive balancing, optimizing adrenal function, helping clients customize a nutrient dense diet that nourishes them, and more. We work with people in either a one on one setting or a group setting to help them holistically manage these struggles with real food, and foundational support.
A nutritional therapy practitioner is not a board certified nutritionist. We cannot diagnosed or treat disease nor can we give medical advice, but what we can do is offer support that enhances the bodies natural ability to heal!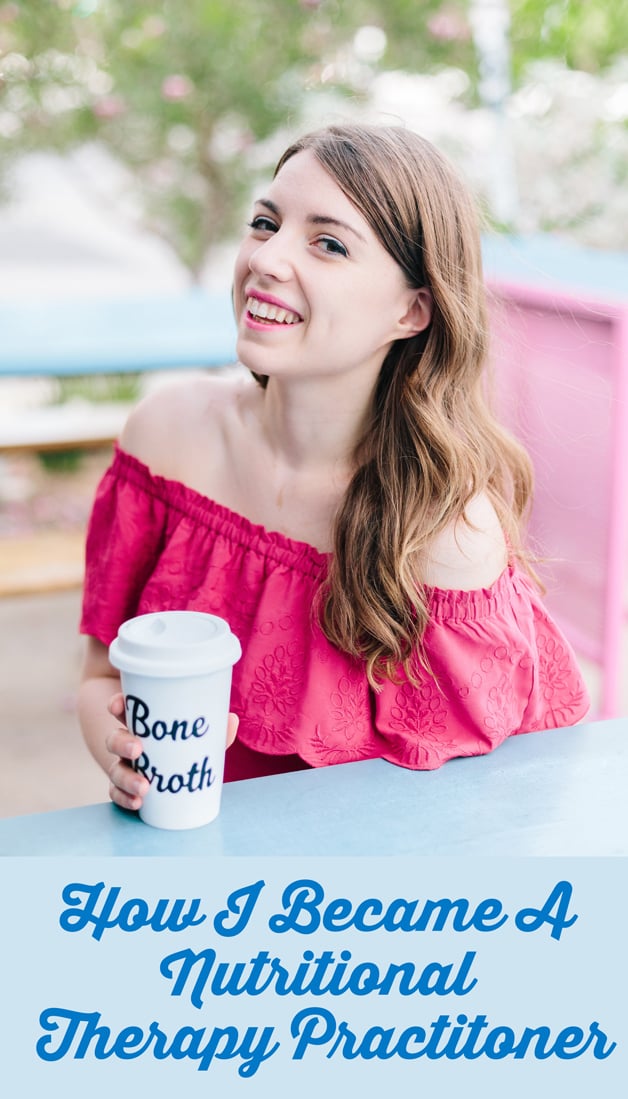 Why I Chose The Nutritional Therapy Association
From the second that I was diagnosed with Hashimoto's disease I knew I wanted to help people who were in the same boat. I felt pulled towards nutrition, and spent my first two years of college studying to be an RD. I quickly learned that none of it was about real food, and I felt suffocated by the clinical information. I changed my focus to the digital marketing realm with dreams of always revisiting nutrition again later.
About two years ago, I woke up one morning and was literally overwhelmed by the feeling that I wasn't living my purpose. I had an incredibly rewarding job working in digital marketing in ministry, but I felt pulled into another direction… back to nutrition. I was just starting my own legitimate paleo/ AIP journey and began to immerse myself in the work of nutritionists that I admired. I studied what schools they went to and what programs they did for months. Seriously, I was constantly on my phone or computer watching video reviews, reading linkedin profiles, listening to podcasts, and more to find the best program.
I looked at dozens of programs and finally decided on the Nutritional Therapy Association as the clear leader. Here's why…
It's a mostly remote program done online.
It's fairly economical.
There are 3 in-person workshops to add an element of community and hands on learning without being too overwhelming.
They have amazing instructors and tons of support throughout the program.
Their views align with a Weston A. Price/ paleo-ish template which I agree with.
The content is way more about supporting foundational health (digestion, blood sugar, etc.) rather than just diets.
You learn how the body actually works.
They certify bomb practitioners that do amazing things
What Is The Program Like?
First, what's the difference between the NTP and NTC program? The NTA offers programs for both nutritional therapy practitioners and consultants. It's basically all of the same content, but NTP's learn the functional evaluation (more on that below) and have 3 workshop weekends, where as NTC's only have one workshop and don't learn the FE. Though I don't really use the FE much as my practice is online, I opted for the NTP program because I really wanted to community support of extra workshop time!
What do you actually learn? The content focuses on foundational health and explains how the body is supposed to work in an optimal state, how it can often go awry, and how to rebalance it. The content also takes you through nutrient dense eating and why it actually works! You'll learn all about why healthy fats aren't actually bad for you, why traditional foods like raw milk are the bomb, and how to properly prepare foods for optimal nutrition.
Module topics include…
Properly prepared nutrient dense diet
Digestion
Blood sugar control
Adrenal health
Mineral balance
and more!
Most importantly, you'll learn how to translate all of the information that you learn to a client! You learn how to read food journals and make recommendations, how to assess symptoms, and recommend supplements to help your clients be successful!
How is the content presented? The program is about 9 months and is mostly remote. That means that the content is video based with complimentary slides, reading assignments, audio lessons, bi-weekly group calls, and quizzes and homework that are due throughout each module.
What is the functional evaluation? The functional evaluation is a hands on assessment that focuses on palpating certain points in the body to indicate stress. For example, you learn how to palpate that gallbladder to indicate stress on that organ and compromised fat digestion. Though it's a helpful tool, I don't use it in my practice as I work remotely.
You'll also learn lingual nuerotesting that involves testing supplements for potential success by using the functional evaluation, which is a great tool to have!
What are the workshop weekends like? The workshops are all about practicing the functional evaluation, and getting more support on the content. The last two weekends also include the midterm and the final (which aren't disgusting hard and you can easily pass if you study). It's also an amazing opportunity to network and build friendships with other students!
Where are the workshops? They hold workshops throughout the country and in Australia. I did my workshop in Austin, TX and they announce venues twice a year when they open enrollment.
How much of a time commitment is it a week? For me, I spent between 10-15 hours a week or so on the content, and up to 20 hours a week but it fluctuates. There are breaks built in, like winter and spring break, and lots of opportunities to pace yourself.
Can you still do it while you're working? Yes! I actually got married, went on my honeymoon, and had a full-time job. I survived 😉
What Kind Of Job Opportunities Are There for Nutritional Therapy Practitioners?
The million dollar question.. what can you actually do? That's something I googled incessantly myself. Here are the most common ways to work as an NTP…
Work with a practitioner in their practice (like a chiropractor or functional medicine doctor)
Run your own practice
Work for a grocery store as their nutritionist (like Natural grocers)
Work for brands like supplement companies or natural food brands
Teach workshops
Create nutrition courses
Write e-books or real books
Write a blog
There are tons of opportunities that exist, but most importantly, your NTP certification is what you make of it. You can easily define what you want to do, and go out there and get after it. Nobody is going to spoon-feed you opportunities and being a successful NTP takes as much work as any other career.
What Do I Do As A Nutritional Therapy Practitioner?
So, how did I make it work? How did I quit my full-time corporate job? Here's the thing… I'm currently not a full-time NTP. I use my marketing background to keep that side of my life thriving and work part time in the marketing world while I continue to grow my business.
Here's what I do as an NTP with the other half of my time…
I see one on one clients via Skype
I wrote a popular e-book
I write this blog!
Businesses do not explode over night and it takes time to make it a full-time gig if you're working for yourself! But it's been the most rewarding, and most fun thing I've ever done and I wouldn't change my job for the world!
My advice to new aspiring NTP's…
Start now. Don't wait until you graduate to start writing that blog, recording that podcast or helping people. I started my blog a year before I graduated and it enabled me to have clients ready to go once I was ready for them, and build my email list to 1k people at that point.
Pace yourself. You don't have to do it all at once. There is plenty of time to get the work done, and to achieve your dreams.
Don't compare yourself to anyone. Building your dreams takes time! Don't compare yourself to someone 4 years down the road when you're only 4 months in.
Embrace your tribe! The NTA is full of beautiful, supportive, likeminded people whom I absolutely love. Embrace your time with them, and build relationships!
You have to be a self starter. The program will provide you with content you need to help clients but when it comes to getting the job and starting the business, only you have what it takes to make it happen.
Check out classes the that are enrolling now!
To become a nutritional therapy practitioner yourself and start making real changes in the world one person at a time, be sure to check out the classes that are enrolling now, here!
I can't wait for you to join our tribe of movers and shakers!