Whole30 One-Pan Meatloaf Dinner (Paleo, AIP)
This one-pan meatloaf dinner makes for an easy and comforting weeknight meal. It's paleo, whole30, and AIP compliant and made all on one sheet pan.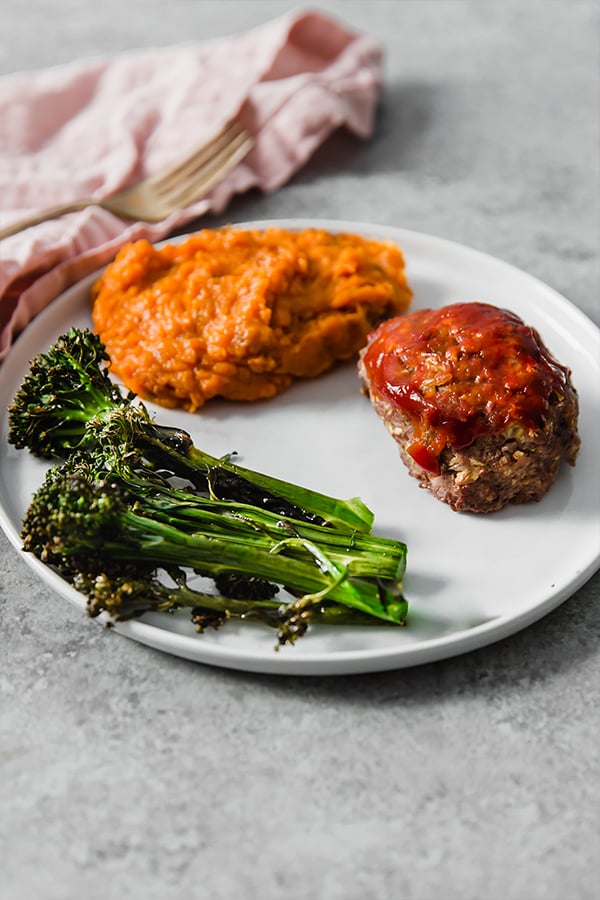 Meatloaf is one of those comfort food dinners that is always filling and delicious… especially when paired with nourishing veggie side dishes. The thing about meatloaf for me is that it always takes a long time! I've made whole meatloaves in a loaf pan before and it typically takes at least an hour. Add that onto the cooking time and side dishes, and it just doesn't feel very efficient. Not with this recipe!
This recipe uses one pan to make four mini meatloaves along with broccoli, and sweet potato that can easily be turned into a yummy mash. All you need is one sheet pan and you're in business for a comforting and simple meal.
I've seen lots of recipes that do one pan meatloaf online before, so it isn't reinventing the wheel by any means, but it this isn't your average meatloaf recipe either. It's made without breadcrumbs and without eggs! Reason being is that this is an AIP recipe, and so many people have egg intolerance issues… so why not make it easier to tolerate for more people, right? It's also easy to make nightshade free, whole30, and is totally dairy and gluten free.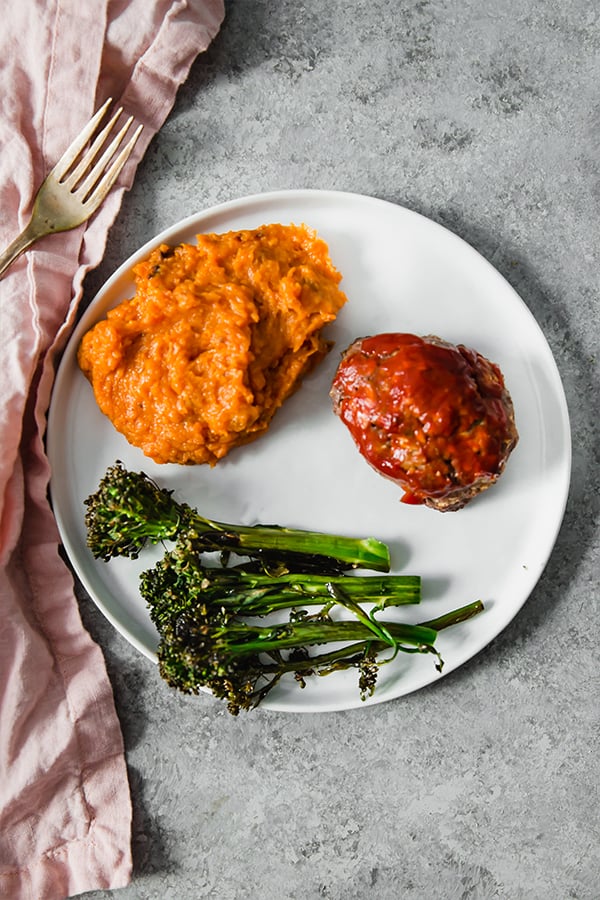 The Ingredients You'll Need for the One Pan Meatloaf Dinner
Ground beef
I like using beef for meatloaf because it has a lot of flavor and higher fat content to help hold the meatloaf together. I haven't tried this recipe with turkey, but it may work!
Onion, Garlic, and Zucchini
I told you this wasn't your average meatloaf, right? Well, it also has hidden veggies in the form of zucchini! I use a food processor to get my zucchini well chopped.
Ketchup
When I was considering making this recipe and I asked my husband if he liked meatloaf, he responded, "Yeah, I like ketchup"… as if the two were interchangeable… ha! But really, the ketchup is a huge selling point. You don't have to use corn syrup-laden ketchup from the store to make good meatloaf! I use an AIP recipe for nightshade free ketchup, and you can easily do sugar-free Whole30 ketchup as well.
Sweet potato
Use any sweet potato variety you'd like to make a roasted sweet potato mash! Not only is it much easier than taking the extra time to boil the sweet potato, but the roasted flavor is amazing!
Broccoli or broccolini
I used broccolini to mix it up, but regular broccoli works just as well. You can also use something like brussels sprouts or cauliflower!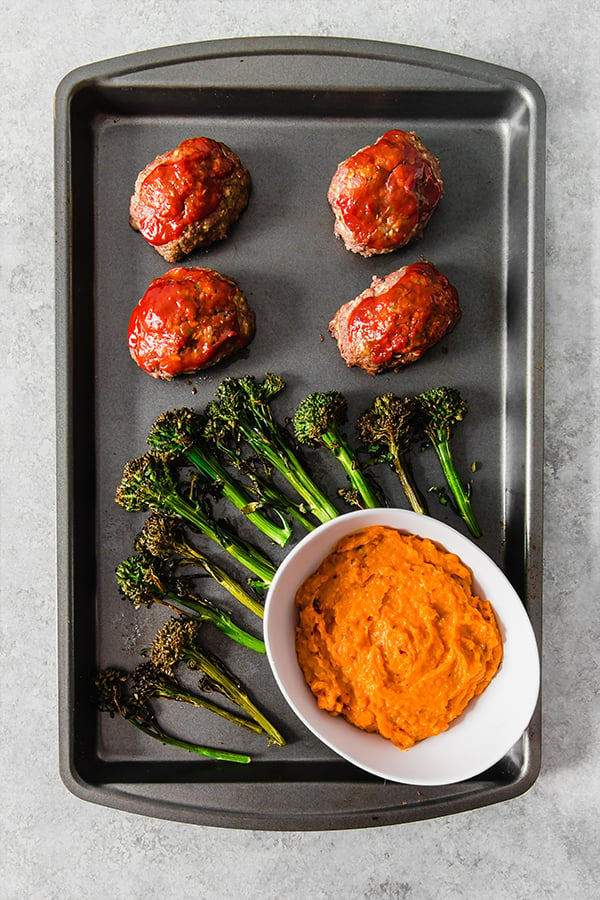 If you like this recipe, you may also like…
Print
One-Pan Meatloaf Dinner (Paleo, Whole30, AIP)
---
Author:
Total Time: 40 minutes
Yield: 4 servings 1x
For the meatloaf
1 heaping cup zucchini, roughly chopped
1/2 white onion
1 clove garlic, smashed
1 lb ground beef
1/2 tsp sea salt
1/4 tsp black pepper (omit for AIP)
1/3–1/2 cup compliant ketchup (use this for AIP/not whole30, and this for whole30… see notes about making both whole30 & AIP)
For the vegetables 
4 tbsp coconut oil (divided)
1 bunch broccolini, trimmed (sub broccoli)
2 small/medium sweet potatoes, diced
1 tsp sea salt
1/4 tsp black pepper (omit for AIP)
1/4 cup coconut milk
---
Instructions
Preheat the oven to 400 F and line a very large baking sheet with parchment paper.
Using a food processor, finely chop the onion, zucchini, and garlic until fine.
Mix the chopped onion, zucchini and garlic with the ground beef and stir in the seasonings.
Form the ground beef into 4 smaller meatloaves on one side of the baking sheet. Top with compliant ketchup and coat well.
Add the sweet potato and broccolini to the baking sheet, making sure to separate them into their own sections. Top with 2 tbsp coconut oil and season.
Bake in the preheated oven for 30 minutes, keeping a close eye on it. Remove the broccolini about 5 minutes early if it starts to crisp too much, and cook the meatloaf until it reaches the internal temperature of 160 F. The sweet potato should also be fork tender and slightly crisp.
Remove the sheet pan from the oven and allow the sweet potatoes to cool slightly before adding to the food processor with 2 tbsp of coconut oil and coconut milk to blend. Remove from the food processor and serve in a large bowl.
Serve the sheet pan meal on 4 individual plates with all components. Season further to taste.
Notes
To make the recipe both whole30 and AIP, use this nightshade free marinara instead of ketchup.
Hello! The photos of this recipe as well as the photos and written content on my website are copyright protected and cannot be copied or shared. Please do not copy this recipe or photos and share it on your own website, Instagram, or other written materials. If you'd like to tell people about this recipe on social media, your own website, or elsewhere please link back to the recipe here rather than copy and pasting. If you'd like to use a photo for a roundup blog post, please get in touch with me first.  Thank you so much!!
All nutritional information are estimations and will vary.
Prep Time: 10
Cook Time: 30
Category: one pan
Method: oven
Cuisine: American
Nutrition
Serving Size: 1 serving
Calories: 397
Fat: 20.6g
Carbohydrates: 25.4g
Fiber: 3.3g
Protein: 27.2g