Paleo Charcuterie Board with Cauliflower Artichoke Hummus (AIP & Whole30)
This charcuterie board is dairy free, gluten free and totally paleo! It's perfect for the holidays, party snacks, or just a fun and fancy appetizer.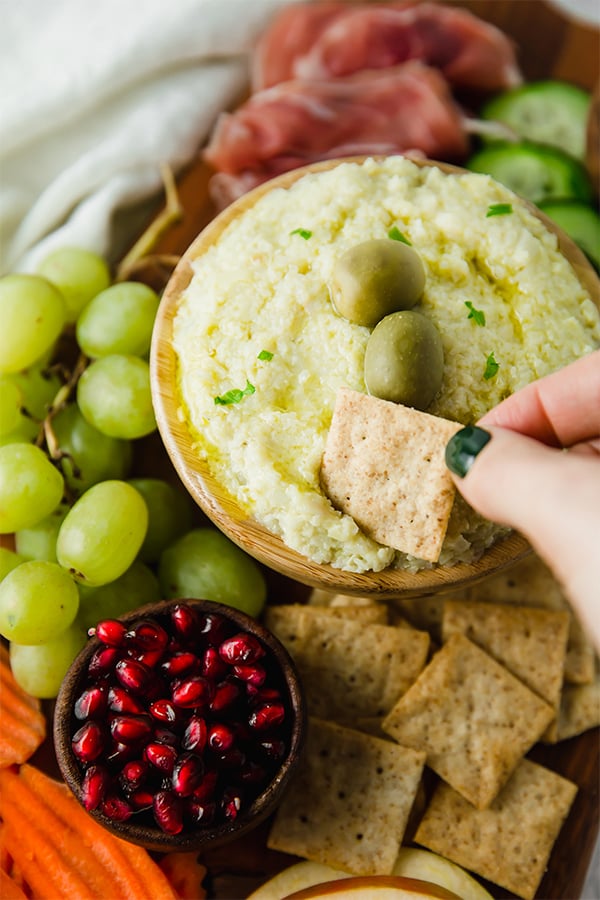 Charcuterie boards are a huge treat in my household. My husband loves snacky foods, and if he could just eat a charcuterie board for every meal, he probably would. Charcuterie is quickly becoming a holiday tradition for us, and really, it's so perfect for holiday parties year-round, or just any type of entertaining. Everyone can find a little something to munch on and it's easy to customize and make on limited time!
Most charcuterie boards that you're going to find feature various varieties of cheese, different kinds of crackers and breadsticks, and more ingredients that probably do taste amazing, but just aren't very food intolerance friendly. So for the holiday season, I decided to make a paleo, whole30 and AIP charcuterie board with all real food and a paleo artichoke hummus!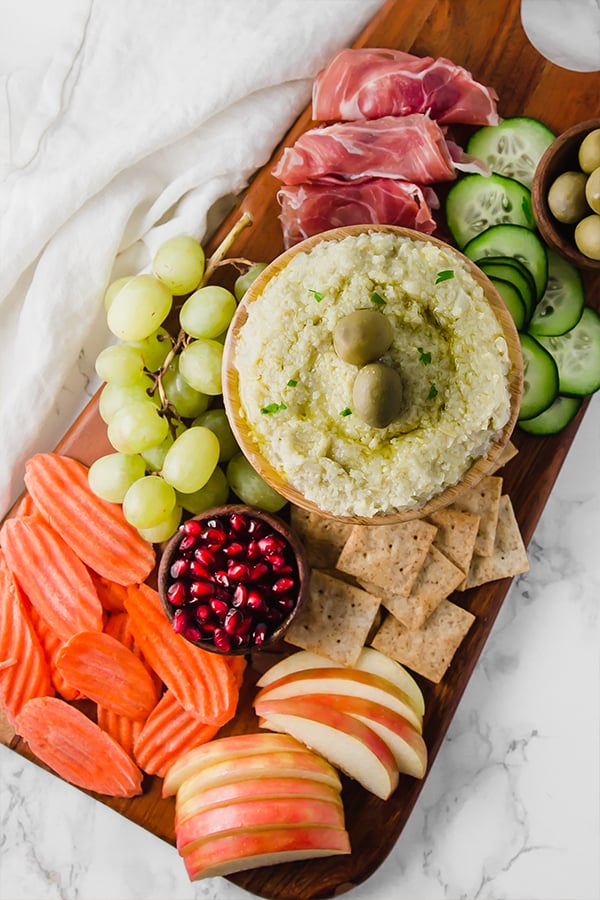 The Ingredients for the paleo charcuterie board
Cauliflower, artichoke, olive oil and garlic
These are the ingredients for the paleo "hummus". It's a creamy, veggie-filled dip that tastes similar to hummus but without the legumes. If you can tolerate hummus fine, you can for sure swap it out.
Proscuitto
You can use any meats you'd like, but prosciutto is a great option! Prosciutto is typically made without any other spices or preservatives so it's generally paleo and AIP friendly… but always be sure to double check ingredients!
Crackers (omit for whole30 compliance)
I used Simple Mills crackers because they're made with all real foods and are easy to find in stores and online. If you're AIP or nut free, you can use plantain chips instead. Or if you're on a whole30, you can skip the crackers altogether!
Apples, cucumbers, carrots, pomegranate seeds, grapes and olives
These are the fruits and veggies that I love to have on charcuterie boards, especially a winter themed board! Some other vegetables that you can use are pears, dried fruit like apricots, and nuts like almond if you can tolerate them.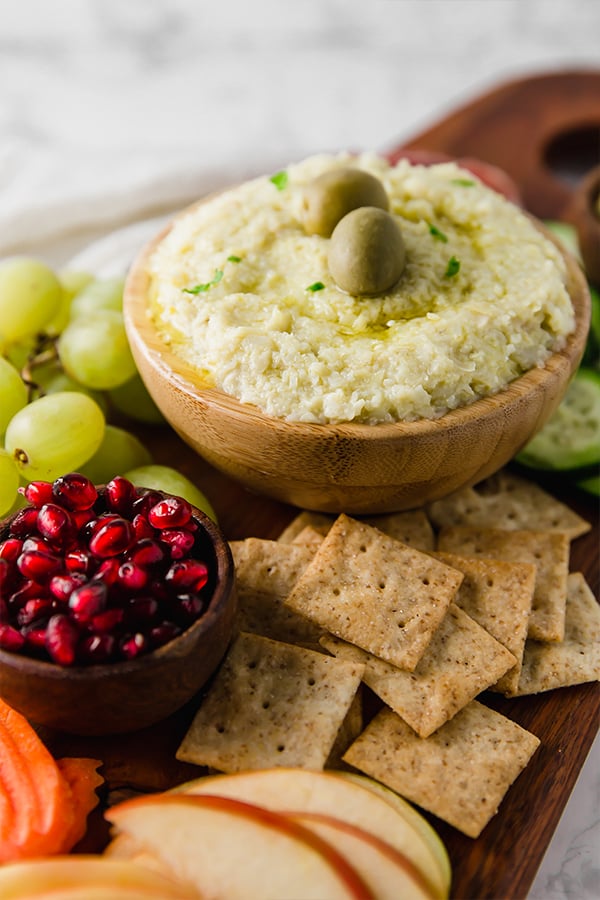 Print
Paleo Charcuterie Board with Artichoke Hummus (AIP & Whole30)
---
Author:
Total Time: 10 minutes
For the hummus
2 cups artichoke hearts
1 cup cauliflower, steamed
2 tsp garlic powder
1/4 cup olive oil
1 tbsp parsley, chopped
1/2 tsp sea salt
2–3 olives
For the charcuterie board
3–4 slices of prosciutto
1 cucumber, sliced
1 cup sliced carrot chips (or baby carrots)
1 apple, sliced
1–2 cups grapes
3 tbsp pomegranate arils
1/4 cup olives
15–20 paleo crackers (I used simple mills. Omit for Whole30 or sub plantain chips for AIP)
---
Instructions
Combine all of the ingredients of the hummus in a food processor (reserving the olives and about 1 tbsp of olive oil) and blend until smooth. Spoon the hummus into a small bowl and top with olive oil and olives. Season further to taste.
Place the hummus bowl onto a large wood cutting board or a large plate. Layer the remainder of the ingredients onto the board and arrange to make visually pleasing.
Serve fresh and enjoy!
Prep Time: 10
Category: Appetizers
Cuisine: Global