Paleo Coconut Puppy Chow (AIP option)
This post contains affiliate links.
This paleo puppy chow is grain free, and made with real food ingredients! It's the perfect treat to enjoy over the holidays and share with guests.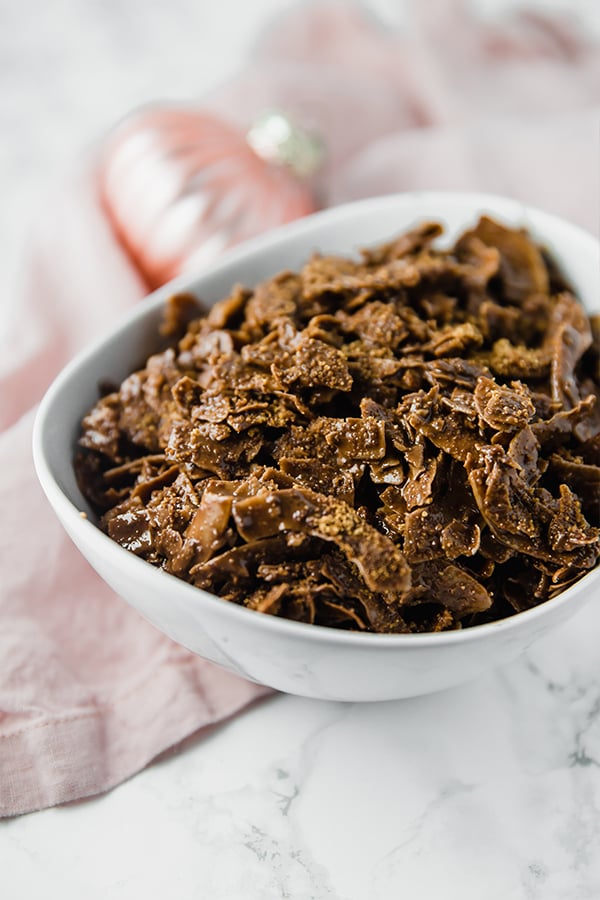 So, what in the world is puppy chow? Am I really giving you a recipe for paleo dog food? Far from it! Growing up in New York, I never even heard of puppy chow until I moved to Texas. I've come to know it as a Southern/Mid Western kind of treat you'd eat over the holidays. Either way, it's very American and is traditionally packed with sugar and boxed foods! So yes, it tastes very sweet and yummy. But can you make this junk food classic with real food? You can!
Using almond butter, good quality chocolate, toasted coconut, and coconut sugar, you can get all of the flavors of puppy chow without using way overly processed ingredients. You can even modify the variety of chocolate, nut butter, and sugar you use for this recipe to make it customizable for a variety of diets!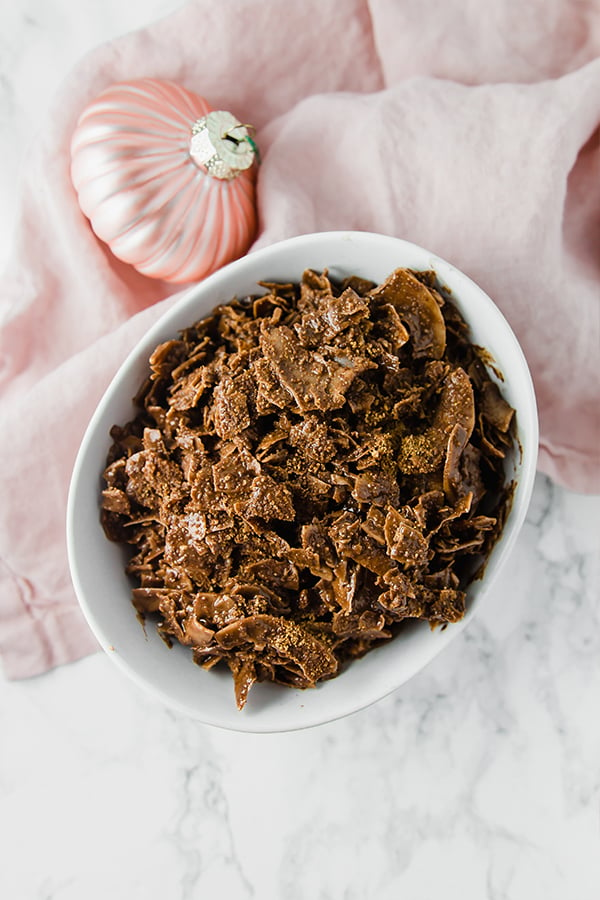 The Ingredient's You'll Need (and possible substitutions)
Toasted coconut
Puppy chow is made with Chex cereal, which is very far from paleo and grain free. To get the same crunch, this recipe uses toasted coconut. You can buy coconut already toasted, of you can lightly toast your own in the oven.
If you want to make this coconut free, you can try to use another crunchy snack like plantain chips!
Almond butter (or other nut butter/tigernut butter for AIP)
Personally, I've had a nut allergy to all nuts but almonds my entire life. And even though I absolutely love peanut butter, the feeling sadly isn't mutual. This recipe uses almond butter, however, you can use other nut butters like cashew butter, or you can even use tigernut butter if you're AIP! Tigernuts are not a nut, and this would make the recipe nut free.
Chocolate (or carob for AIP)
I use eating evolved chocolate because it's sweetened with coconut sugar, and it's my absolute favorite! You can use any soy/dairy free chocolate like enjoy life or another dark chocolate.
If you're AIP, I have a recipe for AIP Hannukah Gelt that you can make in a rectangular mold and melt as you would any other chocolate as directed in the recipe.
Coconut oil & coconut sugar
Coconut oil is used in the coating where butter would traditionally be used, and coconut sugar is used as the powdered sugar substitute. Puppy chow is traditionally coated in powder sugar giving it a white coating, so this recipe loses that color from the lack of powdered sugar. But trust me… it tastes much better not being super sweet!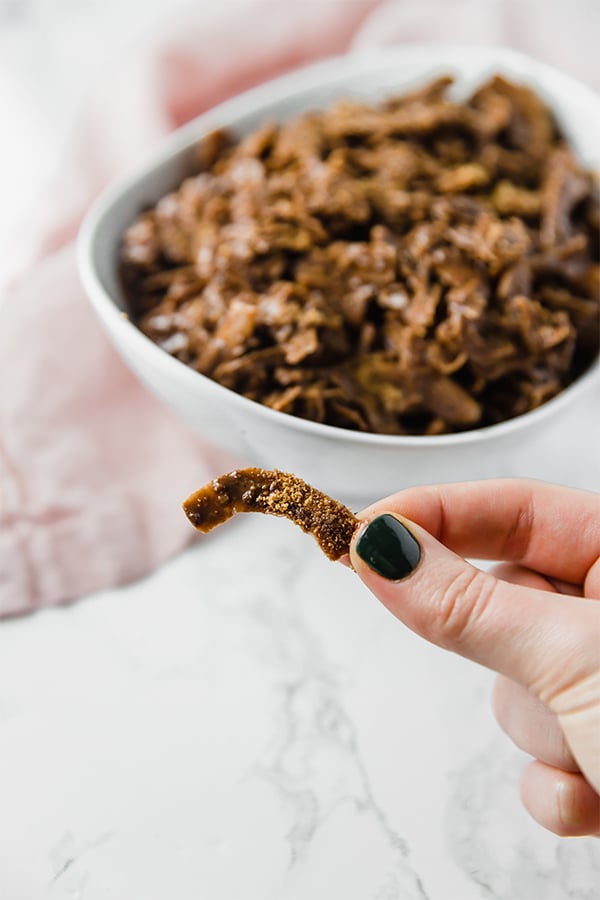 Print
Coconut Puppy Chow
---
Author:
Total Time: 10 minutes
Yield: 6-8 servings 1x
Description
This paleo puppy chow is grain free, and made with real food ingredients! It's the perfect treat to enjoy over the holidays and share with guests.
---
---
Instructions
Assemble a double boiler with a medium sized pot filled halfway with water. Bring the water to a simmer and place a metal mixing bowl over the pot.
Pour the almond butter, chocolate, and coconut oil into the metal bowl and allow it to slowly melt, mixing often for 1-2 minutes. Once the mixture is melted and completely liquid use an oven mitt to remove the bowl from the heat.
Allow the mixture to cool slightly before stirring in the coconut chips. Stir well to evenly coat, and carefully to not allow the chips to break.
Using a sealable bag, add the coconut sugar and the coconut mixture. Shake the bag to evenly coat. Add more coconut sugar if desired.
Serve in a bowl either fresh (be careful, it gets a bit messy) or chilled, and enjoy!
Notes
All nutritional information are estimations and will vary.
Prep Time: 5
Cook Time: 5
Category: Dessert
Method: stove top
Cuisine: American
Nutrition
Serving Size: 1 serving
Calories: 406
Fat: 35.7g
Carbohydrates: 19.6g
Fiber: 7.3g
Protein: 7.1g