Paleo Iced Pumpkin Spice Latte
Though I follow the autoimmune protocol for the most part and have an autoimmune disease, I do enjoy a few reintros. Coffee, goat dairy, and certain spices are just a few and I've been incredibly thankful during the season of pumpkin spice latte's! However, these deliciously cliche autumn drinks aren't totally off limits for AIP folks. When September rolled around, my first move was to make an AIP pumpkin spice "latte". However, for the sake of all my fellow fall lovers, you can never have enough pumpkin. So, I also wanted to share a paleo version that I also enjoy made from local goat milk from Hidden Valley Creamery, Chameleon Cold Brew Coffee, and a pumpkin pie spice blend.
So, why did I chose chameleon cold brew? Well, it tastes bomb for one. The mocha flavor is a spot on, and the cold brew is much appreciated as iced coffee is still appropriate for me in Texas. Also, it's great quality and doesn't make me feel weird. Instant coffee is often cross reactive with gluten, and non-organic coffee has high pesticides. This coffee easily makes the best iced coffee I've ever had.
First, let me address the goat dairy as it can be a gray area for some on the paleo diet. I follow a more ancestral and local approach, and let's face it… when it comes to milk options, coconuts do not grow in Dallas. Not everyone can tolerate dairy and coconut milk is a good option if you can't, but local goat milk is a good option for myself, and for many. Eating local is such an integral part of my own health journey, and it's the way that we're primally wired to eat. I fully believe that dairy is a good option for many (not all, of course). Goat milk is a perfectly healthful and delicious option for this drink, and I highly recommend finding a local source!
(update 2016: I've since stopped drinking goat dairy as I wasn't tolerating it well. I advocate it for some, but stick to coconut for myself).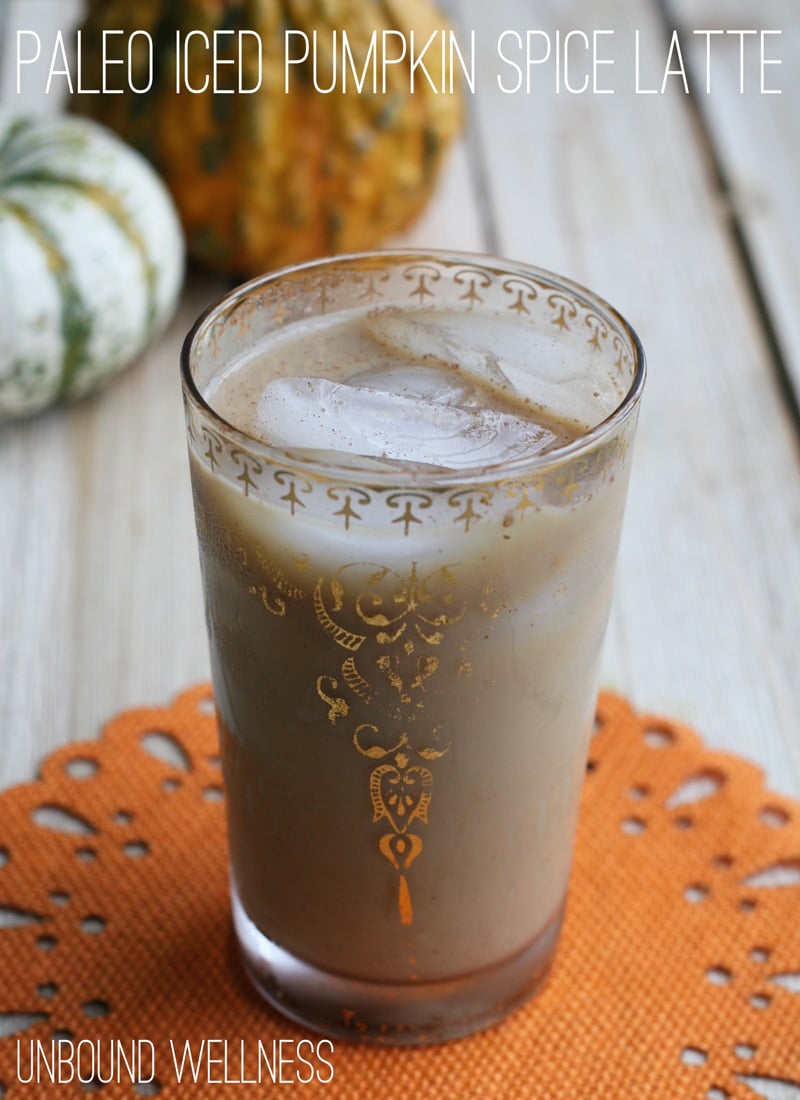 Print
Paleo Iced Pumpkin Spice Latte
---
4 oz Mocha Chameleon Cold Brew Coffee
2 oz Coconut Milk (sub the grass-fed goat milk if you're feeling spicy)
1 tsp maple sugar or local honey
1/2 tsp cinnamon
1/4 tsp ginger
1/4 tsp ground clove
1/2 tsp nutmeg
5–6 large ice cubes
---
Instructions
Blend the spices in a small ramekin separately
Fill a glass with ice cubes
Add cold brew, and finish with milk
Combine the mixture with a spoon or coffee stirrer
Add the pumpkin pie spice blend to the coffee
Combine with a spoon
Add more ingredients as needed, and enjoy!
What's your favorite fall drink? Are you pumpkin spice crazy too?