Paleo Lasagna Soup (AIP, Whole30, Keto, Instant Pot)
This post contains affiliate links.
This paleo lasagna soup is just the thing when you're craving lasagna! It's low carb, dairy-free and easily adapted to be whole30, keto, and AIP compliant.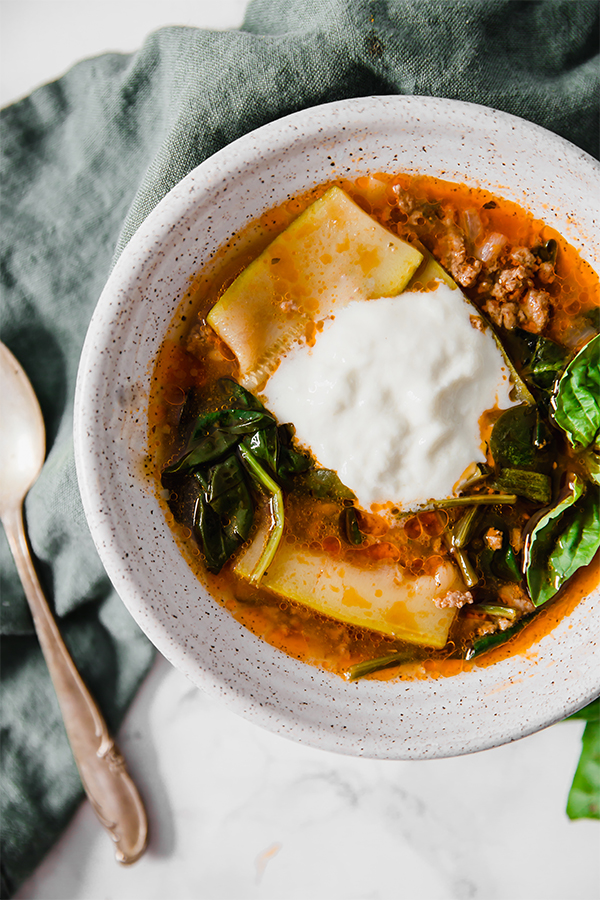 Who doesn't love lasagna? My Italian family and my non-Italian husband are all obsessed with lasagna. When we first got married, I would splurge on high-quality ingredients to make a healthier traditional lasagna and eventually stumbled upon an option to make a cheaper and easier lasagna soup. Sound delicious, right? But I wondered… could this be made grain free and dairy free?
It took a lot of thought and a little bit of elbow grease, but Paleo Lasagna Soup is indeed possible! It's made with all unprocessed foods, it's packed with green veggies, and it's even topped with dairy-free ricotta if you're into that… but really, who isn't into cheese?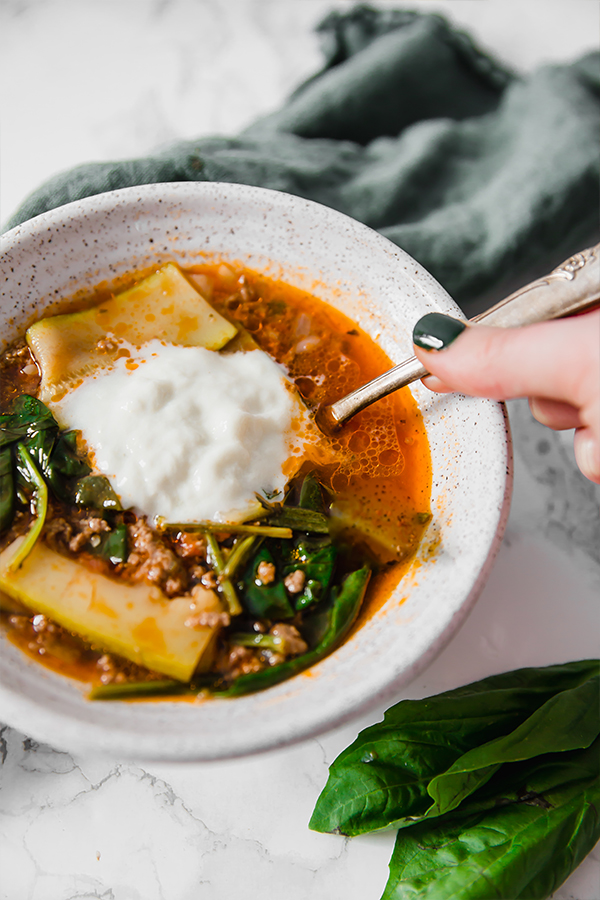 A few notes on the dairy-free ricotta…
The dairy-free cheese is not Whole30 compliant.
The rest of this soup is totally whole30… just not the dairy-free cheese. While it's made with Whole30 ingredients, it falls into that category of SWYPO, which essentially means it's not in the spirit of whole30. Trust me, it's just as good without it!
It will melt in the soup.
Since this isn't actually cheese, it will melt in the soup. However, it just makes it creamier!
The Ingredients You'll Need for the Paleo Lasagna Soup
Coconut milk, coconut cream, apple cider vinegar, lemon, nutritional yeast, and gelatin
These are the ingredients to make the optional dairy-free ricotta. A few notes… I haven't tried to make this coconut free and really think it would need the coconut cream to make it creamy! The gelatin cannot be swapped with collagen in this recipe. As for the nutritional yeast, you can buy it in health food stores and online. Nutritional Yeast has a cheesy flavor which really helps this dairy-free alternative pass for cheese.
Ground beef
This is what I'm always used to in lasagna, but you can also use something like ground turkey, or a compliant sausage of your choice.
Tomato sauce/nightshade free sauce
It's not lasagna without a tomato flavor! If you can tolerate tomatoes, just opt for a sugar-free version. If you're like me and don't eat tomatoes, you can simply make this nightshade free marinara sauce at home!
Zucchini
Zucchini sliced thin is our substitute for pasta. It really looks like pasta in the soup, and it has far more nutrients!
Spinach, basil, and Italian herbs
These add more flavor and nutrients to the dish.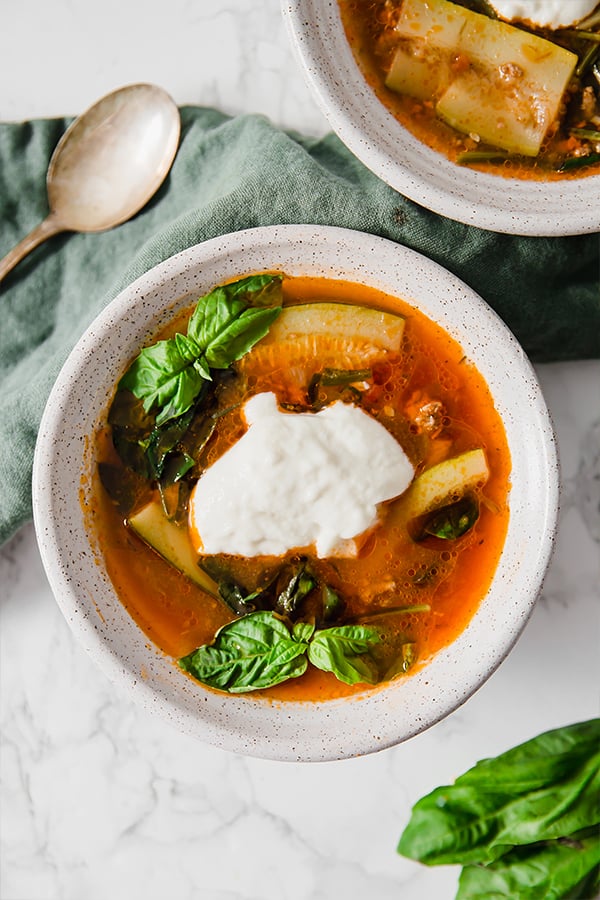 If you like this recipe, you may also like…
Print
Paleo Lasagna Soup (AIP, Whole30, Keto)
---
Author:
Total Time: 30 minutes
For the dairy-free ricotta (Optional. Omit for Whole30)
2 cups coconut milk
2/3 cup coconut cream
2 tsp apple cider vinegar
1 tsp lemon juice
1 1/2 tsp nutritional yeast
1/8 tsp sea salt
2 tsp gelatin
For the soup
1 medium onion, diced
3 cloves garlic, chopped
2 tsp olive oil
1 lb ground beef
2 tsp oregano
2 tsp parsley
1 tsp sea salt
1/2 tsp black pepper (omit for AIP)
4 cups broth
1 cup sugar-free tomato sauce (sub nightshade free sauce for AIP)
2 large zucchinis
2 cups spinach
2 tbsp fresh basil
---
Instructions
For the ricotta
Combine all of the ingredients (reserving the gelatin) in a medium sauce pan on low heat. Allow to heat for 5 minutes or so before adding the gelatin. Mix vigorously.
Remove from heat and allow to cool for 5-10 minutes before pouring into a lined container like a glass pyrex lined with parchment paper. Place in the fridge for about 2 hours to solidify.
For the soup
Using a large stockpot, heat the olive oil on low heat and add the onion and garlic. Saute until the onion is translucent.
Add the ground beef to the stock pot and season with salt, oregano, pepper, and parsley. Brown the ground beef and discard the majority of the fat.
Add the broth and sauce and stir well to combine. Simmer for 10 minutes to allow to thicken.
While the soup is simmering, slice the ends off the zucchini and slice them in half down the middle. Using a mandolin slicer or a knife to slice thin strips of zucchini.
Add the zucchini strips to the soup and simmer for another 5 minutes or so to let the zucchini soften. Stir in the spinach at the last minute to allow to wilt.
Allow the soup to slightly cool before topping with optional dairy-free ricotta and basil. Note that the ricotta will melt in hot soup… but it only makes it creamier!
Notes
To make this soup in the Instant Pot follow soup instruction 1-2 above using the saute function on the instant pot. Next stir in the broth, sauce, herbs, and zucchini. Lock the lid onto the instant pot and set to low pressure for 5 minutes. Quick release the pressure and serve!
Cook Time: 30
Cuisine: Italian