Pomegranate Jello
This post contains affiliate links.
This pomegranate jello is an easy and wholesome fall dessert! It's made with minimal ingredients, zero refined sugar, and no jello mix.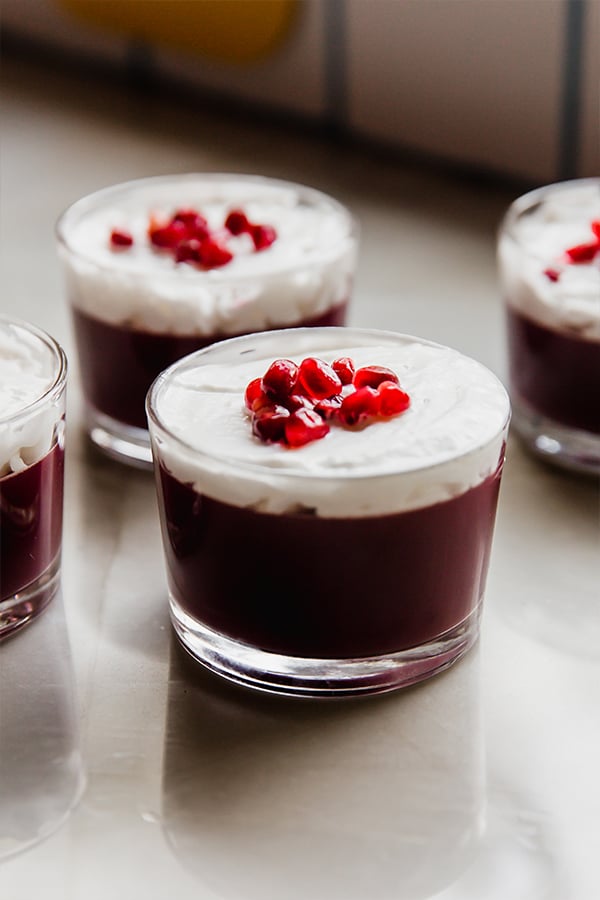 As much as I love pumpkin season, I love pomegranate season just as much! Pomegranates are so sweet and versatile, and I love adding them to savory dishes or desserts. Pomegranate juice is severely underused in my opinion, so this fall, I wanted to celebrate it with pomegranate jello.
This pomegranate jello could not be easier to make! You really only need two ingredients to make it and very minimal effort. Serve it as a simple fall snack, or save it for fall and winter holidays to please a crowd.
Why You'll Love Pomegranate Jello
It's so easy! You only need two or three ingredients and it's low effort for a delicious snack or dessert.
A fall flavor alternative to pumpkin. I love fall flavors, but pomegranate is often an underused fall flavor. I love using the delicious fruit all fall!
The ingredients for pomegranate jello
Pomegranate Juice. I like the brand POM.
Gelatin. This is not the same as collagen.
Honey. This is optional. It is plenty sweet without, but for added sweetness add the honey.
Whipped Coconut Cream and Fresh Pomegranate Airils. Optional for topping!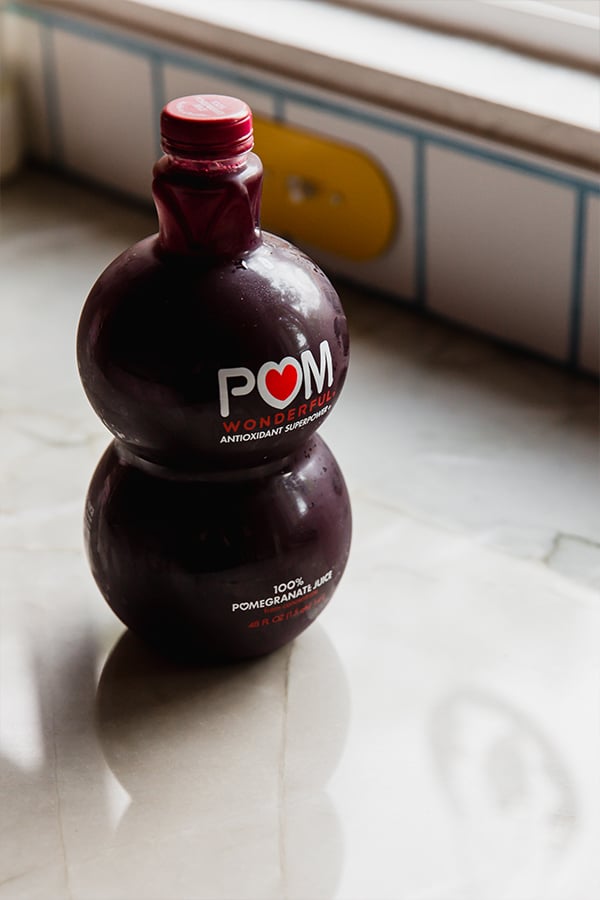 How to make pomegranate jello
Step One. Bloom the gelatin with 1/2 cup of pomegranate juice.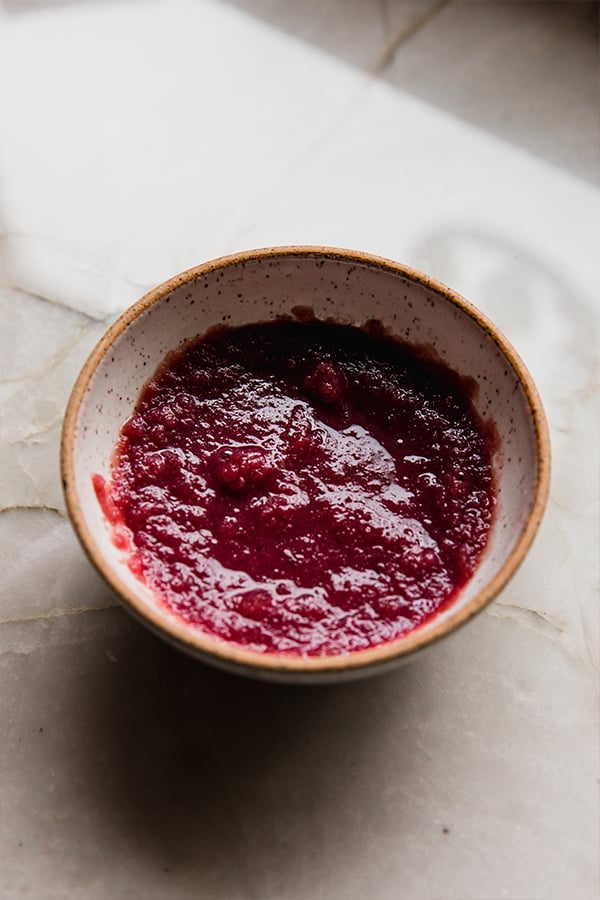 Step Two. Heat the rest of the pomegranate juice with honey until warm, not boiling.
Step Three. Add the gelatin mixture and stir until gelatin is fully dissolved and remove from heat.
Step Four. Add to bowls and allow to set in the fridge.
Step Five. Serve topped with desired toppings!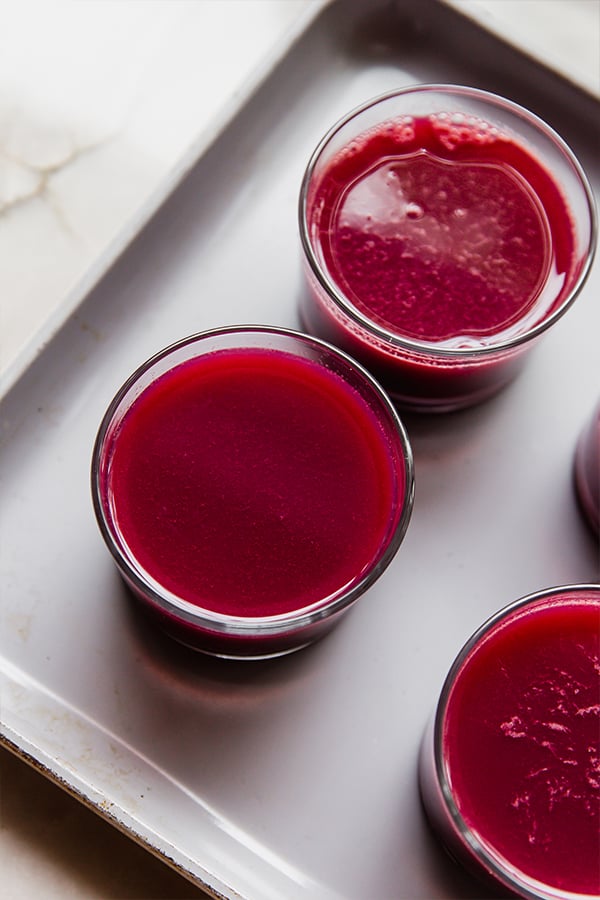 Tips & Tricks
Wait for the jello to be fully set! Depending on the size of your container, this may take more or less time. Just keep an eye on it and wait until it starts to jiggle to serve it.
Add extra flavoring. You can add different flavors like orange! Simply swap out about 1/2 cup of pomegranate juice for orange juice and add some orange zest if you want a more varied flavor.
How to store the jello
Store the jello in a covered bowl in the fridge for up to 3-4 days. Keep it chilled until you're ready to serve it.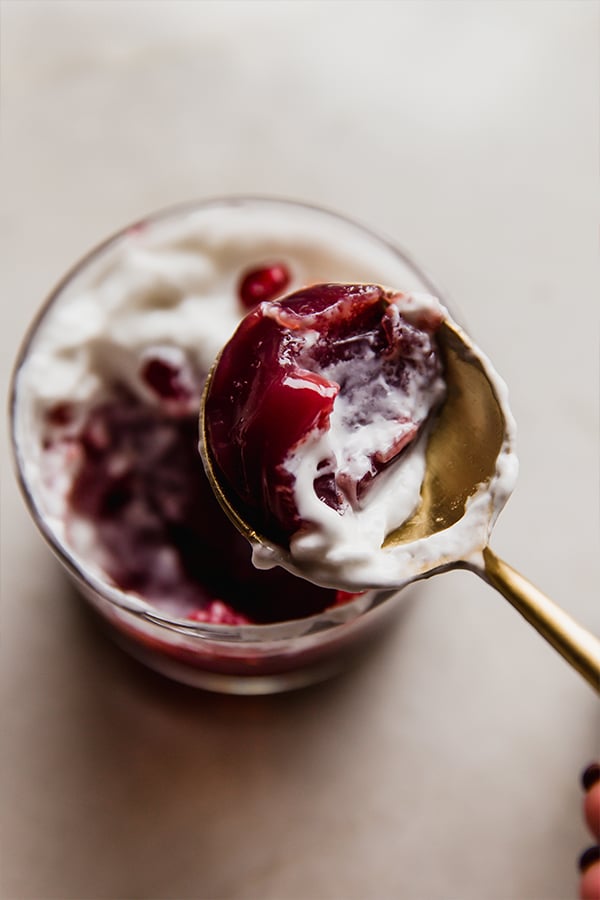 You'll also like…
Print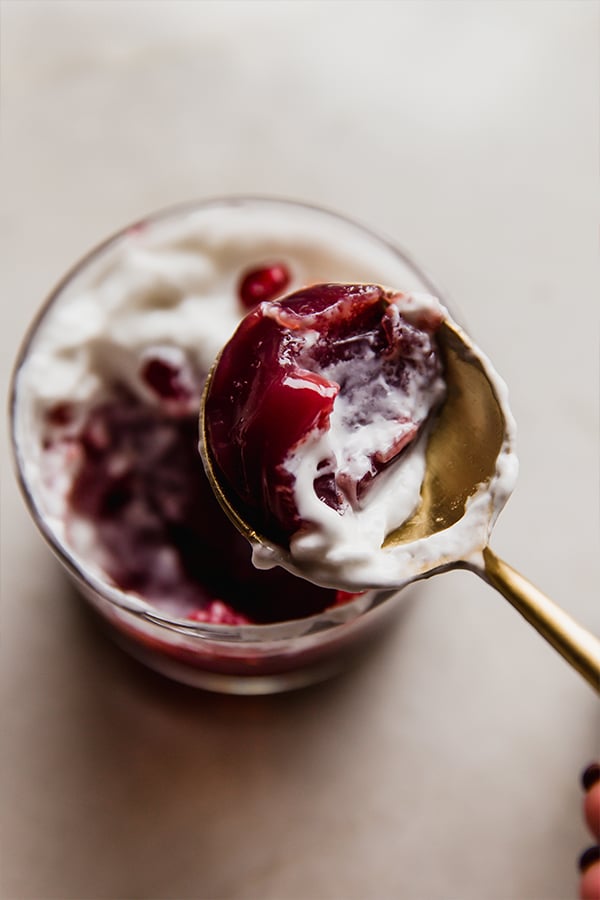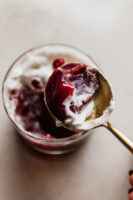 Pomegranate Jello
---
Author:
Yield: 4 servings 1x
3 cups pomegranate juice, divided
2 tbsp gelatin
1–2 tbsp honey (optional, see notes)
To serve
Whipped coconut cream
Fresh pomegranate airils
---
Instructions
Using a small bowl, add 1/2 cup of pomegranate juice to the bowl and sprinkle the gelatin on top. Allow it to bloom until it's totally solid.
Add the remainder of the pomegranate juice to a pot and add the honey if desired. Heat the pomegranate juice over medium-low heat until the pomegranate juice is warm, but not boiling.
Spoon the solid gelatin mixture into the warm pot and stir to combine until the gelatin is fully dissolved. Remove from the heat.
Allow the mixture to cool a bit before adding to a large bowl, or 4 small dessert bowls. Cover the bowl(s)  and set in the fridge for 4-6 hours until set.
Serve topped with whipped coconut cream and pomegranate arils, or store in the fridge for up to 3 days.
Notes
The pomegranate juice is very sweet by itself. If you want a sweeter jello, you can add honey. If you decide afterward that you want it sweeter, you can add honey on top after making the jello.
Nutrition
Calories: 129
Fat: .5g
Carbohydrates: 28.8g
Fiber: .2g
Protein: 3.3g