Apple Chicken Burgers (Gluten & Dairy Free)
These apple chicken burgers are the perfect fall burger! They're topped off with bacon caramelized onions, and balsamic glaze for the perfect unique autumn dish.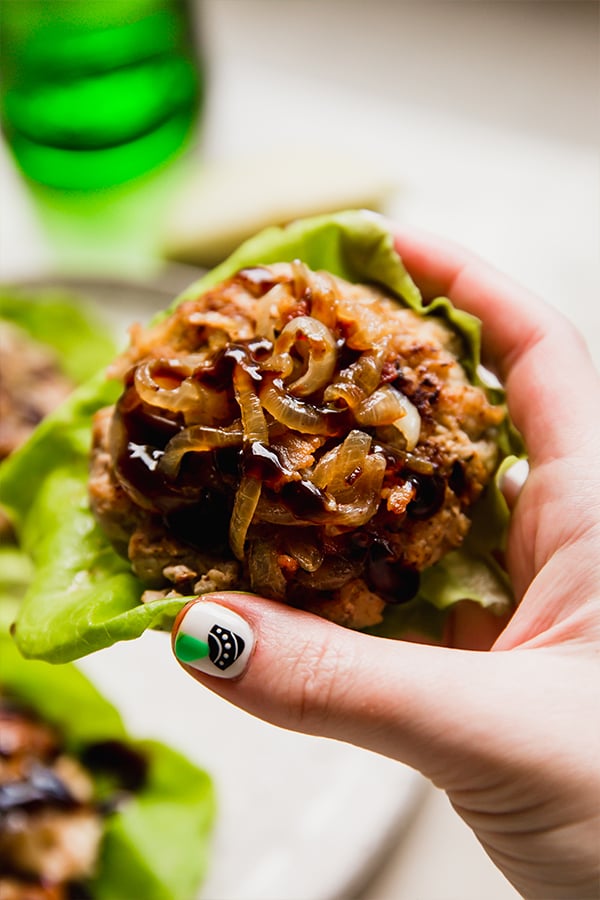 I love chicken burgers for an easy dinner! Of course, we tend to think of burgers as a summer dish, but you can easily make burgers a fall food! These apple chicken burgers have the perfect fall flavor with all of the convenience of a burger.
Why You'll Love Apple Chicken Burgers
The flavors! The apple, bacon, and caramelized onion flavor is so good!
You can make them inside or out. These are delicious made on a grill, but can be made in a pan and taste just as delicious!
The Ingredients for Apple Chicken Burgers
Bacon. My favorite brand is Applegate.
Yellow Onion and Granny Smith Apple.
Ground Chicken. Ground turkey should also work.
Coconut Flour. This is optional, but acts as a binder.
Dried Sage, Dried Thyme, Garlic Powder, Salt and Pepper.
Balsamic Glaze. You can use storebought a recipe like this.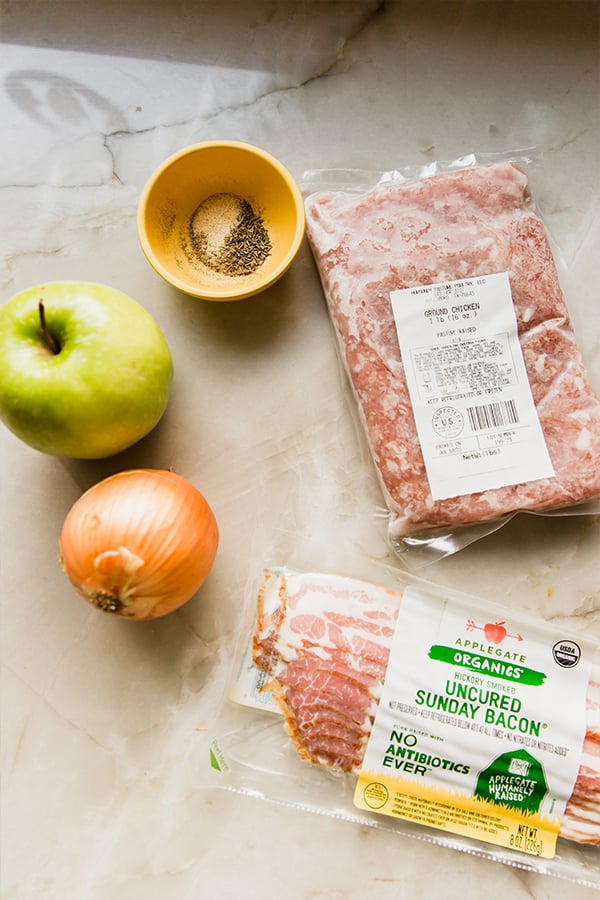 How to make Apple Chicken Burgers
Step One. Saute the bacon. Remove and saute the onions in the bacon fat.
Step Two. Grate the apples.
Step Three. Combine the ingredients for the burgers and form into patties.
Step Four. Grill the burgers.
Step Five. Top the burgers and enjoy!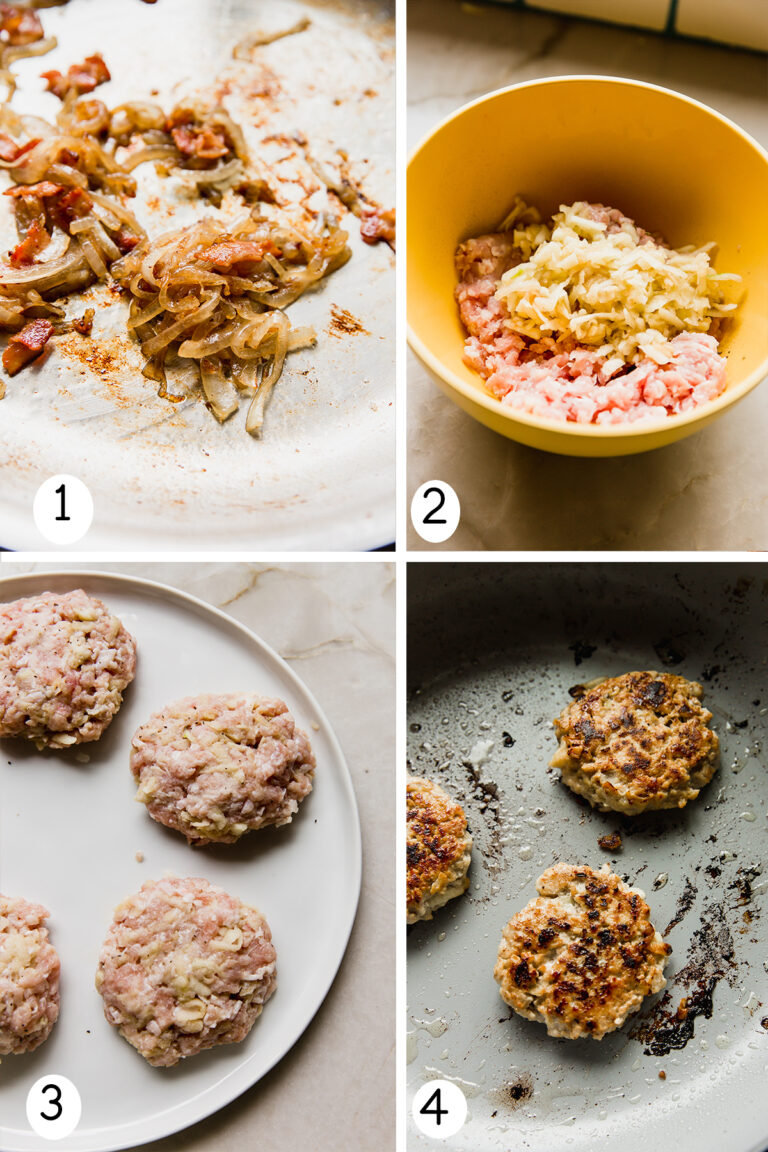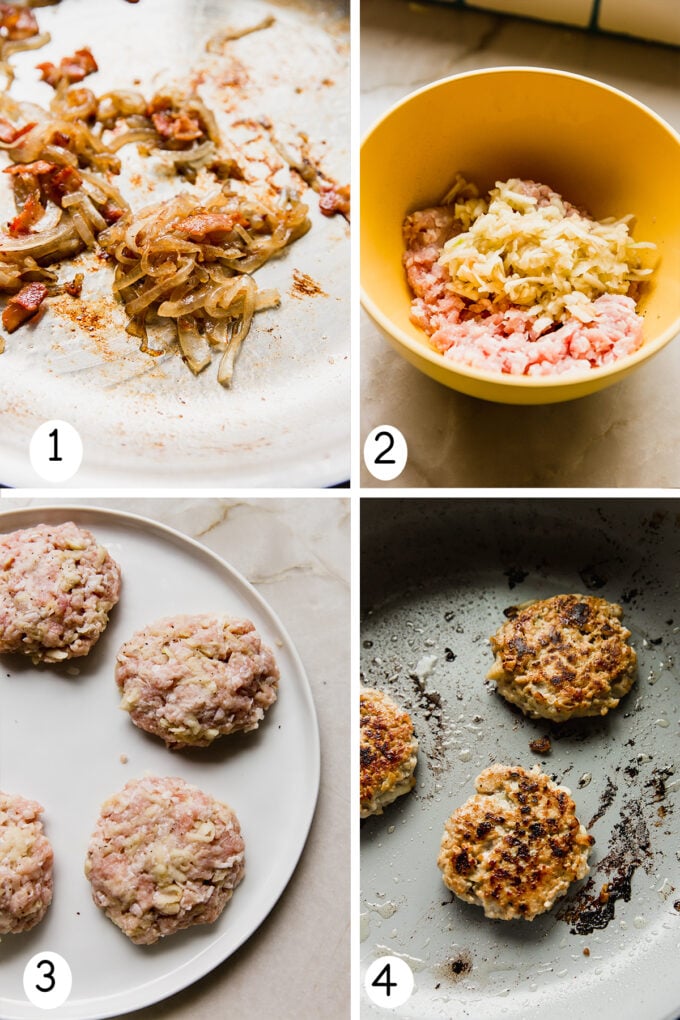 Tips & Tricks
Be aware of excess liquid. I used previously frozen ground chicken which tends to have more moisture. Drain any excess liquids!
Cook in a pan for a shortcut. If grill season is already over for you, simply cook the burgers in a pan.
What to serve these burgers with
Can you use turkey instead of chicken?
Yes, turkey should work just fine in place of chicken!
Storage and reheating instructions
If storing these burgers for later, I would store the burger and caramelized onion topping separately. You can store these burgers in the fridge for 3-4 days in an air-tight container and reheat on the stove.
I haven't tried freezing these burgers but that should work!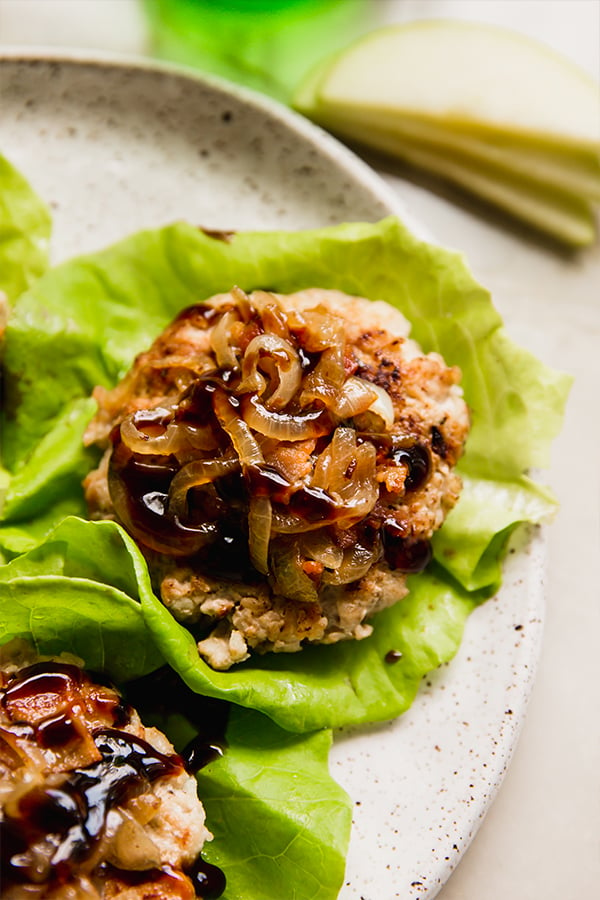 You'll also like…
Print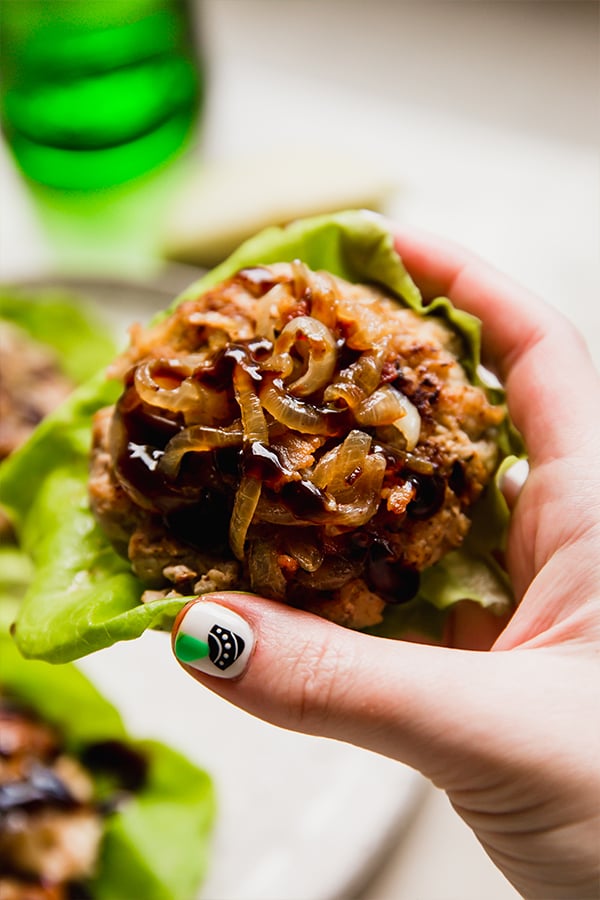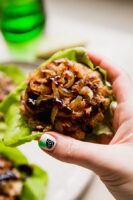 Apple Chicken Burgers (Gluten & Dairy Free)
---
Author:
Yield: 4 servings 1x
For the caramelized onions
2 slices of bacon, chopped
1 large yellow onion, sliced thin
Salt
For the burgers & topping
1 lb ground chicken
1 small granny smith apple, peeled
1 tbsp coconut flour (optional, acts as a binder)
1 tsp dried sage
1/2 tsp dried thyme
1 tsp garlic powder
Salt & pepper (omit pepper for AIP)
Balsamic glaze (storebought, or like this)
---
Instructions
Using a large pan set over medium heat, add the bacon to the pan and saute for 4-5 minutes or until crispy. Set the bacon aside, leaving the fat in the pan. Add the sliced onions to the pan. Saute on low for 10 minutes, stirring every few minutes. Lightly salt at the 10-minute mark and continue to cook for another 10-15 minutes, stirring every few minutes, until the onions are soft and caramelized. Add the bacon back to the pan and toss with the onions. Set aside.
Using a box grater, grate the apple finely. Pat dry to remove excess liquid.
Toss the apple with the ground chicken, coconut flour, sage, thyme, garlic powder and salt and pepper. Stir to combine. Form the chicken into 4-5 burgers.
Grill the burgers on the grill surface (using extra avocado oil if frying in a pan) for about 5 minutes on each side, or until the internal temperature reaches 165 F.
Top with the burgers with the bacon caramelized onions, and drizzle with balsamic glaze and serve with butter lettuce, or a burger bun that you tolerate!
Notes
All nutrition facts are estimated and will vary.
Nutrition
Serving Size: 1 serving
Calories: 269
Fat: 15g
Carbohydrates: 11.1g
Fiber: 2.4g
Protein: 22.4g