Veggies
As a food lover, I can happily find beauty in all seasons and flavors. But let's be real... there's just something special about fall flavors. Hearty root veggies and squash, warming spices, fresh crispy apples, and tart cranberries are the flavors that most of us...
AIP Main Dishes
I love fun, involved meals and recipes as much as the next person! However, sometimes all you want is an easy meal to throw together that's delicious, healthy, and easy to make. That's where I found myself this week. After all of the craziness of the New Year, I was...
Oatmeal used to be one of my staple foods in my teens, and in college. I would eat it at breakfast, lunch and dinner, and would go crazy with toppings! Peanut butter, chocolate chips, jam, blueberries, you name it. I was an oatmeal junkie through and through. When I...
I'm a serious potato girl at heart. I loved french fries, mashed potatoes, and hash browns growing up. Oh, hash browns! I've eaten so many potatoes in my life... that is up until I was about 20. That's when I started embarking on the journey to take control of my...
Happy New Year!! 2018 is here, and most of us are likely starting to feel the sugar crash of the holidays coming on. Regardless of whether or not you're doing a full on sugar detox or Whole30 for the new year, getting in more nutrient dense and healing foods is always...
We are knee deep in holiday party season with New Years Eve approaching fast, and before you know it, Super Bowl Sunday will be here! Truthfully, I'm down for delicious shareable food every day of the year, but there's no better time for tasty party food than right...
The weather is cooling off here in Texas, and I finally have an excuse to eat one of my all-time favorite soups... butternut squash! It's creamy, easy to make, and so nourishing. I find myself eating this soup at least once a week during the fall and winter, and have...
Italian food has always been one of my favorite cuisines. Growing up on Long Island and being of Italian descent, it's a natural favorite for me! The rich hearty flavors, the comforting smells, and the cheese and carbs... oh baby! When I was a kid and we went out to...
The holiday season is here, and so are holiday parties! Nothing quite says holiday parties to me like tasty little cocktail meatballs. A yummy and satiating little appetizer that's easy to make, and one that everyone loves. It's exactly what I was trying to tap into...
When I first shard the sweet potato chicken popper during the Super Bowl last year, I had no idea how much everyone would love them! My mother in law immediately brought them as a Super Bowl appetizer and told me how popular they were, and their popularity soon...
Growing up in an Italian family in New York, I was always a bit of an Italian food snob. My maiden name is very Italian, and my dad, who's name happens to be Vinny, always joked the spaghetti sauce runs through his veins. My love for legitimate Italian food only grew...
Back in the day when I had a terrible meat aversion (I wasn't a vegetarian, I was a french fry-itarian) the only way I would eat meat is if it was in chicken nugget or hibachi chicken form. Seriously, I can count the number of times in my life that I had beef...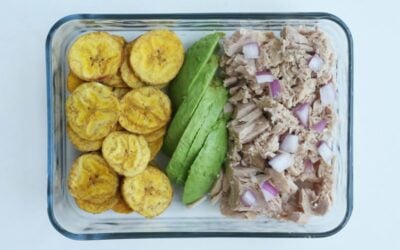 Starting the autoimmune protocol can daunting in a lot of different respects. "What do I do when I eat out?", "What do I have for breakfast?", "What do I have for lunch?", "What do I bring to work/school?". Though I'm always learning and evolving, I...
Who doesn't love breakfast sausage? It's the perfect way to round out any breakfast and actually make it satiating! When I stopped eating carb bombs like big bowls of sugary cereal, bagel smothered in cream cheese, and syrup covered waffles, I turned to eggs...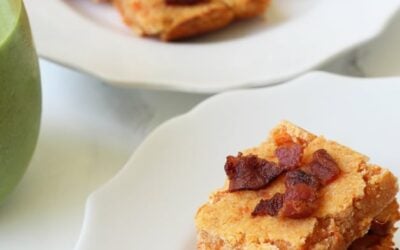 This post contains affiliate links. Learn what that means here.  Egg free and grain free breakfasts are hard! Even before I was an avid egg lover (before I realized my egg white intolerance) I was a cereal and bagel junkie. Oatmeal, cold cereal, or a crispy bagel...
I don't know what happened and when, but Poké is super hot all of sudden. Remember when frozen yogurt was widely popular? Poke is basically following in it's footsteps right now in the US. Tons of chains are popping up with custom bowls, options to...
When I ask myself the question, "What flavors do I add to make this taste really, really good?", the answer is often "bacon and ranch". It's savory, creamy, and a total crowd pleaser all around, which is important for this time of year that's filled with...
Something that's surprised me, and made me incredibly happy at the same time is how many people try and love my soup recipes. I always had the misconception that food blogs and social were really just for sharing sugar-y treats and fried comfort foods, and even...
When it comes to comfort food, I've always been much more of a pizza person rather than nachos and tacos. I always thought nachos were salty, greasy, and not "bread-y" enough (because your girl loved some bread). I never really ate them or had them around too much....
You guys. They're back. When I first made my sweet potato chicken popper recipe, I fell in love fast. I was so excited to share them with the world and knew that they an amazing game day or party food that all guests would love. I shared them as a...
I was never really a big Mexican or Tex Mex food fan growing up. I grew up in an Italian family with Jewish roots in New York, so bagels and lox were my tacos, and marinara sauce (or if you're really legit, gravy) ran through my veins. Little did I know I'd eventually...
Sides
Happy Hanukkah, friends!! This holiday hold a lot of happy memories for me. I grew up celebrating both Christmas and Hanukkah... my dad was Catholic, and my mom was Jewish. As I grew up, I chose to become a Christian myself and don't really celebrate Hanukkah anymore,...
I've been seeing hasselback potatoes around a lot more recently... and I was intrigued. I'm a big fan of getting creative with sweet potato (enter sweet potato chicken poppers) and this seemed like a great opportunity to have a little fun! So I broke out a sharp...
This post contains affiliate links. Mashed potatoes were hands down always my favorite holiday side dish. I loved having a creamy, starchy, butter-y to pair with turkey! That is, until I was introduced to sweet potato casserole with marshmallows just from perusing...
Though I firmly believe that a real for lifestyle is filled with nourishing, and enjoyable flavors, there's no denying that you do miss out on some classic, comfort food favorites. It's easy to miss the rich, heavy creamy sauces if you're dairy free, or complex...
Back in the day, granola was one of my favorite snacks. I love yogurt, and granola and fresh berries are the perfect topping. Right before I went AIP, I used to bring in greek yogurt with chocolate granola and blueberries every single day to work. It was my absolute...
If you read any women's health magazines, you would think that hummus is one of the most essential foods for health. It's paired with chips as a side with veggies, as a snack, or on a pita wrap at lunch. Seriously, what is it with "diet" food and hummus? But being a...
Is it weird that I never had beef jerky before going paleo and AIP? Not only did I have a serious meat aversion because my gut health and digestion was so poor, but let's be honest... store bought beef jerky can be pretty gross. If it's not mystery meat sticks, it's...
I was never a big sauce person... unless it was tomato sauce, of course. That is, until I got on the autoimmune protocol and married my husband. My husband loves sauces, and dipping, and I love adding extra flavor to spice up meals! The thing about sauces are they can...
This post contains affiliate links. I don't have kids yet. However, I very much want them soon, and on some days I very much want to be one of them again. I loved kid food when I was a kid. Chicken nuggets, fruit snacks, and mac and cheese were most of my diet,...
Mashed potatoes were always my favorite Thanksgiving side. Actually, potatoes were just my favorite everything. I remember people joking at the table that all I ate were the mashed potatoes and bread, and I was perfectly content with that. Who needs turkey when you...
Treats
This post contains affiliate links. Learn what that means here. I've put out my fair share of turmeric recipes here on Unbound Wellness. From my turmeric bites, to my turmeric chicken soup, and more, we all to get in more turmeric! Even with more and more turmeric...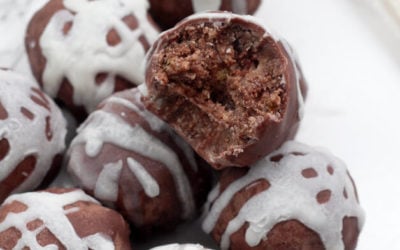 Peppermint is one of those flavors that just screams holidays! It's a good flavor in it's own right, don't get me wrong, but it's always guaranteed to get me in the holiday spirit. Peppermint tea, peppermint candies and peppermint treats are all welcome in my house...
Can you believe that Christmas is a week away? Where the heck does the time actually go, you guys? With Christmas here, I'm in full on 5 year old mode and ready to bust out some seriously Christmas-y treats for you guys. There's just something about Christmas that...
Few things say "holidays" like the flavor of gingerbread. The kick of the ginger, the warming, familiar flavor of the cinnamon, and that sweet, sweet sweetness, that just gets you feeling all of the holiday feels! Gingerbread men, and gingerbread houses are an amazing...
Orange and cranberry is one of my favorite flavor combinations. It's tart, sweet, and just says "winter" so perfectly! So when I started planning out what recipes to make during the winter, I knew I had to make orange and cranberry something. But, what? My list...
Nothing says "the holidays are here" quite like a yummy treat covered in red and green touches. Not only is it fun to eat decorated holiday treats, but it's just as much fun to make them. Decorating Christmas cookies or making gingerbread houses has always been one of...
Who doesn't love pumpkin pie at the holidays? It's one of those things that you just can't get any other time of year, and absolutely screams holidays! I've never gone a single Thanksgiving without some sort of pumpkin themed dessert. But I have to be honest... I'm...
Would you believe me if I said that I've never made my own apple pie from scratch? It's true! I don't know what held me back back when I ate gluten, but it's certainly not for lack of loving apple desserts during the holidays. But let's be honest... it can be lot of...
I'll never forget when I first learned about the existence of cookie skillets. One of my friends had a birthday dinner planned at BJ's Brewhouse where they're known for their pizookies (essentially just cookie skillets) and I lost it with excitement. I remember going...
This season always feels like one of the busiest times of year! School is back, work is busy, there's always just one too many events, and if you're lucky enough to have nice fall weather, you want to get outside! Though on the go seasons of life can be fun, it can...
This post contains affiliate links. I haven't had donuts in years. It used to be one of my favorite college study snacks. I had actually discovered the perfect time of night to pick up a study fuel donut in the Dunkin' Donuts drive through where they would give me an...
Fall is finally here! I was never that enthusiastic about fall growing up... I was more into winter and the promise of Santa. That is, until I moved to Texas. Here in Dallas where it's into the 100's and above all summer, I'm clinging to every last piece of hope for...
If you ask me on any given day what my favorite treat is, it's always going to be cookies! I've always loved warm gooey chocolate chips cookies, soft snickerdoodles, and colorful m&m sugar cookies. Gosh, did I love those stupid m&m cookies! Whenever I went...
Does anything say back to school quite like granola bars? Not to me at least! I always had granola bars something in my lunch box, or as a snack when I got home all throughout public school, and through college. Needless to say, I haven't had many granola bars these...
This post contains affiliate links. Learn what that means here. I don't get to bake as much as I'd like these days, but when I do, I love a good dessert bread. Banana bread is one of my all time favorite treats (see my plantain banana bread recipe!) and I thought I...
Early June is Dallas, TX means it's already in the 90's and pretty unbearable to go outside between the hours of 10 AM - 10 PM. The sun is killer here, and even just a short time outside can leave you completely heat exhausted. I grew up on Long Island, NY, and...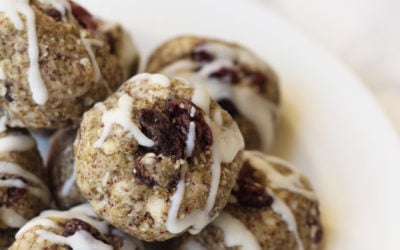 We all know by now that veggies are important, right? Our mom always told us to eat our vegetables, and if there's one thing that nutrition can agree on, it's that veggies are still a good idea regardless of what diet you follow. Vegetables are packed with fiber,...
I'm not sure quite when it happened or why, but at some point, we all got obsessed with matcha. Though matcha is anything but "new", it's super trendy right now. We all love the color, the flavor, the health benefits, and the energy boost that matcha brings. I...
Banana bread... I'm obsessed. Always have been, always will be. Honestly, I don't really remember having banana bread as a kid. I was more a chocolate chip cookie type kiddo... still am. But, I digress. I got hooked in the banana sweet stuff in high school. One day...
Protein bars... what would we do with you? I used to love protein bars, but quickly turned away from them when I realized that they were basically dairy filled candy bars! Low quality protein plus sugar plus grains? No thank you. But let's be real, I'm just...
Drinks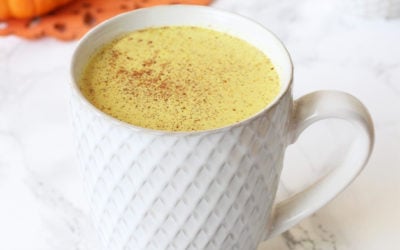 This post contains affiliate links. Learn what that means here. Pumpkin spice season is in full swing, and it's got me feeling all kinds of nostalgic. I recall bundling up in my favorite university hoodie and walking down to the student union Starbucks to get my...
When it comes to treating myself and indulging, I've always been way more inclined to chocolate-y treats and comfort food rather than alcohol. It's never interested me, and it's never made me feel good. But one thing I can't deny is that they sure make alcoholic...
It's no secret that greens are good for you. They're packed with vitamins and phytonutrients that are essential for you to thrive. That's why green drinks and green smoothies are so popular. I fell in love with the documentary Fat Sick and Nearly Dead years ago, and...
This post contains affiliate links. Learn what that means, here. I love the holidays and am quick to break out my sweaters, string up various shiny decorations, all while warming up a mug of something warm to sip. We all love our bone broth, but...
The time has come... pumpkin spice everything season is upon us. It gets more and more commercialized every year... pumpkin spice drinks, pumpkin spice baked goods, pumpkin spice candy, pumpkin spice beer. And let's face it... I eat up every second of it. I mean, I...
When it comes to fermented foods, fermented drinks like kombucha are the little darling of the ferment world right now. Easily one of the most mainstreamed health foods, there are tons of brands making kombucha and even more people taking on making fermented drinks...
This post contains affiliate links. Learn what that means here.Have you ever seen those big beautiful smoothies on Instagram? The ones that are just overflowing from a mason jar or have a mosaic of toppings in a bowl? They look so beautiful, so fresh, and most...
Though I follow the autoimmune protocol for the most part and have an autoimmune disease, I do enjoy a few reintros. Coffee, goat dairy, and certain spices are just a few and I've been incredibly thankful during the season of pumpkin spice latte's! However, these...
The time has indefinitely come. The leaves are changing, the air is getting more brisk.. well those things are happening somewhere other than Dallas, but hey, a little coffee told me that it's time for pumpkin spice everything. So therefore, I can only deduce that it...