One of my favorite stories from my childhood was born in San Antonio, TX. A hotspot for authentic Mexican food, and the place I called home at 11 years old after spending the previous 10 years in New York. Raised on pizza with spaghetti sauce coursing through my veins, I mistook the San Antonio minor league baseball mascot for a pickle when really, it was a jalapeño. I had no idea what a jalapeño was nor did I ever even try Mexican food. 13 years later, I've come around. Though I don't eat out a lot, I think it's essential to celebrate Taco Tuesday with some homemade Mexican food every now and then. That's when my AIP burrito bowls came in. Made to be corn free, gluten free, and still delicious these guys are a great substitute.
First, the tortillas. I'm gonna be honest. I consider myself pretty good at figuring out how to make bread-y type recipes from things like plantains, and tapioca starch (like my plantain crepes which are the bomb), but when it came time to where I wanted to make my own cassava tortillas, I was a bit stumped. Luckily, the Urban Poser had my back. She's a local gal to me and is probably lives way closer to me than I realize, and I was so glad that she had already figured out how to make a cassava flour tortilla for me! Check her out for the tortilla portion of this recipe. What I like about this recipe is that it has arrowroot starch which gives the tortillas great texture, but note that I didn't use the flax meal and just subbed extra cassava! This makes it AIP.
Another must have with Mexican is guacamole, and is also yet another challenge as it typically isn't AIP. So, I created an AIP Guacamole recipe for occasion such as this. Be sure to make a serving so you can liberally top the burrito bowl with it!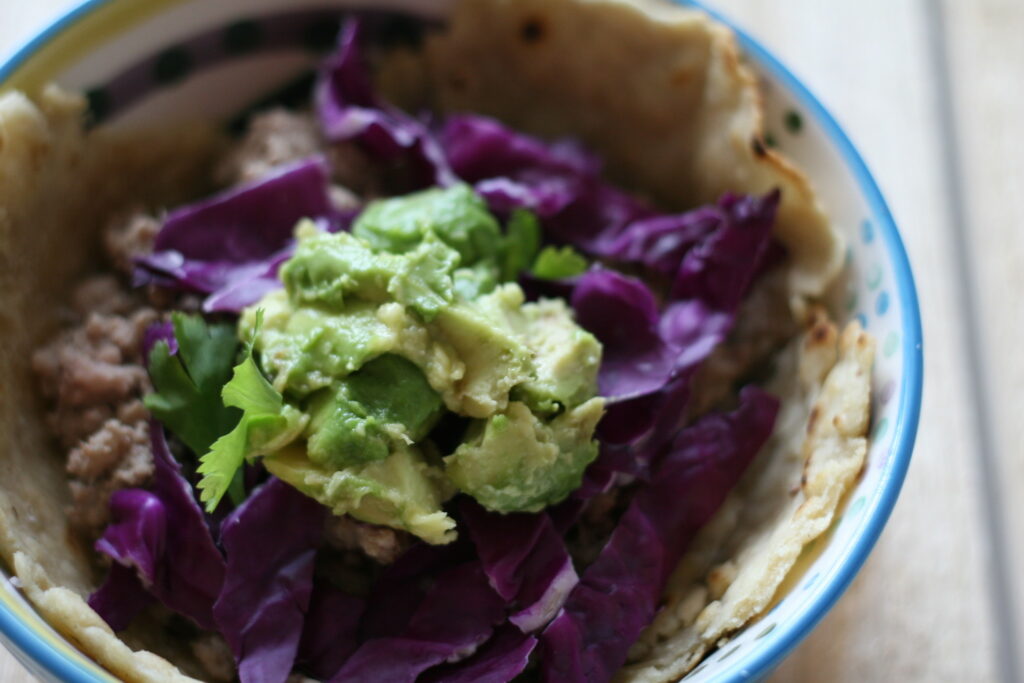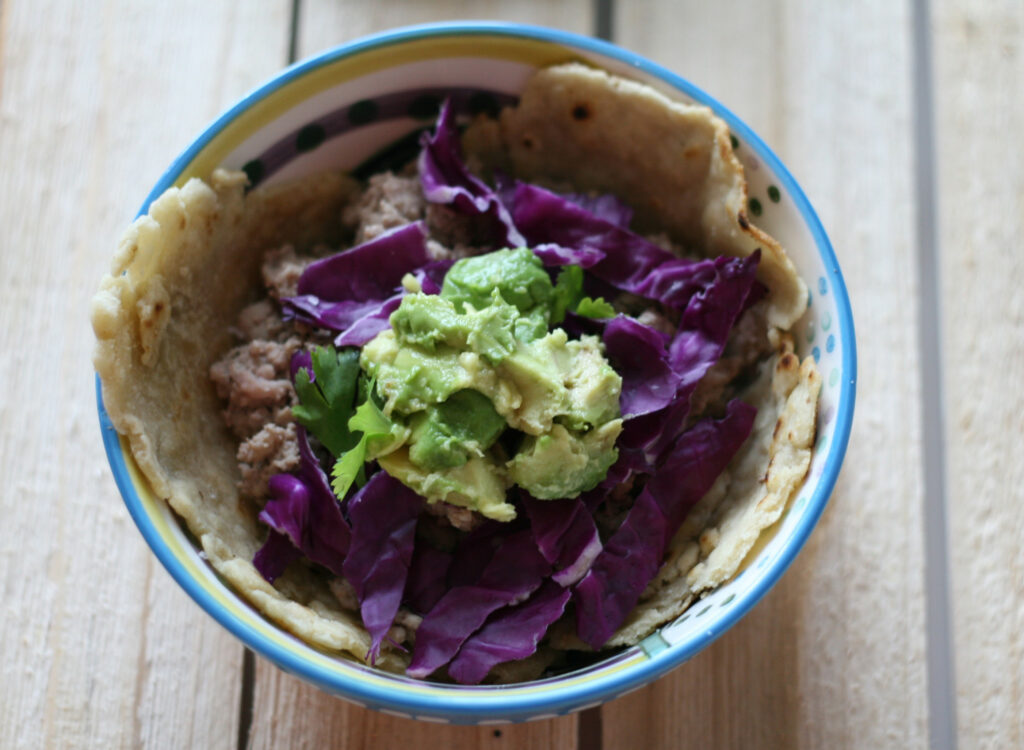 Isn't guacamole just the best? Man, isn't avocado in general the best? Now onto the whole shebang…
AIP Burrito Bowl
1 batch of Cassava Tortillas from the Urban Poser (sub extra cassava for flax meal to make AIP)
1 lb ground turkey
1/2 cup red cabbage
3 tbsp red onion
1 tbsp fresh cilantro
1/2 tsp sea salt
1 tbsp avocado oil
Heat the avocado oil over low-med heat in a pan
Add the ground turkey and stir until nearly browned
Add the sea salt and the red onion
Cook until turkey is browned
Lay the cassava tortillas in a bowl
Add the ground turkey and top with red cabbage, cilantro and AIP guacamole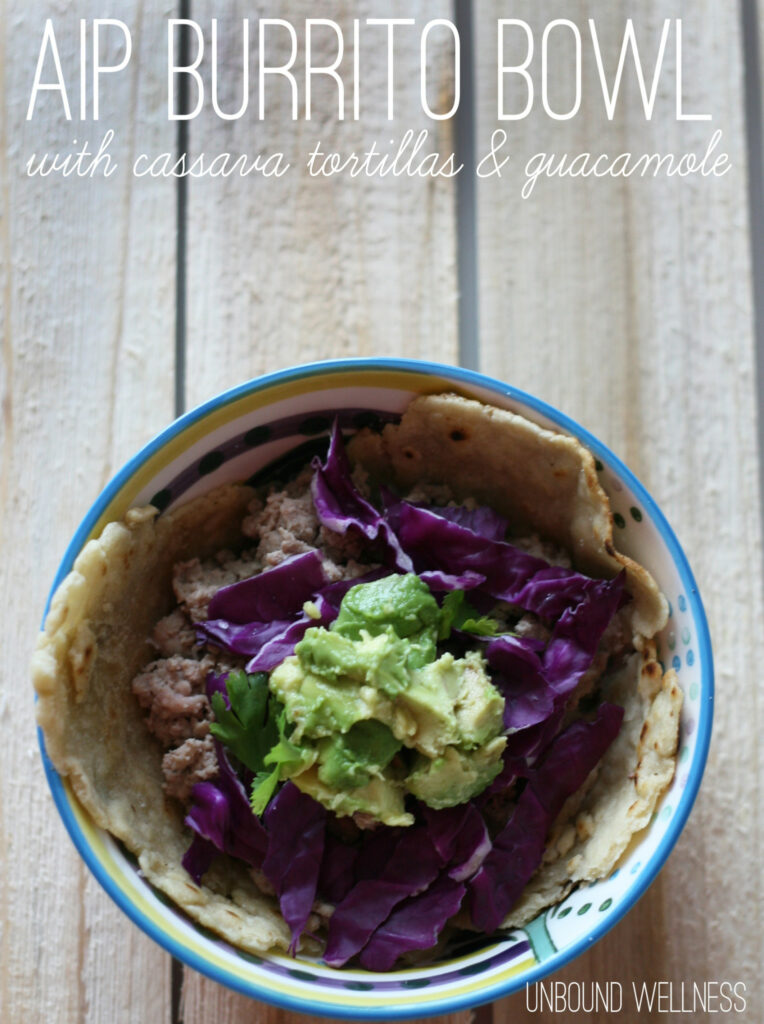 Let Taco Tuesday begin!!
Before you dig in, I wanted to note that I'm looking for guest bloggers! You can share your testimony, a recipe, or whatever you'd like! You don't have to be a blogger… all read food lovers are welcome!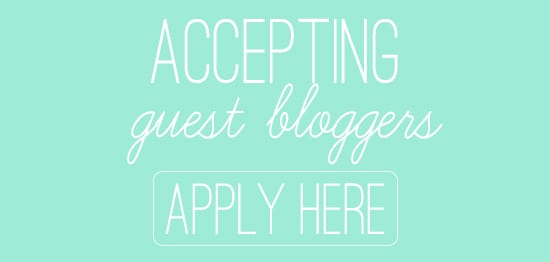 Contact me to apply 🙂
This recipe was shared on the Phoenix Helix AIP roundtable. Be sure to check it out!
What's your favorite Mexican food? Tacos? Burritos?