Easy AIP Guacamole (Paleo, Whole30, AIP)
This AIP Guacamole is a nightshade-free alternative to the classic! It's paleo, Whole30, AIP, and easy to make in just a few minutes at home.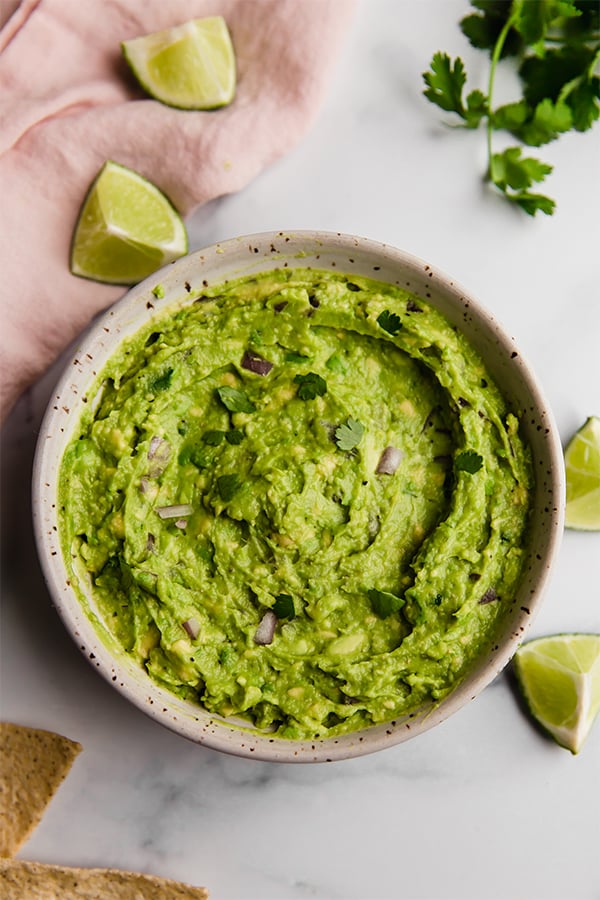 Easy AIP Guacamole
What is nightshade-free guacamole? It's simply the guacamole that we all know and love without any tomatoes or peppers to keep it AIP compliant! I know it's extra…but it's worth it. 😉
Everyone has their favorite guacamole, whether it's from a restaurant they love or straight from mama's kitchen, but each familiar recipe contains a few staples like avocado (of course), lime juice, onions, sometimes some chilies for spice, and maybe even some fresh garlic and cilantro. This AIP version keeps things very simple using avocado, red onion, fresh cilantro, lime juice, and some seasonings. Throw this together for your next taco night or party and I guarantee no one will even miss the nightshades!
Ingredients for Easy AIP Guacamole
Avocado. You'll need either one large avocado or 2 small ones for this recipe. I recommend buying your avocados at minimum a couple of days before you plan to make this to ensure that they're at their peak ripeness. Pro tip: look for avocados with less shiny skin and a little bit of give when you lightly press it with your fingers.
Red Onion.
Cilantro. I know there are some cilantro haters out there, but I really feel that this rounds out the flavor of this guac.
Lime juice. You can use juice from a fresh lime or 100% organic lime juice bought from the store (just verify it doesn't have any concentrate or additives in it). I personally love Santa Cruz Organic lime juice.
Seasonings. A bit of garlic and onion powder and salt finish this guac off perfectly.
How to make Easy AIP Guacamole
Mash the avocado. Cut and peel the avocado into a mixing bowl and mash well with a fork.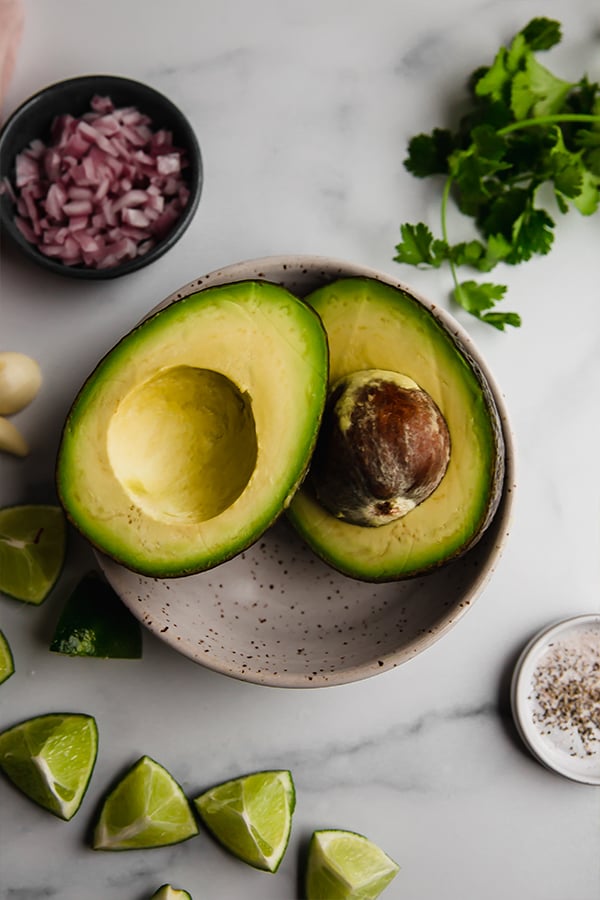 Fold in ingredients. Add the red onion, cilantro, lime juice, and seasonings and stir together.
Serve + enjoy! Serve with your favorite grain-free chips (plantain chips are a great option for AIP! Check out this recipe here.)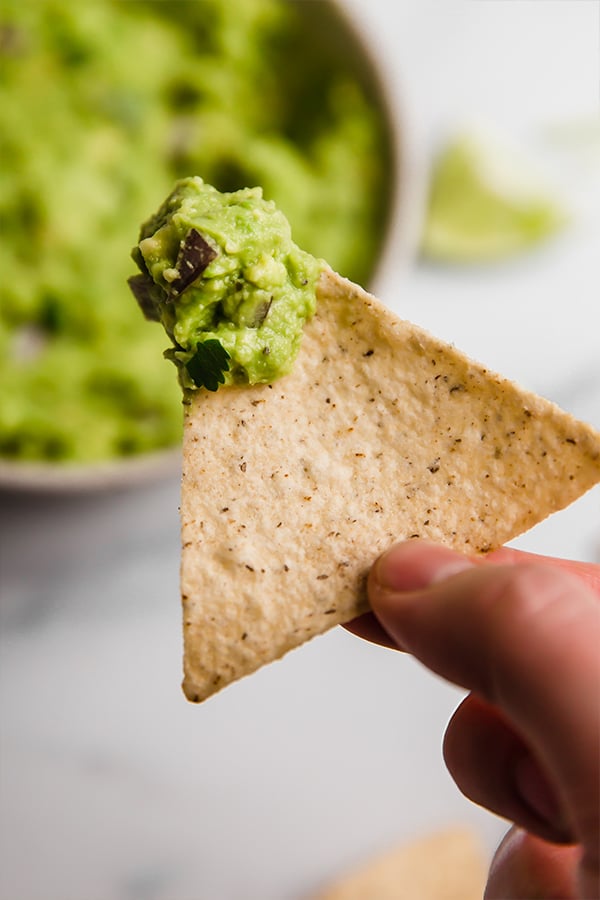 What's the best way to store guacamole?
Of course, guacamole is best fresh, but if you're going to be making it ahead of time and bringing it with you, here are my tips…
Wrap it airtight. More air means more oxidation.
Store it with the pit. I add the avocado pit to the center of the guacamole if I'm saving it for later. This really does help keep it fresh.
Add extra lime juice. I add extra lime juice to the top to keep it from browning.
What should you serve with this guacamole?
Plantain chips. Artisan Tropic is my fav or try this at-home recipe here!
Siete tortilla chips. For a grain-free chip (non-AIP).
Sliced veggies. Carrots, celery, and cucumber all pair well with this guacamole and add a lot more freshness.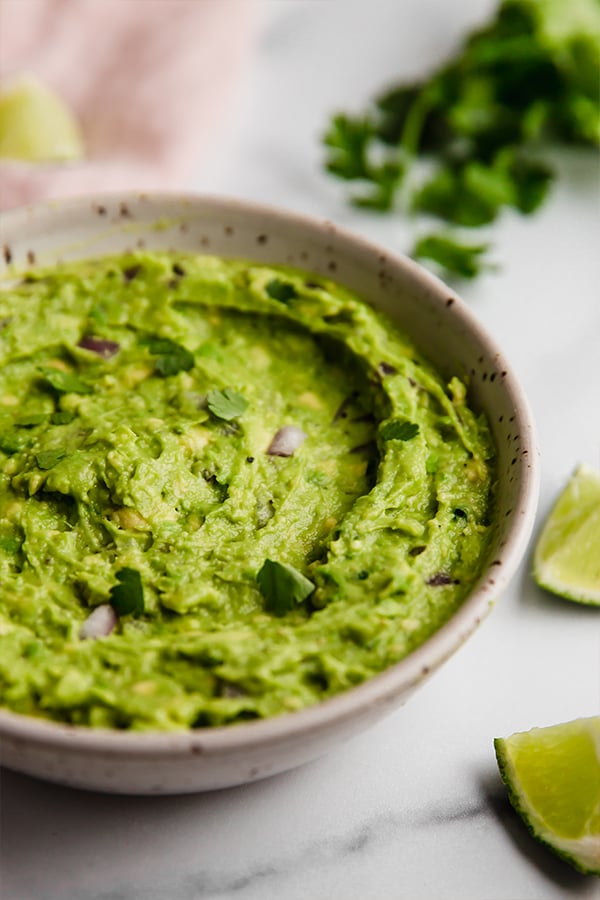 You'll also like…
Print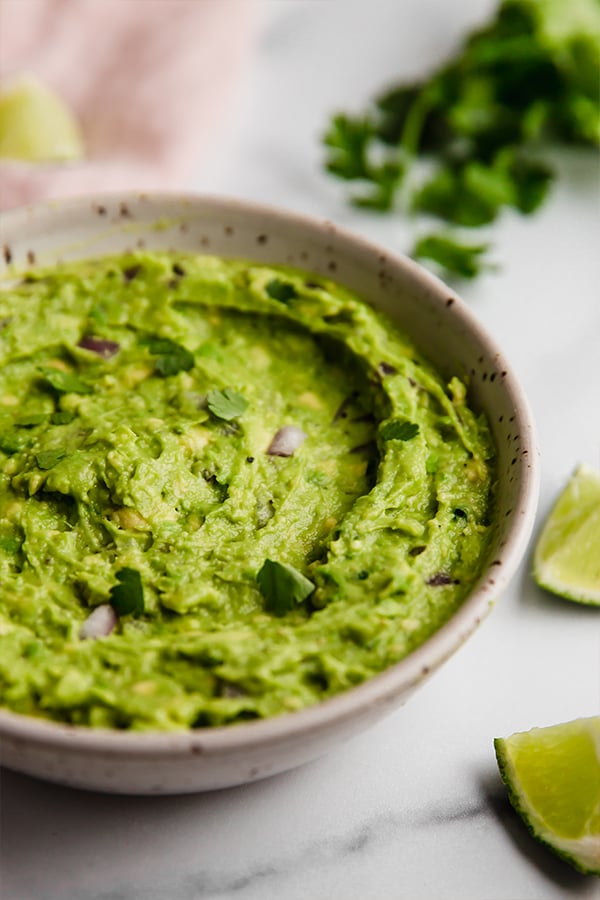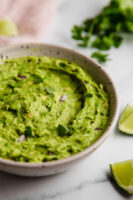 Easy AIP Guacamole (Paleo, Whole30, AIP)
---
Author:
Total Time: 5 minutes
Yield: 2 servings 1x
Diet: Vegan
Description
This AIP Guacamole is a nightshade-free alternative to the classic! It's paleo, whole30, and easy to make in just a few minutes at home.
---
1 large avocado, diced
1/4 red onion, diced
2 tbsp fresh cilantro
Juice of 1/2 lime
1 tsp garlic powder
1 tsp onion powder
1/2 tsp sea salt
---
Instructions
Add the avocado to a medium mixing bowl and mash very well with a fork.
Fold in red onion, cilantro, lime juice, garlic, and onion powder, and salt.
Stir well and season further to taste. Serve fresh with vegetable crudites or grain-free chips
Notes
All nutrition facts are estimates and will vary.
Prep Time: 5 min
Category: Sides
Method: No Cook
Nutrition
Serving Size: 1 serving
Calories: 131
Fat: 10.5g
Carbohydrates: 10.2g
Fiber: 5.3g
Protein: 1.9g