Chicken & Vegetable Summer Rolls
This post contains affiliate links.
These chicken and vegetable summer rolls are the perfect simple and light lunch! They're made with rice paper, vegetables, chicken and a delicious dipping sauce.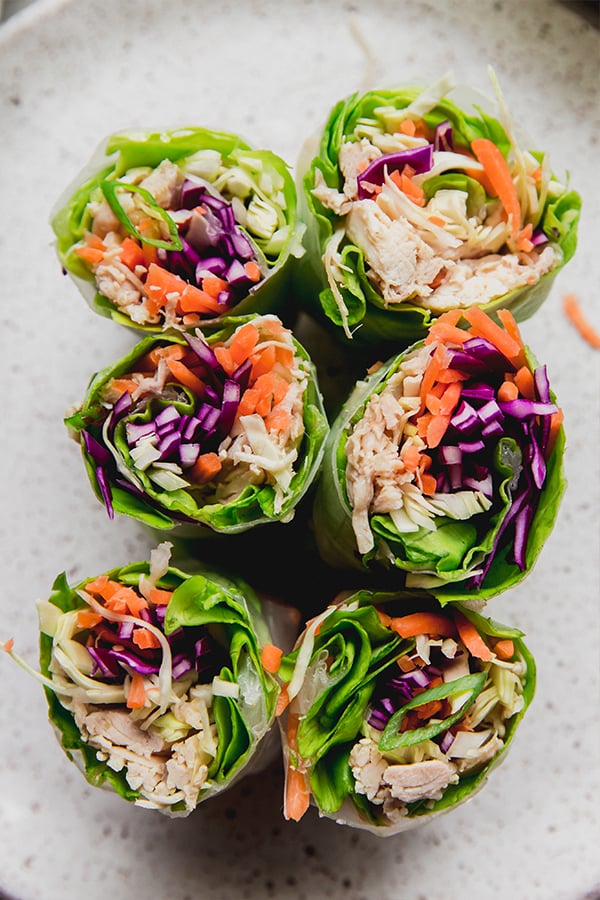 Spring rolls are one of my favorite light and easy meals! You can fry them for a more hearty meal, or keep it light and fresh! This version is super light and fresh with tons of veggies, shredded chicken, and a yummy sauce. It's the perfect quick lunch or fun appetizer for summer.
Why you'll love these chicken summer rolls
They are a no cook easy appetizer, light meal, or snack! When it is hot outside, it is so nice to have an easy bite that doesn't require turning on the oven or stove.
They are made for a dipping sauce! While these are great to eat on their own, they are really the best with a dipping sauce! I love them with my Hoison Sauce or try them with teriyaki sauce.
The Ingredients for Chicken Spring Rolls
Rice Paper Wrappers. I suggest using wraps like this.
Butter Leaf Lettuce. 
Chicken.  You can use chicken thighs or breast meat.
Shredded Carrots, Shredded Purple Cabbage, Shredded Green Cabbage, and Green Onion. All of these vegetables add great flavor and crunch to the rolls, plus add nutrients!
Teriyaki  Sauce or Hoison Sauce. This is optional for dipping, but I think the sauce is essential! I prefer the hoison sauce!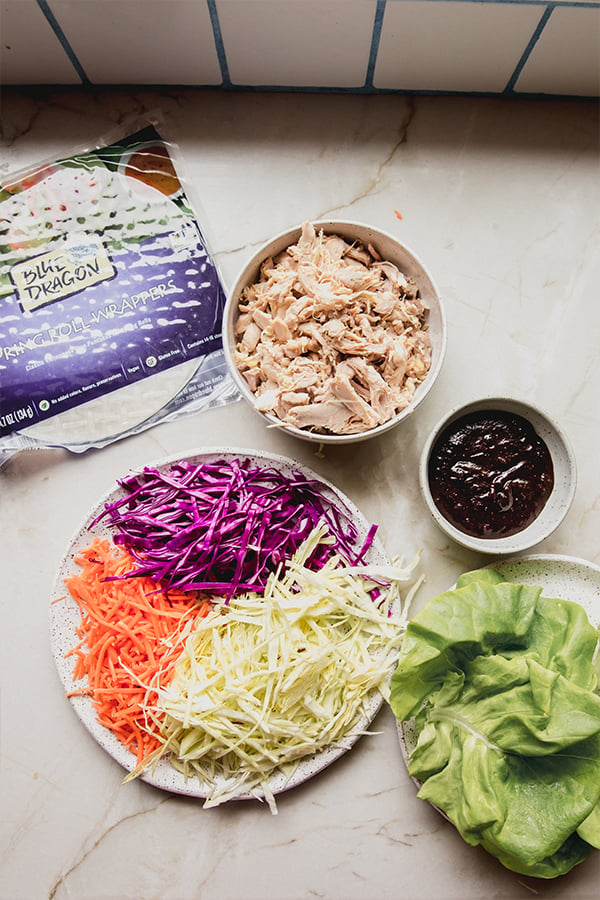 How to make Chicken & Vegetable Summer Rolls
Step One. Soften the rice paper
Step Two. Add butter lettuce, shredded chicken, shredded carrots and cabbage to each rice paper.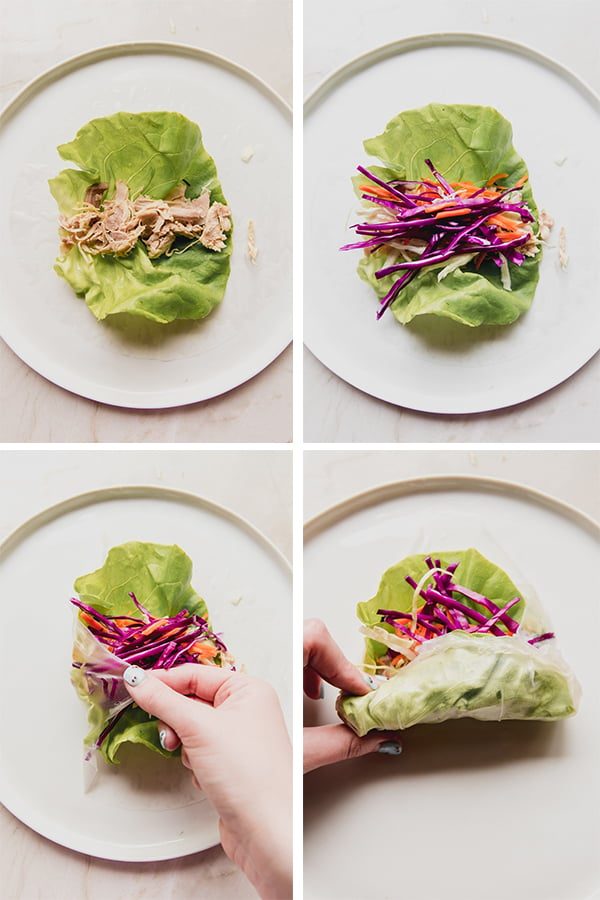 Step Three. Roll the spring rolls.
Step Four. Enjoy with dipping sauce of your choice!

Are these summer rolls healthy?
Healthy is always a subjective term, but considering this is packed with protein and veggies, we'd call it healthy!
Tips & Tricks
The rice paper takes some work! If it's your first time working with rice paper, it takes a bit of work to get the motion down, but you can totally do it!!
Don't skip the sauce. These need a dipping sauce! I love serving them with homemade soy free hoisin sauce.
Can you pan-fry this recipe?
The lettuce may not hold up well to frying, but the rest of the ingredients probably would!
CAN YOU MAKE THIS RECIPE AHEAD OF TIME?
It's definitely best fresh, but you can make it ahead of time and keep it in the fridge for a bit to serve later!
CAN YOU MAKE THESE WITH SOMETHING OTHER THAN RICE PAPER IF YOU'RE GRAIN-FREE?
Rice paper is definitely a main ingredient in this recipe, but you can take the same concept and make this with a grain-free wrap like a coconut or tapioca wrap!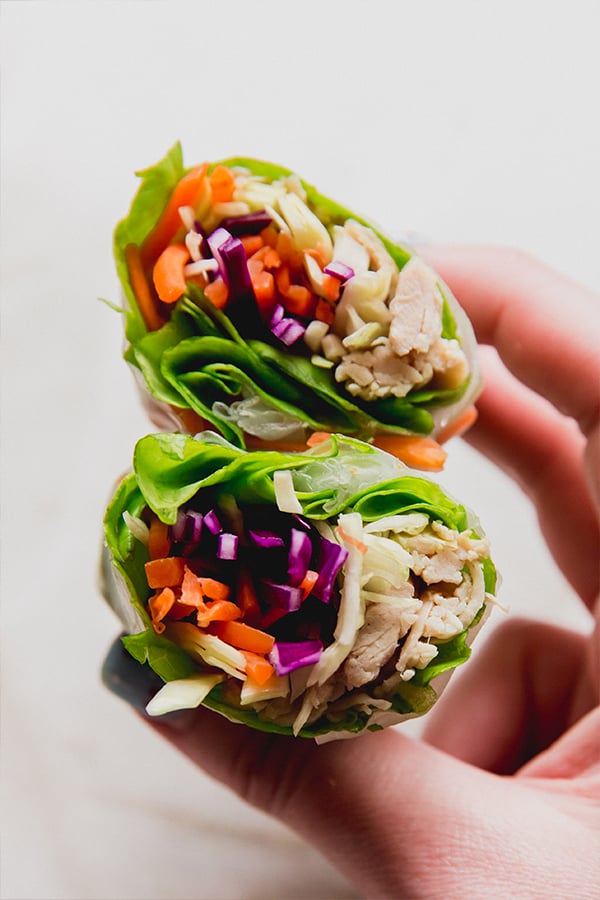 You'll also like…
Print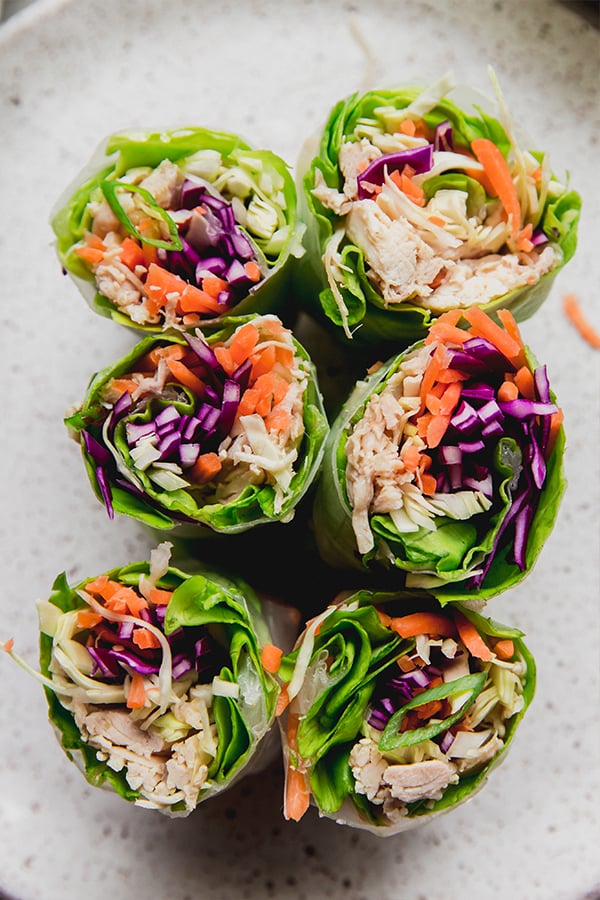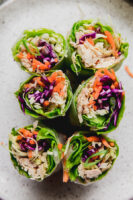 Chicken & Vegetable Summer Rolls
---
Author:
Yield: 6 servings 1x
Diet: Gluten Free
6 rice paper wrappers (like this)
6–8 large butter leaf lettuce pieces
1/2 lb chicken, shredded (thighs or breast)
1/2 cup shredded carrots
1/2 cup shredded purple cabbage
1/2 cup shredded green cabbage
Green onion, chopped
Sauce of your choice
---
Instructions
Soak the rice paper in a large bowl of water for 4-5 seconds or until lightly softened.
Transfer the rice paper to a large plate or clean workstation. Add a large piece of butter lettuce to the center of rice paper. Layer on about 3 tbsp of shredded chicken and top with shredded carrots and cabbage.
Roll the spring rolls by folding in the two corners, then folding up the bottom edge and rolling into a tight spring roll. Set aside and repeat for all of the rice paper and ingredients.
Enjoy whole, or slice in half. Top with chopped green onion and serve with a dipping sauce like hoisin sauce.
Notes
All nutritional information are estimations and will vary. Estimations do not include optional ingredients.
Nutrition
Serving Size: 1 servings
Calories: 204
Fat: 2.2g
Carbohydrates: 5.1g
Fiber: 2g
Protein: 18g