15 Easy One Pan Dinners
As life gets busier, I begin to appreciate one-pan meals more and more, especially on busy weeknights! I love cracking open my favorite cookbook and going to town on a fun recipe as much as anyone else, but sometimes the cleanup and cooking are a bit too much more than I'm willing to handle. Easy one-pan dinners are super convenient, and always welcome in my kitchen! It's a huge added bonus if the meal is fully rounded out with hearty protein, healthy fats, and packed with delicious veggies.
These 15 recipes are perfect for easy, no-fuss, delicious one-pan dinners! They're paleo, AIP, and many are Whole30, but they're so delicious that your family will feel like they're eating restaurant-quality meals every night!
15 Easy One Pan Dinners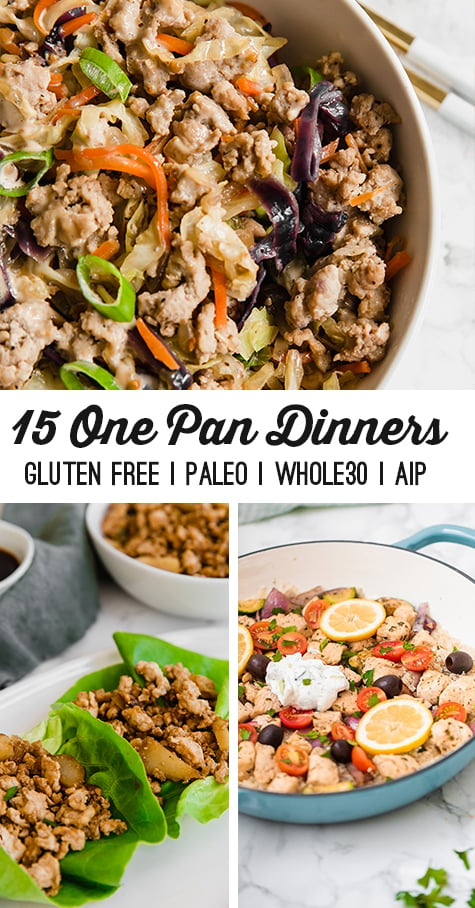 Egg Roll In A Bowl
This Egg Roll in a Bowl recipe brings back all of the flavor and nostalgia you love about egg rolls without the wrapper! It's one of the most popular reader favorites on the blog, and is paleo, whole30, AIP, and keto.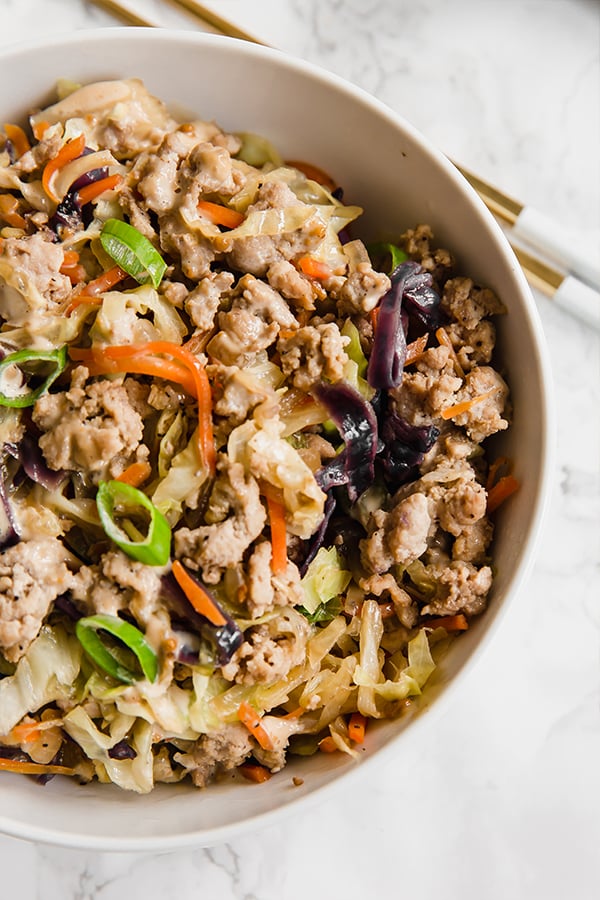 Asparagus, Turkey & Sweet Potato Skillet
This asparagus, turkey and sweet potato skillet is a simple one-pan meal full of spring flavors, and topped with a herbaceous pesto. It's paleo, whole30, and AIP.
One-Pan Beef & Broccoli
Thisbeef and broccoli is an easy one pan meal for a fast weeknight dinner! It has tons of flavor and is a satiating dinner option to keep you nourished and happy, and is Paleo, AIP and Whole30.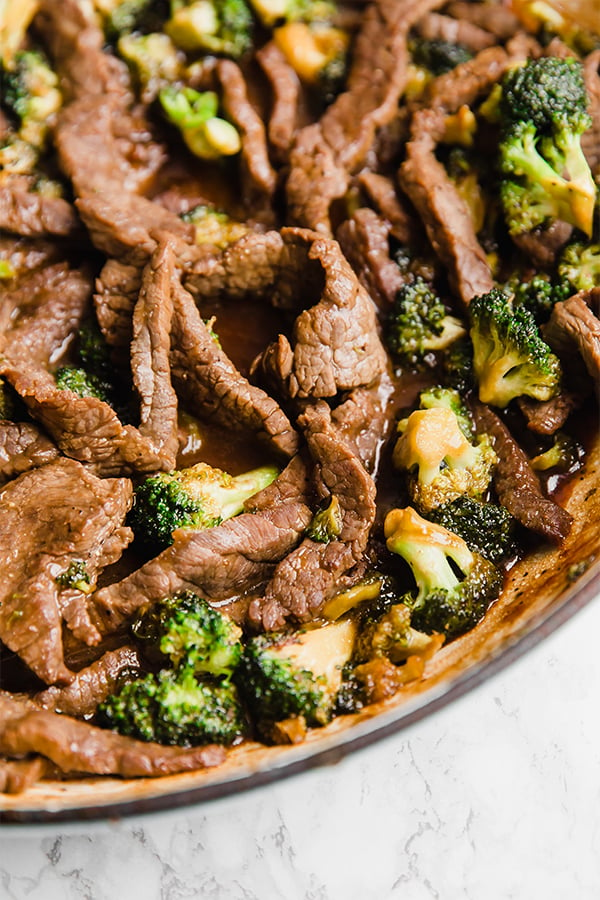 Cauliflower Arroz con Pollo
This cauliflower arroz con pollo is a low carb alternative to a classic! It's paleo, whole30, and can be modified to be nightshade-free and AIP.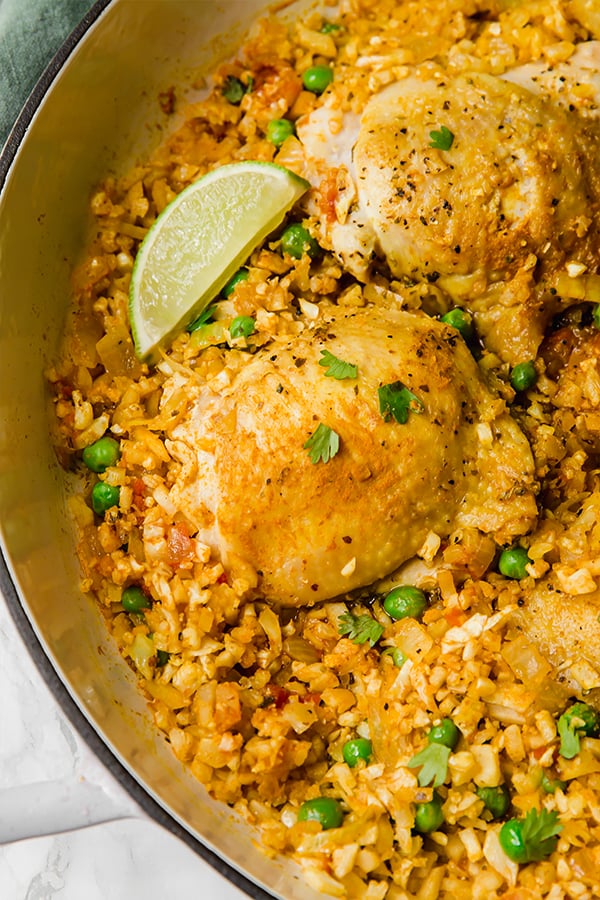 Chicken Marsala
This one-pan chicken marsala has all of the flavors of the classic but is made to be paleo, whole30, and AIP compliant!
PF Chang's Chicken Lettuce Wraps
These chicken lettuce wraps are the perfect, easy, and healthier PF Chang's copycat! They're paleo, whole30, and AIP compliant.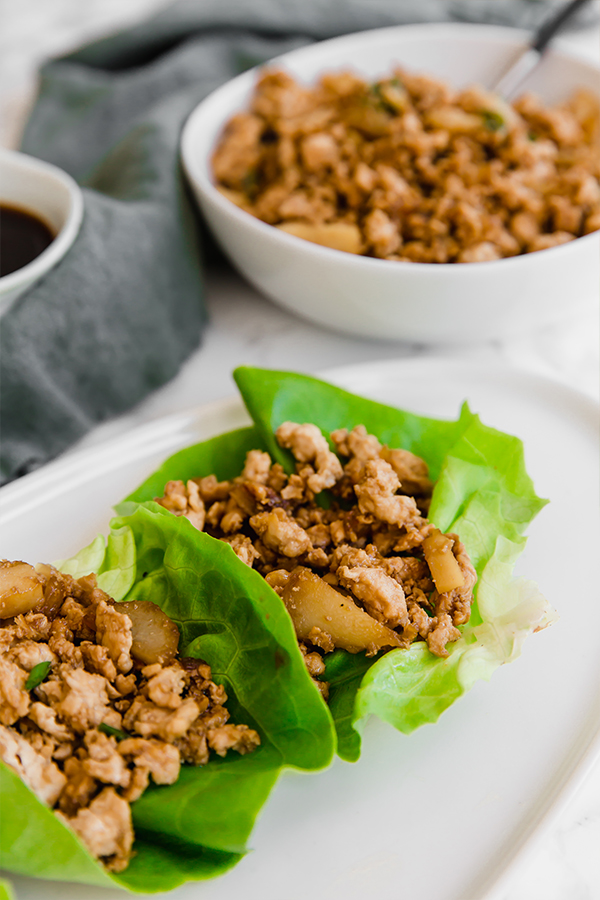 Paleo Pumpkin Chili
This one-pan paleo pumpkin chili is the perfect warm and cozy dish for fall! It's whole30 compliant and is easy to make AIP and nightshade free.
One Pan Steak Bites & Sweet Potatoes
This one-pan meal of steak bites and sweet potatoes is nourishing, filling, and delicious! It's paleo, whole30, and AIP-friendly.
One-Pan Taco Skillet Dinner
This one-pan taco skillet dinner is so easy to make for a weeknight meal! It's packed with veggies, healthy fats and protein, and amazing flavor. It's dairy free, paleo, whole30 compliant, and AIP.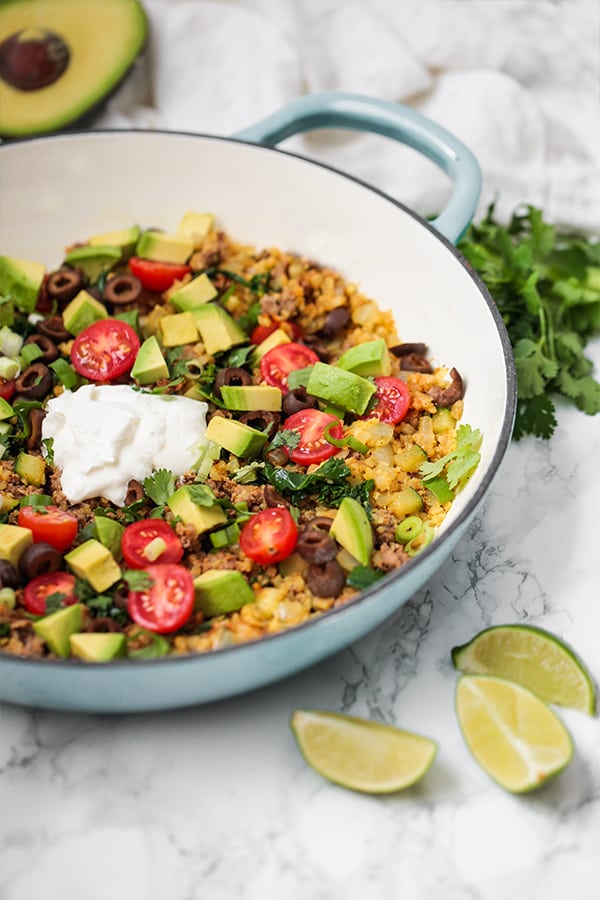 One-Pan Chicken Pesto with Vegetables
This easy chicken pesto is made on one pan and features a simple to blend homemade pesto that you'll love topping everything with! It's an amazing springtime meal, but really, it's a great dinner option any day that you're wanting something delicious but with less work.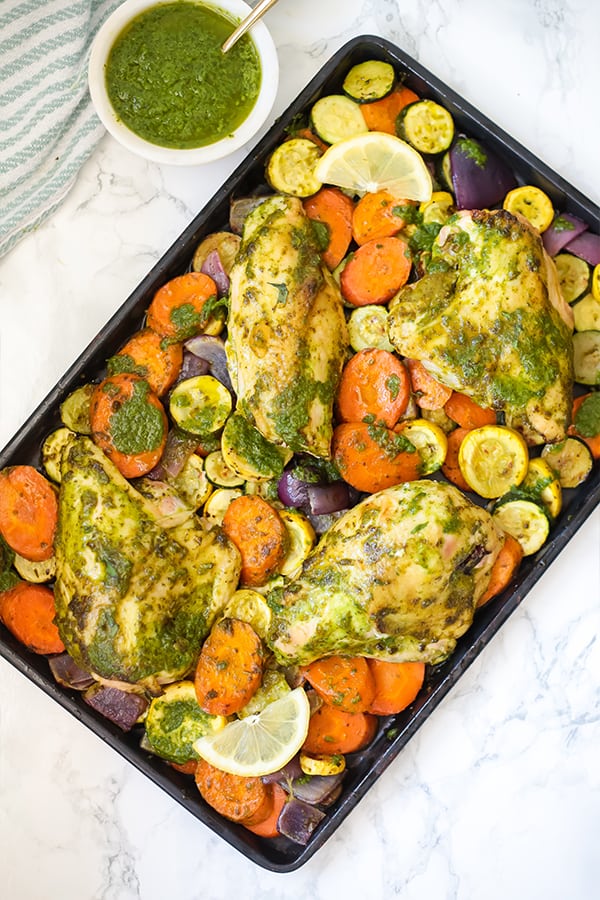 One Pan Chicken Cacciatore
This one-pan chicken cacciatore is classic Italian comfort food! This version is gluten-free, paleo, and can be made both whole30 and AIP.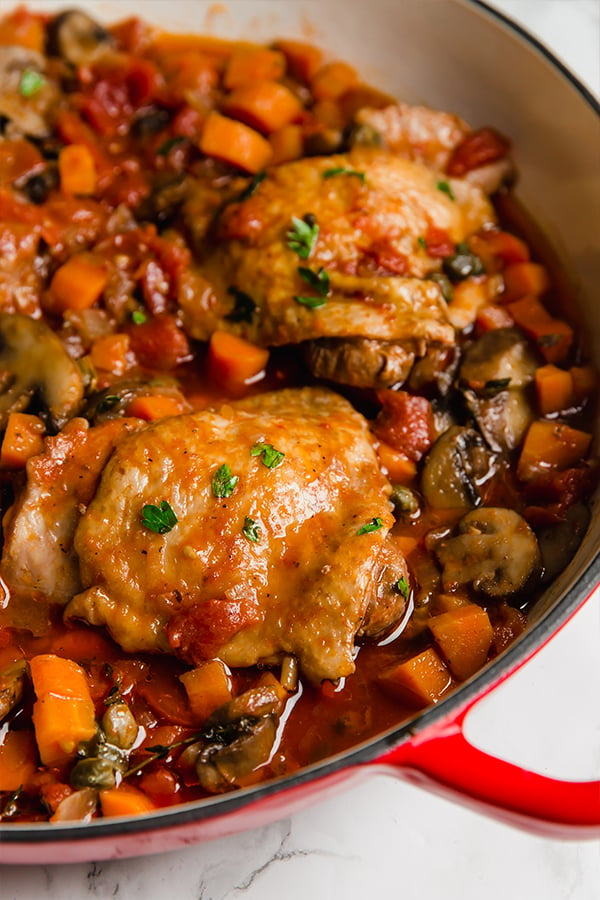 Ground Beef & Cabbage Stir Fry
This ground beef stir fry is easy, delicious and cost effective! It's made without soy or gluten and is paleo, whole30, AIP, and easy to make keto.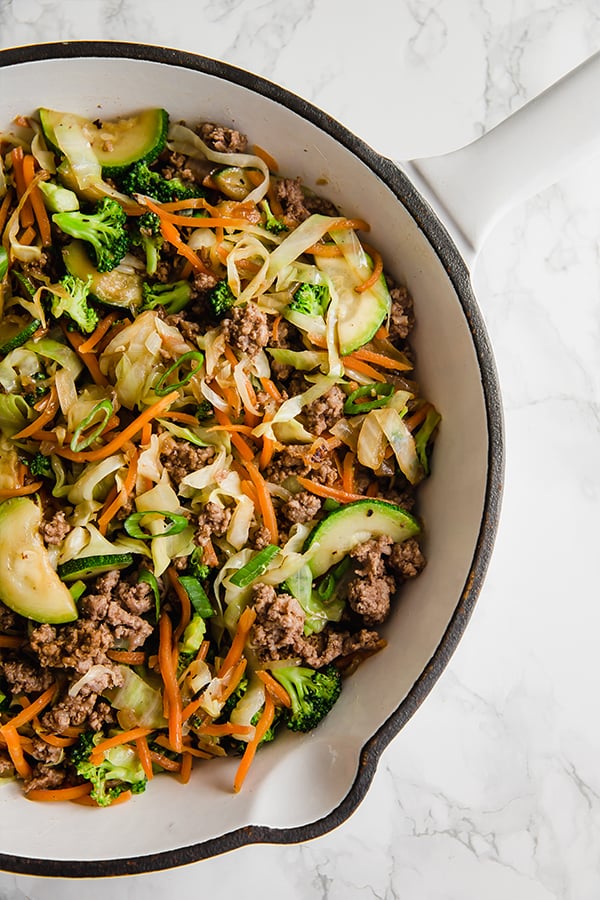 Garlic Balsamic Steak Bites & Asparagus
These garlic balsamic steak bites are an easy and delicious way to enjoy steak. Make this paleo, Whole30 & AIP dish a one-pan meal with asparagus or a vegetable of choice!
Moo Goo Gai Pan | Chinese Mushroom Chicken Stir Fry
This Moo Goo Gai Pan is an authentic Chinese Mushroom Chicken made healthier! It's paleo, whole30 compliant, and can be made AIP friendly.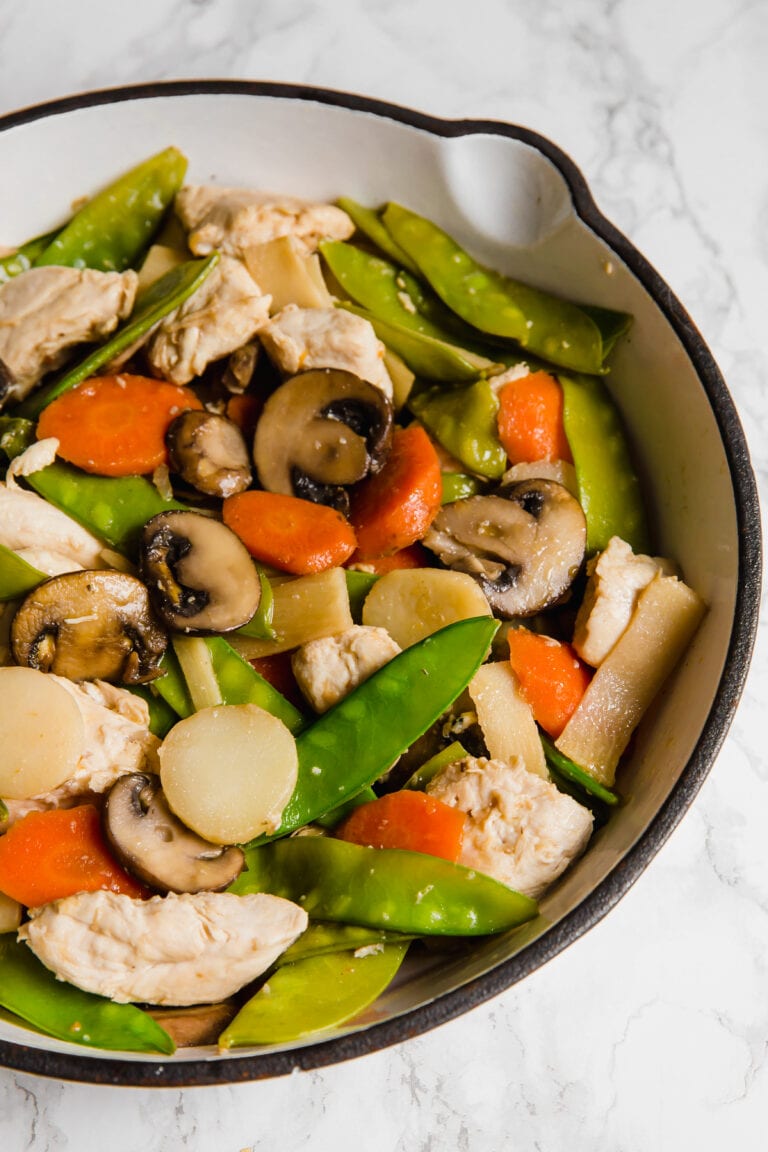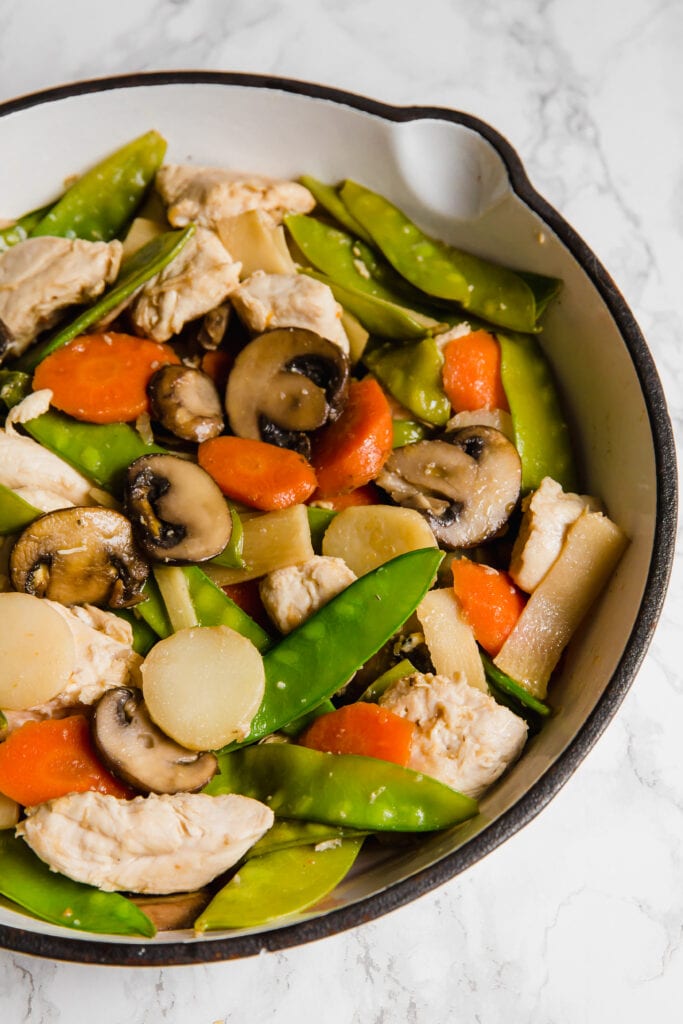 One Pan Greek Chicken
This one-pan greek chicken is full of veggies, healthy protein, and features a dairy-free tzatziki. It's paleo, Whole30 compliant, and AIP with modifications.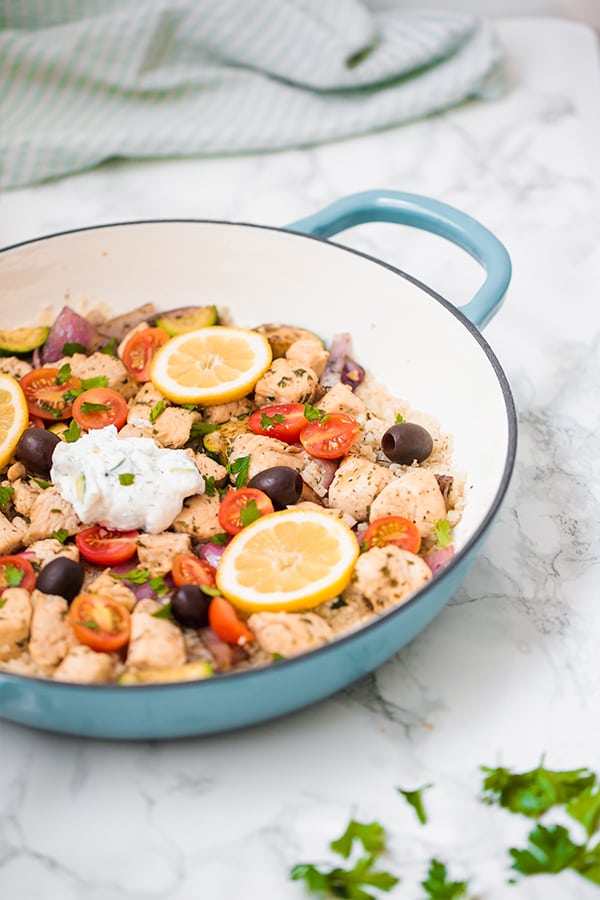 I hope this list was helpful! What are your favorite easy one-pan meals?