Gluten Free S'mores Bars
These gluten-free s'mores bars are the ultimate decadent treat! They're made with a graham cracker crust, homemade marshmallow, and a ganache topping.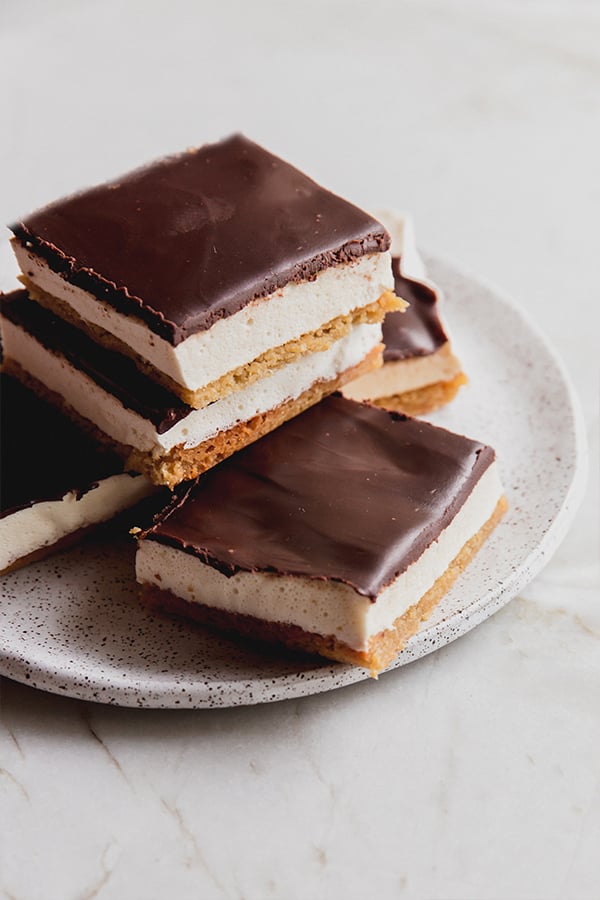 Do you miss s'mores? Same!! I thought I'd never be able to have them again when I went gluten and soy free. Most store bought versions of the main ingredients for s'mores can still be pretty iffy for what works for my diet, but luckily, there's hope! Not only can you get the flavors of s'mores that you love, but you can make it even more decadent with these s'mores bars.
They are a big cakey, soft, and fluffy version of a s'more with a buttery crust, homemade marshmallow, and a creamy chocolate topping. YUM.
Why you'll love these s'mores bars
They taste just like the real deal but with a bakery-style twist! Fluffy marshmallow, buttery crust and creamy chocolate. It's really the bakery version of a s'more!
They're more allergen friendly than store bought alternatives. This version is soy-free, corn-free, and you can tweak it around to be AIP.
The Ingredients for S'mores Bars
Almond Flour. 
Arrowroot Starch. You should be able to sub tapioca starch.
Maple Syrup.
Ghee. Sub coconut oil for dairy-free option.
Vanilla Extract and Cinnamon. I love the flavor this gives the graham cracker crust!
Water, Gelatin, and Honey. These ingredients makes the marshmallows.
Chocolate Chips and Coconut Cream.  To make the chocolate ganache.
How to make gluten-free s'mores bars
Step One. Make the graham cracker crust and bake.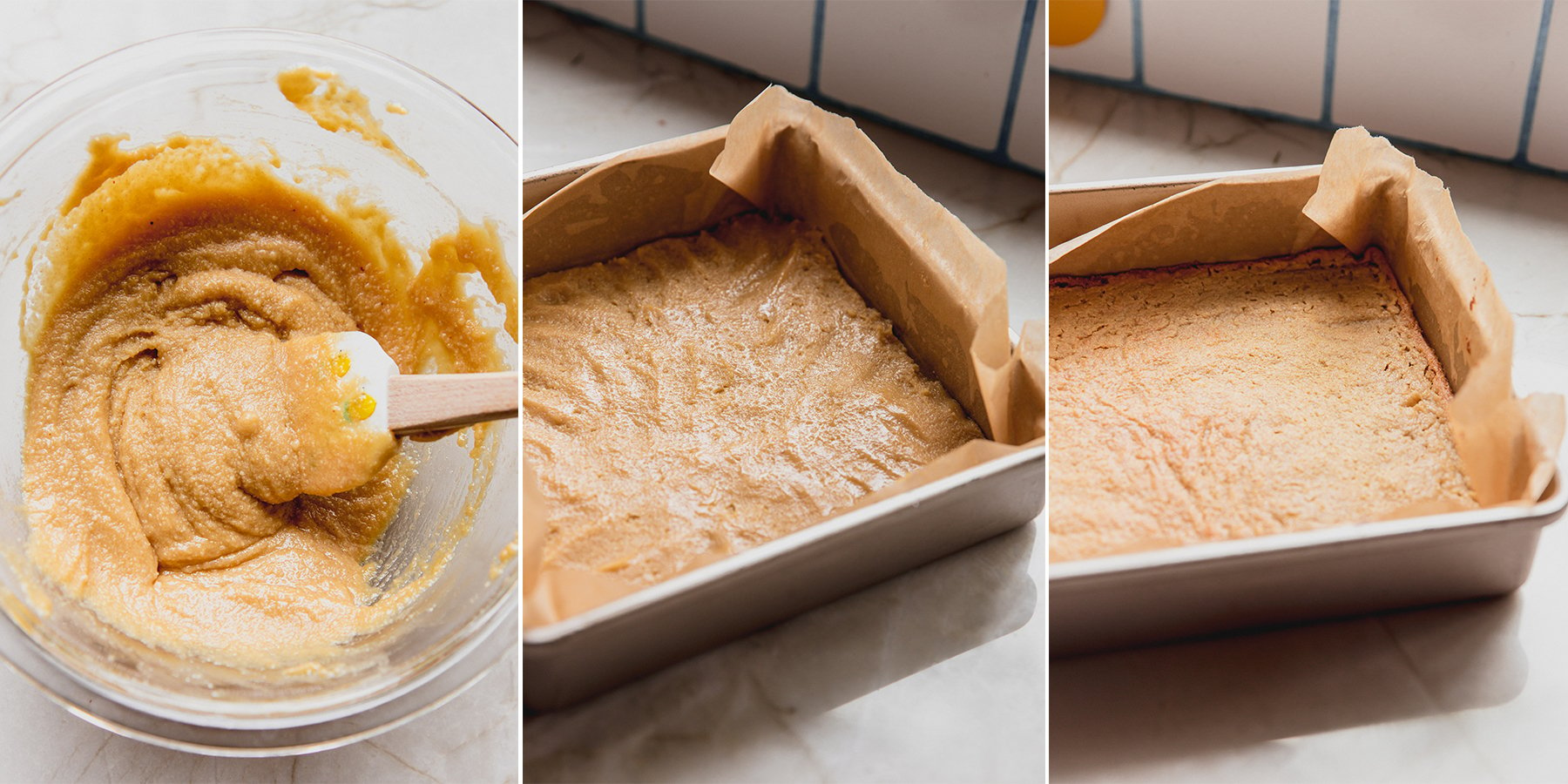 Step Two. Make the marshmallow and pour over the graham cracker crust.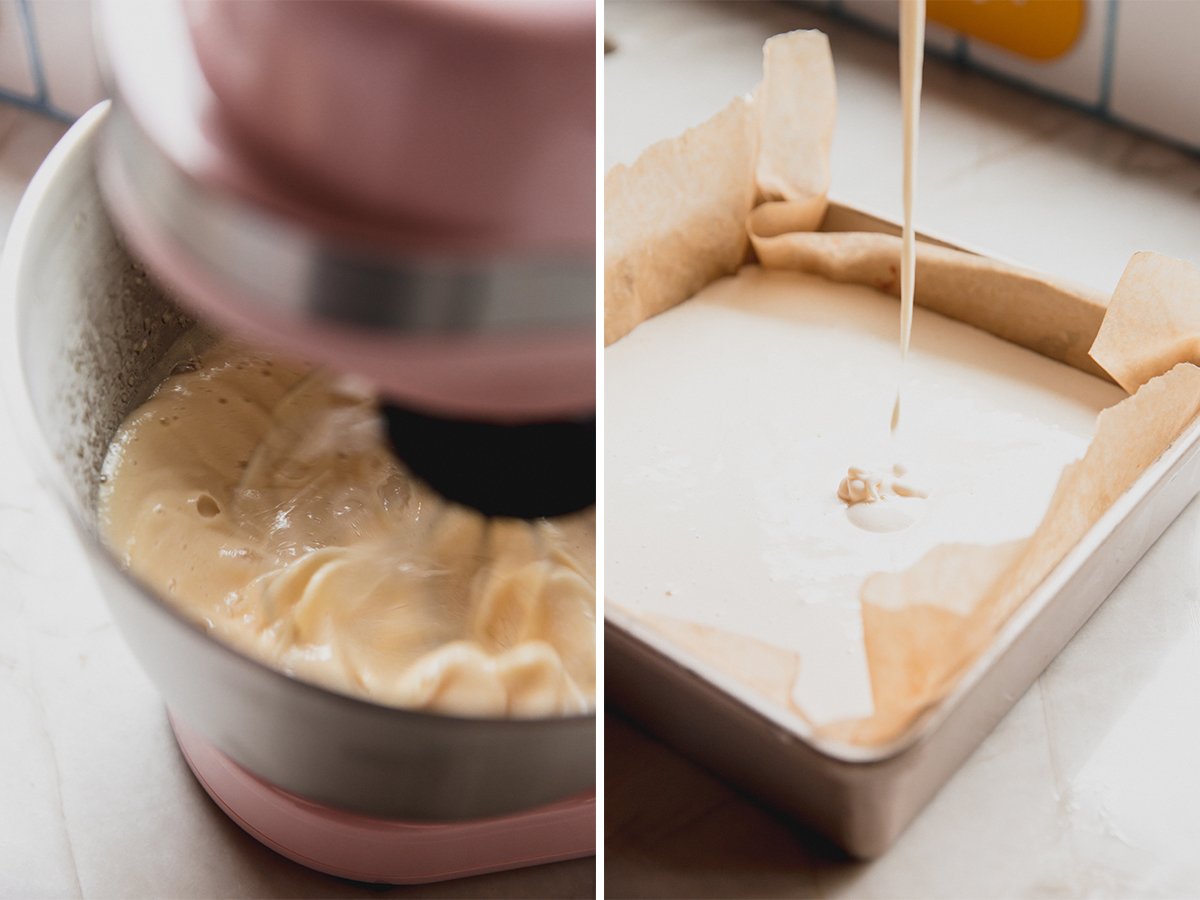 Step Three. Make the chocolate ganache and spread over the marshmallow and then allow to harden in the fridge.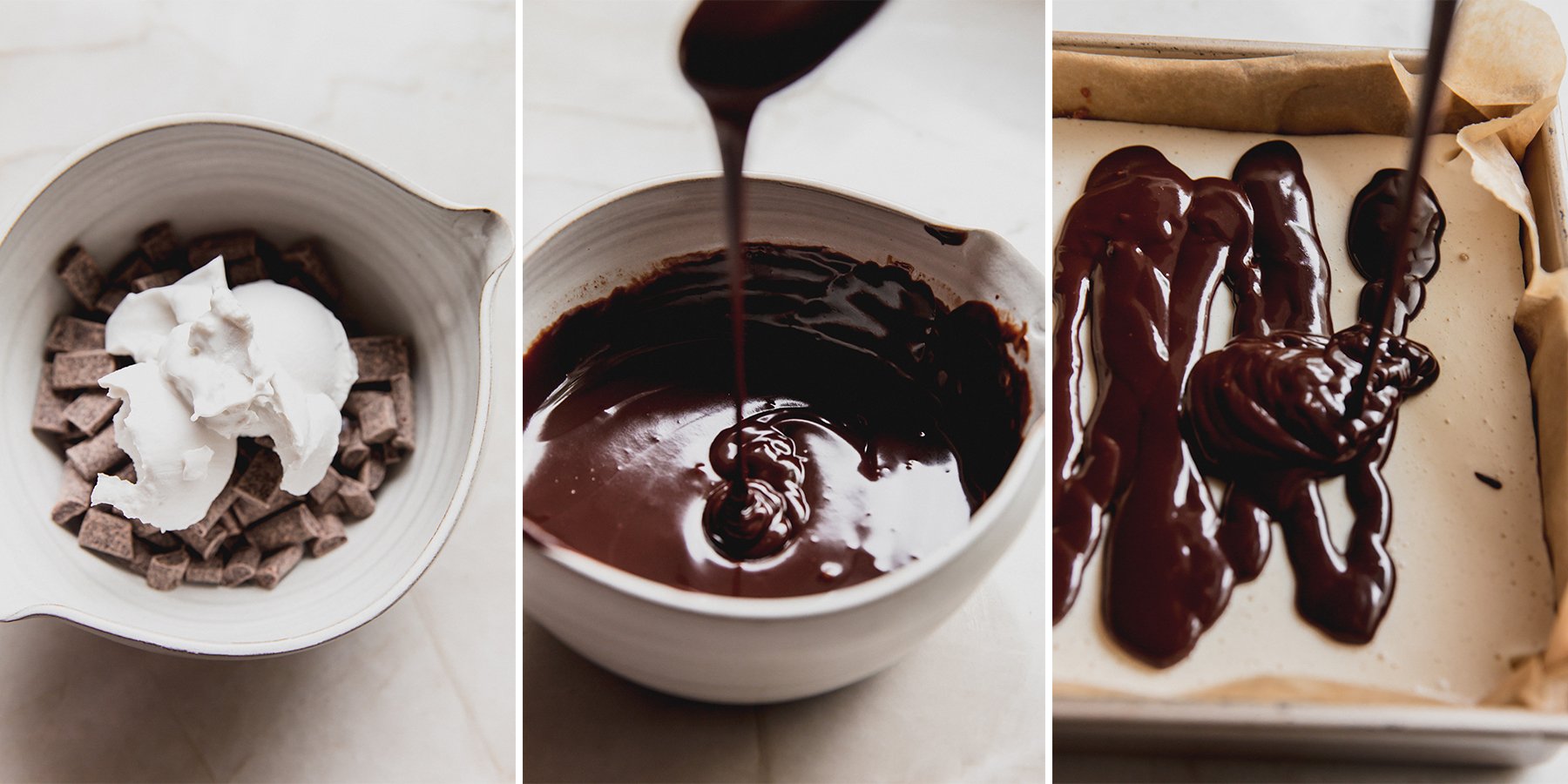 Step Four. Slice and enjoy!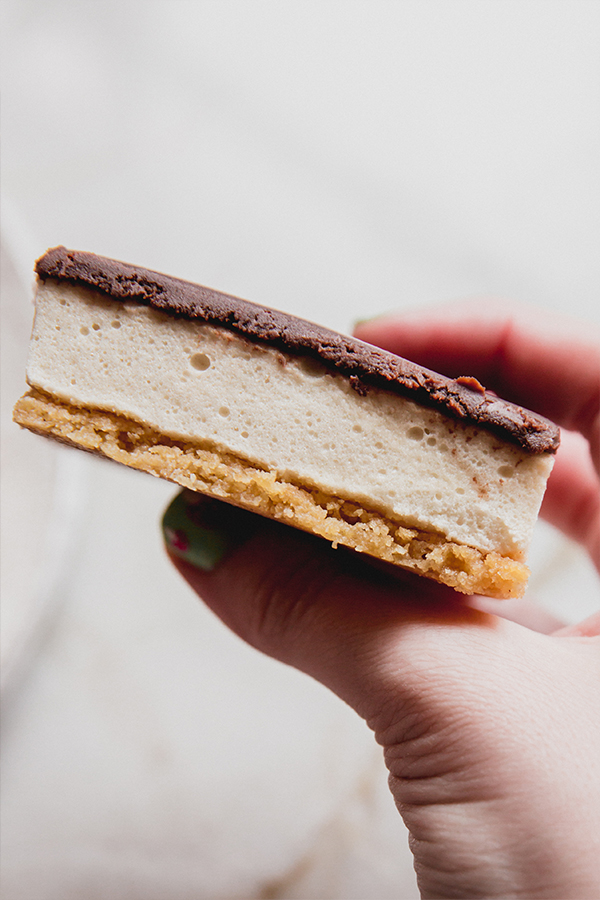 Tips & tricks
Patience is key! Let everything set and cool in its own time to make sure it comes out properly! I know, I know, I get excited to try it too, but it's worth the wait.
Use a hand mixer if you don't have a stand mixer. I've used an electric hand mixer many times to make marshmallows, and it still works just as well. It just takes a little longer and is more hands-on.
Trust me… get the candy thermometer. I went without a candy thermometer for a while and just used a meat thermometer to make marshmallows for a while, and finally caved. It's very much worth it to work with the right tools!
Can you make this recipe AIP?
It takes some tweaking, but you can make it work! Here are my recommendations…
How do you store these s'mores bars? How long do they last in the fridge?
Store them in the fridge to avoid any melting! These are best in the first 24 hours as the crust gets softer as they stay in the fridge, but you can keep them for 3-4+ days! I haven't tried freezing them.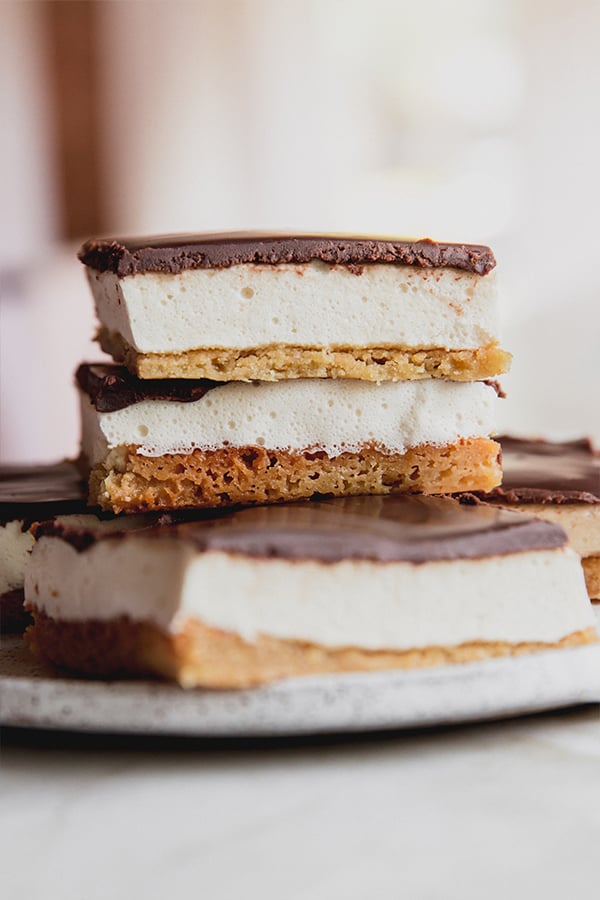 You'll also like…
Print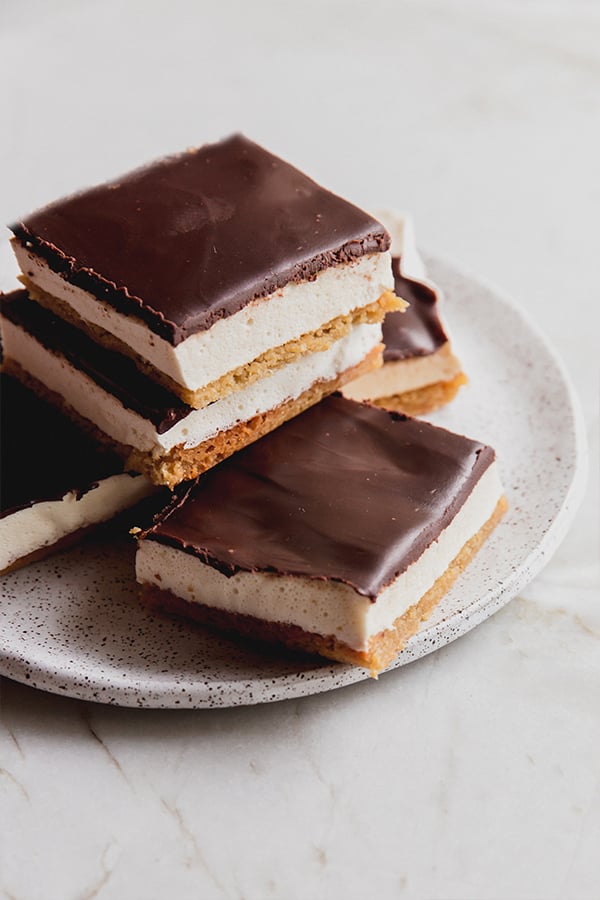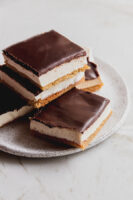 Gluten Free S'mores Bars
---
Author:
Total Time: 1 hour 20 minutes
Yield: 9 servings 1x
Diet: Gluten Free
For the graham cracker crust
1 cup almond flour
2 tbsp arrowroot starch
1/4 cup each maple syrup
1/4 cup ghee, melted (sub coconut oil)
1/2 tsp vanilla extract
1 tsp cinnamon
 For the marshmallow
1 cup water (divided)
3 tbsp gelatin
1 cup honey
For the chocolate ganache
1 cup dairy-free chocolate chips
1/4 cup coconut cream
---
Instructions
To make the graham cracker crust
Preheat the oven to 350 F and line an 8×8″ baking dish with lightly greased parchment paper.
Combine the ingredients for the crust in a large bowl and stir until fully incorporated. The batter should be fairly wet and sticky.
Press the batter into the baking dish until it evenly covers the bottom. Transfer to the oven and bake for 18-20 minutes, or until lightly golden brown.
Remove the pan from the oven and set aside, allow the crust and the pan to cool to the touch.
For the marshmallow
Pour 1/2 cup of water into a small bowl and sprinkle the gelatin over top. Stir gently to ensure the gelatin is combined. Set aside.
Using a medium-sized pot slowly heat the honey combined with the other 1/2 cup of water. Slowly bring the temperature to 235-240 F degrees on low heat. Remove from heat immediately once the mixture comes to temperature.
Slowly add in the honey mixture to gelatin mixture as you whisk on high with either an electric hand mixer or a stand mixer. Continue whisking on high, until stiff peaks start to form in the marshmallow mixture.
Pour the mixture over the prepared crust and place in the fridge to harden for 3-4 hours or until soft and springy to the touch.
For the ganache 
Combine the chocolate and coconut cream in a bowl and melt in the microwave in 20-second intervals, stirring each round, or over a double boiler.
Allow the ganache to cool slightly (you don't want it to be steaming or the marshmallow can melt) before pouring over the marshmallow. Use a rubber spatula to evenly spread the chocolate over the marshmallow.
Transfer to the fridge to allow to harden for 1-2 hours.
Once the ganache is set, remove from the fridge and carefully transfer to a cutting board. Cut into 9 large slices, and 18 small slices and serve chilled!
Notes
AIP friendly tweaks–
All nutritional information are estimations and will vary. Estimations do not include optional ingredients.
Prep Time: 60
Cook Time: 20
Category: Dessert
Method: Stove Top
Cuisine: American
Nutrition
Serving Size: 1 serving
Calories: 425
Fat: 16.2g
Carbohydrates: 57g
Fiber: 2.5g
Protein: 5.8g