My Favorite Strategies for Saving Time in the Kitchen
Thank you to Sprouts for sponsoring this post! All opinions are my own.
Ever feel like you're spending hours and hours a week pursuing a healthy lifestyle? Like shopping, cooking, and cleaning up takes an eternity? I feel you! Cooking from scratch will always take longer than just cruising through a drive-thru and picking up food… but the benefits are so worth it! However, do you really need to spend that much time each week prepping healthy meals? Not necessarily!
Over the past several years of pursuing a real food lifestyle and wasting a lot of time trying to figure out the most efficient ways to do things, I've picked up several tips and tricks for saving time in the kitchen.
My Favorite Strategies for Saving Time in the Kitchen
1. Buy pre-chopped vegetables when possible
Sometimes it's not always an option to get pre-chopped vegetables, and there is a consideration of extra packaging as well, so it's not something that I always do. However, every situation is unique. If you're in deep with autoimmune disease and are struggling with severe fatigue, anything helps! When I was dealing with fatigue during my first trimester, and the start of the second trimester of my pregnancy pre-chopped veggies were my saving grace! I just didn't have the energy to chop butternut squash, and buying things pre-chopped was incredibly helpful.
Here are some of my favorite options:
Pre-riced cauliflower rice. Not only does it save the time of prepping the cauliflower rice, but it also saves time and water from washing the food processor.
Pre-spiralized zucchini noodles. No cleaning the spiralizer!
Frozen chopped vegetables. For example, broccoli florets, cauliflower florets, chopped butternut squash, etc. These are frozen when fresh, so you're not losing any nutrients and you save the time of chopping and cleaning.
2. Save time by meal prepping and batch cooking
When we picture spending a couple of hours in the kitchen to batch cook or meal prep for the week, it can seem like a lot of time. However, spending a couple of hours prepping all at once is much more time-efficient than spending an hour prepping, cooking, and cleaning up after dinner every single night!
With batch cooking, you have the opportunity to cook for all meals at one, only chop and prep ingredients once, and my favorite part, only dirty the kitchen once! Of course, there are still dishes to do throughout the week as food is eaten and reheated, but it's still nothing compared to making a fresh meal every evening.
Have no idea where to get started with meal prepping? Find my sample meal prep plan with shopping list here!
Here are some of my favorite easy meals to meal prep…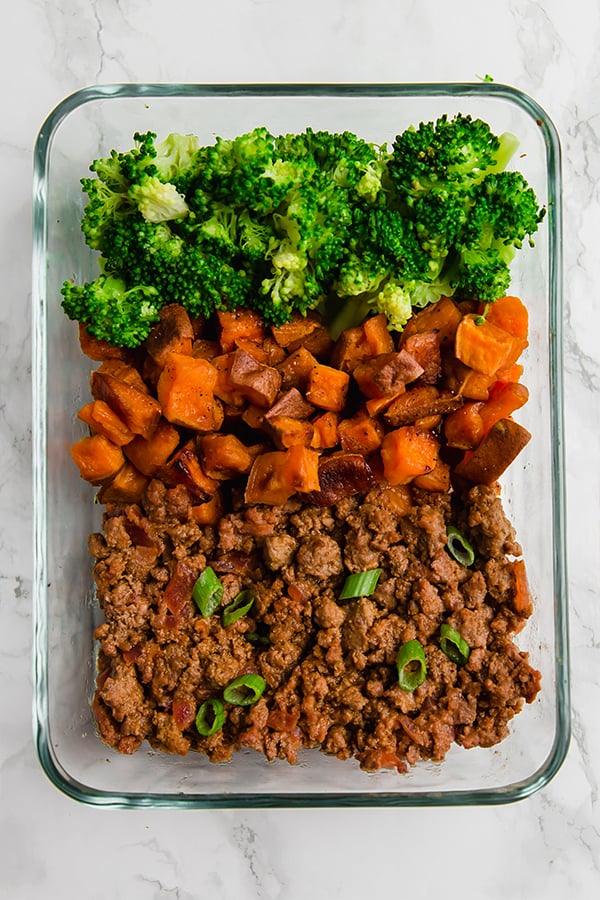 3. Do all of your shopping in one place
When I think about time spent cooking, I always factor in time spent shopping as well. You could have your batch cooking routine down to a science, but if you're going to 4 different stores to get everything you need, it's nowhere near as efficient. Sprouts is an amazing spot to get everything you need in one place like pantry staples that can be harder to find (like arrowroot starch, plantain chips, etc.), produce, and more! Here's a list of everything I like to get at Sprouts.
4. Embrace one-pan, slow cooker, and instant pot meals
Just like shopping is all part of the cooking process, so are dishes! Embracing one-pan meals drastically cuts down on the number of dishes and overall time in the kitchen. One-pan meals don't always have to be made using one frying pan… they can be sheet pan meals, skillet meals, casseroles, soups and stews, slow cooker meals, and instant pot meals. The opportunities are endless!
Here are some of my favorite one-pan meals…
Here are some of my favorite instant pot and slow cooker meals…
5. Make simple, easy meals exciting with easy sauces
This is one of the tricks that I utilize in my kitchen multiple times a week! Sometimes I just don't have the time or energy to put together a composed meal, and just have components like a piece of protein and some vegetables. Something like a salmon filet and some roasted sweet potato and broccoli is definitely easy to prep and saves time in the kitchen, but let's face it, it's not exciting.
I love to save time by taking simple components and making them exciting with easy sauces! For example, a steak is fairly easy to prep but it's a lot more exciting when you add a simple topping like chimichurri.
Here are some of my favorite sauces that are easy to prep and store…
Arugula basil pesto (pictured below). This tastes amazing on chicken, vegetables, and fish.
Chimichurri. I love this on beef, salmon, and roasted vegetables.
Nomato sauce. Make this easier by doubling a batch in the instant pot and freezing half… see below!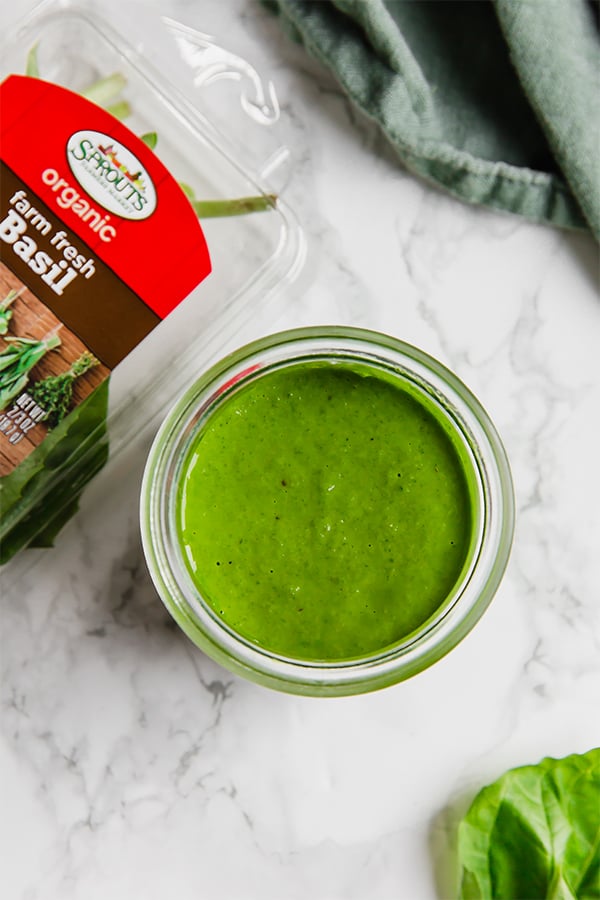 6. Utilize the freezer
With a baby on the way, I'm learning how to use the freezer more and more to save time in the kitchen. There are a couple of different options with freezer cooking. You can either prep all of the ingredients, freeze them, defrost, and then cook in the slow cooker or instant pot for a quick and easy meal (see this recipe as an example) or you can freeze already prepped food.
Here are some tips for using the freezer…
Double sauces and broths and freeze flat in bags. I almost always do this with the sauces above! If you store them in a bag and freeze them flat, you can easily break off a bit of the sauce and defrost it in the fridge. You can also use something like an ice cube tray!
Double your favorite soups and freeze. Soups are my favorite thing to freeze. Simply defrost in the fridge and reheat in a pot.
Buy meat in bulk when it's on sale and freeze. This saves time shopping, and saves money as well!
Never refreeze previously frozen foods. This is a food safety concern.
I hope these tips were helpful! What are your favorite ways to save time in the kitchen?