Nightshade Free Salsa Verde (AIP)
This AIP nightshade-free salsa verde is packed with vegetables and easy to make in a food processor. It's made without any chilis or tomatillos, but still has a zesty and rich flavor.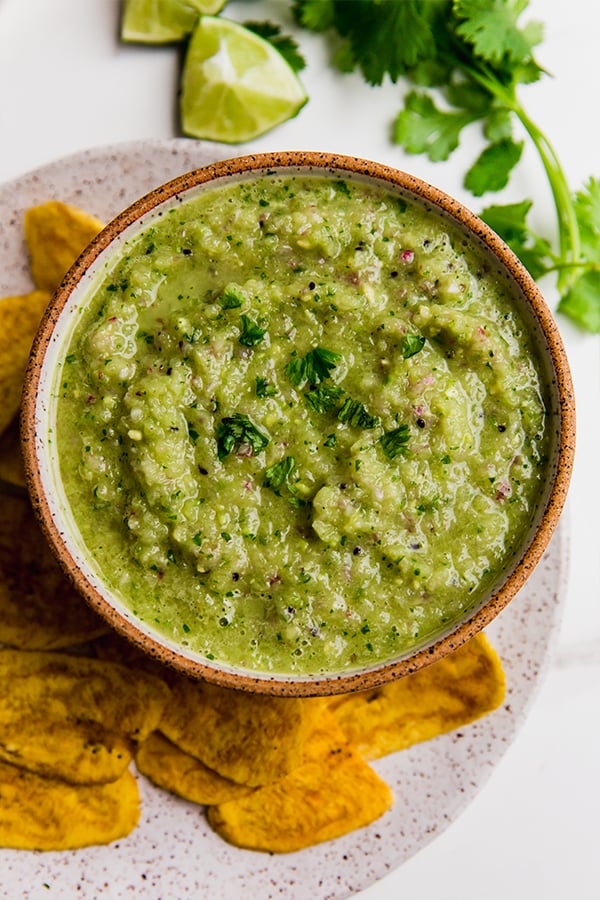 What is salsa verde? How do you make it nightshade free?
Salsa verde is a green salsa that's traditionally made with tomatillos, jalapenos, and chilis. If you're like me and are nightshade-free, it's incredibly hard to get that salsa flavor without the nightshades. However, it is possible! With a little imagination and some creative ingredients, you can make a salsa verde-inspired dip with zero nightshades. It's tart, zesty, and packed with greens, making it a healthy and yummy dip.
The Ingredients for Salsa Verde
Cucumber and Kiwis. Make sure both are peeled! I know kiwi sounds random but I've seen some other AIP salsa recipes with kiwi (like castaway kitchen and wendy's AIP kitchen) so I decided to try it, and seriously, it works!
Avocado.
Garlic and Red Onion.
Lime Juice. This gives it great flavor and helps keep it fresh if you want to store it a few days!
Green Onion and Cilantro. I like having both of these flavors, but if you prefer you can omit cilantro and add extra green onions.
Dried Oregano, Salt, and Pepper.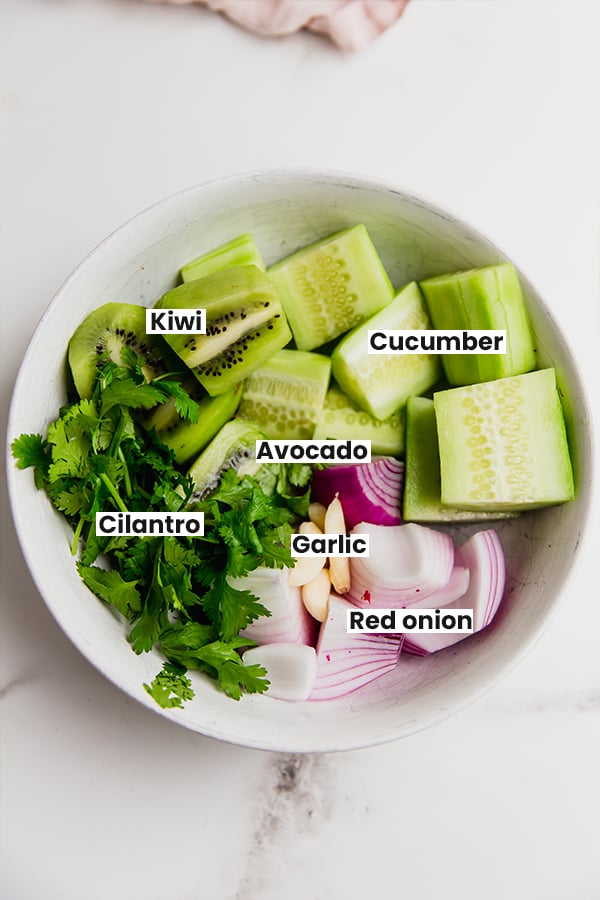 How to make Nightshade Free Salsa Verde
Step 1. Blend the salsa in a food processor.
Step 2. Season further to taste and serve!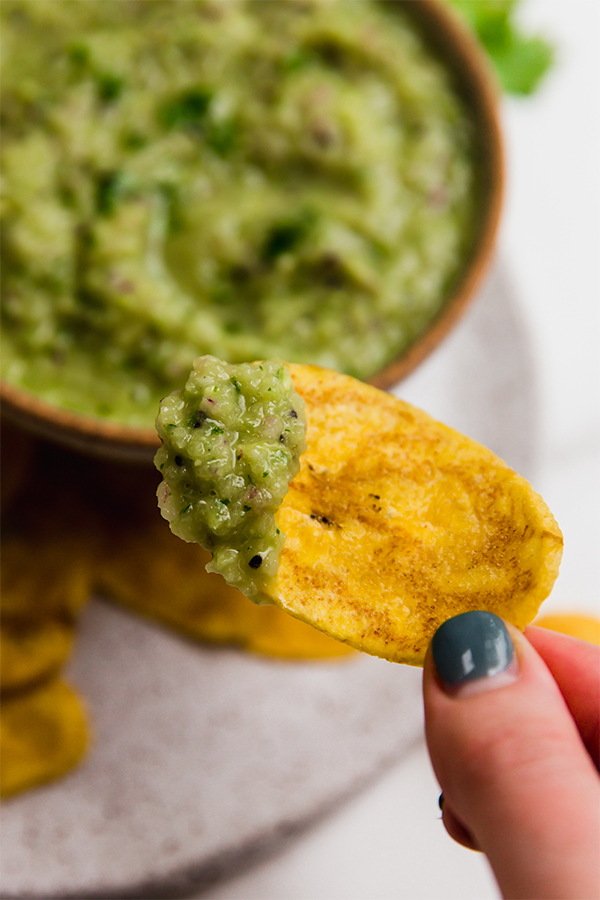 Can you use a blender instead of a food processor?
You can use a blender, though it may puree it further than what you see in the photos.
Can you make this salsa ahead of time? How long does it stay fresh in the fridge?
Since this salsa has lots of lime juice, it can stay fresh in the fridge for about 2-3 days. However, it's best fresh!
What if you don't like cilantro?
I highly recommend keeping the cilantro in there if you can since it adds a lot of flavor. But if you don't like it, you can add more green onion instead.
What can you serve the salsa verde with?
Use this salsa verde just like you would any other! You can dip chips like grain-free tortilla chips or plantain chips, or even make recipes like salsa verde enchiladas.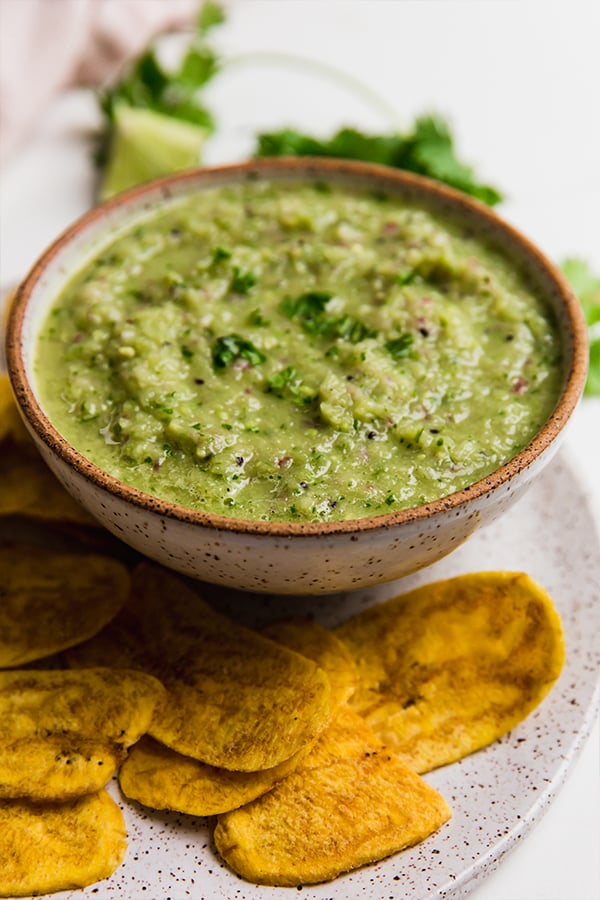 You'll also like…
Print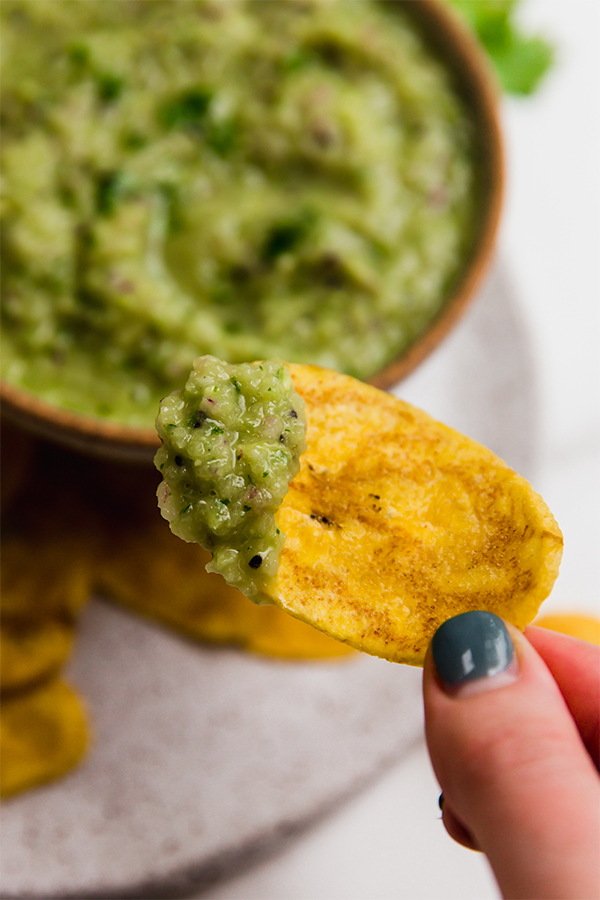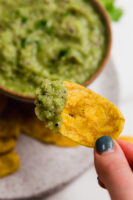 Nightshade Free Salsa Verde (AIP)
---
Author:
Yield: 4 servings 1x
1 cucumber, peeled and chopped
2 kiwis, peeled and chopped
1/2 medium avocado
4 cloves garlic
1/2 red onion, chopped
1/4 cup lime juice
3 sprigs of green onion
3 tbsp cilantro
1 tsp dried oregano
1/2 tsp salt
Pepper
---
Instructions
Add all of the ingredients to a food processor and blend for 10-15 seconds or until smooth. If a thinner salsa is desired, add 1-2 tbsp of avocado oil.
Taste the salsa and season further to taste. Serve with plantain chips.
Notes
All nutritional information are estimations and will vary.
Nutrition
Serving Size: 1 serving
Calories: 125
Fat: 5g
Carbohydrates: 21.6g
Fiber: 5.6g
Protein: 2.4g