Copycat Crispy Chicken Snack Wrap (Gluten Free)
This crispy chicken snack wrap is a McDonald's copycat made with real food ingredients! It's grain-free, dairy-free, and even egg free.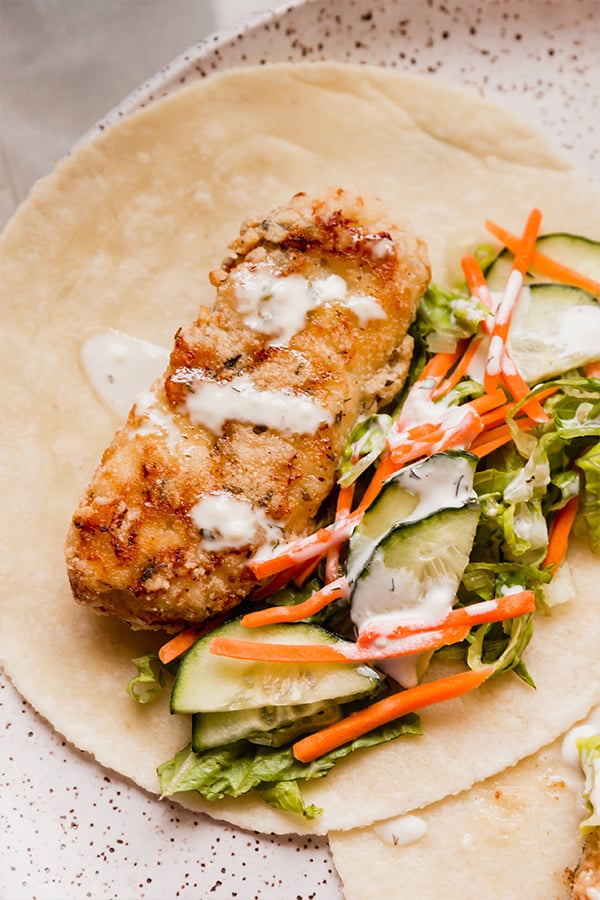 What is a McDonald's chicken snack wrap?
The chicken snack wrap is a McDonald's menu item that's made with a white flour tortilla, crispy fried chicken tenders, lettuce, cheese and a dressing like ranch of honey mustard. I remember getting these in the drive-thru in college, and as expected, they didn't make me feel great!
This version is a copycat of the McDonald's recipe but with wholesome ingredients! It's dairy-free, grain-free, and made with extra veggies for more fiber.
Why you'll love these Copycat Crispy Chicken Snack Wraps
It can be a snack or a meal! One is perfect for a snack, or I eat 2-3 with a side of veggies or salad and call it lunch.
It can even be made AIP! Unlike McDonald's, this recipe is dairy-free, grain-free, and has extra veggies, but it can even be made AIP. See below for instructions on the tweaks.
The Ingredients for Copycat Crispy Chicken Snack Wraps
Grain-free tortilla. You can really use whatever you'd like here! I like to use Siete Almond Flour tortillas (thanks for sending me these, Siete!) but you can also use a homemade cassava tortilla, etc.
Chicken Tenders. You can buy chicken tenders from the store, or slice chicken breast into tender pieces.
Almond Flour, Arrowroot Starch, Dried Parsley, Garlic Powder, Onion Powder, Salt, Pepper, and Avocado Oil. These ingredients make the chicken tender coating.
Coconut Milk and Apple Cider Vinegar. Also for making the chicken tenders. Use the full fat canned coconut milk.
Vegetables. The regular snack wrap only uses shredded lettuce, but this version adds carrots and cucumber.
Dressing. You can use dressing of choice, like honey mustard or ranch
How to make Copycat Crispy Chicken Snack Wraps
Step One. Coat the chicken tenders.
Step Two. Bake the chicken tenders
Step Three. Assemble the wraps.
Step Four. Enjoy the wraps!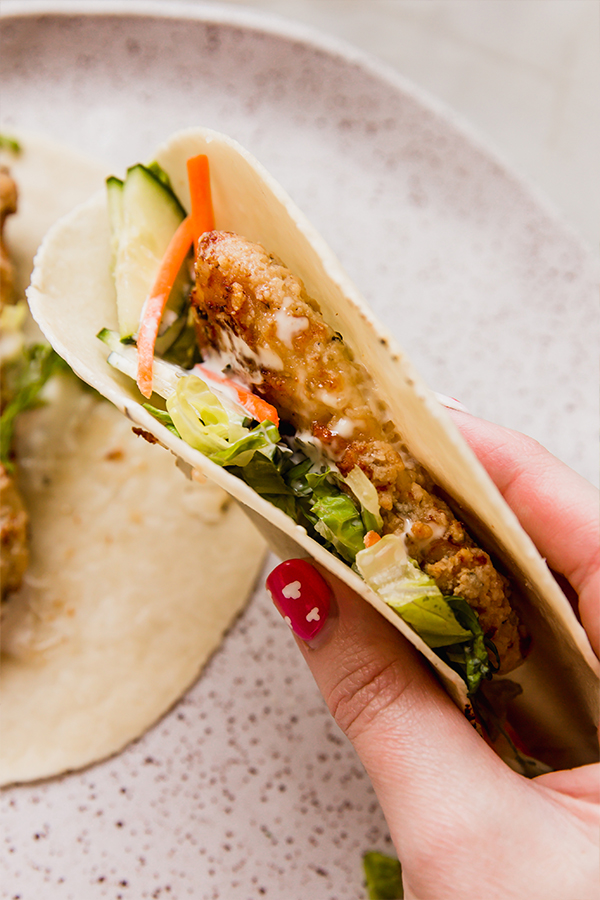 Tips & Tricks
Add cheese if you want! If you want a cheesy version, add some shredded cheddar! This is the way that McDonald's serves it, and how I make it for my husband.
Switch up the sauce. Ranch and honey mustard are both great on this snack wrap.
Can you make this recipe AIP?
You can with some minor tweaks!!
Use homemade cassava tortillas
Use an AIP chicken nugget coating like this 
Is this a main dish, or a snack?
McDonald's calls it a snack wrap since their version is pretty small and you just buy one at a time, but I eat 2-3 of these as a meal for lunch! I serve it with some extra veggies on the side as a little side salad and it's super satiating and delicious! It's even good for meal prep!
How to store and reheat the snack wrap
Store the ingredients in the fridge for 2 days separately and assemble fresh. Use the oven or air fryer to re-crisp the chicken for about 2 minutes or until warm and crisp!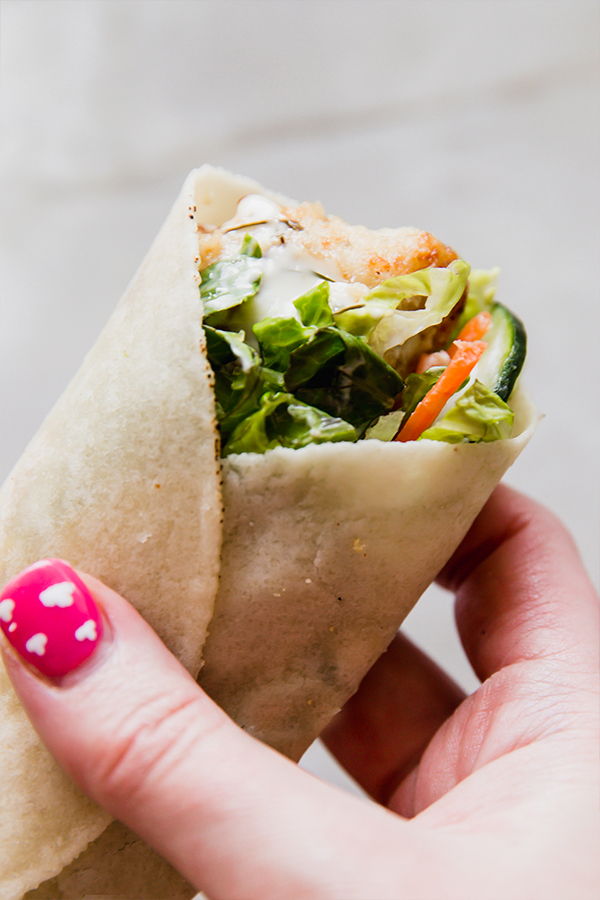 You'll also like…
Print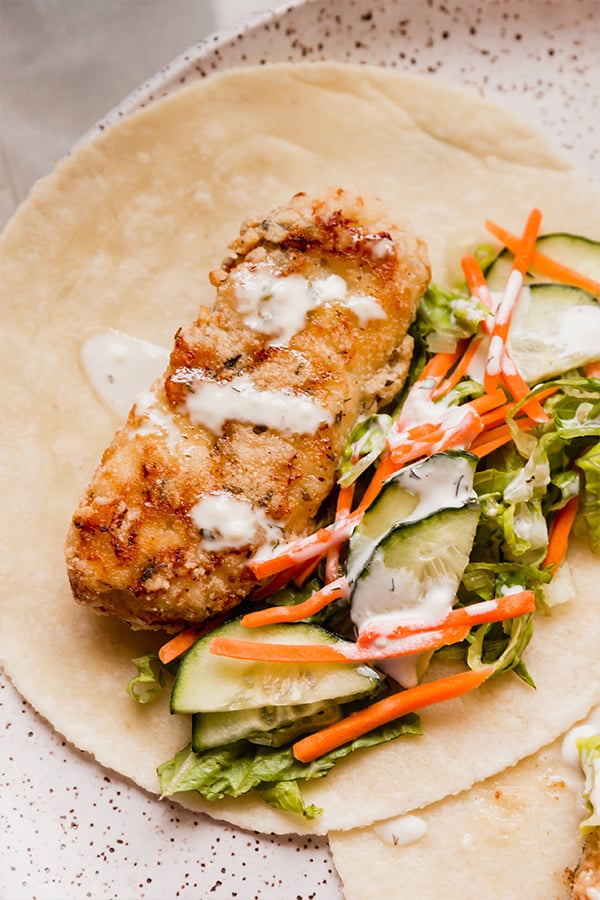 Copycat Crispy Chicken Snack Wrap (Gluten Free)
---
Author:
Total Time: 50 minutes
Yield: 6 wraps 1x
Diet: Gluten Free
For the crispy chicken tenders
1/2 cup almond flour
2 tbsp arrowroot starch
2 tsp dried parsley
2 tsp garlic powder
1 tsp onion powder
1/2 tsp salt
1/4 tsp black pepper
1/2 cup coconut milk (full fat, canned)
2 tsp apple cider vinegar
3/4 lb chicken tenders (about 6 tenders)
1 1/2 tbsp avocado oil
For the wrap
1 1/2 cup romaine, shredded
1 cup carrots, shredded
1 large cucumber, sliced thin
6 tortillas
Dressing of choice, honey mustard or ranch
---
Instructions
Preheat the oven to 400 F and line a baking sheet with parchment paper.
Prepare the coating by combining the almond flour, arrowroot and seasonings in a bowl. Set aside, and add the coconut milk and apple cider vinegar to another bowl.
Using one hand, full submerge a chicken tender into the coconut milk. Turn to fully saturate, then hold the chicken above the bowl to allow the excess liquid to drip off. Using your other hand, toss the chicken in the coating until fully coated. Place on the baking sheet. Repeat with all of the chicken, continuing to use one wet hand and one dry hand.
Drizzle the chicken with the avocado oil. Transfer to the oven and bake for 25-30 minutes, flipping halfway. The chicken should be cooked through to 165 F and crispy. If crispier chicken is desired, bake at 425 F for 2 minutes at the end. Remove from the oven and allow to cool slightly.
Assemble the wraps by placing down one tortilla. You can keep the tortilla soft, or lightly char it in a pan or over a gas stove. Add a small handful of mixed vegetables, and place a chicken tender on top. Drizzle with ranch or honey mustard. Roll into a wrap and serve!
Eat the prepared wraps fresh, or store the ingredients in the fridge for 2 days separately and assemble fresh. Use the oven or air fryer to re-crisp the chicken.
Notes
If tolerated, add shredded cheese if desired.
All nutritional information are estimations and will vary. Estimations do not include optional ingredients.
Prep Time: 20
Cook Time: 30
Category: Main Dishes
Method: Baked
Cuisine: American
Nutrition
Serving Size: 1 wrap
Calories: 257
Fat: 10.5g
Carbohydrates: 19.5g
Fiber: 3.1g
Protein: 14.8g
Keywords: chicken snack wrap