Paleo No-Bake Cake Pops (AIP, Gluten Free)
This post contains affiliate links.
These no-bake cake balls are perfect for treats, birthdays, and valentines day! They're gluten free, soy free, paleo, and AIP compliant,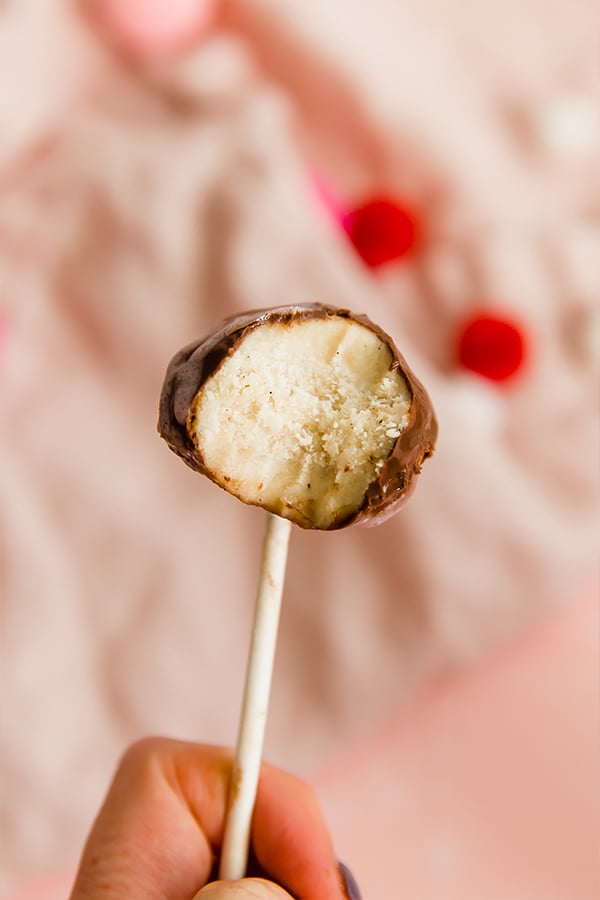 Remember when cake pops started to become all the rage? I was in college and I was so into the idea of making cake pops. They are so cute, and the perfect little serving to satiate a treat craving. I tried making some myself, and between baking an entire cake, allowing it to cool, rolling out cake balls, and coating and decorating them, it took forever. Then I started seeing cake ball makers, and I honestly couldn't handle another gadget!
These no-bake cake pops cut out the bake time, and they're paleo, gluten-free, and AIP compliant!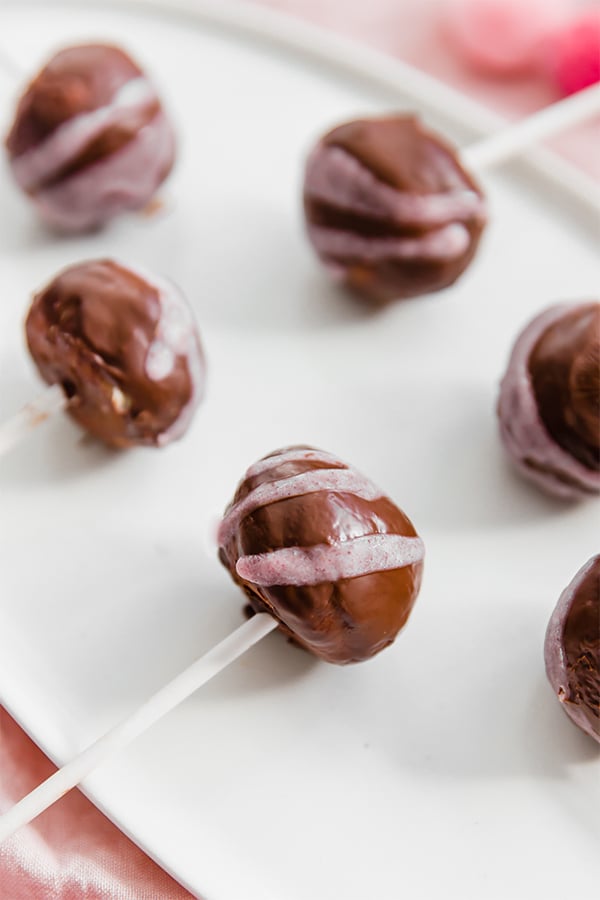 The Ingredients You'll Need for the No-Bake Cake Pops
Coconut butter
Coconut butter is also known as coconut mana and gives these cake pops a great texture. The trick with coconut butter is to get it to the right consistency. You don't want the coconut butter to be rock hard or you can't stir it, but you don't want it to be melted or it won't actually hold. I've found that it's best to place the coconut butter jar in a pot of hot water and get it to the point where you can just get a knife into it. However, if the coconut butter is over melted, you can simply just place it in the freezer for a bit to firm up.
Coconut oil and flour
These also help hold the cake pop together.
Arrowroot starch
You can also use tapioca starch.
Collagen peptides
This helps the structure of the cake pops and adds a little protein boost.
Vanilla bean powder
This really ups the cake-y flavor! If you don't have any on hand, you can leave it out.
Dairy & soy free chocolate (or AIP swap)
I like to use Eating Evolved or Enjoy Life chocolate, but it's up to you! If you're AIP, I've listed a homemade carob recipe that you can swap it out for.
However, you can honestly forgo the chocolate coating altogether and just have vanilla cake balls!
The Supplies You'll Need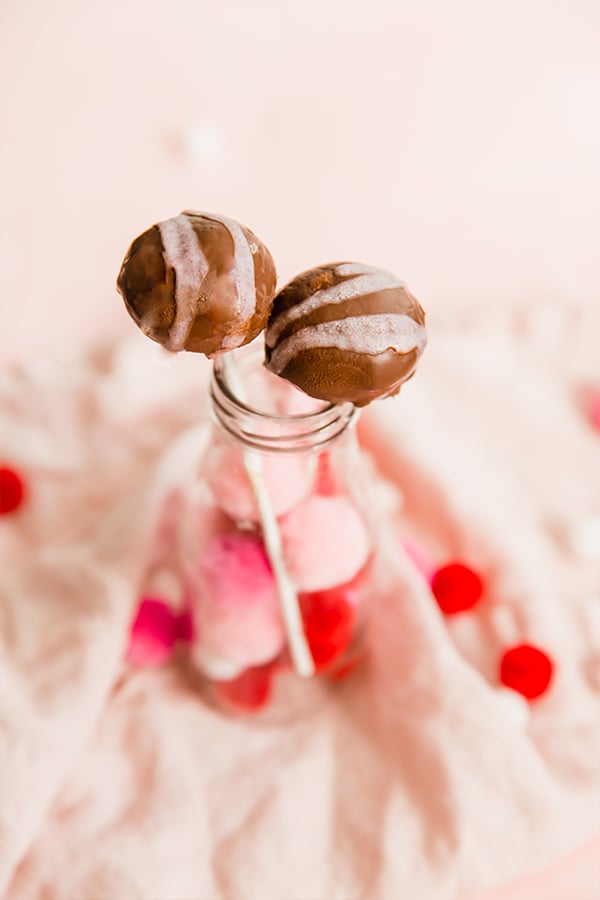 If you like this recipe, you may also like…
Print
No-Bake Cake Pops (Paleo, AIP)
---
Author:
Total Time: 1 hour
Yield: 6 cake pops 1x
For the cake balls
For the chocolate coating
1/2 cup dairy free & soy free chocolate (for AIP sub the base of this recipe, see notes)
For the pink drizzle (optional)
---
Instructions
'Using a large mixing bowl, combine the coconut flour, arrowroot starch, collagen, vanilla bean powder, and sea salt and mix well.
Stir in the coconut butter, coconut oil, and honey. Mix well until the batter is fully incorporated. The batter should be easy to work with, but firm. If it's too soft to roll into cake balls, place it in the freezer for 5 minutes to slightly harden.
Prepare a plate lined with parchment paper and roll the batter into 6 cake balls. Set the cake balls onto the plate and place in the freezer for 15-20 minutes or until completely hardened.
To melt the chocolate coating, prepare a double boiler by filling a medium-sized pot two-thirds of the way with water and bringing it to a low boil. Place a metal bowl over the pot and add the chocolate, stirring often to melt. Carefully set aside once the chocolate has melted.
Remove the cake balls from the freezer and insert the lollipop sticks into the base of each cake ball.
Dip the cake balls into the chocolate coating, rotating to evenly coat. Hold over the bowl to remove any excess chocolate before carefully placing the cake pop into a mug to harden. Repeat for all of the cake pops.
Place the cake pops in the freezer for 15-20 minutes or until the chocolate has hardened.
To serve, remove from the freezer and allow to sit at room temperature for 5 minutes before enjoying!
Optional pink drizzle
After the chocolate coating hardens, combine the ingredients in a small bowl and use a small spoon to carefully drizzle over cake pops. Return to the freezer until hardened.
Notes
For the coconut butter in the cake balls, you want it to be softened to where you can stir it, but not melted. The best way to do this is to place the coconut butter jar in a pot of hot water until the coconut butter softens just to where you can stir it.
For AIP, simply use the base of this recipe by following steps 1-3 and using that melted carob mixture to dip your cake pops in.
All nutrition facts are estimations and will vary. Nutrition facts do not include optional drizzle.
Prep Time: 60
Category: Dessert
Method: no bake
Cuisine: American
Nutrition
Serving Size: 1 cake pop
Calories: 345
Fat: 26.3g
Carbohydrates: 21.9g
Fiber: 2.8g
Protein: 5.6g