40+ Paleo Holiday Party Recipes
These 40+ recipes will have you covered for all of your holiday party needs! From appetizers to main dishes, to sides, desserts (SO many desserts) and even drinks, there are countless options for different healthy & delicious holiday party dishes to make everyone happy! All of these recipes are paleo, and many have Whole30 and AIP options available as well!
*Cue the music* It's the most wonderful time, of the year! The holiday season is in full swing, and with that, comes holiday parties galore! Whether you're hosting the party yourself or bringing a dish to somebody else's party, I've got you covered with 40+ amazing dish options!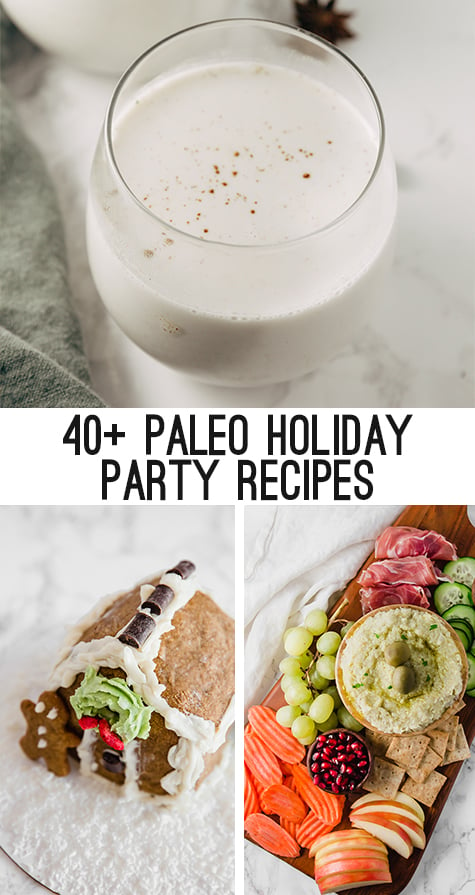 Paleo & AIP Holiday Party Recipes
Appetizers
Cranberry Sweet Potato Turkey Poppers
These Cranberry Sweet Potato Turkey Poppers are the ultimate holiday appetizer! Serve them with some apple cranberry dipping sauce too, to make them even better!
Cocktail Meatballs with Grape Jelly
Nothing quite says holiday parties to me like tasty little cocktail meatballs. It's a yummy and satiating little appetizer that's easy to make, and one that everyone loves.
Taco Dip
This paleo taco dip is party magic! It's a paleo and AIP version of the classic made without dairy, legumes, grains, or nightshades. It layers guacamole, ground beef, a sour cream, and classic topping that all taste amazing paired with plantain chips!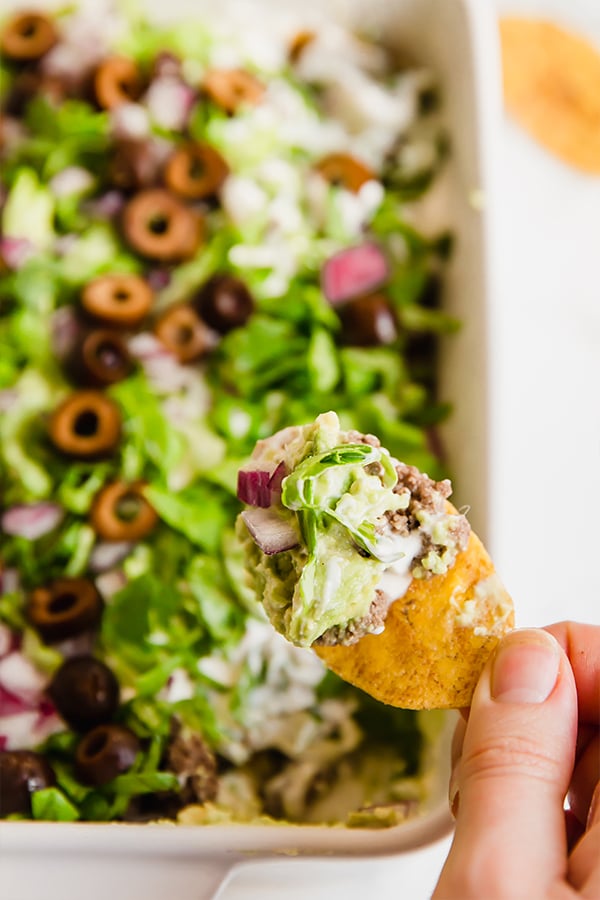 Mongolian Beef Meatballs
These mongolian beef meatballs are so perfect as an appetizer for a holiday party, game day party, or just a casual gathering. Add them to a serving dish with some fancy toothpicks and let everyone enjoy!
Pomegranate Guacamole
This pomegranate guacamole is a festive, and unique appetizer while still being totally easy.
Dairy Free Queso
Queso is one of those things that everyone loves! This dairy-free queso dip is free of cheese, nuts, and nightshades! It's made with vegetables, nutritional yeast, and more to create a thick, creamy, and cheesey tasting dish that you will love dunking plantain chips into.
Paleo Charcuterie Board
This charcuterie board is dairy free, gluten free and totally paleo, Whole30 & AIP, made with all real food and a paleo artichoke hummus! Everyone can find a little something to munch on and it's easy to customize and make on limited time!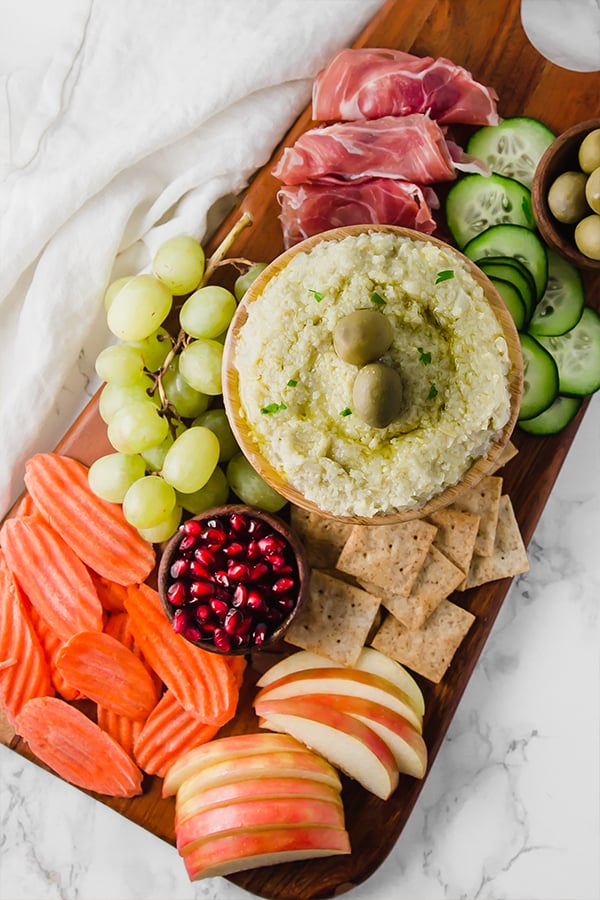 Spinach & Artichoke Dip
It isn't a party without spinach and artichoke dip, right? This spinach and artichoke dip is dairy free, AIP, paleo, and whole30 compliant!
Orange Chicken Poppers
These orange chicken poppers aren't your average take out orange chicken. They're Whole 30, Paleo, and AIP while having all of the flavors that you know and love! Serve them with toothpicks for the perfect party appetizer.
Avocado Cauliflower Hummus
This Avocado Cauliflower Hummus is perfect for serving at holiday parties! It's Whole 30 compliant, Paleo, AIP, and the perfect substitute for all of my hummus dreams.
Main Dishes
Meatloaf
Meatloaf is such a classic holiday staple dish! You can easily adapt this mini-meatloaf recipe to serve at a holiday party, or simply for family meals during the holidays.
Orange Cranberry Balsamic Chicken Thighs
These orange cranberry balsamic chicken thighs are perfect for making for dinner while you have family in town, or to serve at a holiday party! It's one of those recipes that seems like it took you hours to make, but really, all you need is time to marinate it and then pop it in the oven.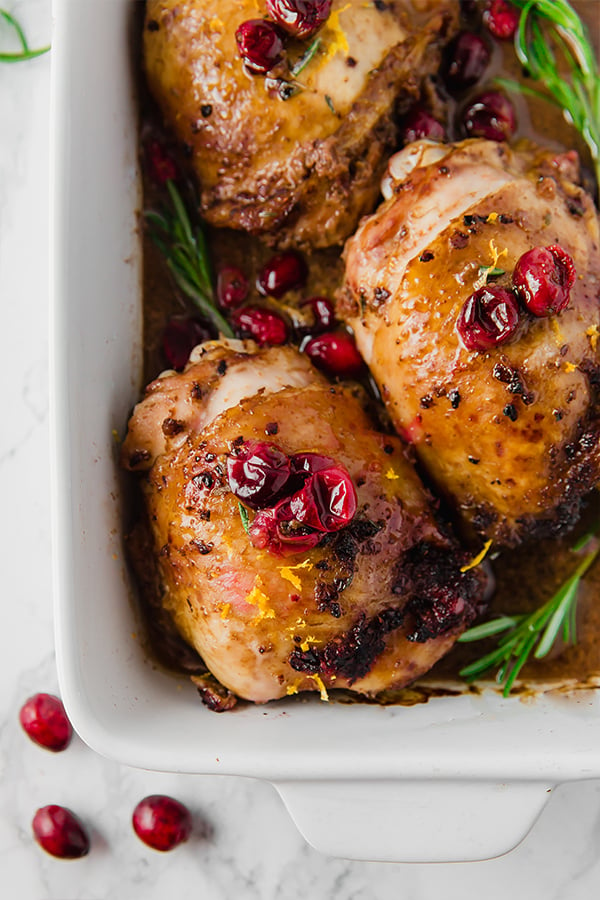 Sweet Potato Crab Cakes
These sweet potato crab cakes are a classic appetizer, but really they can be a main dish too. Especially when they're packed with other hearty ingredients like sweet potato and topped with a creamy, spicy sauce!
Turkey Stuffed Acorn Squash
This turkey stuffed acorn squash screams holiday season! It's packed with seasonal ingredients like apple, pomegranate seeds, thyme, sage, and more. You can use turkey or any other filling of choice – this dish is incredibly versatile! If you're hosting any gatherings this time of year, this is a great option to make.
Sides
Roasted Cauliflower & Parsnip Mash
This roasted cauliflower & parsnip mash is the perfect mashed potato substitute, with the addition of roasted root vegetables to add even more of that classic mashed potato flavor alongside the cauliflower. It's made with roasted garlic, seasonal herbs, and topped off with a healthy spoonful of ghee butter or olive/coconut oil to round out the dish. YUM.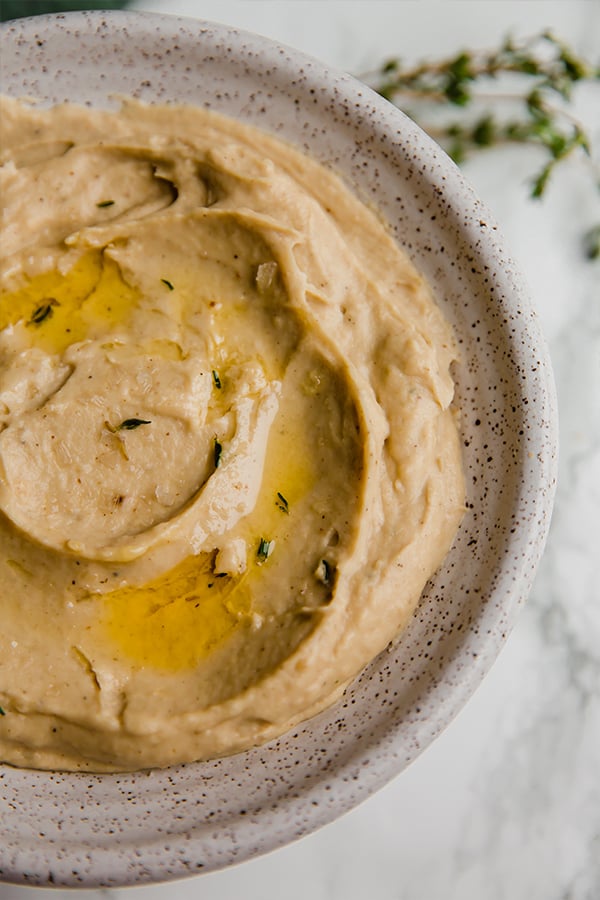 Garlic Balsamic Mushrooms
These garlic balsamic mushrooms are such an easy and flavorful side dish, and are a perfect addition to any holiday party menu!
Loaded Holiday Parsnip Mash
This loaded holiday parsnip mash packs in the flavor with bacon, caramelized white onions, and green onions!
"Cornbread"
This grain free paleo "cornbread" is made without any actual corn, yet tastes shockingly like the real thing! It's always a huge hit at holiday parties.
Roasted Brussels Sprouts, Apples & Bacon
This roasted brussels sprouts, apples & bacon dish is the perfect holiday party side dish, adding in veggies to round out your meal in a delicious way! It's topped with fresh pomegranate seeds and seasoned with fall flavors.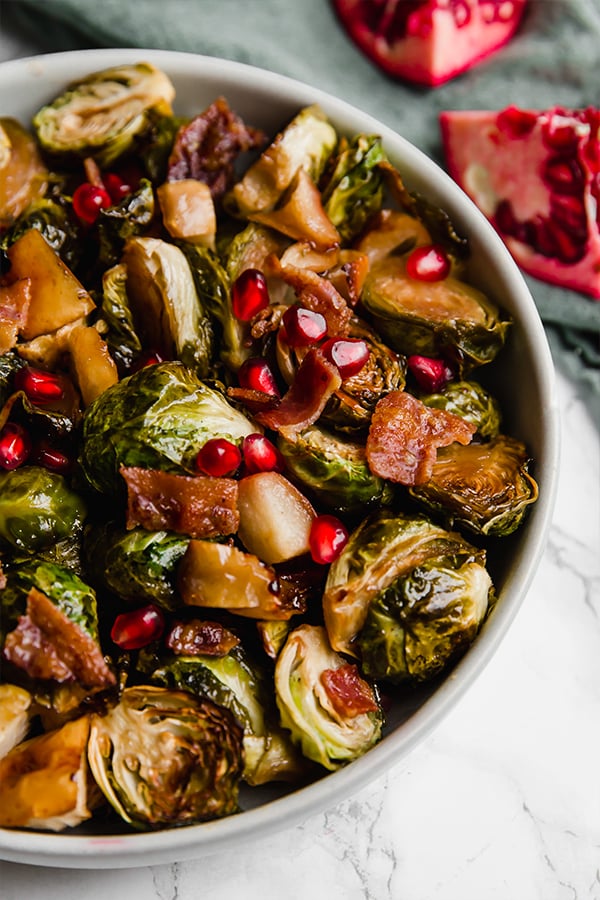 Sweet Potato Casserole with Marshmallows
This sweet potato casserole with marshmallows is everything good about mashed potatoes plus gooey marshmallows. It's basically dessert that you can pass off as a side dish. And what better time to indulge and share this goodness, than at holiday parties?
Green Bean Casserole
This green bean casserole is the real deal! It's made with homemade cream of mushroom soup, french fried onions, and is free of grains and dairy. It's bound to be a massive hit at your holiday gathering! This one is not AIP, but it is paleo!
Apple Cranberry Sauce
This apple cranberry sauce is a tart homemade sauce that's far less sweet than the traditional cranberry sauce from a can! These pair especially perfectly with the cranberry sweet potato turkey poppers.
Desserts
Spritz Cookies
Spritz cookies are officially one of my new favorite holiday cookies and win by both taste, and by beauty! These spritz cookies are made paleo and AIP, but still, have the look, feel and flavor of traditional spritz cookies.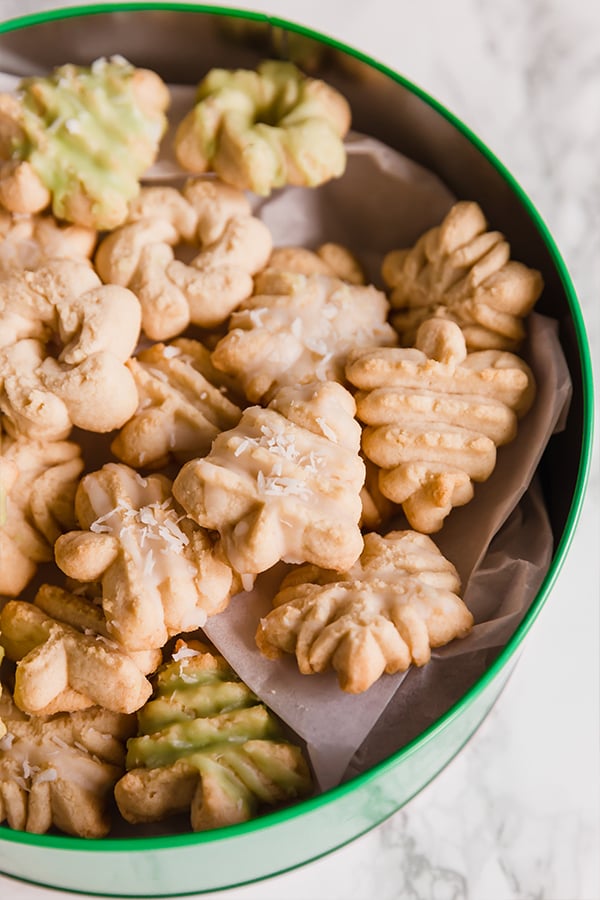 Classic Cinnamon Rolls
These classic AIP cinnamon rolls are the real deal without all of the typical ingredients!
Hot Cocoa Cheesecake
This hot cocoa cheesecake has all of the flavors you love of hot chocolate and cheesecake together in one recipe! Make it into a mini, single-serve dessert and you have a super impressive holiday party dessert for not too much effort.
Cut-Out Sugar Cookies
For me, it's not Christmas without cut-out sugar cookies. These are coconut free, egg free, and really easy to make.
Peppermint Bark
All you need is a few simple ingredients to make this paleo peppermint bark!
Paleo Gingerbread House
This gingerbread house is perfect for a fun decorating activity!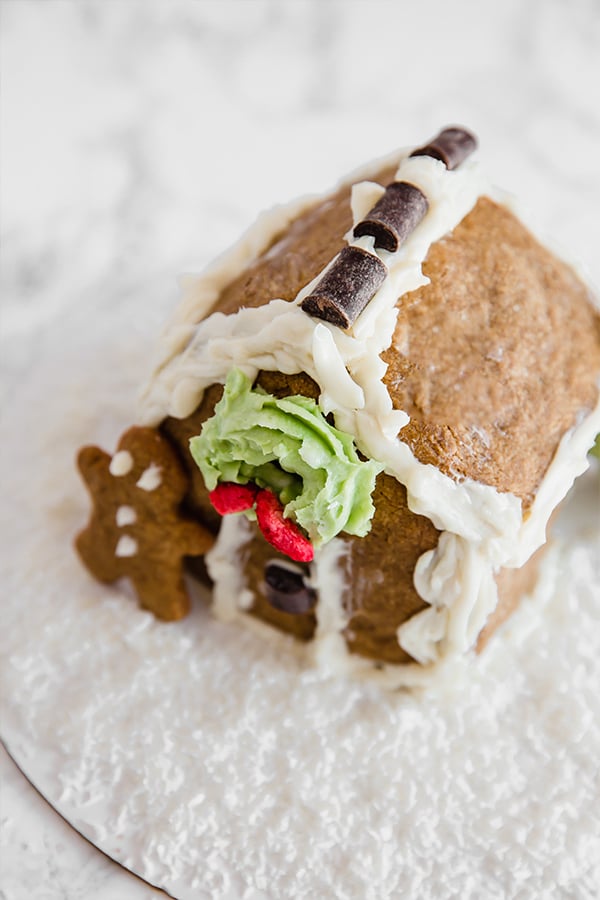 Hot Cocoa Mix with Peppermint Marshmallows
This hot cocoa mix makes a great gift, or you can just make it for yourself!
5 Ingredient Paleo Almond Milk & Cookies
This paleo almond milk & cookies are incredibly easy to make and are a great activity to do with kiddos during the holidays as well. Plus, all you need is 5 ingredients to make both almond milk and the cookies! This one is not AIP, but it is paleo!
Chocolate Crinkle Cookies
These gluten-free chocolate crinkle cookies are one of those Christmas cookies that you don't want to miss if you're doing a big cookie exchange and if you're gluten-free, now you don't have to! These crinkle cookies are made with coconut flour and are rolled in organic powdered sugar.
"Chocolate" Snowflake Christmas Cookies
Hands down, my favorite Christmas eve cookies that I've ever made are these paleo/AIP "chocolate" snowflake Christmas cookies. They're rich, creamy, and totally grain, egg, dairy, egg, nut, and gluten free.
Chocolate Peppermint Truffles
These chocolate peppermint truffles are soft, chewy, sweet and definitely don't taste like they're paleo and AIP. They have a soft interior, a hard chocolate shell, and a peppermint flavor inside that pairs so well with the chocolate and screams "holiday season"!
Paleo Gingerbread Donut Holes
Few things say "holidays" like the flavor of gingerbread, and these gingerbread donut holes have all of the gingerbread flavor with an easy shortcut, and unique twist, while being both paleo and AIP!
Hannukah Gelt
Hannukah gelt is so much fun, and relatively simple to make.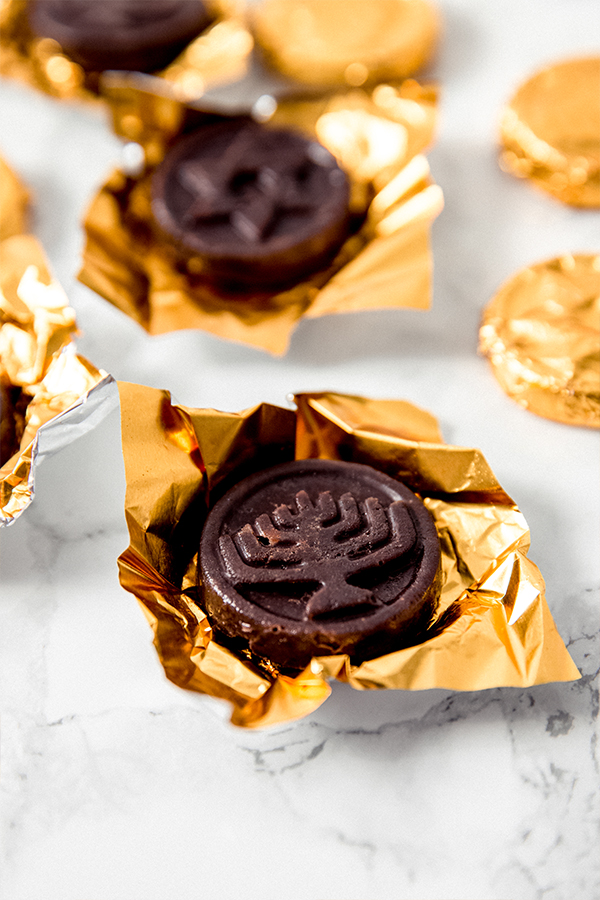 Peppermint Mocha Collagen Pudding
How do you enjoy holiday flavors without sending yourself into a sugar stupor? This peppermint mocha collagen pudding is an awesome alternative! Even my ice cream loving husband said that it was so good, that it legitimately tasted like it was bad for you. But really, this pudding is anything but bad for you 😉
Pumpkin Pie Donut Holes
These pumpkin pie donut holes are probably one of my most favorite recipes from my blog ever. They really taste like the real thing!
Coconut Puppy Chow
Puppy chow is a crunchy and sweet snack, and this version is paleo!
Paleo Apple Pie Bars
These apple pie bars are vegan too, and they come with a caramel sauce topping! Seriously, these are so decadent!
Grinch Cookies
These adorable little grinch cookies are colored green with matcha! These are perfect if you want to make a fun treat with kiddos that has minimal decorating but it still super cute and fun.
Hot Chocolate Brownie Bites
Can't get enough hot cocoa? I hear ya! Hot chocolate brownie bites to the rescue! These are the perfect little finger food treat with a twist.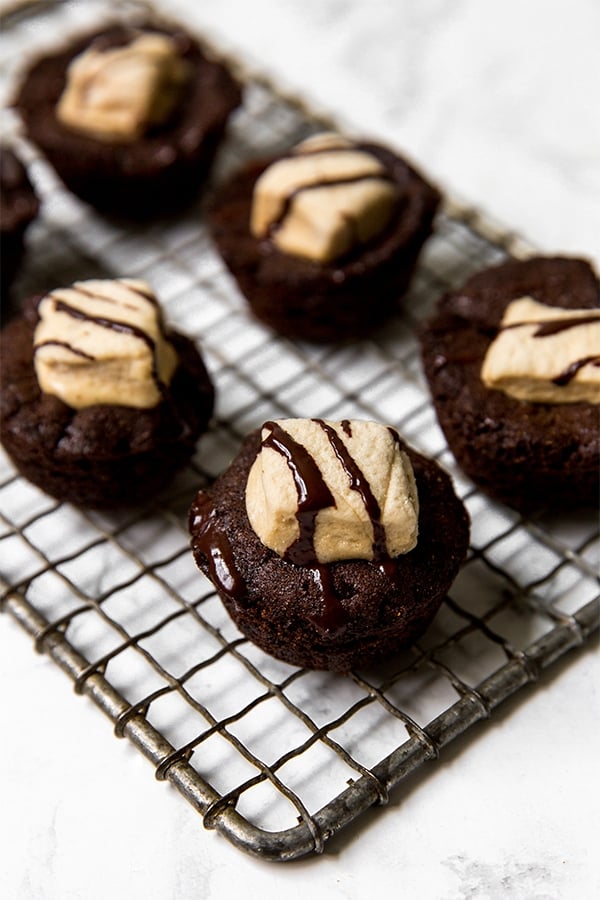 Cranberry Bliss Bars
This Starbucks copycat for paleo & AIP cranberry bliss bars is a fun treat to serve to the Starbucks lover in your life!
Drinks
Non-Alcoholic Paleo Eggnog
This non-alcoholic paleo eggnog is perfect for those who are free of dairy, alcohol, and eggs! It's paleo, AIP, and vegan.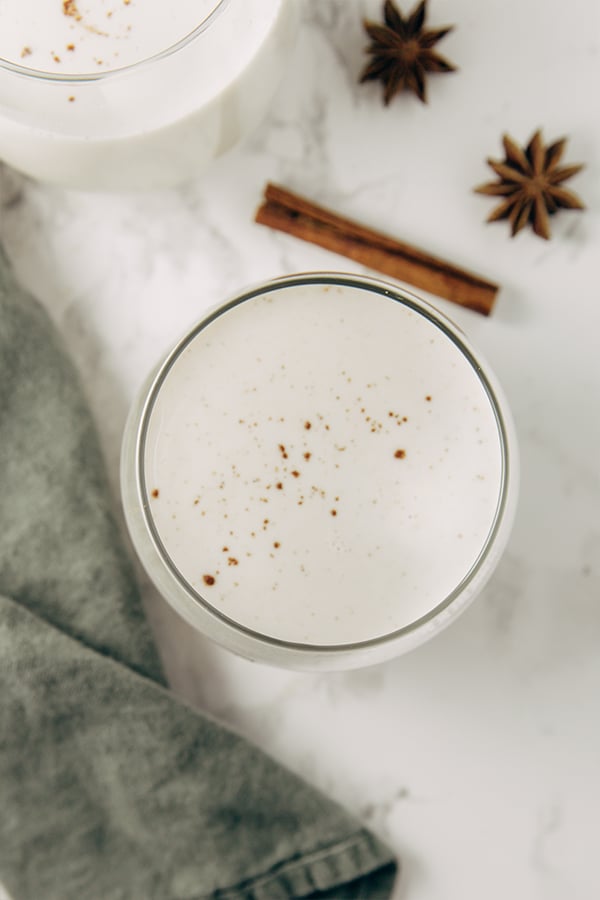 Hot Chocolate
AIP Hot Chocolate + the holidays… need I say more?
Instant Pot Apple Cider
This instant pot apple cider is so easy to make at home and will seriously make your house smell like a holiday wonderland! This is the perfect drink to serve at holiday parties and is sure to be a hit.
Sparkling Cranberry Mocktail
This sparkling cranberry mocktail is perfect for your holiday gathering. It's festive, delicious, and is really quite simple and hands off to make. You can scale the recipe up or down depending on how many party guests you have, and both kids and adults will like it! But let's be real… if you can tolerate a bit of alcohol and want to add a little shot of vodka or something like that to this drink, it will totally work!
I hope that this round-up gives you an endless amount of options to make any holiday party more delicious, healthy, and allergen-friendly! I wish you guys the happiest holiday season, and hope this coming year is full of blessings and love to you and your families!